Suing Someone in Another State and Winning

Although most Small Claims Courts serve in particular counties, in respect to specific dollar restrictions that do not requisite pursuing legal action against someone who is a great distance away.
This brings the concept of "personal jurisdiction" into account — personal jurisdiction covers whether a state has jurisdiction over an individual. This also includes how that individual can be represented in a particular state or county court system. This is typically determined by a defendant's contact with the state, or level of "familiarity" (living, working, renting, driving through) a particular region.
Determining "Venue"
When determining when and how to sue someone out of state, consider the venue rules. Venue rules determine which county you can file in.
"Venue" is a county or judicial district that you file a lawsuit in. Find out how to determine an appropriate venue below:
| | |
| --- | --- |
| Place of Residence or Occupation | The place where a defendant lives, works, or owns a business. |
| Place of Contract Signing | The place where a contract was signed or agreed upon. |
| Place of Contract Administration | The place where a contract was set to take place or to come into effect. |
| Place of Incident | The place where an incident occurred or an auto-related accident happened. |
| Place of Preceding Incidents | The place where incidents leading up to the event occurred. |
What Should You Consider Before Suing?
Do you have a valid legal case? Establish a burden of proof — was a contract broken? Were you injured by this individual? Did you lose money as a result of these injuries?
Can you sue the individual? Establish pre-filing requirements — you will have to prepare hearings and depositions Figure out the best method of alternative dispute resolution — is small claims the approach you want?
Have you sent an informal final demand? Send a letter that is typed, with clear contact information. State what happened, the attempts you've made for restitution, what you expect in compensation, and your intention to sue should the individual fail to resolve the matter.
Are there any alternatives? Before suing, you can consider other options:
Negotiation
Mediation
Arbitration

Who do you want to sue? If you are successful, what will you collect from the person?

Money
Assets
Debts that can be garnished (taken — ie. bank debts)
Do you have evidence? Do you have sufficient records to validate your claim?
Record of payments
Claim
Summary of events
Reasons for entitlement
How much will this cost? This is an important question to ask — often, small claims with legal representation are expensive and have a greater cost than the payoff of winning a lawsuit.
Suing Anyone in Small Claims Court – Step-by-Step
Below, find the steps on how to sue anyone in Small Claims Court. Keep in mind that every Small Claims Court varies from state to state and that local regulations are most important when considering the validity and legitimacy of your case.
Send a Demand Letter
First, send a letter detailing the following:

Who you are (name, phone number, address, and account number if applicable)
What you encountered (state the issue)
What you want from them (for instance, how much money)

When this is completed, mail it to their home/work address.

Fill Out Court Forms
Fill out your state-specific paperwork and any additional forms that might be requested by the county in which the incident took place.

Most court forms are free of charge on the court's website;

Keep these forms
Maintain copies
Have excess at your disposal in the event that the court clerk requires multiple

File A Complaint With The Court

Depending on state and county regulations, you might need to mail, fax, or file in-person
You will likely need to pay a small filing fee before you're allowed to sue, but this CAN be waived if you are of a low-income background
Then, you'll receive the finalized forms that have been notarized

"Serve" The Defendant

Deliver a copy of the filed paperwork to them using a neutral third-party
Check your state and county regulations and follow them to a tee, as many states invalidate small-claims suits if they are not "served" properly

Go To Court
Show up to relevant court dates, keep track of filed forms and maintain records of evidence to support your claim.
Things to Keep in Mind
Small Claims Courts only have the power to hear cases involving individuals who live in or are present in the state
If you want to sue someone who lives in another state, you'll have to sue where the person lives, not where you live
You'll have to follow that particular state's rules when you "serve" the defendant
Out-of-state defendants can be sued in your state if you can "serve" them
It is extremely difficult for an average civilian to balance the costs of filing a lawsuit with legal representation and the huge possibility that their lawsuit will not win in court without
How to Sue Someone In Another State With DoNotPay?
DoNotPay is the perfect way to successfully file a small claims suit that will be successful, in a simple and concise way. All you need to do is:
Log on to on any web browser and select "Sue Now"
Enter the dollar amount that you are owed (this could be lost wages or even adequate compensation to cover injuries and medical bills)
Select whether you'd like to receive a demand letter or court filing forms
Describe your reason for filing the lawsuit, and submit any additional details (including your photo evidence)
That's all! will generate a demand letter or court filing forms for you, and a copy of your demand letter will even be mailed to the individual you are suing!
DoNotPay–The Service You Can Rely On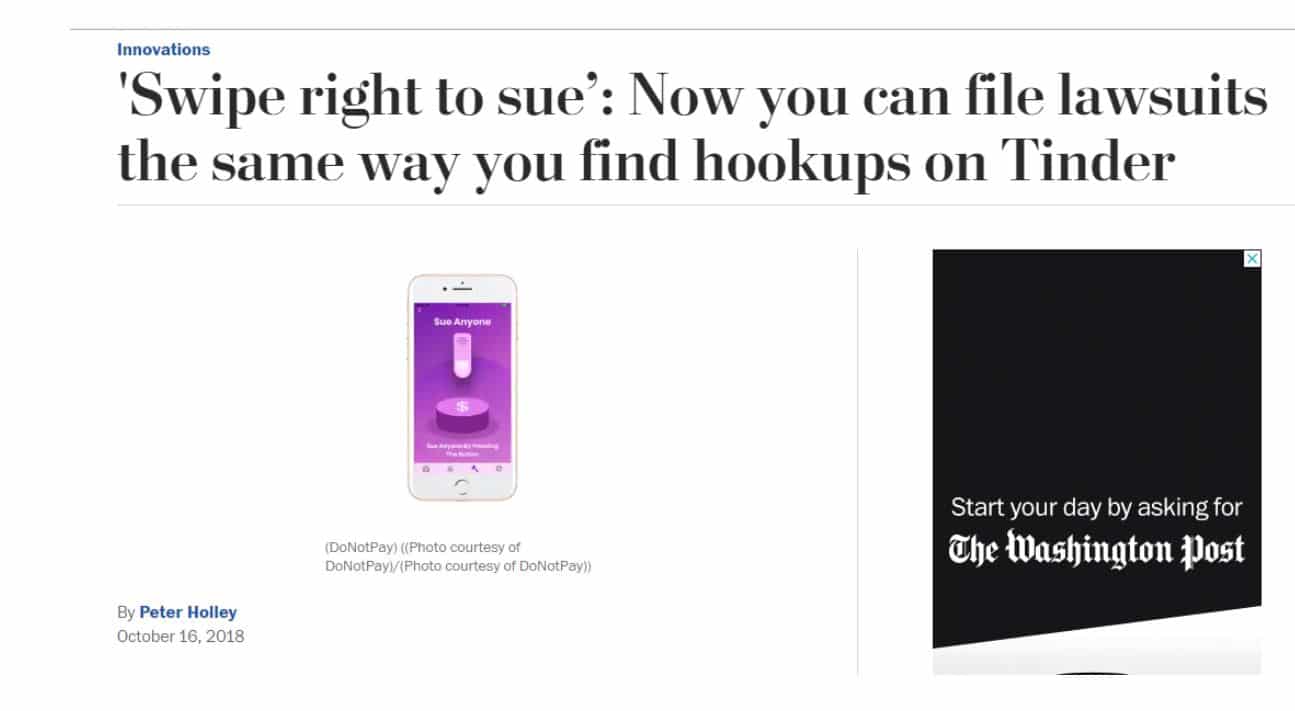 The robot lawyer has been helping thousands of users file successful small claims lawsuits against large corporations such as: