Suing for False Advertisement in Small Claims Court

Advertisement helps businesses promote products and consumers make smart shopping decisions. Equally, false advertising can be detrimental to consumers and businesses alike.
Fortunately, the majority of U.S. states regulate advertising – consumers are legally entitled to file lawsuits against companies for misleading ads.
In this article, we will help clarify what false advertising is, show you examples, and guide you through the process of filing a small claims suit against false advertising by yourself and with .
What is False Advertisement?
False advertisement is the illegal activity of publicly misrepresenting a product or service, including its features, qualities, geographical origin, and more. Omitting information to influence a consumer's decision to buy the product or avail of the service is also a form of false advertisement. Here are some common examples of false advertising:
Hidden fees such as additional fees that are not included in the advertised price

"Going out of business" discounts

Incorrect use of the word "free"

Changing the measurement unit from imperial to metric and vice versa

Using fillers in food to increase its weight

Misusing terms such as "light", "all-natural", or "organic"

Incorrect comparison with another product, without any additional explanation

False illustrations

Incorrect coloring such as using yellow light on fish products to make them appear fresh (although they are not)

Angel dusting such as adding "containing essential vitamins" labels although the actual amount is less than 1% of the recommended dietary allowance

Bait and switch such as an

airline

claiming the advertised discounted seat is unavailable or sold out to force the consumer to buy a higher-priced seat

Acceptance by default in contracts where consumers will need to opt-out of a feature otherwise, they will be charged for it
Legal Protection Against False Advertisement
If you are a victim of false advertisement, the table below shows you the laws and government agency in place to protect your rights:
Legal Protection
Description

Section 5 of the Federal Trade Commission Act (FTCA)

The FTCA declares that unfair or deceptive acts are illegal.

For example, insurance companies are required to provide a price list. Also, social media influencers are prohibited from providing testimonies if they haven't experienced the product or service.

Food and Drug Administration (FDA)

The FDA requires pharmaceutical and nutritional products to be labeled correctly and appropriately.

For example, labels on medications should provide accurate information regarding side effects.
What do You Need to Sue for False Advertisement?
Consumers who have become victims of fallacious advertising may sue the company for financial damages. The lawsuit must provide evidence that the consumer bought the product because of the false advertising. It should also prove that the false advertising directly resulted in the consumer paying more for a product. To win the lawsuit for false advertising, the consumer must prove that the:
Advertising was incorrect or misleading

Consumer depended on false advertising to decide to purchase the product or service

Consumer suffered loss or damages after purchasing the falsely advertised product or service
Additionally, consumers may also sue the company for failure to disclose in cases where the company omitted important information from an advertisement — information that would have impacted the consumer's decision to buy or not.
How to Sue for False Advertising with DoNotPay
Theoretically, suing a company seems straightforward. However, in practice, there are a lot of bureaucracies to go through, paperwork to complete, demand letters to draft. This is where DoNotPay can help! The robot lawyer can help simplify the suing process for you. All you have to do is:
Log in to DoNotPay and select the Sue Now product

Then, enter the dollar amount you are owed

Select whether you want a demand letter or court filing forms

Finally, describe the reason for the lawsuit and submit any applicable details, including photo proof
That's it! DoNotPay will then generate a demand letter or court filing forms for you. We'll even mail a copy of your demand letter to the business you are suing!
Who Else Can DoNotPay Sue?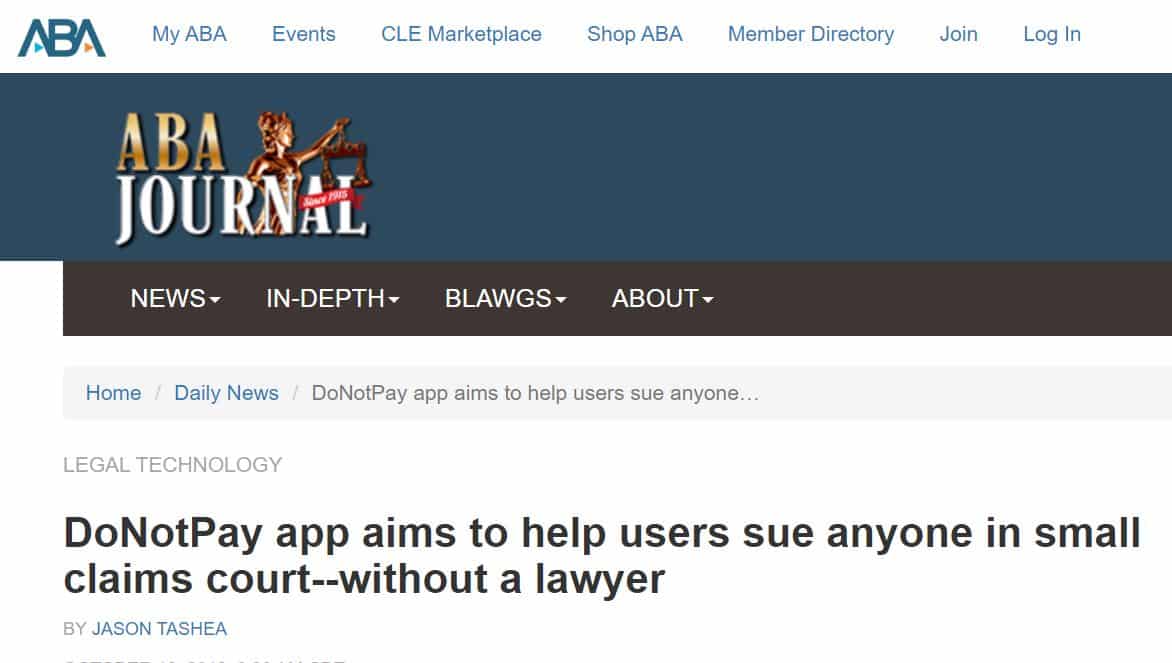 DoNotPay has been helping its users to sue anyone — from their pesky neighbor to big corporations such as: