How to sue Equifax in small claims court

Equifax is a consumer credit reporting company that in September 2017 announced that cyber criminals compromised its databases. This led to a breach of the personal information of customers, impacting almost 150 million people in the United States, up to 44 million British citizens, and 12,000 Canadians. This breach, one of the largest in recent history, led to the theft of social security numbers, birth dates, addresses, and driver's license numbers, enabling mass identity theft in several countries.
In this case, clients of Equifax have two possible routes:
Submit a claim in small claims court against Equifax

Join a class-action lawsuit
If you go to small claims court and sue Equifax directly, DoNotPay helps you go through the process no matter your state of residence.
This breach, being one of the largest, has pushed many plaintiffs to sue Equifax with DoNotPay, and it works!
So how does it work? DoNotPay uses an Artificial Intelligence-powered chatbot to assist you in filing a compelling case against Equifax in small claims court. The helps you go through all the steps to file a claim in small claims court, such as writing a demand letter, preparing court forms, or providing a court script, so you know what to say during your hearing and can support your claim. All you have to do is let the app know what type of issue you're filing, who you are suing, and give it the necessary personal information. DoNotPay will take care of the rest.
How suing Equifax in small claims court with DoNotPay works

The first thing you need to keep in mind is that you have no guarantee of any positive outcome. All the steps are carefully defined and must be followed in a particular order without forgetting anything. Embarking on this journey alone is possible, but it is risky. DoNotPay raises your chances of actually winning your case against Equifax and receiving compensation by guiding you through the process and providing the necessary documentation.
DoNotPay is a service that helps you go through each step, but it is not a lawyer, and it does not complete all the steps for you. Consider reading our terms and conditions before continuing.
To sue Equifax in small claims court using DoNotPay, follow these few steps:
Access DoNotPay's
app on any
.

Make sure your issue qualifies for small claims court.

Your claim needs to be suitable for the small claims court. Small claims courts handle disputes over relatively small sums of money (up to 25,000$ in some states). The procedure is more straightforward than in standard courts and involves disputes between two individuals or between an individual and a company.
It is possible to sue a business in any state when:
The company is responsible for damage

The company breaches a contract that was either negotiated or executed in your current state.

The business is present in your state as a store, a facility, or an office.

The business frequently operates in your state by selling products or employing sales representatives, for example.
Make sure your issue is suitable for small claims court. You must know why you are suing, who you are suing, and the amount of money you are asking for. In small claims courts, you can ask for :
a

monetary compensation

(an amount of money you consider fair, that will cover the damages you have incurred)

a non-monetary settlement called an

equitable award

(a service, goods, or an action from the company)
Non-monetary compensation is much less common. Most companies prefer compensating customers financially.
If you are a victim of the September 2017 breach, you will most likely sue Equifax for negligence. Use DoNotPay's app on your , you will be asked:
what your claim is (what you are suing for)

what type of court award you wish to receive (monetary or non-monetary)

how much compensation you want to obtain in the settlement.
You can ask for amounts anywhere between $5,000 and $10,000 in small claims courts in most states, but the limit can go up to 25,000$ in Tennessee, for example. For a detailed list of the monetary limits, check here.
DoNotPay will ask you to choose the amount you're asking for, and why you are suing Equifax. Many people have already sued Equifax with DoNotPay. With the help of DoNotPay, Darrow Boggiano received $9000 for negligence during the 2017 breach. She used the app to sue Equifax, and eventually won in small claims court in the state of California.
Here are the steps that DoNotPay will help you take to sue Equifax.
DoNotPay will generate a demand letter to send to Equifax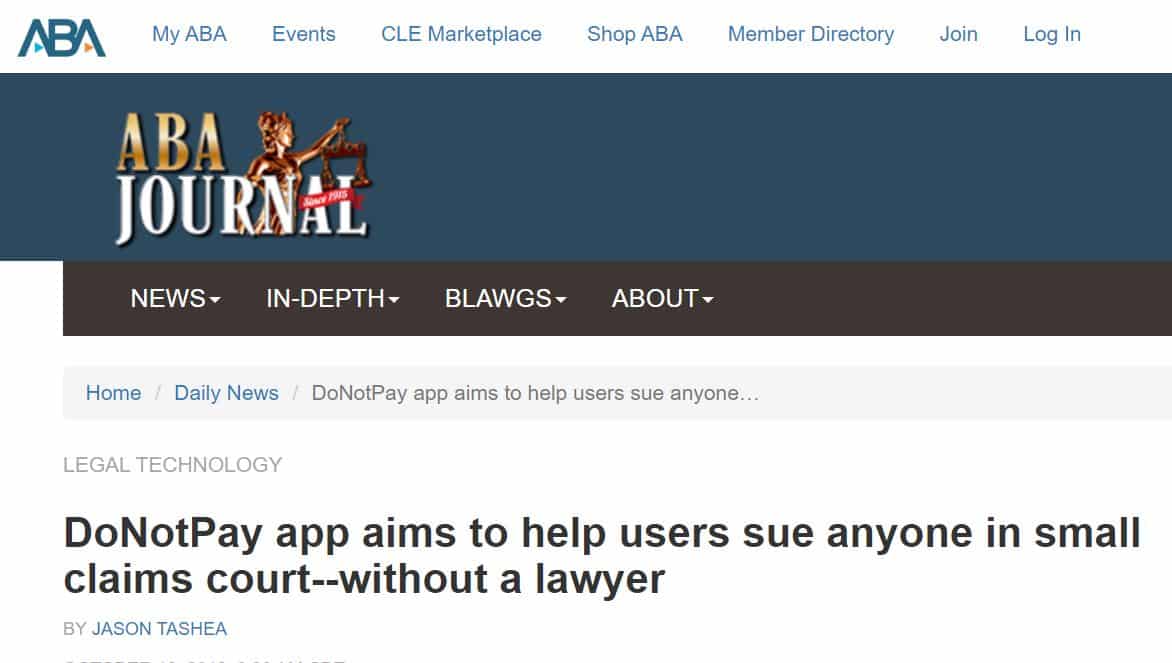 To file a complaint, you must prove that you have done everything to settle the case without going to court. That's why you are required to send a demand letter before officially suing Equifax. This letter is the last step before going to court.
You're obliged to send a demand letter to Equifax. This demand letter must state certain information:
A

clear description of the issue

(when did it start, the nature of the problem, the various steps you followed trying to find a solution)

A claim that the

company owes you money

(how much damage has the company caused? How much money did you lose and why?)

A clear statement explaining that if your demand isn't satisfied,

you will file a complaint

and take Equifax to court.
The goal of a demand letter is to show your desire to resolve the issue out of court. It will allow the company to have your side of the story. In some cases, with the demand letter, you can be successful in settling out of court. In about a third of disputes, companies reply to the demand letter and satisfy the consumer's demand.
Do NotPay will generate the demand letter, all you need is to give some necessary information for the letter to be factually accurate and suit your case against Equifax.
Why use DoNotPay? Writing a demand letter can be very time-consuming. Certain steps need to be followed in a specific order, and the letter needs to be in a specific format, which is something that leaves most consumers perplexed enough to drop the suit altogether. The correct format will allow your letter to be taken seriously by Equifax, but also by the judge if the company doesn't answer. Don't forget, you have to bring your complaint to small claims court when you present your case.
To start the process, download the DoNotPay app, follow the steps it shows, and fill in the information needed.
The information you give will be used to write a well-composed letter with all the necessary details about your issue. It will be accurate, properly formatted, and will be taken seriously by Equifax and the small claims court.
Once DoNotPay generates the letter, you will receive a notification. You will then need to print the letter and send it to:
EQUIFAX INC.
Lisa Stockard
1550 Peachtree Street, NW
Atlanta, GA 30309
If you wish to write the demand letter on your own, that's also an option. Remember to include all the necessary information:
a list of losses and damages

you have suffered because of the data breach

a

quick timetable

of what you have gone through

what you are

asking

for (money, service, etc.)
You need to add documents that support your claim. These documents can be invoices from Equifax, for example, showing that you had subscribed to their services at the time of the breach.
If you want extra tips on how to write an effective demand letter, you can find some here.
Remember, as many as one-third of demand letters result in a successful out-of-court resolution. If your demand letter is successful, you will not have to go through the hassle of going to court, and you will get the monetary compensation you have asked for.
Use DoNotPay's app from your to generate a demand letter against Equifax in no time!
DoNotPay will fill out the required court forms

If you have not received an answer to your demand letter within three months (90 days), you may go on to the next step.
By not answering your letter, Equifax has shown that they refuse to settle your demand. Therefore, the next and last resort is bringing them to court and defending your rights.
Court forms are specific to every state. DoNotPay collects the correct forms for your location and fills all of them out for you. Most states require you to have multiple copies of the forms to file in court, and if you do not have the necessary number, your case may be dismissed. DoNotPay ensures that you have the right number of completed court forms to download and print.
| | | |
| --- | --- | --- |
| Filling our court forms | Time | Complexity |
| With DoNotPay | DoNotPay fills your court forms, saving you a lot of time. | All you have to do is answer a few questions and fill out your basic info. |
| Without DoNotPay | Filling out forms on your own is a long process and takes many hours of your time. | You need to find out what forms you need, how many copies, and how to fill them out correctly on your own. |
Make sure to respect the guidelines of your court. Most courts ask for at least two or three copies, and DoNotPay will make sure you have the right number of them. If you're filling the court forms by yourself, make sure to:
Write in legible handwriting

Write in black or blue ink

Do not use a graphite pencil

Submit the number of forms asked, in most cases at least two or three
These forms are different in each state, and you can find them online, in most cases. If you can't, you can call your court, and they will give you the steps to follow to get the form.
Here

is an example of a few forms for New York's small claims courts.

Here

is an example of a form from one of California's small claims courts.
This step is crucial because it is the first step towards actually filing a complaint. Make sure to fill out all the information DoNotPay asks you to, and let the app handle the rest!
Once your forms are filled out, they are ready to be filed at the court. UseDoNotPay from any to fill out court forms in a matter of minutes!
DoNotPay will help file your court forms
Once all your court forms have been completed, you are ready to submit them. But, each courthouse has its own rules.
In the majority of courthouses, you will have to

go directly to court

Some courthouses accept filing forms by mail

Very few courthouses allow filing online
Make sure to check with your courthouse how you can file your forms. The best way to know is to call and ask them.
There is one crucial factor while filing your forms that you mustn't forget: the court fees.
These fees are generally between $30 and $100, depending on the state. You will need to pay them for your complaint to go through.
If you are a low-income plaintiff, tell your courthouse, your fees may be waived.
Head to your courthouse with the correct number of copies of your forms filled out and the right sum for the court fees—and file your complaint.
Once all your forms are filed, in most cases, you will receive a stamped version of your form with your court date. If you are submitting via the internet, print the page that shows that your lawsuit has been successfully filed. Keep it with you, and do not forget it on the day of the trial.
Your claim against Equifax can be dismissed if you do not file your forms correctly. This is another area DoNotPay can assist you with.
Christina Brandt Bernstein said that the DoNotPay app helped "streamline the process of filing the case with minimal research on her side," and she managed to prepare all the paperwork needed and win the case against Equifax.
Serving your forms to Equifax
Once the forms have been filed, you will need to inform Equifax they are being sued. This step is called serving Equifax.
You will need to deliver your filed court forms and a letter to the company you are suing (Equifax). To do so, you have different options. You can give your submitted court forms and letter to an Equifax agent, for example.
You can also send your filed forms and letter to Equifax, but only via registered mail. The reason is simple. Registered mail means that the recipient must sign as proof they have received the delivery. This will prove that Equifax is aware of the procedure you are going through and of the trial.
You must let Equifax know three things in the letter you are sending them, along with your filed court forms:
What you are asking for

(the amount of money for the damage they have caused)

Where and when the trial

will take place

What they are

supposed to do
The last point is tricky. You will tell them that they should comply and show up at the courthouse on the day of the trial to address your claims.
In most cases, Equifax has twenty (in-state) or thirty (out-of-state) days to answer your claim.
If

Equifax doesn't answer

within the timeframe, you can

file a notice of default

, and ask the court to grant a default judgment. This will allow you to receive the reward you claimed.

Equifax can also

file a counterclaim

. In this case, you are the one that needs to file a response within twenty days. If you do not, the case will be dismissed. To answer a counterclaim correctly, you will need to:

Respond to every paragraph with your version of the story

Refute all the allegations or facts that Equifax claims

Organize your defense professionally. Base your arguments on the law and the facts

Equifax might also just

send you the money you claimed

in response to your first demand letter. If the case is closed, it is crucial to let the court know that your case has been dismissed.
Show up to your court date against Equifax
Let's assume Equifax is willing to go to court and doesn't file a counterclaim, and if you don't file a notice for default, nor does Equifax send you the amount of money you asked for. Then it is time for you to prepare for your court date.
Make sure to arrive with hard copies of all the forms and supplemental documents that support your case (bills, unanswered emails, the demand letter, etc.). These documents will help you establish your case and counter Equifax's defense. DoNotPay will tell you precisely what documentation to bring, and why.
If you cannot show up on your court date, you need to notify the courthouse as soon as possible. They may be able to give you another court date. You will also need to warn Equifax of the change of schedule.
This is how things go in the courtroom in most cases:
You will present your version of the story.

Be concise and use facts

, and finish with the amount of money you are asking for and why

The defendant will tell their side of the story

The judge will then ask you both questions
You are allowed to ask the defendant questions. If you wish to do this, think about how you will ask these questions and try and expose the facts so that everyone understands them.
You need to show to the judge that coming to court was your last resort. Remind the judge:
What

you are asking for (the amount of money)

Why

you are asking for this reward

The different

steps you took

to get here

Your

goodwill

(showing up in court etc.)
Try to be as concise as you can, the judge hears many cases a day, and will not want to waste time on unrelated details. Select the essential facts and speak loudly and clearly.
Sometimes, if the defendant does not consider your case pressing or severe enough, they may not show up at all. In those cases, you win by default.
You cannot come to a small claims court with a lawyer. A lawyer can assist you during the process, but they cannot represent you. In small claims court, you represent yourself.
is aware of how stressful going to court can be. This is why DoNotPay can prepare a script you can use in court. This script will have all the necessary information you need to present to the judge. It will tell you what to say if you are facing an Equifax agent, but also if the latter is not present in court on the day of the trial.
Success stories - suing Equifax in small claims court
The founder of DoNotPay, Joshua Browder, believed in his product from scratch despite all the obstacles. With the Equifax breach, customers started using the app to sue Equifax in small claims court, and it worked!
Darrow Boggiano won a $9,100 settlement in San Francisco. She used the app to defend her rights as a consumer and managed to win against a magnate such as Equifax. She said that she would use the money to protect her personal information and her identity.
Christina Brandt Bernstein managed to win a $7,400 in her small claims case against the company. She used DoNotPay to file an official complaint, write a demand letter, and present her case in court.
Other plaintiffs who wish to remain anonymous have won against Equifax after the data breach in September 2017.
Depending on the court you file your case in, you could win up to 25,000$.
Sue Equifax for negligence
The breach Equifax had in September 2017 happened because of their negligence, as they were not sufficiently protected against cyber threats. If you think that your information has been leaked and you can prove that you've been damaged, you will likely win in court.
Suing Equifax for negligence in small claims court will allow you to receive a settlement for the damage the company caused you by exposing your private information to cyber thieves. Over 143 million other people were affected by Equifax's data breach, and you have every right to a hearing because your identity might have already been stolen.
Gross negligence describes a lack of care for the safety of others. Equifax's data breach can qualify for this definition in small claims court because of the risk of identity theft.
In 2018, a librarian from Vermont sued Equifax for gross negligence in small claims court and won $600 in the lawsuit. Plaintiffs using DoNotPay receive higher amounts in small claims court, and they do it all hassle-free.
If you're suing Equifax for negligence, remember that you will need evidence to support your claim. Evidence of neglect can include:
proof of your information being exposed

credit score changes after the breach

documentation showing lost funds from identity theft
Sue Equifax for data breach
If you want to sue Equifax for a data breach, it's best if you know whether your personal information was revealed. You can do so by using this lookup tool. If your information has been exposed, you can file a claim against Equifax in small claims court, or join the class action against Equifax in federal court. This class action against Equifax will allow you to team up with other plaintiffs and have higher chances of winning.
If you're looking to sue Equifax in small claims court, use our app in your to make filing your claim quicker and easier. DoNotPay can generate your demand letter, complete your court forms, and prepare a script for your hearing. The app will also make sure that you bring all the necessary supporting material for your claim to court at the time of your trial.
Equifax class-action lawsuit
In November 2017, several plaintiffs started the process of suing Equifax in a nationwide class-action lawsuit for the breach of consumer information that happened in September of the same year. You can join this class-action lawsuit against Equifax. The deadline to participate is January 22, 2020.
If you want a quick cash settlement from Equifax, the best option for you is to sue Equifax in a small claims court. Many plaintiffs that filed a small claims case against Equifax have won thousands of dollars in settlements.
Can't Afford a Lawyer? DoNotPay Will Jump In!
Did you know that you don't have to waste money on expensive legal help just to get rid of some minor bureaucratic issues? DoNotPay is here to save you hundreds of dollars with ready-to-use solutions that require mere minutes.
Our AI-powered bots gather the most important information via short questionnaires, draft required legal documents, and provide you with online fax services. If you need specific public records to support your case, we'll point you in the right direction.
With our virtual lawyer's help, you will be able to:
Spend Your Time on More Enjoyable Activities
With DoNotPay's help, you're bound to have more free time. If you're considering a new streaming platform subscription, make use of its free trial without worrying about unwanted charges. Need to get rid of other subscriptions? Use DoNotPay to cancel them without contacting customer support centers.
Don't worry about phone number identification at the signup. With our Burner Phone feature, spam text messages won't be bothering you ever again!
To summarize:
| | |
| --- | --- |
| You can sue Equifax in small claims court with the help of DoNotPay. | Many have sued Equifax in small claims court over its data breach in 2017. |
| Suing Equifax with DoNotPay's assistance is quick and easy, and increases your chances of being successful. | DoNotPay can help you complete a demand letter and file court forms for your small claims case against Equifax. |
| You can sue Equifax for negligence in small claims court. | Remember to gather as much substantial proof as possible to support your claim. |
| People have sued Equifax after its data breach in various ways. | You can sue Equifax in small claims court, or you can join the class-action lawsuit against the company. |
| The deadline for joining a class-action lawsuit is January 2020 | The class-action suit will probably take years. |
| DoNotPay can also assist with other legal battles. | This includes beating parking tickets, contacting customer service, and getting you an appointment with the DMV faster. |