Suing DirecTV in Small Claims Court
The definition of what used to be known as "television" is continually evolving. While the ascension of streaming services like Netflix is pushing the frontiers of video content, satellite and cable television services still have a place in the corporate food chain. For example, satellite TV providers like DirecTV provide hundreds of channels and enjoy broad coverage, especially in rural areas. Unfortunately, the near-monopolistic status that satellite TV providers enjoy in such regions means one thing, lackluster customer services. DirecTV is no exception.
It can be incredibly frustrating when a satellite TV provider like DirecTV fails to provide service as promised. In such a situation, you can turn to the legal system to get DirecTV to acknowledge your rights. As most people realize pretty quickly, attorney fees for the proceedings often outweigh the reward sought. Thus, going through a small claims court where legal representation isn't required is probably the best course of action. It is often the only option available under your contract. For those who are not used to the intricacies of the legal world, even that procedure may seem overwhelming.
However, technological advances are making everything easier, including suing DirecTV. For example, DoNotPay streamlines the process of navigating small claims court using advanced AI technology. Even people who have no experience in any courtroom can easily sue DirecTV with the help of DoNotPay. Access it through any .
Without DoNotPay, suing DirecTV in small claims court could be an extremely tiresome process. You would have to follow seemingly endless tracts of instructions written in complicated legalese. Going through all of the bureaucratic motions will take up vast amounts of time and money.
DoNotPay sweeps aside all of the downsides of turning to small claims court. It simplifies the entire process with a meticulously designed AI chatbot. It conducts a natural conversation with users, asking them questions about their issues with DirecTV. Through that conversation, the chatbot gathers all of the details needed for the case. Then, DoNotPay provides users with the complete set of legal forms they need to provide to the court, already filled out. On top of that, users receive a script of the most effective legal argument for their court appearance.
The straightforward process of suing DirecTV with DoNotPay

Suing DirecTV using DoNotPay is incredibly simple. All it takes are a couple of steps. We will go into the details of the process below, but first:
Access it through any .
Once that is done, DoNotPay will help you to:
Check whether your case against DirecTV is suitable for a small claims court

Compose a demand letter

Complete the needed court forms

File your complaint against DirecTV with the court

Serve DirecTV

Appear for your court date
Checking if your DirecTV complaint is suitable for small claims court

Before you can take your case against DirecTV to a small claims court, you will have to check whether the issue is suitable for this type of court. Generally, citizens turn to small claims courts for cases involving amounts of money that are small from a legal perspective. That is, small enough that attorney fees would negate any winnings from the case.
Small claims courts give people a chance to contest their cases through a simplified legal procedure. Plaintiffs and defendants appear before a judge, and the plaintiff states their claim. After that, the judge examines the facts of the case and reaches a legally binding decision.
This type of court is especially useful for people who have claims against DirecTV. The contracts consumers sign with DirecTV contain a clause regarding dispute resolution. It stipulates that before going through higher legal channels, they must seek resolution through arbitration or small claims court.
Luckily, nearly every U.S. state hosts a small claims court. As they are a part of the state-level judicial system, the rules for these courts vary by state. While considering whether your case against DirecTV is suitable for small claims court, keep in mind:
The value of the case:

The maximum monetary compensation that plaintiffs can ask for is different in each state. While Rhode Island sets a limit of $2,500 for small claims cases, you can sue for up to $25,000 in Tennessee. Check the monetary value limits in your specific legal jurisdiction.
The legal remedy in question:

Being a plaintiff in any lawsuit means that you're asking for a solution from the court. Understanding the

differences between

them is essential. First, there are the so-called

legal remedies;

in other words, monetary rewards given by the defendant to the plaintiff. Second, there are

equitable remedies.

These are actions that the defendant can take to resolve the issue. Most small claims courts won't rule on equitable remedies.
| | |
| --- | --- |
| Type of remedy | Suitability for small claims court |
| Legal (Monetary) Remedy | Yes |
| Equitable Remedy | Generally, no |
On this thread, someone describes how they won a small claims case against DirecTV. The customer reported that their channels "faded out" and DirecTV refused to do anything about, which, according to the court, nullified their contract void.
If you find yourself in a similar situation, access DoNotPay through any . Take DirecTV to small claims court and defend your rights as a consumer.
Composing a demand letter with DoNotPay

If you're sure that your claim is suitable for small claims court, the next thing you need to do is submit a demand letter to DirecTV. Sometimes, even notoriously unresponsive satellite TV providers like DirecTV will resolve your issue out of court. Most large companies avoid going to court over small problems.
That's why most small claims courts require you to send a demand letter to the company you want to sue before the proceedings begin. They don't want to get bogged down in a vast number of cases that could have been resolved out of court. The demand letter has a specific structure, which must include these elements:
The plaintiff's personal information.

You have to introduce yourself to DirecTV. State your legal name, address, and any contact information they could use to reach you.

The plaintiff's demands.

Describe what sort of issue you have with DirecTV and provide detailed suggestions on how the company could remedy them.

The intention to sue.

Finally, you need to make it clear that you will seek legal remedy through a small claims court if your requests aren't resolved.
Correctly adhering to this structure is not always easy. But using DoNotPay through any means not having to worry about how to draft your demand letter. If you answer the chatbot's questions, DoNotPay will provide you with a demand letter perfectly crafted for your particular case. All you have to do is send it to DirecTV's legally registered address. That is:
Company Name:

DirecTV LLC

Legal Address:

P.O. Box 915

El Segundo, CA, 90245
Complete the necessary court forms using DoNotPay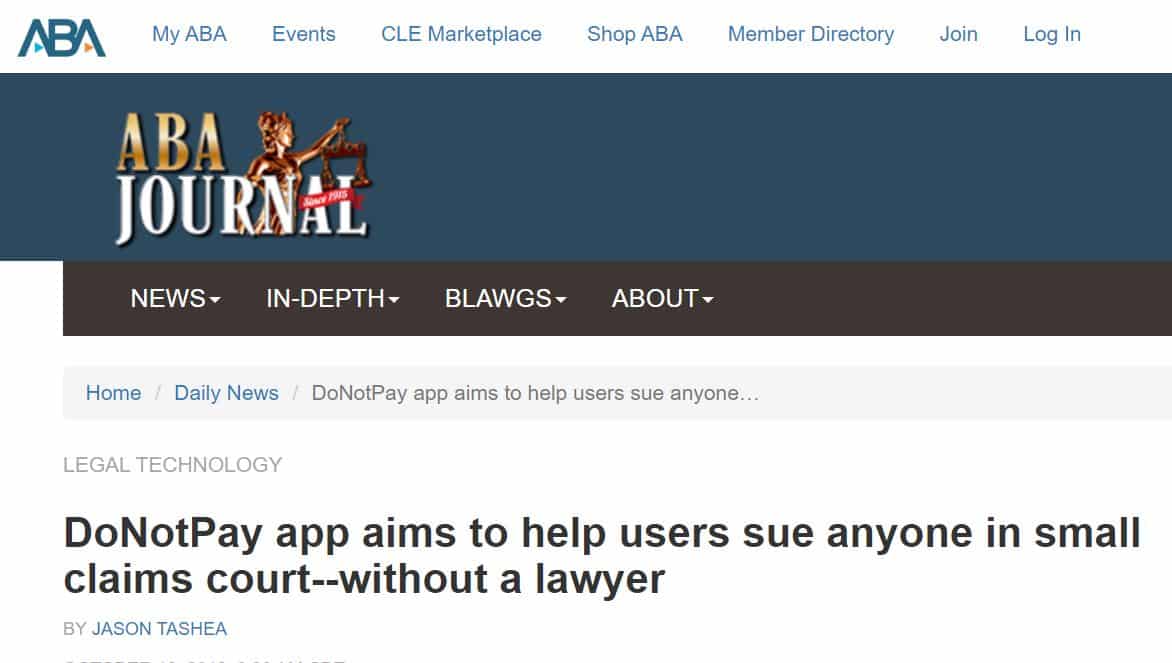 If DirecTV doesn't respond to your request favorably, you can begin a proceeding against them in small claims court. To do this, you will first need to fill out the court-mandated forms. There is also a chance you will have to deal with forms specific to the county. You need to make sure all of this paperwork is flawless, as making a mistake here may be grounds for your case to be dismissed. You will need to make sure you submit the precise number of copies of the forms. The number required is different in each state.
DoNotPay also makes this part of the process much simpler. If you make use of DoNotPay through any , you get all of the forms needed without any hassle. DoNotPay will even fill them out for you. DoNotPay will give you the exact forms you need based on the legal jurisdiction you're in, with the required number of copies. That will save you the trouble of pouring over minute details. The app automates all the menial parts of the process.
File your complaint against Directv using DoNotPay

Once all of your court forms have been effortlessly filled out with the help of DoNotPay, you need to file them. The exact procedure for this step depends on the specific court with which you are dealing. There are some jurisdictions where you can file a lawsuit by mail, or even through an online platform, while others demand that you appear at the court in person. When you do that, you will be informed of your designated court date. It is written in stone, so make yourself free on that date.
Bear in mind that most small claims courts charge plaintiffs a filing fee. The fee can be as high as $75, depending on where your court is located. The details of the filing process are usually found on the website of the court in question. That includes the fee. Pay special attention to:
The exact date of the court hearing

The obligatory filing fee
Serve DirecTV

Before your actual court appearance, there's only one more thing left to do, inform DirecTV that you are taking legal action against them. To serve the defendant, you need to provide them with a stamped copy of the court forms that you've filed. While this may seem trivial, it's a key part of suing DirecTV in small claims court.
Luckily, DoNotPay is here to take care of any difficulties and complications. With your specific legal jurisdiction in mind, DoNotPay will give you precise guidelines on serving DirecTV in compliance with small claims court rules. Access DoNotPay through any .
Appear for your court date with the help of DoNotPay

No matter how easily you're able to handle all of the bureaucracy mentioned above, your actual court appearance may strike you as overwhelming. Not everyone has the confidence to present their case in court boldly without any legal training. However, even this isn't too difficult if you use DoNotPay to guide you through your small claims court procedure.
With the specific details of your case in mind, DoNotPay's AI technology will provide you with a script tailored for your case. It will contain everything you need to know to present your claim to the judge, including a list of the evidence required. DoNotPay will even provide you with a description of all the steps to take if DirecTV doesn't show up at court.
DoNotPay makes any small claims court appearance simple by providing:
A case-specific courtroom strategy

A reminder of what evidence you should present

A scenario for any eventuality
When to sue DirecTV
Many consumers aren't sure of when it is appropriate to sue DirecTV in small claims court. Luckily, there are legal precedents for customers going against big wireless and satellite TV service providers and winning. You have the best chances of suing DirecTV for:
Refund problems after advance payment

Falsification of contracts

Contradictory fees
Suing DirecTV for issues with refunds
In some cases, satellite TV providers like DirecTV give their longtime customers a discount on their subscriptions. Usually, these discounts last for a couple of months. However, if customers have been prepaying for their subscription, they will be owed a refund for the difference in price.
Unfortunately, in these cases, DirecTV may make the refund procedures intentionally arduous. One determined customer took DirecTV to a small claims court for a refund of $23!
Suing DirecTV for falsified contracts and contradictory fees
Apart from refund problems, DirecTV customers have reported many other issues with the company's services and their pricing. One customer said that the company charged them almost double the amount of the stated installation fees for a satellite dish. The customer in question filed a small claims lawsuit and received a full refund. DirecTV did not even show up, so the customer won by default.
Even more distressingly, there are multiple reports of DirecTV treating work orders as new contracts. For example, one customer had to replace some piece of DirecTV equipment in their home, and the company treated the work order that the user signed as a renewed contract. Once the user's valid contract expired, DirecTV tried to charge them a cancellation fee. Luckily, the money was returned after a case in small claims court.
Can't Afford a Lawyer? DoNotPay Will Jump In!
Did you know that you don't have to waste money on expensive legal help just to get rid of some minor bureaucratic issues? DoNotPay is here to save you hundreds of dollars with ready-to-use solutions that require mere minutes.
Our AI-powered bots gather the most important information via short questionnaires, draft required legal documents, and provide you with online fax services. If you need specific public records to support your case, we'll point you in the right direction.
With our virtual lawyer's help, you will be able to:
Spend Your Time on More Enjoyable Activities
With DoNotPay's help, you're bound to have more free time. If you're considering a new streaming platform subscription, make use of its free trial without worrying about unwanted charges. Need to get rid of other subscriptions? Use DoNotPay to cancel them without contacting customer support centers.
Don't worry about phone number identification at the signup. With our Burner Phone feature, spam text messages won't be bothering you ever again!
Conclusion
Bringing your issue with DirecTV before a small claims court can be complicated. But the entire process will be smooth and straightforward with DoNotPay. No plaintiff needs to deal with bothersome paperwork or tons of online research about court rules any longer. A short interaction with the DoNotPay in your will give you everything you need to bring your case against DirecTV to a successful conclusion.