Suing An Airline: Explained

Did you know you deserve compensation if an airline cancels your flight? This is just one of the many rights of an air passenger according to The US Department of Transportation (DOT).
This article will discuss your rights as an air passenger and how to sue an airline for violating your rights in small claims court. We'll also show you a hassle-free way of suing with !
An Airline's Contract of Carriage
We enter a handful of contracts every day from the purchase of subscriptions to the use of a public parking lot — the purchase of flight tickets is no different. The Contract of Carriage (CoC) defines the legal responsibilities of you and the airline.
If the airline violates the CoC, rest assured, the US Department of Transportation has policies in place to protect you.
Rights of An Air Passenger
The table below outlines your rights and how they are protected by the US Department of Transportation.
| | |
| --- | --- |
| Your Rights | What they mean |
| Right to honest fares | All airlines are mandated to display the true sum total of your ticket. There should be no hidden charges or extra costs to be discovered in the process of boarding. |
| Right to onboard care | While onboard, it is the responsibility of your carrier to provide you with refreshments, depending on the length of your flight. |
| Rights regarding bumping | If you are dropped by an airline due to overbooking, you deserve compensation, if you are not satisfied with the alternatives options provided. |
| Rights against delays and cancellations | You have the right to demand reasonable alternatives or compensation against delays or termination of flight by the airline. |
| Rights concerning baggage | In the event of theft, loss of luggage or luggage contents, or delayed arrival, you are entitled to compensation and replacement by the airline. |
| Rights concerning downgrading | If an airline offers you an alternative in a class higher than what you paid for as a result of bumping, you should bear no extra cost for the difference. If the new class is lower than what you paid for, you are entitled to compensation for the value difference. |
| Rights concerning disability | On no account should an airline carrier discriminate against you based on your physical disability. |
How To Sue An Airline For Violation of Rights
Before you sue an airline in small claims court, ensure you have:
Read the Company's Contract of Carriage: You signed up for this contract the moment you purchased a ticket. Make sure you check
If they covered your grievance in the contract
If the airline's method of treating customers contradicts Federal Aviation Laws
If there are stipulated dispute settlement methods
Contacted Customer Care: Your airline has a duty to provide formal complaint channels for customers. Try to keep a record of all communications to serve as evidence if they fail to address your issue.
Filed a Complaint with the Airline: At the point where you are unsatisfied with customer services' response, you can formally file a complaint to the airline company.
Contacted the Office of Aviation Consumer Protection: This is a special arm of the DOT created to address consumer complaints. You can contact the office at:
Office of Aviation Consumer Protection
1200 New Jersey Ave, SE
Washington, DC 20590
United States
Phone: (202) 366-2220
How to File a Small Claims Lawsuit?
Gather all evidence: This may include your ticket, bag stubs, section passes, and details of calls or text conversations with the airline management.
File your case in court: You would need to check if the small claims court district in your area has any specific requirements such as the number of copies, filing fee, or the process to serve your defendant.
Serve the airline: Since you are dealing with an airline company that may operate in various countries, the DOT requires that you serve your defendant in the country they are headquartered in or have a business premise located. This may not be your state of residence. You need to seek their correct business name and address. There are services that can do this for you.
Prepare for your day in court: Present your evidence and be prepared to defend your case. DoNotPay can help you prepare:

A custom-tailored script to use in court
the right number of fully completed forms
A list of evidence to present before the judge
Sue An Airline With DoNotPay
DoNotPay is an excellent service that helps you through the legal process, including determining your claim. With DoNotPay all you need to do is:
Go to and select the Sue Now product
Enter the type and value of compensation you seek
Select whether you want a demand letter or court filing forms
Describe the reason for the lawsuit and submit any applicable evidence
That's it! DoNotPay will generate a demand letter or court filing forms for you. The robot lawyer will also mail a copy of your demand letter to the airline on your behalf!
What Other Types of Lawsuits DoNotPay Can Help You With?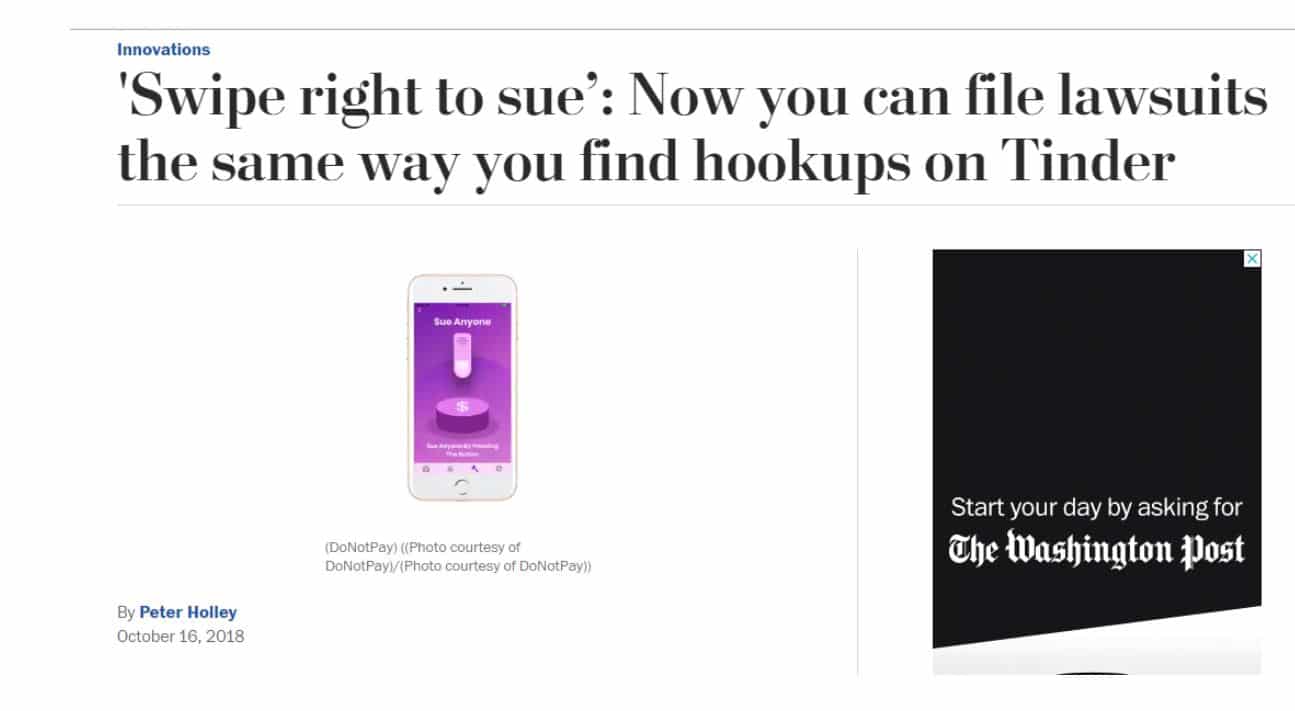 DoNotPay does not stop at helping you sue an airline! Check out some of the corporations the robot lawyer has been helping its users sue: