A Guide to Suing a Contractor for Breach of Contract
When a contractor fails to honor the terms of your contract, the violation can inflict serious damage on you and your business. If the contractor's work does not meet the expectations spelled out in the contract, you might decide to escalate the issue.
In this article, we will tell you everything you need to know about suing a contractor for breach of contract and help you resolve your dispute efficiently.
What Constitutes a Contractor Breach of Contract?
A breach of contract is a severe violation of the agreement that occurs due to the contractor's failure to fulfill their contractual duties. The most common breach types are minor, material, anticipatory, and fundamental.
The contractor is in breach of contract if they:
Failed to use approved subcontractors
Did not follow the building specifications, such as blueprints, design choices, etc.
Increased the price for construction, materials, or labor
Missed building deadlines without permission
Did not complete the work for the quoted price
Used materials that are not approved in the contract
Breach of Contract Elements You Need To Prove
To sue the contractor for breach, you will need to demonstrate the following elements:
| Elements | Explanation |
| --- | --- |
| Existence of a valid contract | To file a lawsuit, you will need to prove that there was a contract concluded. It is fairly easy to prove the existence of a written contract and somewhat difficult to demonstrate the existence of an oral one |
| Contractor's failure to perform under the agreement | You need to demonstrate that the other party failed to perform the terms of the contract. Collect as much evidence as you can—the agreement, invoices, photos, etc. |
| Losses and damage you suffered due to the breach | You will need to show in the court that you suffered significant losses due to the breach |
How To Sue a Contractor for Breach of Contract
Consider the following guidelines when filing a lawsuit:
Send a demand letter first—If you send a demand letter before filing your lawsuit, you will have evidence that you wanted to resolve the issue out of court
Check the statute of limitations—A statute of limitations is a timeframe within which you must file your lawsuit. In most states, the deadline is four years, but you should check your state's statute of limitations before proceeding to court
Review the terms of your contract—You should go over all the terms of your contract that you believe your client has breached
Acquire a complaint form—Make sure that you have the appropriate court forms. You can download them from your county court's website or acquire them at your local county clerk's office
File your claim with the court—Check with your local county clerk's office what the requirements are for filing the complaint
Why Is Sending a Demand Letter First a Better Option?
Taking the breaching party to court seems like an obvious choice, but you should keep in mind that litigation is expensive and time-consuming. That is why you should consider sending a demand letter before taking legal action.
A breach of contract demand letter might accelerate your case and make the contractor take you more seriously. Your demand letter should contain:
A polite and formal introduction
History of services requested from the breaching party
Evidence of the breach
Deadline by which the defendant must fulfill the terms of the contract
Register for DoNotPay to get a reliable demand letter customized to your case.
DoNotPay Helps You Draft Your Demand Letter in a Few Simple Steps
If you choose DoNotPay, you can avoid unreliable templates and get a fully personalized breach of contract demand letter in a few minutes. Our app will create a demand letter that complies with the relevant state laws and covers the specifics of your case.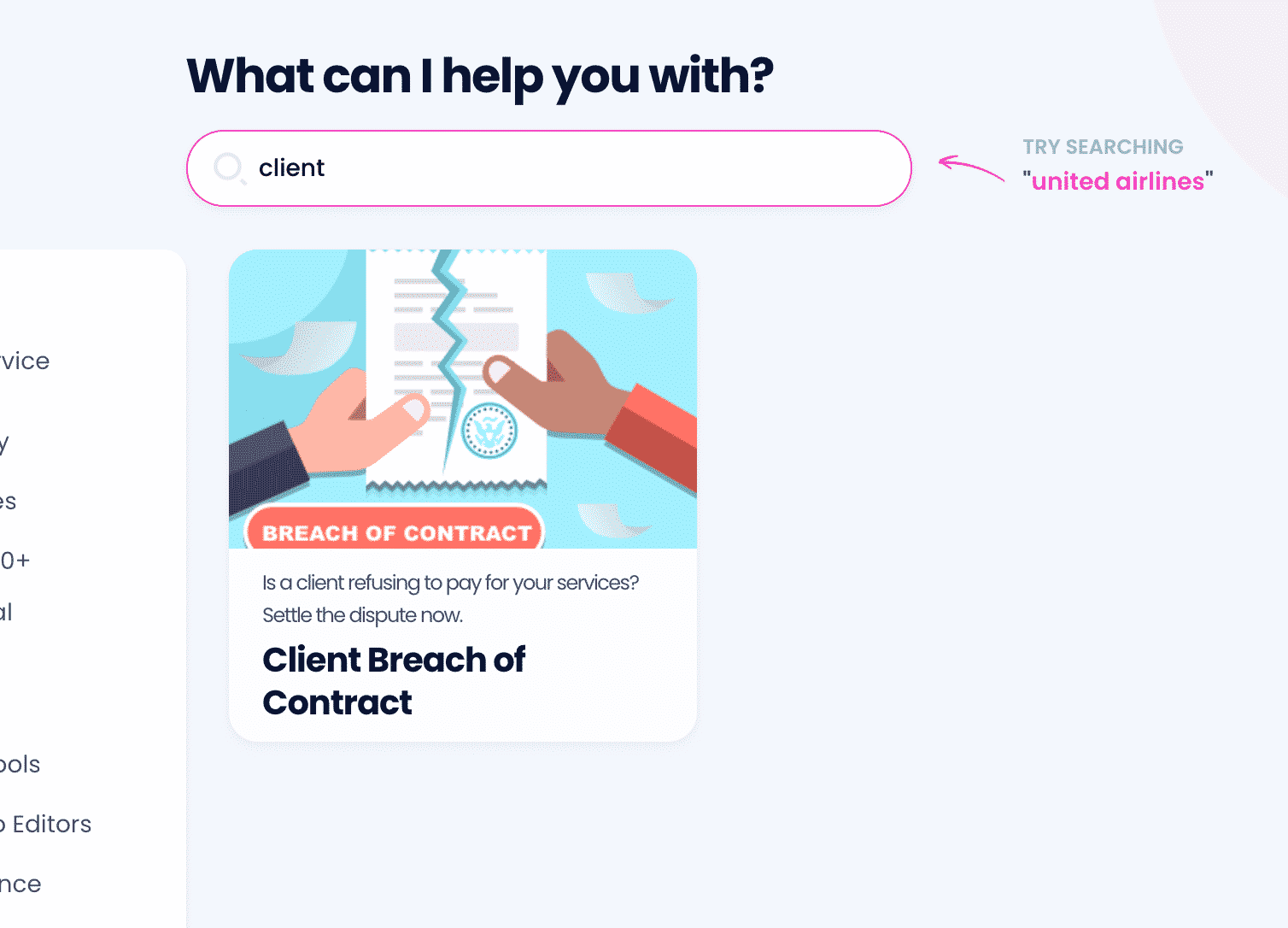 All you need to do is sign up for DoNotPay and follow the instructions:
Open the Client Breach of Contract product
Provide us with all the necessary details about your case
Set the final due date
Describe the provided services
Add photo proof (if you have any)
After you complete the steps, we will generate your letter automatically. You can download the letter in PDF, print it, and send it to the contractor.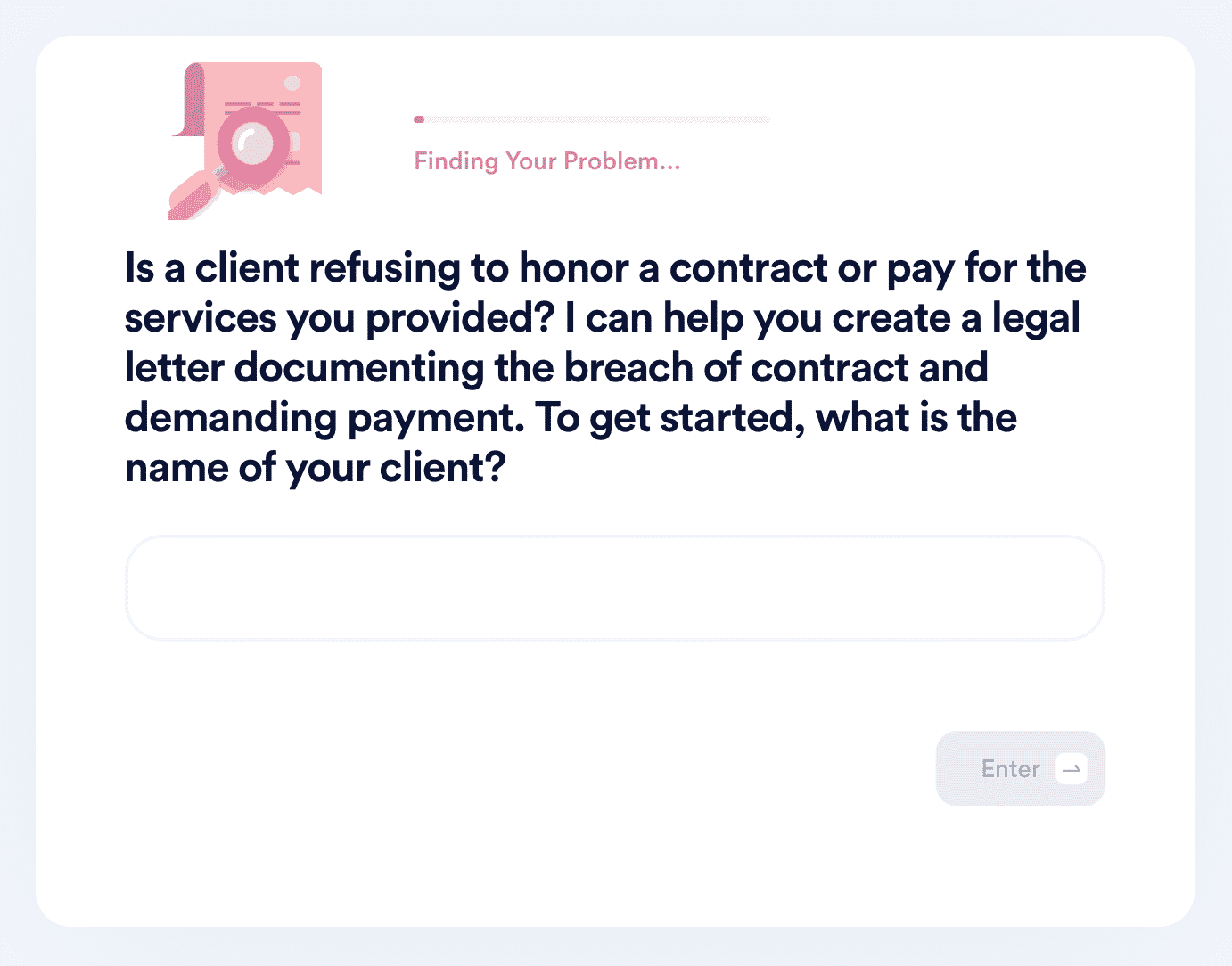 Sue the Contractor in Small Claims Court With DoNotPay
If the contractor ignores your letter, DoNotPay can help you sue them in small claims court. Our app was honored with the ABA Louis M. Brown Award for Legal Access for a reason—we can assist you by:
Gathering all the necessary paperwork
Filling out the court forms
Filing the forms on your behalf
Generating a script you can use at your court hearing
To use our service, access DoNotPay and follow the instructions below:
Open the Sue Now tool
Tell us details about your case
Add any proof that you have
You should know that the contractor might raise affirmative defenses to breach of contract in court, i.e., they might state valid reasons for why they failed to honor the contract.
Get the Upper Hand With DoNotPay
The business world is extremely competitive—that is why it is always good to have some extra capital set aside when you need to invest in your company. You can leave the bureaucratic task to us—DoNotPay will draw up business loan request letters in your stead.
If your finances are taking a hit, rely on our app. With our assistance, you will be able to:
Fight fraudulent chargebacks
Remove fake negative reviews online
Register and protect your trademark
Send mail and faxes at no additional cost
Handle clients breaching contracts and get what you are owed
Whatever the task at hand, our AI-powered app will see it through successfully.
DoNotPay—The Assistant Every Business Needs
You cannot escape bureaucracy in business. What you can do is let DoNotPay deal with it. Whether you need to register a DMCA agent or complete an Employer Identification Number (EIN) registration, our app will lead the way.
Using DoNotPay, you will also not have to worry about 83(b) election forms or Privacy Shield self-certification. From generating to filing important documents and from dealing with employees to handling clients on your behalf, our AI-driven app is your go-to solution.
Grow and protect your business with the world's first robot lawyer!