How to Sue Walmart in Small Claims Court

In 2012, Mary Bach won a lawsuit against Walmart for a price discrepancy of 2 cents on a sausage. For Mary, it was never about the money but about Walmart's negligence that could cause hundreds of thousands of unsuspecting customers to pay the extra 2 cents.
This example shows that taking legal action against a large corporation such as Walmart is possible. If you are a customer or employee of Walmart and have been wronged by the company, you should defend your rights under the law.
This article will show you cases that can be brought against Walmart and how you can sue Walmart and win using .
Can I Sue Walmart?
You can sue Walmart in small claims court — a specialized division of the legal system that deals with claims under $10,000 (varies by state). The table below outlines examples of small claims suits against Walmart.
Lawsuit
Explanation
Personal Injury
Personal injury cases can be filed by both customers and employees and are usually a result of Walmart's negligence. Examples include:

Trip and fall cases
Falling objects
Parking lot injuries
Hazards

Assaults
Any class of assault that happens on Walmart's premises is an indictment of the company's inability to provide adequate security for customers and employees.
Delivery Issues
For online shoppers, failure to deliver as promised is a just cause to sue Walmart. Delivery truck drivers have also been known to cause accidents and incur lawsuits for Walmart.
Maintenance and Repair Issues
Walmart has a maintenance and repair section for its machines and other electrical products.

You can sue Walmart for improper servicing and repairs of your vehicle or lawnmower.

Discrimination
Whether you are an employee, a job seeker, or a customer; if you have proof that Walmart has violated your Title VII rights, it is a just cause to sue the company.
Poor Working Conditions
There have been several lawsuits against Walmart for poor working or shopping conditions ranging from:

Poor lighting
Non-provision of work equipment
Failure to provide adequate protection
Non-compliance to standard safety procedures
When Should You Sue Walmart?
Consider the following before proceeding to file a small claims lawsuit.
Your case falls under any of the categories above and you have sufficient evidence to support your claim.
The case is not over two years old: The statute of limitation for most states requires that you bring a lawsuit within the first two years of its occurrence.
You have tried other means of dispute settlement: if you are a customer or a visitor, Walmart will most likely require you to have:
Contacted customer service
Contacted Walmart's head office
Sought arbitration before opting for a small claims court.
If you are an employee, you would have:
Reported to your supervisor
Filed a formal complaint to Human Resources
Filed a complaint to the EEOC and obtained a notice-to-sue
How to Sue Walmart in Small Claims Court?
Depending on your case, you can either sue Walmart for monetary compensations such as refunds or non-monetary compensations replacement of items. Follow the guide below to file a lawsuit against Walmart in small claims court.
Small Claims Lawsuit Process
Detail
Check the eligibility of your case in a small claims court

Keep in mind that most states generally rule on monetary awards only.

Depending on the state in question, small claims courts have different maximum amounts of money for which you can sue. These are usually between $5,000 and $10,000. Tennessee is an outlier with a maximum award of $25,000.

Serve Walmart your demand notice
All small claims courts require that you reach out to your defendant and give them a chance to settle before going to court. A demand claim can do that for you.

Send your letter to Walmart's headquarter at:

Walmart Inc.

702 SW 8th Street

Bentonville, AR 72716

File your small claims lawsuit
Find a small claims court closest to you and obtain court filing forms.

Note that you may need a proper service to estimate the monetary value of your claim. It may turn out more than what you perceive.

Serve Walmart the notice
You should get your claims across to Walmart as soon as you can, and give them 14 to 30 days to respond, depending on the stipulations of the court.
Prepare for court
Present your claim, applicable evidence, and be prepared to defend your case.
How to Sue Walmart With DoNotPay?
Suing Walmart by yourself can be overwhelming and complicated. Let DoNotPay fight the legal battle for you! The world's first robot lawyer streamlines the suing process into 4 simple steps. All you need to do is:
Go to and select the Sue Now product
Enter the type and value of compensation you seek
Select whether you want a demand letter or court filing forms
Describe the reason for the lawsuit and submit any applicable evidence
That's it! DoNotPay will generate a demand letter or court filing forms for you. It will also mail a copy of your demand letter to Walmart on your behalf!
What Else Can DoNotPay Do?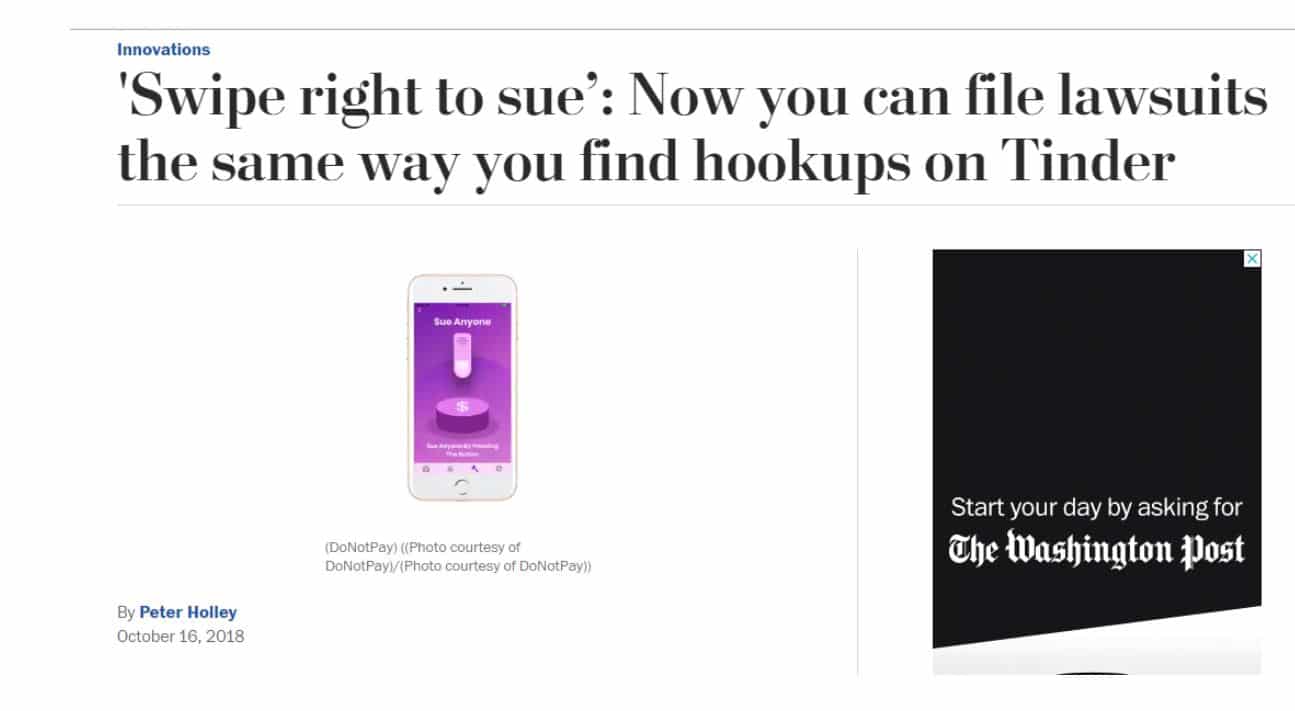 DoNotPay can save you money and time! The robot lawyer can draft legal documents on your behalf. Check out what we can do for you: