Sue United Airlines in Small Claims Court
Air travelers are often wronged in a way that makes them incur additional costs. Companies like United Airlines often refuse to reimburse them. In such a scenario, the best course of action is usually to turn to a small claims court. However, for individuals who are not legal-savvy, even the simplified procedures of small claims court can seem overwhelming.

Problems like this inspired the creation of DoNotPay, an AI-powered app that helps you bring your case to small claims court effortlessly. Access the advanced DoNotPay chatbot via the . It will ask you a series of simple questions about your case. After that, the app will help you file your lawsuit against United Airlines in a small claims court with practically no effort. DoNotPay will automatically generate your demand letter and fill out all of the required legal forms for you. It will also give you a script to use during your court appearance.
How suing United Airlines with DoNotPay works

The process of suing United Airlines with DoNotPay is utterly simple, consisting of only a few easy steps. Before it all:
Access DoNotPay's web app in your . DoNotPay will help you:
Check the eligibility of your claim in a small claims court

Produce a demand letter

Fill out the required court forms

File your case with the court

Serve United Airlines with the lawsuit

Appear on your court date
Check the eligibility of your claim in a small claims court
Before you file a lawsuit against United Airlines, you need to make sure that your case is eligible for small claims court. Small claims courts exist to aid people in recovering relatively small amounts of money without dealing with attorneys or more complicated legal proceedings. The plaintiff appears before a judge, who makes a ruling on whether the defendant must pay any reward.
Almost every state has its own small claims court. Their rules and procedures vary by state. Also, the maximum amounts of money that can be awarded differs. When considering the eligibility of your case in a small claims court, you need to consider:
The sum of money you are pursuing:

Depending on the state in question, small claims courts have different maximum amounts of money for which you can sue. These are usually between $5,000 and $10,000. However, Tennessee is an outlier with a maximum award of $25,000. You can learn about the monetary limits in different states

here

.

Types of rewards:

When you file a lawsuit, you can seek two

different kinds of rewards

. First, there are

monetary rewards, as outlined above

. Second, there are

equitable rewards

, which represent non-monetary actions that you would like to compel the defendant to take. Bear in mind that small claims courts generally only rule on monetary rewards.
| | |
| --- | --- |
| Type of reward | Small claims court eligibility |
| Monetary Reward | Yes |
| Equitable (Non-Monetary) Reward | In most cases, no |
Produce a demand letter using DoNotPay
Once you've made sure that you can make a case in a small claims court, your next step is producing a demand letter. Most small claims courts demand that you inform the defendant of your claim before filing a lawsuit with the court. This step exists to give you the chance to resolve the issue in question before taking it to court. The courts want to keep their caseload as low as possible. Your demand letter will be structured with the following elements:
Your details:

You need to present yourself to the company with personal information such as your name, legal address, and contact information like an email address and phone number.

Your demands:

The letter must contain a description of your problem with United Airlines, and suggestions on how to resolve it.

Your intention to file a lawsuit:

Lastly, the letter has to contain a clear statement of intent to sue United Airlines, should they refuse to settle the described problem voluntarily.
If you use the DoNotPay , you don't need to trouble yourself with composing a demand letter at all. All you need to do is provide the DoNotPay chatbot with the required information by answering a simple set of questions. Once you're done, DoNotPay will generate a superbly written demand letter for you. After that, your only obligation is to print the letter out and send it to United Airlines using their legal address. Mail the demand letter to:
The legal name of the company:

United Airlines, Inc.

The Corporation Trust Company

Registered address:

Corporation Trust Center 1209 Orange St

City:

Wilmington DC 19801
Getting DoNotPay to craft you a compelling demand letter is essential for your case. In a third of all cases, a large company like United Airlines will avoid a court proceeding altogether by fulfilling the complainant's request out of court.
Fill out the required court forms using DoNotPay
If United Airlines fails to resolve your complaint out of court, you can proceed to file a lawsuit against the company in small claims court. To do that, you will have to fill out a set of court forms. You'll need the right forms for your court and the correct number of copies, which varies by jurisdiction. Once you fill them out, you will need to mail them to the court or present them in person.
DoNotPay will do all the tough work for you. The DoNotPay will give you the required forms and fill them out for you. DoNotPay will also make sure that you have the necessary number of copies. You don't have to do any research or trouble yourself with the minutiae of filling out the forms; the process is entirely automated.
File your case with the Court with DoNotPay
Once you've filled out all of the court forms using DoNotPay, it's time to file them with the court. Some courts allow plaintiffs to file their forms online or by mail. Others require you to do it in person. You may need to personally deliver the forms to the court clerk during working hours. They will give you a stamped copy of your forms, as well as a court date on which to appear. Bring these stamped copies on the designated court date.
Also, all small claims courts require the plaintiff to pay a filing fee. This fee varies from state to state, ranging from $30 to $75. You can usually find it stated on the court's website. Plaintiffs with a particularly low income may have their fees waived. To summarize, make sure you pay attention to the:
The filing fee

The date assigned for your court hearing
Serve United Airlines
So, you've successfully filed your suit with the court. All that's left is to inform United Airlines of your lawsuit. This process is called serving the defendant. It means delivering a stamped copy of your court forms to United Airlines. It is important to follow all of the court rules on serving defendants, as doing otherwise means risking the dismissal of your case.
Unfortunately, small claims courts across the country have different rules on how to serve defendants. DoNotPay will assist you in this part of the process as well. Depending on the court you'll appear before, DoNotPay will provide you with instructions on serving United Airlines according to their rules.
Appear on your court date with the help of DoNotPay
Finally, it's time for you to appear before the judge and state your case. In some situations, representatives of United Airlines will neglect to appear to oppose your lawsuit. Should that happen, you win by default.
For many people, appearing in court is the most stressful part of the procedure. DoNotPay will prepare a script for your court appearance. It will include all of the key elements needed for your case to succeed.
DoNotPay will also give you a strategy to use if United Airlines does not show up. DoNotPay tailors these strategies for each specific case. You will even be provided with a list of paperwork or other evidence you should present if any. With the help of DoNotPay, any air passenger can win their case against United Airlines in a small claims court.
To summarize, DoNotPay will provide you with:
A custom-tailored script to use in court

the right number of fully-completed forms

A list of evidence to present before the judge
When can I sue United Airlines?

You can try to sue United Airlines using DoNotPay any time your rights have been infringed. Based on legal precedents listed in the Air Travelers guide from the Department of Transportation, these are the most common situations in which you should file a suit:
Cancellation of a connecting flight

Cancellation of a flight, which results in an overnight stay without reimbursement

Loss of luggage
Sue United Airlines for canceled flights

If your connecting flight is delayed or canceled, United Airlines may offer to arrange ground transportation to your destination. This would result in a much more lengthy and less comfortable ride. In such a situation, you should attempt to request a refund for the difference in the services provided.
If your international flight gets canceled, you may be forced to spend the night near the airport. The airline should reimburse you for the full cost of the delay.
In one such instance, a passenger managed to win $900 in a court case against United Airlines. United Airlines originally saw fit to offer him only a $300 coupon. However, one short small claims case later, and United paid him the full amount of the estimated refund.
Sue United Airlines for a loss of luggage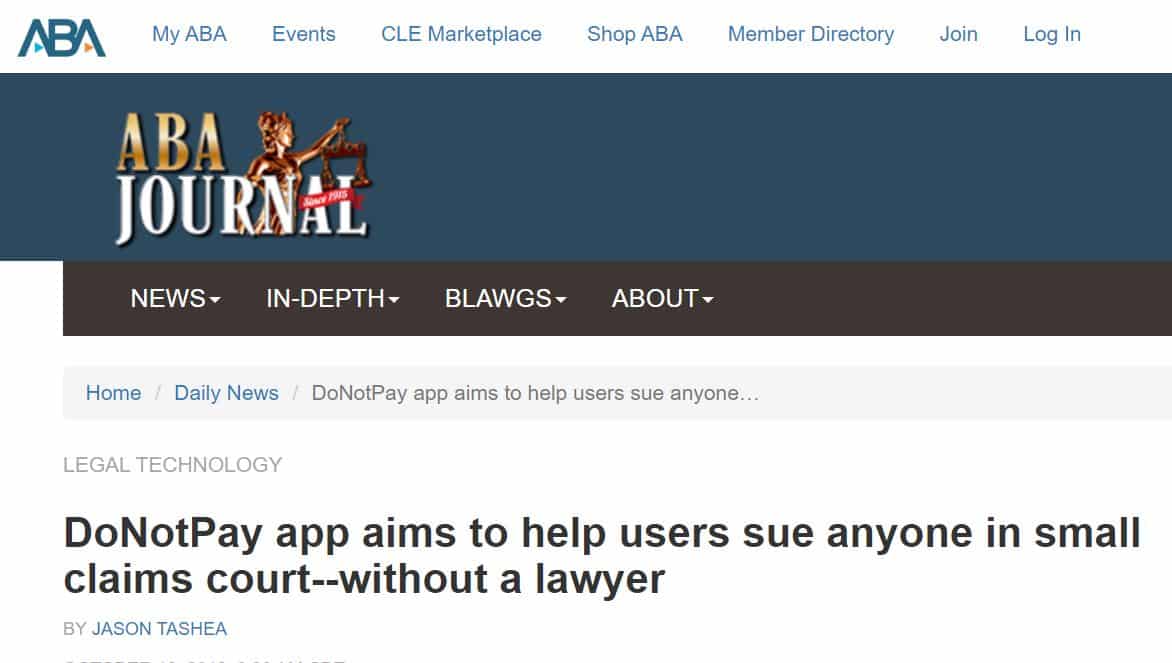 Should an airline misplace or damage your luggage, you have a great chance of winning a refund in a small claims court. According to Department of Transportation regulations, you can file a claim for reimbursement up to $3,300. Travel attorneys often stress that there's a high chance of winning an award even without a receipt.
In one case, a woman named Carol Frost managed to win $1,500 as reimbursement for her lost luggage. While the airline fought her case, and it took a while, her persistence paid off in the end.
What else can DoNotPay do?
Apart from helping its users fight their battles in the small claims court, DoNotPay can help with an array of other issues such as:
Disputing traffic tickets

Fighting speeding tickets
In conclusion
As you can see, the process of suing United Airlines in small claims court can be quite simple. DoNotPay goes a long way toward automating the proceedings for you. All of the menial bureaucratic tasks that would otherwise take up days of your time are whittled down to a couple of minutes with DoNotPay.