Subordination Agreement Form
Explained
If you need a quick and simple way to create a legal document, we got you covered! You don't need to figure out what a subordination agreement form should include by yourself—follow our step-by-step guide and write your contract with ease!
Sign up for DoNotPay for an efficient and streamlined way to create a number of agreements!
What Is a Subordination Agreement?
A subordination agreement is a contract signed between two parties:
Lenders

Debtors
The contract is used to prioritize senior debt over junior debt. Prioritizing debts is critical in cases of debtors declaring bankruptcy. Lenders need to ensure the debtors will repay them even in such cases, and that is where a subordination agreement comes in.
This agreement will acknowledge that the lender's claim (senior debt) is superior to the debt owed to the other party (junior debt) when the borrower's assets get liquidated. The contract will protect the lender's interests in case the borrower places additional liens.
How a Subordination Agreement Works
To show how a subordination agreement works precisely, we'll illustrate it with an example. Let's say that a business has $670,000 in senior and $460,000 in junior debt, while the total asset value is $900,000. When the business files for bankruptcy, its assets will be liquidated at market value, which is $900,000.
The senior debtholder will receive their payment in full amount, while the remaining amount will be distributed among the junior debtholders.
Junior debts are riskier than senior debts, so higher interest rates are usually required from the lenders.
What a
Subordination Agreement Form
Must Include
If you want to write a subordination agreement by yourself and you're looking for contract forms online, you should be careful. The contract forms and templates can often be incorrect and unreliable.
We suggest checking the list below to see what the crucial points that every legally binding agreement should include are:
Personal information of the parties

—The full legal names and addresses of the relevant parties

Terms and conditions

—All the duties and responsibilities of the parties specified

Consideration

—An item of value exchanged for money or an alternative item

Offer and acceptance

—An offer made by one party and accepted by the other

Intention

—A clear intention of making the agreement legally enforceable

Signatures

—The signatures of everyone involved
Subordination Agreement Types
There is more than one type of subordination agreement. These are the two common ones:
| | |
| --- | --- |
| Subordination Agreement Type | How It Works |
| Executory subordination agreement | The subordinating parties accept to subordinate their interests to the security interests of another lender's claim. This type of subordinating agreement is only a promise of the future agreement, so it may be challenging to prove it in court |
| Automatic subordination agreement | The main and subordination agreements are recorded and executed simultaneously. The agreement will state that a party signing it agrees to become a secondary debtholder |
Draw Up Legal Documents With DoNotPay Easily!
You don't have to struggle with writing contracts any longer! DoNotPay jumps in with a neat feature that allows you to draft various agreements in only a few minutes!
There is also no shortage of contracts we generate for you—from business contracts to real estate agreements. All you need to do is answer a few simple questions about you and the document you want us to make, and we draft it instantly! Follow the next steps to get started:
Type in the name of the agreement you want

Answer a few questions about you and the document
After you complete the above-mentioned steps, DoNotPay will create your personalized document. You can choose to print or download it right away.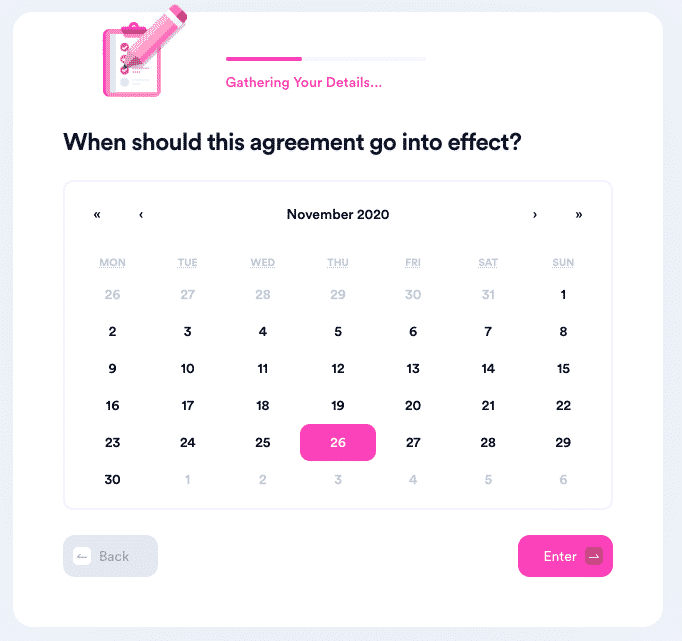 If you're wondering what documents you can draw up using our app, check out the table below:
Real Estate Agreements
Business Agreements
Other Agreements

Intent To Purchase Real Estate

Quitclaim Deed

General Business Contract

Promissory Note

General Affidavit
After our AI bots draft your contract, you can use another DoNotPay feature to get your document notarized easily! We integrated the two features to make drafting and notarization as easy as possible.
DoNotPay Provides You With Ready-Made Guides to Numerous Other Contracts!
DoNotPay drafts the contracts we listed above in your stead, but that is not everything our Al-powered app does! We can offer you ready-made guides to creating an abundance of other agreements as well! We listed some of them below:
Subscribe to DoNotPay and work smarter, not harder!
DoNotPay Gets the Job Done—Solve Any Issue Within Several Clicks
DoNotPay is an ever-growing app, which is constantly adding new ways to help you with your everyday tasks and those not so common.
Count on your virtual assistant when you need to:
Have Your Cake and Eat It Too—Earn, Save, and Get Your Money Back
Not only can we help you complete numerous tasks, but we can also make sure your money stays where it belongs—in your wallet. Let DoNotPay assist you in getting different types of refunds and compensation:
Our app can also help you find your unclaimed funds, get free trials and free raffle tickets, and obtain a college fee waiver.