Make a Sublease Agreement Hassle-Free
Making a sublease agreement is usually a complicated and overbearing process, but it doesn't always have to be! There is no need to go through this on your own or get lost in the sea of information you find online. 
If making a sublease agreement is too stressful for you to do by yourself, we are happy to jump in and save you from the unnecessary hassle! 
You can count on us to provide you with all the information regarding the sublease agreement, including the best ways to create one, the most important sections you should include, and how to draft it from the comfort of your home!
DoNotPay can offer you assistance with writing other contracts and legal documents, such as the general affidavit or the prenuptial agreement!
Understanding the Sublease Agreement
Unlike a lease, which is a contract that a property owner and a tenant sign, a sublease serves as a contract between tenants and a third party living in the property.
The sublease agreement allows the renters to lease out their rental to another tenant, whether the entire unit or only a portion.
The sublease agreement contract should be signed by both the sublandlord and the subtenant.
You are allowed to sublease unless the original lease forbids it. In most cases, the owner has to be notified and needs to approve any subletting agreement made by the tenant. The original lease should include a section about the control over the subletting process so that the owner has the power to decide who can use or occupy their property.
Can I Make the Sublet Agreement by Myself?
If you want to write a sublease agreement by yourself, you should know what to keep an eye on and how to avoid making any mistakes. You can find the sublease agreement templates online and use them as a guide through this process. 
The issue with these templates is that they are often not reliable and fail to include all the relevant info. If you want a high-quality document, the best option you could go for is to follow the list we provide below and make sure to include all of the mentioned items in your sublet agreement.
Here is what you will need to incorporate in your sublet agreement:
The address and description of the property that is being leased

The full name and address of the original tenant

The full name and address of the subtenant who is taking over the lease

When the sublease will begin and end

Info about the original lease, such as the date and details about the landlord

The amount of money payable by the subtenant to the tenant each month
Make sure to give specific, clearly stated details in all sections to avoid any confusion or misunderstanding with other parties.
Reasons Why the Sublease Agreement Is Important
Having a sublease agreement is not mandatory, but there are certain benefits you will get if you decide to make one. Here are some of them:
There is no need for you to leave the apartment you love

Subtenants can pay your rent while you are gone, so you will not have to think about the expenses

You can earn extra income from rent money

Having somebody present in the apartment will help to prevent apartment robbery

Subtenants can also alert you and the landlord if there are any urgent repair issues that you wouldn't be aware of if you are away
DoNotPay Drafts Countless Contracts for You!
Wondering what the easiest way to create your legal agreement is? DoNotPay provides you with the answer!
Considering how pricey lawyers can be, we developed a feature that helps you generate a professional contract in no time! Follow our quick three-step guide to get it done:
Access DoNotPay from your

web browser

Enter the

name of the document

you want to draft

Give us your name, address, and any other important info
After you finish the steps mentioned above, DoNotPay will generate your document. Note that the document should be signed by both parties.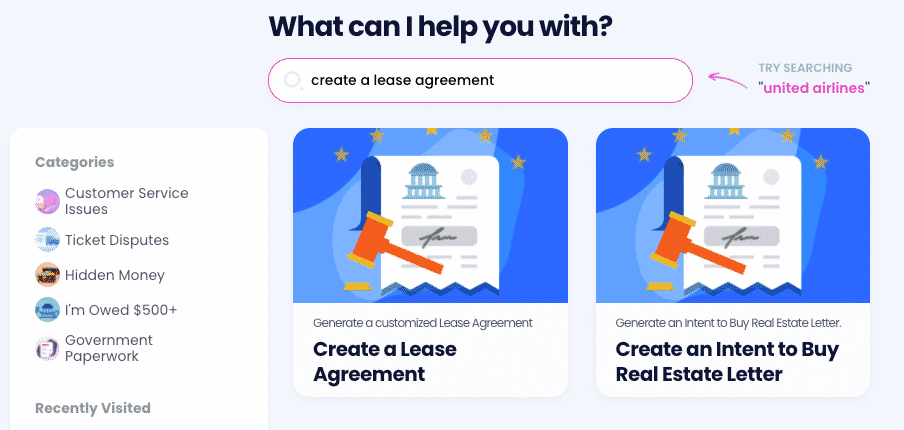 DoNotPay assists you in creating a lease agreement and provides other contract templates! Here is a list of the legal documents we can help you with:
Business Contracts
Other Contracts

General Business Contract

Estoppel Certificate

Quitclaim Deed

Residential Lease Agreement

Promissory Note

Intent to Purchase Real Estate
Is the Sublease Agreement Legally Binding?
The sublease agreement is legally binding. Landlords decide whether they want to let their tenants sublease or not.
If you choose to allow the subleasing of your property, you must include all the duties and responsibilities in your sublease agreement. The tenants need to know what their obligations are in order to agree to them and honor them.
If you choose not to allow the subleasing and the tenant does it anyway, you will have grounds to sue them, being that the agreement is legally binding.
Can't Afford a Lawyer? DoNotPay Will Jump In!
Did you know that you don't have to waste money on expensive legal help just to get rid of some minor bureaucratic issues? DoNotPay is here to save you hundreds of dollars with ready-to-use solutions that require mere minutes.
Our AI-powered bots gather the most important information via short questionnaires, draft required legal documents, and provide you with online fax services. If you need specific public records to support your case, we'll point you in the right direction.
With our virtual lawyer's help, you will be able to:
Spend Your Time on More Enjoyable Activities
With DoNotPay's help, you're bound to have more free time. If you're considering a new streaming platform subscription, make use of its free trial without worrying about unwanted charges. Need to get rid of other subscriptions? Use DoNotPay to cancel them without contacting customer support centers.
Don't worry about phone number identification at the signup. With our Burner Phone feature, spam text messages won't be bothering you ever again!