Create a
Subcontractor Agreement
in a Snap!
A subcontractor agreement is a contract between a project manager (contractor) and a worker (subcontractor). This legally binding contract states the rights and obligations of each party involved. If you are curious how you can create legal documents, know that it is no easy task, but we will simplify the procedure and show you how you can make one in no time!
DoNotPay will be your trustful assistant throughout this process and provide you with all the information you need.
The
Subcontractor Agreement
—Why Do You Need It?
Subcontractor agreements define the responsibilities of each party involved and ensure that if a claim were to arise, the responsible party would ultimately be held accountable. 
This agreement gives the company that hired the subcontractor protection by transferring the risk back to the party performing the work. Some crucial elements have to be stated in the contract to provide the contractor with protection.
You Don't Need a
Subcontractor Agreement Template!
Here Is Why!
You can make a subcontractor agreement on your own by following certain templates. Finding these templates online is easy. They provide a predetermined form that could work in some cases, but not always. You should also keep in mind that these templates are generic, which means they may not work for your specific case. They can also contain inaccurate information. 
Do you want to waste time following a subcontractor agreement template that will produce a worthless contract? Probably not! One of the alternatives is writing this doc from scratch.
To avoid making any mistakes, we will provide you with a list of all important items you should include in your subcontractor agreement:
Scope of work

Supply chain

Defense and indemnification

Insurance and bonds

Warranty

Arbitration

Conditional payment
Scope of Work
Specify the scope of work clearly in your subcontractor agreement to avoid misunderstanding or incidents. Define and outline the work that a subcontractor is supposed to carry out to have peace of mind going forward.
Supply Chain
The supply chain and operational risks sometimes aren't in the subcontractor's control, and they shouldn't be held responsible. The contract can be formed to push this risk onto them, so be careful with what is stated in this section. 
Defense and Indemnification
A few states have laws that help subcontractors with unjust indemnification, while others have laws that void indemnification. State how the protection from liability risks will be obtained in your agreement.
Insurance, Bonds, and Liens
Specifying subcontractor insurance, bonds, and liens prevents and/or limits the subcontractor from using mechanics liens in case of late payments.
Warranty
Define the warranty on work in your agreement to give the other parties peace of mind and a safety net when it comes to working. The warranty usually depends on the project at hand—it won't be the same every time.
Arbitration
Arbitration clauses in a subcontractor agreement force subcontractors to pursue claims through binding arbitration and not through the court. This prevents subcontractors from taking contract disputes to court. This may not present an issue for you—it all depends on your project. You should look it over before signing the agreement to make sure you understand everything.
Conditional Payment
Conditional payment clauses are common in subcontractor agreements. They are used to condition payments of subcontractors on obtaining payment from the owner of the project. The issues arise when these clauses postpone the subcontractor's payment or result in non-payment. You have to make sure whether this clause is in the agreement to avoid the risk of hurting the business.
Use DoNotPay To Create Numerous Contracts in Only a Few Steps!
While DoNotPay can't draft the subcontractor agreement, we can generate numerous other contracts in less than five minutes! 
Making legal documents, in general, is a complicated and confusing task. Lawyers can cost you a lot of money. Writing and formatting the document you need by yourself is risky and quite overbearing. The easiest way to skip the frustration is to use DoNotPay. Here's how:
Enter the name of the document you want to create

Provide us with your name, address, and other relevant info
When you complete these steps, DoNotPay will make the document of your choice. Keep in mind that your document will have to be signed by all parties involved or notarized.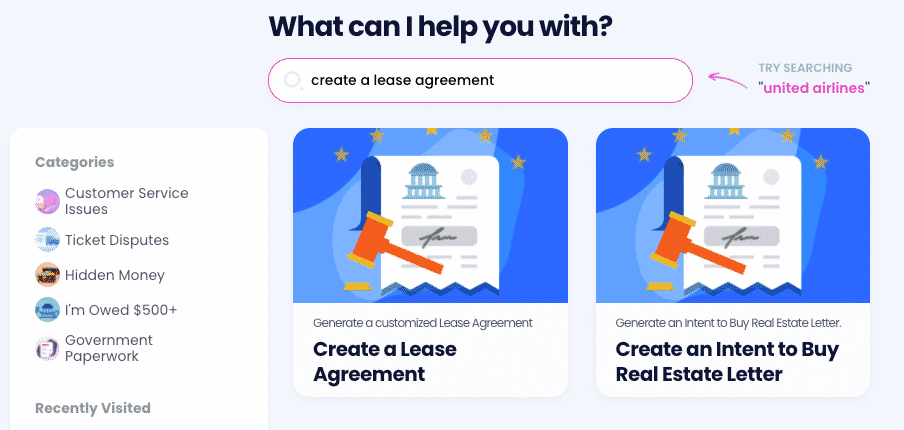 We can help you make various contracts and documents! Check out the list below to see all the legal documents and agreements that we can assist you in creating without a hitch:
Business
Other

General Business Contract

Estoppel Certificate

Quitclaim Deed

Promissory Note

Intent To Purchase Real Estate

General Affidavit
DoNotPay Helps You Claim Your Money
Our virtual assistant app makes sure you get back funds that are rightfully yours.
Whether you need to claim insurance, warranties, or your property held by the state, we will help you do it in minutes.
DoNotPay can also help you initiate a chargeback on any transaction you disagree with. We can help you secure compensation from airlines, robocall and text scammers, or in case you've been a victim of a crime.
In case you are dealing with an unfair company regarding your subscription cancellation or any other matter, we can help you get your money back by suing them in small claims court.
Bypass the Administration With DoNotPay
There's no more need for extensive research, abundant paperwork, or endless phone calls with customer service reps.
DoNotPay brings the administrative nonsense to a minimum.
Book DMV appointments fast and easy, appeal your parking citations, sign up for free trials without disclosing your credit card info or phone number, or reach your loved ones in jail—all in less than five minutes.
We also generate any legal document, provide full access to public records, offer DMCA protection, and reduce your property taxes with a few clicks.