Tips for Drafting a
Subcontractor Agreement in Texas
the Easy Way
Writing a contract on your own doesn't have to be stressful and overwhelming! Since you're looking for a quick and simple way to draw up a subcontractor agreement in Texas, you're in the right place! We offer you straightforward, step-by-step guides to writing an abundance of legal documents with ease.
Sign up for DoNotPay, and rest assured that drafting your contracts will be a smooth-sailing experience!
Understanding the
Subcontractor Agreement in Texas
A subcontractor agreement is a legally binding document signed between a primary contractor (project manager) and subcontractor (worker). The contract should outline all duties, responsibilities, requirements, and liabilities of the involved parties.
Besides clarifying the obligations of the parties, the main goal of a subcontractor agreement is to ensure work and task completion.
Write a
Subcontractor Agreement in Texas
in Seven Steps
You don't need to bother searching for contract templates—we'll break down all the relevant sections you should include in your subcontractor agreement. Here are the steps to follow to draw up a valid contract:
Personal information

—State the names and addresses of the parties involved in the first section of the agreement

Scope of work

—Define the scope of work expected from subcontractors to avoid any confusion or misunderstandings

Supply chain

—Be careful with what you state in this section since operational risks and supply chain shouldn't affect subcontractors

Defense and indemnification

—Explain how the parties will be protected from liability risks

Insurance and bonds

—Specify the subcontractor's insurance, bonds, and liens to prevent their use of mechanic liens in case of late payments

Warranty

—Decide on the type of warranty you'll provide and include the details in this section to give the other parties peace of mind and protection

Arbitration

—Indicate whether you'll resolve disputes through arbitration or not. If you opt for an arbitration clause, you'll agree to stay out of courtrooms
What Are the Benefits of a
Subcontractor Agreement in Texas
?
Having a subcontractor agreement comes with a few benefits. One of them is that hiring subcontractors offers more freedom than hiring full-time workers because fewer legal formalities and financial burdens are involved.
Another advantage is the increased productivity. Subcontractors with a high level of expertise in the required field will help finish the job on time.
Do I Have To Get a
Subcontractor Agreement in Texas
Notarized?
Getting a subcontractor agreement in Texas notarized isn't mandatory. If you include all the required sections and get all the parties to sign the contract, it will become legally binding.
Finding a notary to sign and stamp a legal document has its benefits, though. In case of any claims or disputes, having a notarized agreement may provide additional security.
Use DoNotPay To Draw Up Various Contracts in Minutes!
DoNotPay can draft numerous contracts in your stead! With our Standardized Legal Documents tool, you'll be able to create business, real estate, or other agreements instantly.
Spending a ton of money on lawyers and stressing about what legal terms mean becomes a thing of the past! Follow our instructions to skip the hassle and get your document right away:
Type in the name of the contract you want to draft

Provide the required information to our chatbot
Once you complete the steps listed above, DoNotPay will create your document. All that's left is for the parties involved to sign it.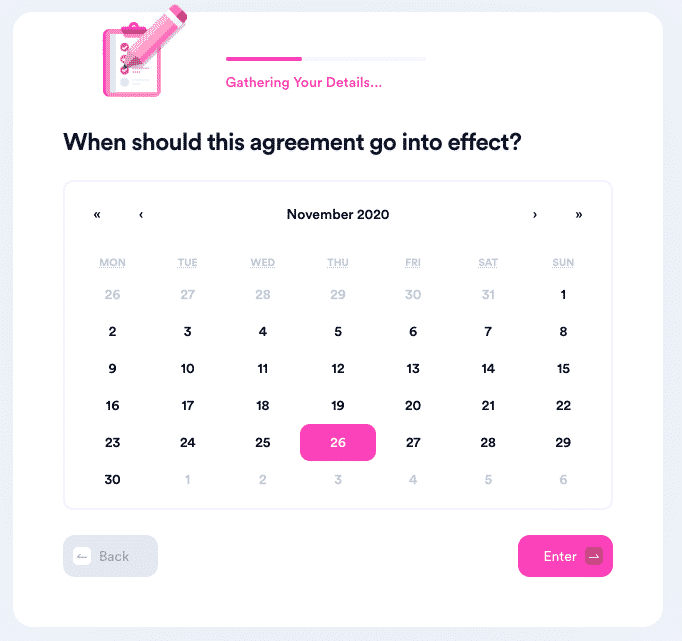 There is no shortage of documents our app can create for you! Check out the table below to see the specific documents we generate:
Business Agreements
Real Estate Agreements
Other Agreements

Intent To Purchase Real Estate

Estoppel Certificate

Quitclaim Deed

General Business Contract

Promissory Note

General Affidavit
We integrated our Standardized Legal Documents and Notarize Any Document products, so you can create and get documents notarized using the same app! The best part is that you get to deal with these administrative tasks without leaving your home or office!
Need Additional Assistance? DoNotPay Provides Step-by-Step Guides to Even More Contracts!
Do you need help with other tricky legal docs? We offer simple instructions and explain how to write countless agreements yourself. Follow our guides to draft these contracts without a lawyer:
There's More DoNotPay Can Do for You
In case you're struggling to cover your bills, our hacks may help you earn or save some extra money. Use our app to sign up for paid clinical trials in your area and try your luck with free raffle tickets. We can also help you get late delivery refunds and cash back on gift cards. You may not even know that you have funds lying around—rely on DoNotPay to uncover your unclaimed money.
If you have any documents or letters you need to send, we can save you the trouble of using a fax machine or waiting in line at a post office, thanks to our nifty products—Online Fax and Mailing Service.
Fast-Track Your Tasks With DoNotPay
If you've been putting off your errands because they take too long or they are too complicated, we know what to do! From filing insurance claims, getting documents notarized, submitting item return requests, demanding late delivery refunds, and getting a child travel consent—there isn't much we can't streamline for you.
You can count on our assistance even for more serious and complex tasks, such as: