Draft a
Subcontractor Agreement for Construction
Projects in Minutes
Are you looking for assistance in writing an important legal document, such as a subcontractor agreement? Finding a reliable source online can be difficult, as well as figuring out what legal terms mean. If you're not used to writing contracts, knowing what to stipulate in them can also prove hard. That's where DoNotPay steps in with ready-made guides on drafting various agreements! Follow our tips to draw up your subcontractor agreement for construction projects in seven easy steps!
Subscribe to DoNotPay to gain access to numerous features, including the one that drafts contracts in your place!
Understanding the
Subcontractor Construction Agreement
Subcontractor construction agreements are contracts signed by two parties—a contractor and a subcontractor of the project. The contract is used to cover the scope of work that will be performed in the construction project.
This agreement should spell out the terms, duties, and obligations of each party involved. The contract needs to be put in writing. That way, should any disputes or other issues arise, you will be able to use this agreement to resolve them.
Drawing Up the
Subcontractor Agreement for Construction
Projects on Your Own
Writing a construction subcontractor agreement requires you to pay attention and include all crucial sections. Omitting any of the important details can result in confusion and misunderstanding between the parties.
We provide you with a detailed list of all the relevant clauses you should include in your contract:
Section
What To Do

Names and addresses

Write the names of both parties and include other details, such as:

Phone numbers

Addresses

Email addresses

Scope of work

Define the scope of work that should be done in the project, including any equipment the subcontractor should provide and other information you find relevant

Dates

State the details about the project schedule, like the:

Effective date of the agreement

Project start date

Project end date

Payment terms

Elaborate on the payment terms and details. Mention how and when the payments will be made, as well as what the agreed amount is

Insurance

Verify your insurance coverage and provide the details

Claims and disputes

Make sure to explain how claims and disputes will be resolved

Termination

Mention how the termination of the agreement will be handled. Include details on the reasons, duties, and notice requirements regarding the termination
Is a Subcontractor Agreement for Construction Legally Binding?
A construction subcontractor agreement is legally binding. That means that parties can face legal consequences if any of them doesn't:
Honor the working arrangement

Satisfy the minimum requirements set by the contract

Fulfill their obligations
Notarizing a Subcontractor Agreement for Construction
You don't have to notarize a subcontractor construction agreement. There is no law stating that notarizing this type of agreement is mandatory since by signing it, you already make it legally binding. 
Still, getting this document notarized can be beneficial. For example, if any claims or disputes arise, you will have a much higher chance of dealing with it in court if you present a notarized document.
Sign up for DoNotPay for the easiest way to get notary service! We'll connect you to a remote notary and schedule your online appointment in a few minutes!
Let DoNotPay Write Legal Documents for You!
You don't have to write legal documents by yourself! DoNotPay provides you with a super useful feature that allows you to draft various contracts in a few taps.
Subscribe to DoNotPay and follow these instructions to get your contract:
Enter the

name of the document

you want

Provide the required info to our chatbot
Our app will generate your agreement instantly, and you can print or download it. Note that all the parties involved have to sign the document.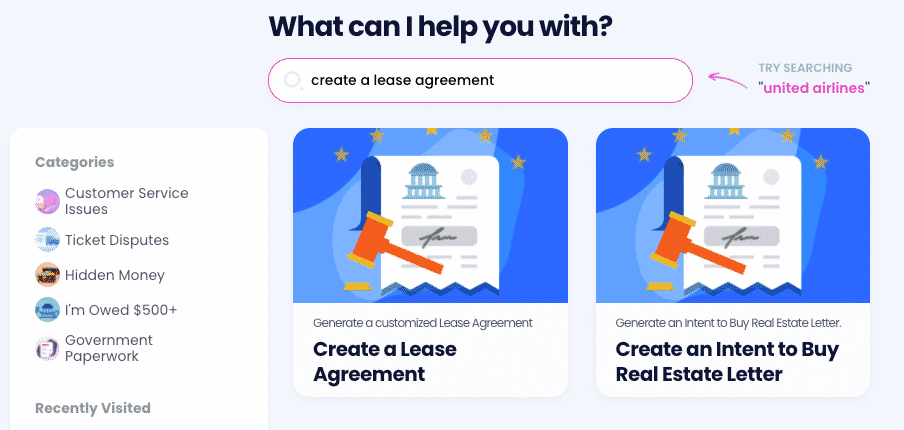 If you're curious what contracts we can draft for you, check out the list below:
General Business Contract

Estoppel Certificate

Quitclaim Deed

Promissory Note

Intent To Purchase Real Estate

General Affidavit
Looking for Help With Other Contracts? We Got You!
Generating the above-mentioned contracts for you isn't all we can do! If you can't find the contract you are looking for, we provide you with a list of additional agreements you can create easily by following our instructions!
You will get a step-by-step guide on writing your document and won't have to worry about omitting anything important.
Check out what contracts we can help you draft:
| | |
| --- | --- |
| Business Contracts | Other Contracts |
| | |
DoNotPay Helps You Claim Your Money
Our virtual assistant app makes sure you get back funds that are rightfully yours.
Whether you need to claim insurance, warranties, or your property held by the state, we will help you do it in minutes.
DoNotPay can also help you initiate a chargeback on any transaction you disagree with. We can help you secure compensation from airlines, robocall and text scammers, or in case you've been a victim of a crime.
In case you are dealing with an unfair company regarding your subscription cancellation or any other matter, we can help you get your money back by suing them in small claims court.
Bypass the Administration With DoNotPay
There's no more need for extensive research, abundant paperwork, or endless phone calls with customer service reps.
DoNotPay brings the administrative nonsense to a minimum.
Book DMV appointments fast and easy, appeal your parking citations, sign up for free trials without disclosing your credit card info or phone number, or reach your loved ones in jail—all in less than five minutes.
We also generate any legal document, provide full access to public records, offer DMCA protection, and reduce your property taxes with a few clicks.