The Dog Days Are Over! Stop the Neighbor's Dog Barking With DoNotPay
If you don't live in an isolated place, you are at risk of having to put up with noisy neighbors. Annoying sounds can range from your neighbors having loud sex, partying incessantly, or playing loud music all day long.
While all excessive noise is highly disruptive, a neighbor's dog barking non-stop might be the most annoying. If you want to learn how to stop your neighbor's dog barking, DoNotPay can help out. When the neighbors refuse to cooperate, our app will show you how to deal with them in a few clicks!
Possible Reasons Your Neighbor's Dog Won't Stop Barking
Many people make the mistake of blaming the animal for making noise. That can lead to individuals applying horrifying measures to stop the noise—including poisoning or shooting the dog.
The first step is realizing that it's not the dog's fault and trying to understand the reasons behind the incessant barking. Some of the most common are presented in the table below:
| | |
| --- | --- |
| Dog Is Barking Because It Might Be | Details |
| Territorial | Some breeds are overprotective and react every time a car or an unknown person passes by the property |
| Bored | Dogs don't handle boredom well. When they are left alone in the house or yard for long, they typically develop some unwanted compulsive habits, such as constant barking |
| Overly excited | When a dog witnesses activity outside, it barks to express the excitement and sometimes frustration of being left out of the fun |
Whatever the reason, being violent towards the dog is unnecessary. Knowing why and when the dog reacts the way it does is often the key to solving the issue calmly.
How To Stop the Neighbor's Dog From Barking
There are several steps you can take before reporting the neighbor to the authorities.
Here is what you can do:
Make friends with the dog
Address the problem with your neighbor
Send a letter
Take Measures To Stop the Neighbor's Dog From Barking Yourself
If you conclude that the dog is territorial, you can reduce the barking by blocking its view of you. You can do it by:
Putting up a fence screen
Planting some trees
For some dogs, that isn't enough. They may react to your smell and bark even though they can't see you. The most helpful solution would be to make friends with the dog. You can politely ask your neighbor to meet and spend time with their dog. If it gets accustomed to your presence, it will likely stop reacting to you.
Stop the Neighbor's Dog Barking by Talking to Your Neighbor
While your first instinct may be to write a note, you will get much better results by talking to your neighbor in person. The chances are your neighbor is not even aware of how much their dog barks when they are not home or how much the barking disrupts you. The trick is to approach your neighbor in a friendly manner and state the problem clearly. You can address the following:
Time of the day when barking bothers you the most
Areas of your life that suffer due to the noise (e.g., work, your child sleeping)
Your suggestions of what the neighbor can do (e.g., find a dog trainer, employ a dog walker, use a crate when they are far away from home)
Send a Demand Letter to Your Neighbor
If your neighbor is not open to resolving the issue, you can send them a formal letter. The letter should warn them about the possible legal consequences for not responding to your demands.
Since every city has different laws that govern complaints about loud neighbors, you should look up your local laws and get familiar with your rights first.
Bear in mind that a well-drafted demand letter can put a stop to the noise once and for all. That's why it's crucial to present all the facts as clearly and accurately as possible. If you sign up for DoNotPay, we can create a demand letter on your behalf and save you from spending hours on research and writing the letter yourself.
How To Stop Your Neighbor's Dog From Barking With DoNotPay
DoNotPay's Neighbor Complaint product helps you deal with all kinds of inconsiderate neighbors. Whether they are endangering the neighborhood with aggressive dogs, letting their cats into your yard, or damaging your property, our demand letters will set them straight!
We do all the heavy lifting by creating a personalized demand letter based on the information you provide.
Here's how to go about it:
Open DoNotPay in a web browser
Locate our Neighbor Complaint product
Select the type of neighbor nuisance you're dealing with
Answer a few questions about your situation
DoNotPay will create and mail the letter to your neighbor. In most cases, your neighbor will try to avoid paying a fine or dealing with authorities and handle the noise issue promptly.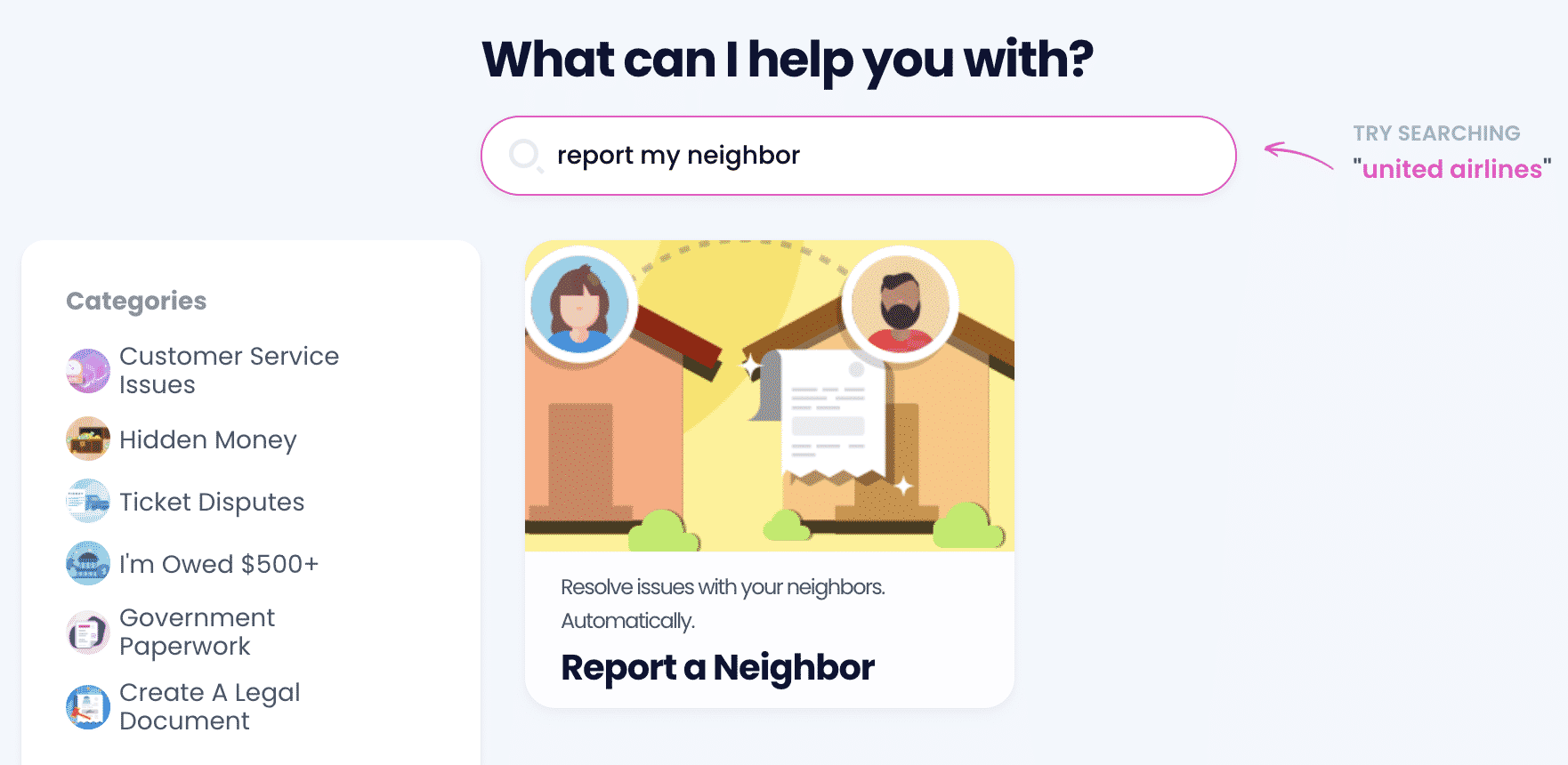 Neighbor's Barking Dog Still Bothers You? Issue a Noise Complaint
If nothing else works, your next step is to file a formal complaint to the local authorities. Make sure to ask for support from other neighbors since it's unlikely that the barking only bothers you.
It's crucial to document the dog-barking patterns and the measures you have taken to resolve the problem and present them to the authorities.
Animal control is typically responsible for managing all noise complaints about barking dogs.
Police should be contacted as a last resort. You can turn to them only if you suspect that the abuse or neglect is the cause for the barking.
Learn About DoNotPay's Awesome Products!
DoNotPay is a multifunctional app that can solve numerous everyday challenges swiftly.
You can use our app to protect your work from copyright violations, schedule your driving exam or any other appointment with the DMV, reduce your property taxes in a few steps, and similar.
We have created many useful products to help our users take care of their issues through the same app. With us, you can:
DoNotPay Connects You With Your Loved Ones
Sending letters to inmates can be difficult since you have to follow certain rules to a T to avoid having your letter rejected. The situation is even more complicated if you don't know where your incarcerated loved one serves time. DoNotPay's app can help you locate prisoners and correspond with them without worrying whether you're breaking any rules.
Do you want to send a letter, but you don't feel like heading over to a post office? By using our mailing service, you can mail as many letters as you want from the comfort of your home. With DoNotPay, you can also send online faxes in under five minutes!
Email and text spam is something that everyone experiences at least once in their lives. DoNotPay has a solution for that too. Access your DoNotPay account and count on us to help you block spam and get compensation by reporting pesky robocalls.