Easy Ways To Draw Up the Stock Purchase Agreement
Making a stock purchase agreement doesn't have to be a nightmare! There are easy and efficient ways to create one, and we will gladly show you how.
If you tried to find useful info online and hit a dead end, don't panic! You can use this article as a guide on how to create your stock purchase agreement step by step and with no hassle.
In case you need help with other contracts and legal documents, DoNotPay will generate them for you and walk you through the entire process stress-free!
What Is the Stock Purchase Agreement?
To create your stock purchase agreement, we will first walk you through what the agreement stands for and what it does for you.
The stock purchase agreement is a legally binding contract that stock sellers use to transfer stocks to buyers. The agreement outlines all the terms and conditions of the sale and is used to set out the rights and obligations for each party involved.
What Are the Benefits of the Share Purchase Agreement?
The share or stock purchase agreement is beneficial for both the seller and buyer of stocks and shares. It sets out clear responsibilities for both parties and serves to avoid any misunderstanding or miscommunication.
The agreement also protects the interests of the parties signing it. This document is legally binding, which means you will have peace of mind while doing business.
Creating Your Stock Purchase Agreement
If you want to make a stock purchase agreement by yourself, it is important you know what to include and what is relevant for both you and the other party. To avoid stressing over the points and clauses you should cover, we provide you with a list of all the crucial items that must be stated in your agreement:
Item
What To Do

Names and the Date

At the beginning of your agreement, you have to state the names of each party involved, as well as the date of the agreement

Number and Price of Shares

The details about shares should include:

The name of the corporation issuing the stocks

The number of shares in question regarding this transaction

The price of every share of common stock in dollar value

Purchase and Sale

After the transaction is done, the seller should transfer ownership of the certificates and documentation of stock to the buyer. Make sure to state that the seller should pay for any taxes regarding the transfer and state that clearly in this section to avoid any confusion

Representations and Warranties of the Seller

In this section, include that you own the stock, and therefore you are allowed to sell it. This section shows that your corporation is in good standing

Representations and Warranties of Seller and Buyer

You must clarify that everything has been agreed upon. Make sure to state that each party agrees and says that neither the corporation, seller, nor buyer, made any omissions

General Provisions

Declare that your stock purchase agreement complies and honors the laws of the state in which the contract is being made

Witnesses

For your agreement to be legally binding, you must have witnesses who will sign the contract. Specify that in this section and have them sign it

Amount and Payment of Purchase Price

Set out the section regarding the payment arrangement and the sum that the buyer will pay for the stocks. Elaborate on the terms and conditions of the payment. In general, the buyer pays a certain amount when signing the document and the rest once the contract is completed
Let DoNotPay Create Your Legal Document Hassle-Free!
Does making agreements overwhelm you, and you wish there was a way to deal with it without the unnecessary hassle? DoNotPay helps you avoid wasting money on legal advisors and generates your contracts and documents in a few minutes! There is no easier and more time-saving method of creating your documents than our app.
All you need to do is complete the following instructions, and your document will be ready in a jiffy:
Load DoNotPay from your

web browser

Enter

the name of the document

you wish to create in the

search box

Provide additional info to our chatbot (addresses, names, and other relevant info)
After we generate your document, the parties involved will have to sign and/or notarize it. This depends on the type of document in question.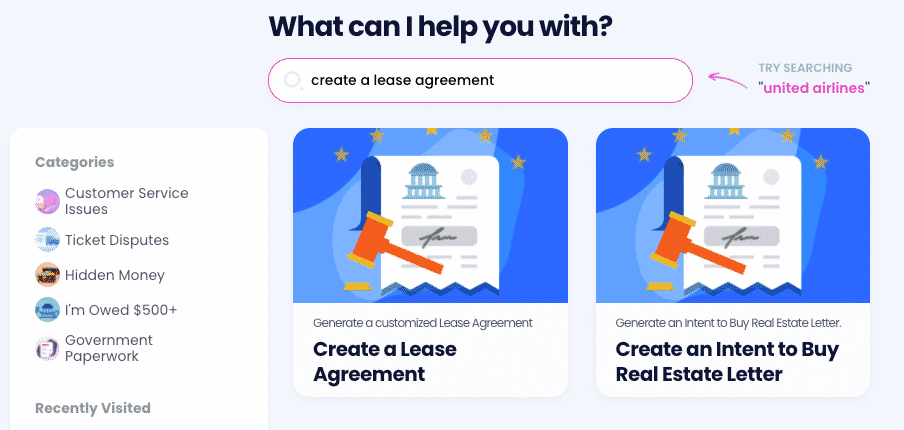 Our app can help you write numerous contracts and documents! Check out the list below to see all the agreements that we can assist you in making:
General Business Contract

Intent to Purchase Real Estate

Estoppel Certificate

Quitclaim Deed

General Affidavit

Promissory Note
Enjoy Services Worry-Free With DoNotPay
Do you want to try out a new service but are worried about being charged if you forget to cancel it before it ends?
With DoNotPay, you can sign up for free trials without worrying about auto-charges. Our virtual credit card makes sure you enjoy your trial run of the service and prevents any company from taking money out of your real account.
This free-trial card also protects you from email spam because it generates an alternate email address for the free trial sign up.
If you want to keep your phone number private and deter robocallers and text spammers, use DoNotPay's Burner Phone feature when subscribing to services.
In case the company does charge you, initiate a chargeback on your credit card transactions instantly with our app.
Discover DoNotPay's Amazing Features
DoNotPay is a virtual lawyer app that can take over annoying bureaucratic tasks from you. 
We can cover anything you may need help with—dealing with customer service reps, booking appointments with the DMV, securing refunds and compensation from airlines, disputing your parking tickets, or getting you an extension on bill payments. 
Our app can help you draft any legal document in minutes or access public records from state and federal databases.