Statute of Limitations for a Breach of Contract Explained by DoNotPay
When a breach of contract occurs, you need to act quickly and wisely. A statute of limitations for a breach of contract states how much time you have to file a lawsuit. DoNotPay will present the deadlines and requirements across the country and help you solve the dispute by creating and sending a professionally drafted breach of contract demand letter.
What Is a Breach of Contract Statute of Limitations?
A statute of limitations is a limited period during which you can file a lawsuit for different legal claims. If you miss this deadline, your claim will be time-barred and dismissed. The set period differs from one state to another and depends on whether the contract is oral or written.
When Does the Breach of Contract Statute of Limitations Accrue?
In most cases, the statute of limitations starts running on the day the breach occurs and not when the party becomes aware of it.
Can a Statute of Limitations Be Suspended?
The statute of limitations can be suspended or tolled under certain circumstances. The most common reasons include the defendant being:
A minor
Out of state
In prison
Insane
The statute of limitations starts running again when the defendant turns 18, gets back to the state, gets out of prison, or is declared sane.
How Long Is the Statute of Limitations in Each State?
The deadline for initiating a lawsuit is different in each state. The following table contains specific details:
Statute of Limitations for a Written Agreement
State
Statute of Limitations for an Oral Agreement
State
Ten years

Indiana
Iowa
Louisiana
Rhode Island
West Virginia
Wyoming

Ten years
Eight years
Eight years
Wyoming
Six years

Alabama
Arizona
Connecticut
Georgia
Hawaii
Maine
Massachusetts
Michigan
Minnesota
Mississippi
Nevada
New Mexico
North Dakota
Oregon
South Dakota
Tennessee
Utah
Vermont
Washington
Wisconsin

Six years

Alabama
Hawaii
Indiana
Maine
Massachusetts
Michigan
Minnesota
New Jersey
New York
North Dakota
Ohio
Oregon
South Dakota
Tennessee
Vermont
Wisconsin

Five years

Arkansas
Idaho
Kansas
Nebraska
Virginia

Five years

Illinois
Iowa
Kentucky
Missouri
Montana
West Virginia

Four years
Four years

Florida
Georgia
Idaho
Nebraska
Nevada
New Mexico
Pennsylvania
Texas
Utah

Three years

Alaska
Colorado
District of Columbia
Maryland
New Hampshire
North Carolina
South Carolina

Three years

Alaska
Arizona
Arkansas
Colorado
Connecticut
Delaware
District of Columbia
Kansas
Maryland
Mississippi
New Hampshire
North Carolina
Oklahoma
South Carolina
Virginia
Washington

Two years
/
Two years
California
Use DoNotPay To Sue the Violating Party in Small Claims Court
DoNotPay can help you take the breaching party to small claims court and get the leverage for winning the case. We have the expertise and experience in handling legal matters and were honored with the Louis M. Brown Award for Legal Access in 2020 for our achievements.
DoNotPay can help you:
Gather the essential paperwork
Fill out the necessary court forms
We will also create a script with persuasive arguments for your court hearing. You can check out our guide to possible defenses the defendant can use to be fully prepared. Filing the complaint in your stead is another task we will gladly tackle.
Are There Any Steps To Take Before Filing a Lawsuit?
Before you file a lawsuit, you will need to prove the elements of breach-of-contract, including:
The existence of a valid breach
The defendant causing a material breach
You suffering losses because of the defendant's actions
After you've proven the elements, you have the right to seek compensation or other breach-of-contract remedies.
What Are the Ways To Demand Compensation for Breach of Contract out of Court?
You can demand compensation for a breach of contract in several ways, but not all will yield the same results. The first step is to send a demand letter to the violating party to let them know how the breach affected you and what you expect them to do. Take a look at the table below to evaluate your options:
| Demand Compensation By | Explanation |
| --- | --- |
| Creating the demand letter yourself | This option is reserved only for individuals who possess the required legal knowledge. Using free online demand letter templates will not get you the necessary results because they are not case-specific |
| Hiring a lawyer | This is a better solution since someone with legal experience will handle the task. The issue with hiring a lawyer is the cost |
| Hiring a collection agency | This option is also effective but expensive |
| Using DoNotPay | The best choice is to use DoNotPay. Our app will handle the task at an affordable price |
DoNotPay Generates a Demand Letter in a Matter of Minutes
Do you want to have an airtight demand letter? You should look no further than DoNotPay. Our app will handle the entire process expertly, and you only need to complete a few simple steps:
Choose our Client Breach of Contract product
Provide us with specific information about the client and your contract
Include a payment deadline for the client
Upload photographic evidence (if you have it)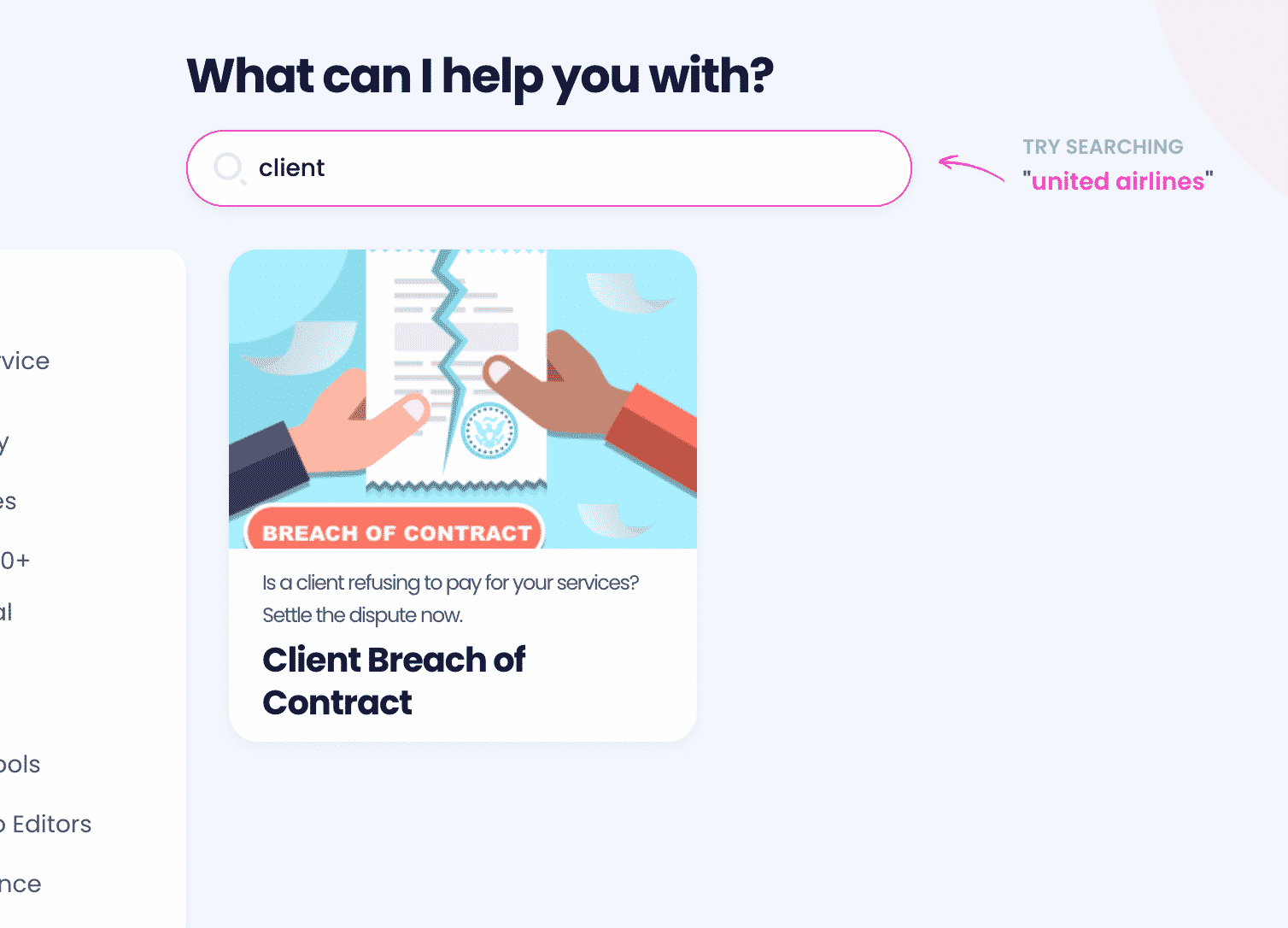 Check out our guides to creating state-specific demand letters in the table below:
DoNotPay Helps You Do Everything by the Book!
Are you confused by the numerous business-related laws and procedures? If you cannot seem to get the hang of all of the processes, you should rely on DoNotPay. Allow your robot lawyer to help you take care of Employer Identification Number (EIN) and DMCA agent registration in a matter of minutes!
Once you handle those tasks, you should consider using DoNotPay to register your business slogan, name, or logo as a trademark and protect your brand by allowing us to check for trademark violations regularly.
Not sure how to handle 83(b) election forms? Automate the entire process and have your employees fill out and submit the forms in a few clicks! We can even help you protect the privacy of your clients by filing a self-certification request with the Privacy Shield program on your behalf so your website complies with data protection requirements.
Running a Business Is Smooth Sailing With DoNotPay
DoNotPay has a solution for any business issue. We can help you:
Draw up a professional and convincing small business loan request letter and get the necessary funds for your business
Report unjustified negative reviews that could damage your brand until they are taken down
Request payment from clients who break the contract
Dispute chargeback requests when they are unfair
Send letters or paperwork without going to the post office