Learn More About the
States With Low Property Tax
With DoNotPay's Help
In case you are thinking about buying property, you may want to consider how to save on taxes. Although paying property tax is mandatory everywhere, there are some states with low property tax. Once you find out a cheaper option, use DoNotPay to see whether any of the property tax exemptions apply to you!
Everything You Need To Know About Property Tax
A property tax is an annual cost each homeowner has to pay. These costs differ in states, but if you own some property, you should be prepared to pay a hefty sum each year. There are different factors that affect this cost, such as the property:
Size

Age

Location

Type (office, residential, agricultural, apartment, or commercial)
The money you set aside for property taxes goes to fund various fields and institutions in your local area like hospitals, libraries, road constructions, police, fire protection, etc.
How Do You Calculate Property Tax?
Three main factors play a part in calculating your property tax cost:
Exemptions for which you qualify

A property tax rate
The property tax rate is also called a multiplier. This is a percentage used to multiply with the assessed value of your property. The result is your tax bill. If you meet the requirements for a tax exemption, that is also taken into consideration.
What Can You Do To Lower Your Property Taxes?
Wondering how to lower your property taxes? Here are some of the ways to reduce your expenses:
Search for any discrepancies on your tax bill

Compare your assessment to your neighbors'

Follow the assessor while they are doing their job to prevent unfair assessment

Don't make any structural changes to a home or property before it is assessed

Search for property tax exemptions

File a

property tax appeal
You can easily look for property tax exemptions and file appeals using DoNotPay!
What Are the
States With Low Property Taxes
?
Property taxes aren't the same in California and Alaska, for example. This is why it's smart to look for homes in states with lower property taxes. Take a look at the table below to find out which states have the lowest property taxes:
| | | | | |
| --- | --- | --- | --- | --- |
| Rate (From Lowest) | State | Property Tax Rate | State Median Home Value | State Median Household Income |
| 1 | Hawaii | 0.36% | $648,194 | $80,212 |
| 2 | Alabama | 0.48% | $149,996 | $51,734 |
| 3 | Colorado | 0.52% | $418,363 | $77,127 |
| 4 | Utah | 0.56% | $373,049 | $75,780 |
| 5 | Nevada | 0.58% | $276,800 | $63,276 |
| 6 | Tennessee | 0.61% | $192,275 | $56,627 |
| 7 | West Virginia | 0.61% | $107,762 | $48,850 |
| 8 | Delaware | 0.62% | $270,911 | $70,176 |
| 9 | Arizona | 0.63% | $252,500 | $74,468 |
| 10 | Wyoming | 0.65% | $256,427 | $65,774 |
This table could help you choose where to move and buy a house. If you already live in one of the more affordable states as far as property taxes are concerned, you should still look for possible exemptions that can help you pay property taxes. DoNotPay will assist you!
DoNotPay Is the Way To Search for Property Tax Exemptions in Any State!
DoNotPay can easily help you figure out whether you have the qualifications to be granted a tax exemption in the state you reside in. These exemptions can cut your costs by a lot, so make sure you learn whether you are eligible by completing these simple steps:
Open DoNotPay in any

web browser

Locate and choose the

Property Tax

feature

Answer some questions about yourself and the property in your ownership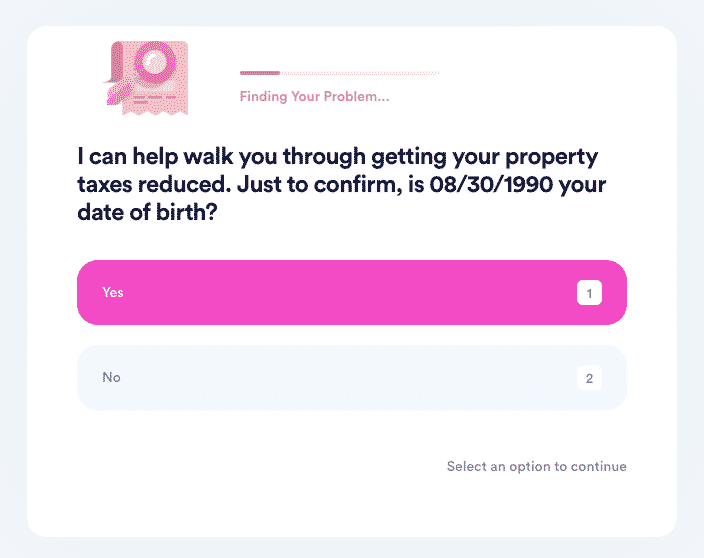 Your virtual assistant knows how to collect all the documents you need and send your applications with ease!
We can tell you all about property tax exemptions for veterans, widows, senior citizens, and disabled people in states such as:
DoNotPay Can Help You Appeal Past Property Tax Assessments
Dealing with taxes and other related legal actions, such as appeals, is not easy. The good news is that you don't have to go through it on your own. Instead, open DoNotPay in any web browser and let your virtual assistant help you with the process.
We will make sure you sail through the negotiations with your tax assessor. DoNotPay will also guide you through gathering the evidence that can help you reduce your property's assessment value without a hitch.
What Happens if You Can't Pay Your Property Taxes?
A few possible scenarios can happen if you don't pay your property taxes on time. Here's what may occur:
You could lose your property

The state may sell your house through a foreclosure process

The taxing authority could sell the tax lien that it holds
Don't Let Companies Take Your Hard-Earned Money!
People love to subscribe to all sorts of services—especially if there are free trials involved. The problem is that most of them forget that they signed up for anything in the first place. Companies are aware of this, which is why they auto-renew memberships as soon as the free trials expire.
Don't let them get away with it—use DoNotPay to sign up for free trials and cancel subscriptions right before they renew. If you want to save even more money, use our platform to learn how to handle high bills, parking tickets, college application fees, canceled or delayed flights, or faulty services you should get refunded for.
Use DoNotPay To Stop Illegal Activities and Earn off Scammers!
Our AI-powered platform can assist you in dealing with all sorts of scammers. If you got any of the following, the world's first robot lawyer will help you seek justice:
Do you want to protect yourself and your loved ones from stalking and harassment as well? Use DoNotPay to learn how! If the situation with a stalker escalates, our app is going to help you take them to small claims court by preparing all the paperwork and your court statement.
Don't stop there—check out how you can bypass phone number verification, claim any type of warranty, or pass any government test with flying colors!