Should I Stay or Should I Go—
States With Low Income and Property Tax
Aside from the cost of living, taxes play a huge role in how comfortably you live in a particular state. Low income and property taxes can be a major relief for your wallet, ranging up to thousands of dollars per year.
We have compiled a list of the U.S. states with low income and property tax so that you can get a clear picture of how much you could save or lose. DoNotPay also provides a personalized Property Tax guide to help you understand and apply for property tax exemptions and discover other strategies for lowering your property taxes.
With our assistance, you'll know where you stand, and you'll no longer need help paying property taxes regardless of your location.
The Income Tax and Property Tax Explained
The three main taxes that most states have are:
Sales tax

Income tax

Real property tax
When citizens pay these taxes, they help fund local services, such as:
Parks

Libraries

Hospitals

Transportation

Public schools

Road maintenance

Law enforcement

Emergency services

Infrastructure development
What Is Income Tax?
Income tax is the tax governments impose on the income that individuals and businesses generate. There is personal income tax, which individuals need to pay out of their wages, salaries, or other sources of income at a set tax rate. Corporate income tax refers to the tax businesses need to pay.
What Is Property Tax?
Property tax is the tax people need to pay for the property they own. Local authorities calculate and collect this type of tax. To determine how much you need to pay, you need to have your property assessed, and the local tax rate is taken into account.
Are There Any States With No Income Tax?
Yes, there are! The states that eliminated personal income taxes are:
Texas

Alaska

Florida

Nevada

Wyoming

Tennessee

Washington

South Dakota

New Hampshire
Before you pack your bags and head to one of these states, you should know that there is trouble in paradise. While you don't have to pay the personal income tax, you need to factor in other expenses and the state's overall tax burden, including property taxes.
The rich and high-income individuals and families benefit greatly from not paying the income tax as they can bear the other costs. To compensate for abolishing the income tax, some states, such as Nevada and Tennessee, impose much higher sales tax on goods like clothes and groceries, so poorer families still experience financial strain. In Texas and New Hampshire, for example, property taxes are high, which makes homeowners lose a lot of money.
Income tax rates can be tricky since they may vary according to income thresholds or be the same regardless of the income, i.e., flat rates.
Here are some of the states with the lowest average income tax rates:
North Dakota—0.81%

Arizona—1.39%

Louisiana—1.44%

New Mexico—1.61%

Mississippi—1.65%

Illinois—1.91%

Indiana—2.01%

Rhode Island—2.21%

Arkansas—2.24%

Vermont—2.28%
States With Low Property Taxes
If you have your heart set on a certain state with low or no income tax, you should also consider its property tax rates. Check the table below for an overview of the states with the lowest property tax rates in 2021:
| | |
| --- | --- |
| U.S. State | Property Tax Rate |
| Hawaii | 0.28% |
| Alabama | 0.41% |
| Colorado | 0.51% |
| Louisiana | 0.55% |
| District of Columbia | 0.56% |
| South Carolina | 0.57% |
| Delaware | 0.57% |
| West Virginia | 0.58% |
| Nevada | 0.60% |
| Wyoming | 0.61% |
Five Most Welcoming States Tax-Wise
Taking the sales, income, and property taxes into account, the friendliest states for a family of spouses with two children, especially if they're low-income homeowners, are the following:
Wyoming

Nevada

Florida

Tennessee

Washington
Even if you live or move to a state with a higher property tax rate, different property tax relief programs, such as senior citizen exemptions, can help you reduce your tax bill. DoNotPay is here to teach you all about it and assist you in applying for exemptions and filing appeals if your property assessment wasn't fair or correct.
Want To Reduce Your Property Tax Bill? DoNotPay Saves the Day!
DoNotPay offers a Property Tax guide that will help you with your property-tax troubles. It's not a one-size-fits-all guide but an invaluable collection of guidelines and instructions generated specifically for your situation.
By getting our Property Tax guide, you'll receive:
A list of property tax exemptions you are eligible for

Guidelines for gathering the required paperwork to apply

Instructions on how to submit your application

Tips for negotiating with your tax assessor

Instructions regarding the assessment appeal process

Ways of gathering proof to reduce the assessed value of your home
All you have to do to snatch this guide is to sign up for a DoNotPay account and follow these instructions:
Navigate to the

Property Tax

product

Answer questions regarding your age, location, and income

Submit a few details about your property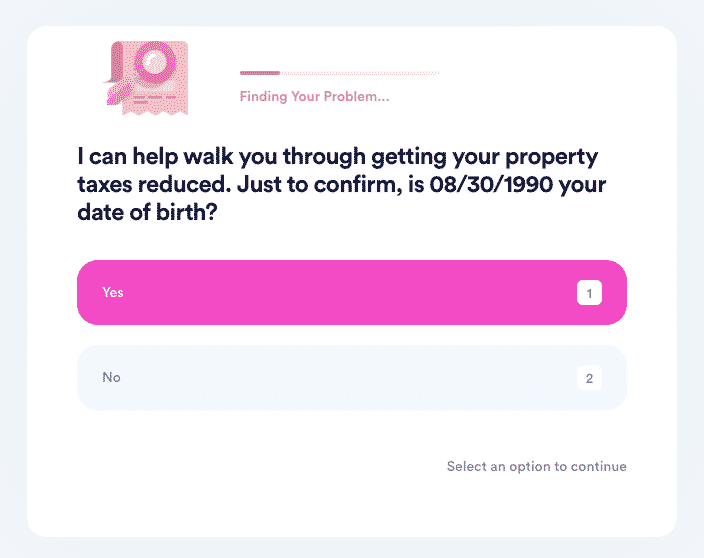 You can also find insightful info and tips in our learning center. Our property tax articles will give you the lowdown on:
Use Our Robot Lawyer To Eliminate Pesky Tasks
Administrative tasks are often time-consuming, which is why many people give up on them before even trying to tackle them. Requesting refunds, canceling services, signing up for clinical trials, reporting stalkers and robocalls, and trying to find unclaimed money are all processes that would usually take a long time to resolve.
With the help of DoNotPay, though, all of these admin hurdles become a piece of cake. In just a few minutes, our app can assist you in appealing parking tickets, getting in touch with your imprisoned loved one, getting an extended warranty, reporting copyright infringement, and so much more!
Don't Break the Bank—Sign Up for DoNotPay!
Our app can save you lots of money by helping you get a refund from any airline, sign up for a free trial without your credit card info, earn off persistent and illegal spam emails, and get an application fee waiver for a college you apply to.
With DoNotPay, you can even schedule a DMV appointment or jump the phone queue when getting in touch with a customer service representative without breaking a sweat!