State of Arizona Durable Mental Health Care Power of Attorney Explained by DoNotPay
Thinking ahead can prevent a lot of trouble in future unfortunate situations regarding medical decisions. Even though no one enjoys talking about such topics, it is still extremely important to handle them by creating a suitable legal document.
Sign up for DoNotPay to gather the information you need about creating a state of Arizona durable mental health care power of attorney.
Mental Health Care Power of Attorney in Arizona—What It Entails
In Arizona, you can create a durable mental health care power of attorney to appoint an agent who will make mental health care decisions for you if you become incapacitated. Only an Arizona licensed psychologist or psychiatrist can determine whether you are incapable of making health care decisions on your own.
How To Make a Mental Health Care Power of Attorney Valid in Arizona
To make your mental health care power of attorney legally binding in Arizona, you will need to sign it in front of at least one witness or a notary public. Your witness cannot be anyone who is:
Younger than 18
Related to you by blood, marriage, or adoption
Entitled to any part of your estate
Appointed as your agent
Involved in providing your health care at the time this document is signed
What Happens if You Don't Have a Mental Health Care Power of Attorney in Arizona?
If you do not have a mental health care power of attorney, your general medical power of attorney may be used instead.
The agent can make decisions about mental health treatment on your behalf, except consent to your admission at an inpatient psychiatric facility unless authorized to do so.
What You Should Know About Advance Directives in Arizona
In addition to the durable mental health care power of attorney, you can create an advance directive that covers other medical conditions.
This involves situations when you are terminally ill or seriously injured, which makes you unable to communicate your wishes.
Take a look at the table below to see the sections an advance directive in Arizona consists of:
In Arizona, a health care directive goes into effect when your doctor determines that
you are not capable of communicating your health care decisions.
Create an Arizona Health Care Directive With DoNotPay
You can hire a lawyer to make an advance directive or opt to make it on your own by using online forms. None of these options will yield a satisfying result due to high lawyer fees and a lack of proper legal knowledge to create one yourself.
The best option is to turn to DoNotPay for help. Our app will generate an advance directive for you in the blink of an eye. These are the only steps you need to complete:
Type in Advance Health Care Directive in the search box
Name your agent and include other essential medical information (your doctor, hospital, etc.)
Choose the powers you wish to transfer to your agent
Enter the names of the people who will witness you sign the document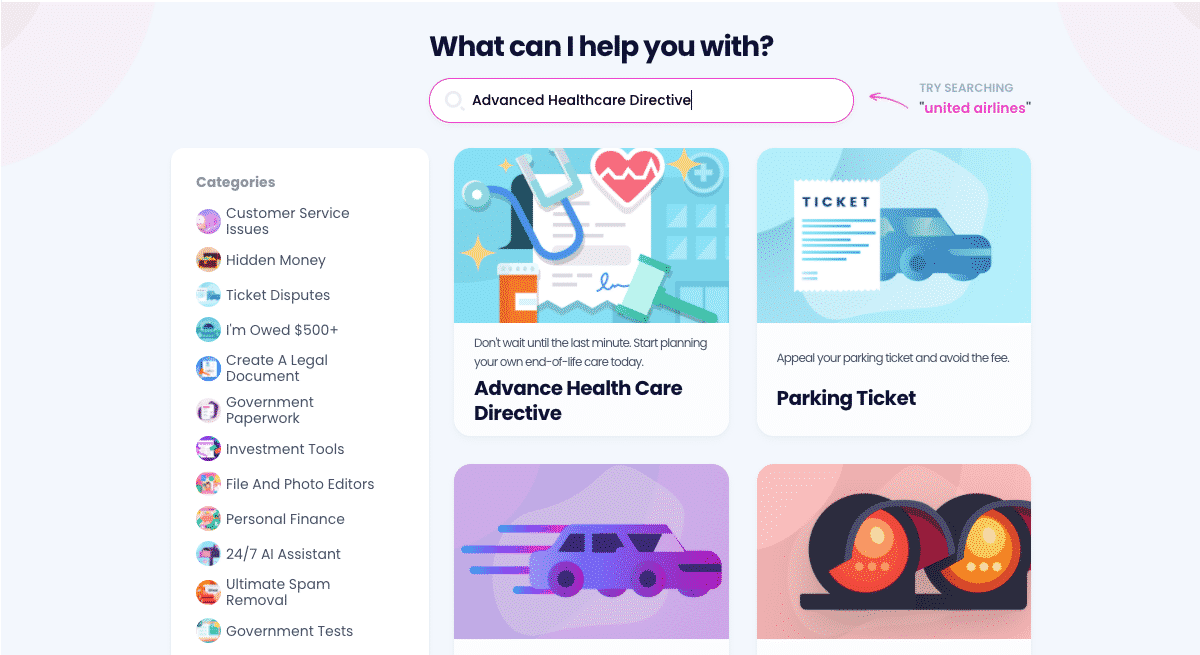 Skip the Bureaucratic Hurdles With Our Help
If your unfinished tasks are piling up each day, we can help save you time and energy. Let DoNotPay do the heavy lifting and complete the following for you:
| Bureaucracy | Spam and Harassment |
| --- | --- |
| | |
In one fell swoop, our app will draft legal documents, fax them online, and get them notarized. In case you need to request a college fee waiver, find unclaimed money, file a FOIA request, or contest parking tickets, you can count on DoNotPay's help.
We Offer Even More Ways To Assist You
Once you sign up for DoNotPay, there aren't many problems that we can't solve for you. Take a look at the table below to get an idea of what we can help you with: