What Startup Costs Are There, and How To Pay Them
The majority of people dream of having a business of their own. You work to create value for yourself, and you have no boss. Having a small business is more than following your entrepreneurial dream—you need to take care of every single detail that comes with running a company.
You will need to learn how to handle business expenses and have a positive budget—profit is why you do it. In this article, we will cover business startup costs and see what you can expect to spend your money on.
We will also introduce small business loans and show you how you can get one with DoNotPay—a quick and convenient way to go through the application process.
What Are Startup Costs?
Around 20% of all small businesses close up during the first year, while that number goes over 50% after five years. If you want to avoid this happening to you, you need to plan out every step carefully before plunging into the matter.
The biggest issue is covering expenses during the first few years—when the sales don't roll in enough revenue to keep your business self-sustainable. Add to that the initial investment you have to make to have the company up and running, and you will have a lot of headaches.
Startup costs are necessary expenses you have to pay to have a valid business and to create value on the market—regardless of whether you offer a product or service.
Typical business startup costs are split into the following categories:
One-time costs
Recurring expenses
One-Time Startup Costs
One-time costs include the payments that you have to make only once—or once in an extended period of time, e.g., five-plus years. These include:
Acquiring land
Building facilities and/or demolishing existing ones
Buying equipment
Paying incorporation fees
Getting a business license
Buying office furniture, hardware, and software
Most of these costs occur at the beginning—even before you start your business. Later on, if you have the ability to do so, you should choose a month during which your revenue peaks so that you can control the expenses.
Recurring Startup Expenses
These expenses occur periodically—usually on a monthly basis. You will need to have enough cash flow to support these startup costs and keep your business running smoothly. Some common recurring expenses include:
Office space renting fees
Supplies
Payroll
Consulting
Inventory
Taxes
Estimated Startup Costs for Small Businesses
Here's a list of some of the startup cost examples:
Utilities—$2 per square foot of office space
Inventory—Usually takes up 17% to 25% of the budget
Equipment—Starts at $10,000
Consulting—Between $1,000 and $5,000
Incorporation fees—Depending on the state, they can go from $50 to $725
Payroll—Takes 25–50% of your overall budget
Office space—From $100 to $1,000 per employee
Insurance—From $400 to $5,000
Estimating startup costs is an ungrateful task because they vary immensely, depending on the industry and the type of company you want to found. For instance, land acquisition costs will be different if you want to build a hotel as opposed to running an online blog from your bedroom.
Take a look at the following table to learn about specific startup costs regarding particular businesses:
Startup Costs Tax Deduction
Small businesses need to pay taxes with a flat fee of 21%. That does not mean that you should pay a 21-percent tax on your entire revenue. The IRS makes many startup costs deductible, meaning that you can write off startup expenses from your taxable income.
Not all of the startup costs are deductible, as shown in the table below:
Deductible Expenses
Non-Deductible Expenses

Employee wages
Advertising
Utilities
Bank fees
Insurance
Charity
Licenses
Moving
Rent
Meals and entertainment
Mortgage
Software and books
Employee loans
Startup costs
Gifts
Travel
Self-employment tax

Governmental penalties
Employee education
Lobbying
Demolition expenses
Business requirements
Political contributions
Legal fees
Illegal activities
Need Help With Startup Costs? Consider Small Business Loans
The list of all expenses can seem overwhelming, especially if you do not have a huge savings account. That should not discourage you—you can get a startup loan to get yourself going and work for your dream. A loan can only motivate you to work harder as there are penalties for those who do not pay it back.
Luckily, many institutions, such as banks and credit unions, support entrepreneurs and offer different types of loans, depending on business needs. This includes microloans, credit lines, and the United States Small Business Administration (SBA) loans.
To get a loan, you need to prove to lenders that you qualify. You will have to present a solid business plan that shows your company can take on loan terms regarding the repayment schedule and interest rates.
Applying for a loan successfully is a complicated task, and you need to make sure you submit all the necessary paperwork and details about the company. You can use DoNotPay to automate the process and let us create a formal request on your behalf.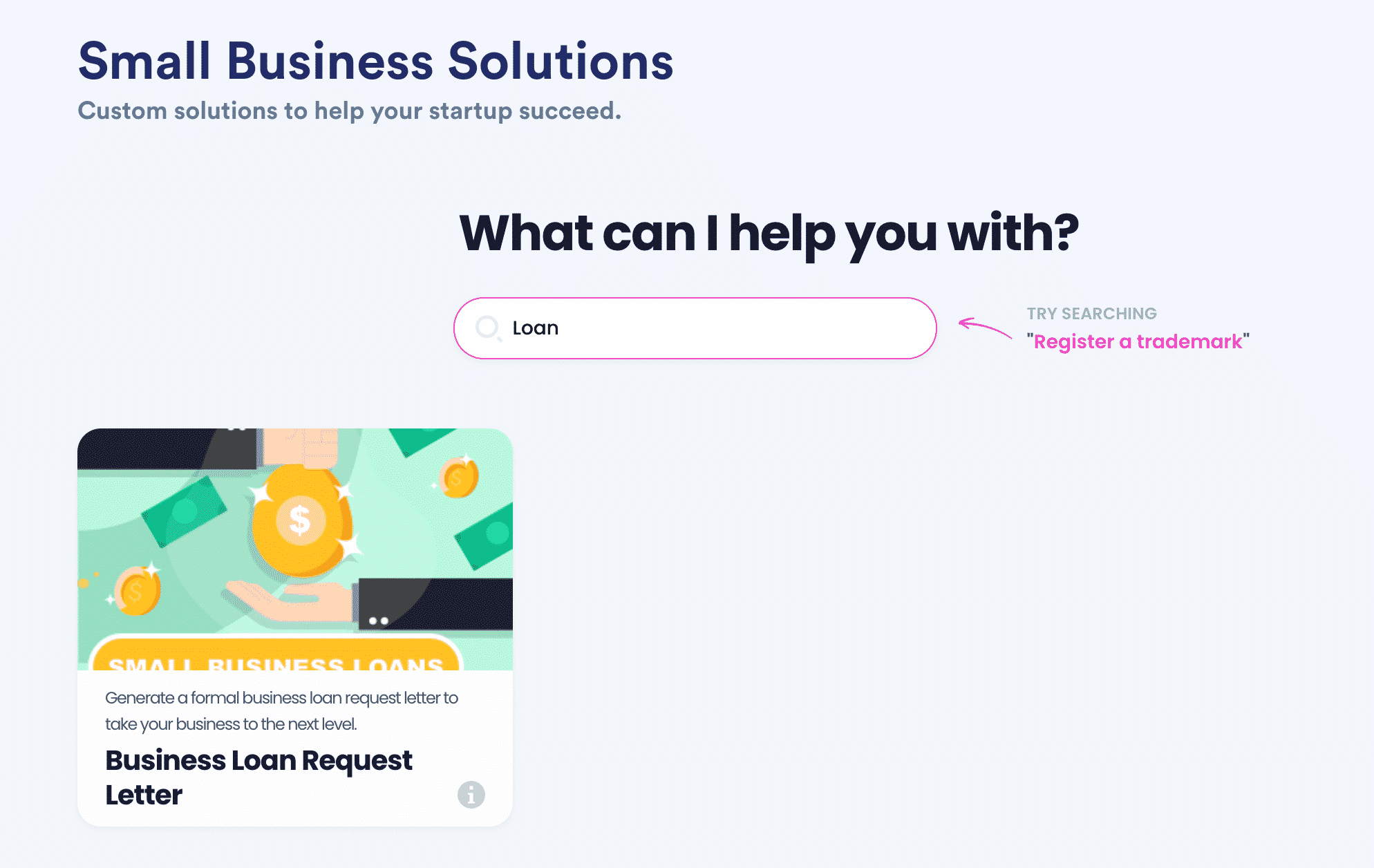 How To Get a Small Business Loan Using DoNotPay
Small business loans require a lot of information and documents so that lenders can gauge how risky it is to provide business owners with money. They may ask for several pieces of paperwork for you to hand over and require you to fill out an application form with plenty of details.
Many owners miss out on a loan due to an inaccurate application—DoNotPay is here to help you avoid that.
Our app will help you secure the best business loan—we will ask you about your company and make sure you do not leave out any of the documents. Once you sign up for DoNotPay, all you need to do is the following:
Navigate to the Business Loan Request Letter product
Gather your personal and business credit scores
Prepare paperwork to prove your eligibility
Answer a few questions from our chatbot
Upload all the necessary documents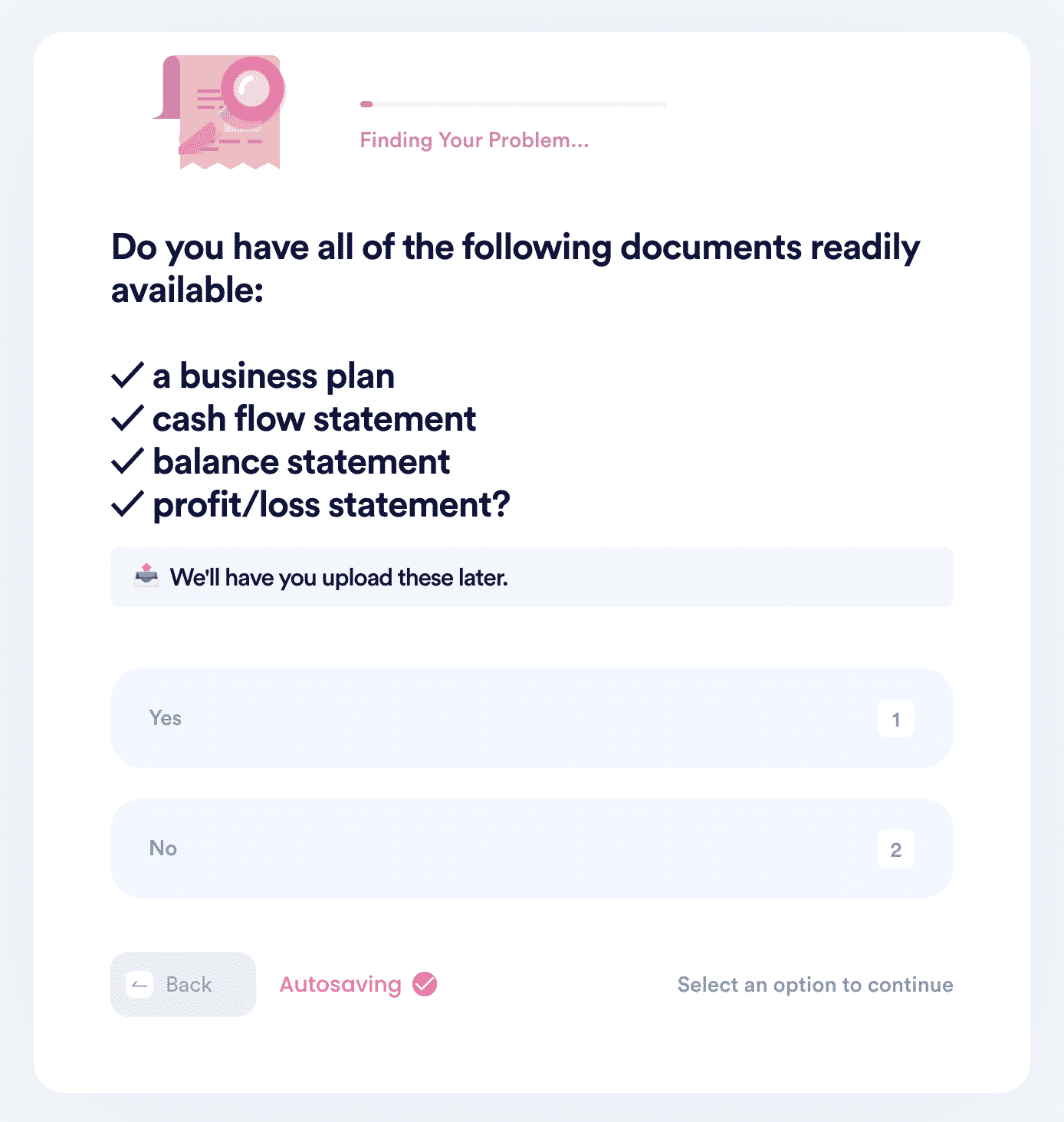 Take Care of Pesky Business-Related Procedures Effortlessly!
As a business owner, you are bound to deal with various complex processes. Luckily, DoNotPay can help you handle most of those procedures stress-free. Do you need to register your business name as a trademark, file the self-certification request with the Privacy Shield program, or report illegitimate and inappropriate negative reviews? Our app enables you to do it within minutes.
That is not all we can do for you! With our nifty products, you can make the filing of 83(b) election forms a breeze and take care of DMCA agent and Employer Identification Number (EIN) registration in no time.
Need a solution that will facilitate correspondence with your business associates or clients? DoNotPay has the right faxing and mailing product for you!
Don't Spend a Small Fortune on Lawyers—Draft Various Documents With DoNotPay's Help
Drafting legal documents does not have to be complicated or expensive. DoNotPay has a variety of tools that you can use to get a:
Letter requesting a loan for your small business
Cease and desist demand regarding your trademark (if someone tries to use your business name, logo, or slogan)
Formal demand letter requesting a client to pay for your services
Personalized chargeback rebuttal document based on the:

Chargeback reason
Chargeback code
Service you offer