Securing Startup Business Loans Using an EIN Number
Almost all businesses need some financial aid at times, especially in their opening phases that come with steep startup costs.
As an owner, you can rely on loans for small businesses and startups to get the extra funding you need to take your company to the next level. If you do not have a great personal credit score, you can still get a small business loan with your Employer Identification Number (EIN).
In this article, we will show you how to obtain startup business loans using the EIN number. We will also explain how these loans work and how you can create an error-free request with DoNotPay.
What Is a Small Business Loan?
Small business loans are dedicated to companies who struggle to have enough capital to run day-to-day operations, buy new supplies, obtain licenses, or cover any other business-related costs.
These loans can come from a variety of sources, such as:
Before you choose your lender and the purpose of the loan, you should make sure that the loan will do more good than harm. Loans are helpful only if they are a shrewd business—many companies fail to repay loans because the installments are more than their budgets can handle.
Another aspect of the loan you should consider is its terms—check out whether you fulfill all the criteria and whether you find the repayment schedule and interest rates satisfactory.
Loan Types
Small business loans are divided into several types, depending on:
Take a look at the following table to find information about some of the best loans available:
| Type of Business Loan | Description | Maximum Amount | Interest Rate |
| --- | --- | --- | --- |
| Microloans | If you need only a small boost to your liquidity, you should opt for a microloan. They come from governmental and nonprofit organizations and have a repayment period of six to eight years | $50,000 | 8–13% |
| Equipment loans | The funds that come from this loan can be used exclusively to buy equipment. Lenders take a few weeks to review an application, and the repayment period usually lasts as long as the equipment does | 100% of the equipment cost | 2–20% |
| Merchant cash advance (MCA) | An MCA needs to be repaid in three to 18 months, and the schedule most commonly requires daily payments from revenue. You do not have to have a great credit score to get an MCA | $250,000 | 20–250% |
| The United States Small Business Administration (SBA) small business loans | The Administration acts as a guarantee and will repay the loan to the lender if you fail to do it by yourself. This is why SBA loans are the most popular. It is a long-term loan with a repayment period that can last up to 25 years | $5 million | 2.75–4.75% |
| Credit for a small business | This is a great option for businesses that need to take care of immediate expenses and cash flow issues. The biggest advantage is that you can frequently take out credit, receive the funds instantly, and repay them in up to five years | $250,000 | 10–99% |
How To Get Startup Business Loans Using the EIN Number
Even if you are looking for a startup loan, you will have to have a registered company (and an EIN) before you can apply.
If you apply for a startup business loan with the EIN number, the lender will credit your business as a separate entity—this way, you can avoid the loan having an impact on your personal credit score.
Lenders usually also check your personal credit as well but will not do so in the following cases:
If you are an established and reputable business with clean credit history and strong financial statements
When there is no collateral on your part, meaning that business takes the whole responsibility
If you come across some alternative (online) lenders that do not ask for personal financial standing
Bear in mind that these loans do come with higher interest rates as the risk of investment is greater for the lender.
EIN-only loans include:
MCAs
Invoice factoring
Accounts receivable financing
Aside from the EIN number, you will need a plethora of other business-specific documents to prove you qualify for the loan. If you are not sure what exactly you need to get a loan, you can register for DoNotPay and let us help you with the entire process.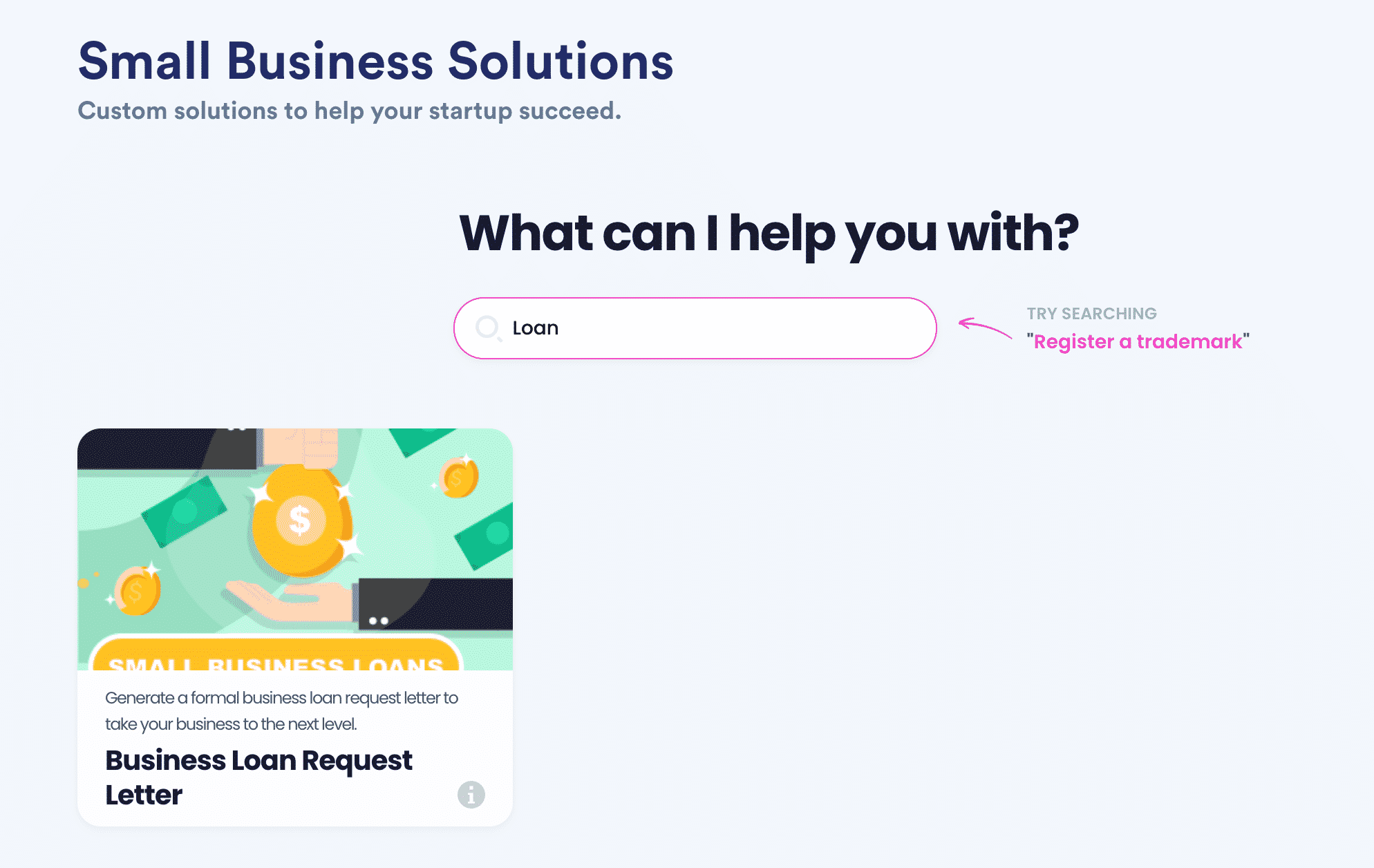 Improving Your Personal Credit Score
While there are lenders that will not consider your personal credit score, most will. To increase your loan options, you should work on improving your score. You can do that by doing some of the following:
Avoid poor marks
Do not go overboard with the number of credit accounts
Build up respectable history with business loans
Avoid late payments
Do not use all credit money at once
Build your credit file
DoNotPay Can Help You Obtain Startup Business Loans With an EIN Number
When you apply for a loan this way, you will need to provide plenty of paperwork, including:
Your EIN number and business license
Business plan
Business credit score report
Financial statements
Budget sheets
Accounts receivable and payable
You will also need to provide information about yourself and the company. Many fail to obtain small business loans because they do not include every document and detail necessary. Do not let this happen to you—use DoNotPay.
Our app will guide you through the process by making sure you submit all the required paperwork and do not omit any detail when filling out the application form. When you sign up for DoNotPay, all you need to do is:
Select the Business Loan Request Letter feature
Gather your personal and business credit scores
Prepare paperwork to prove your eligibility
Answer a few questions
Upload all the necessary paperwork
Looking for an online lender? Specify that in our questionnaire, and we will introduce you to our Find Online Business Loan Lender product.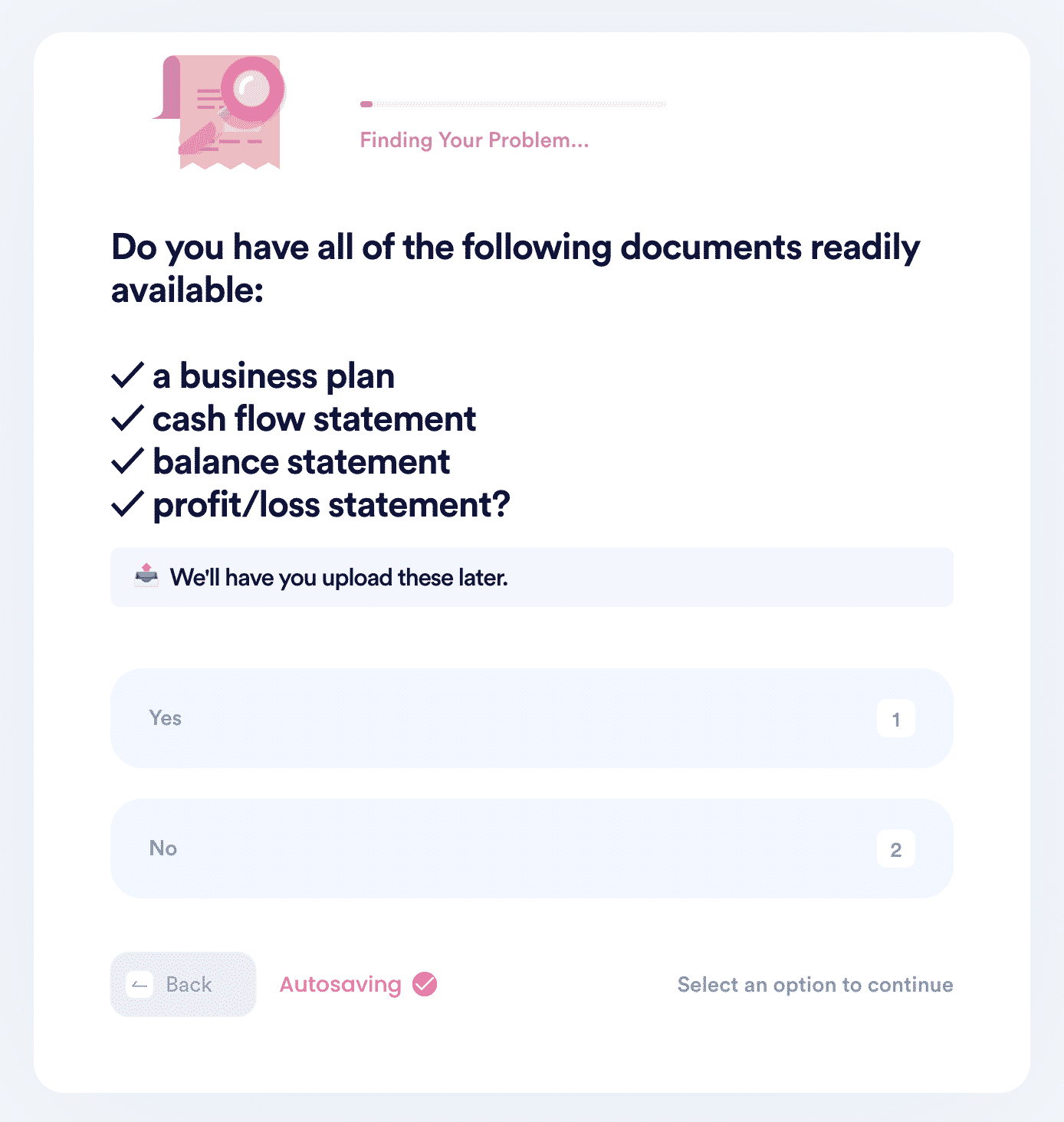 Take Care of Pesky Business-Related Procedures Effortlessly!
As a business owner, you are bound to deal with various complex processes. Luckily, DoNotPay can help you handle most of those procedures stress-free. Do you need to register your business name as a trademark, file the self-certification request with the Privacy Shield program, or report illegitimate and inappropriate negative reviews? Our app enables you to do it within minutes.
That is not all we can do for you! With our nifty products, you can make the filing of 83(b) election forms a breeze and take care of DMCA agent and Employer Identification Number (EIN) registration in no time.
Need a solution that will facilitate correspondence with your business associates or clients? DoNotPay has the right faxing and mailing product for you!
Don't Spend a Small Fortune on Lawyers—Draft Various Documents With DoNotPay's Help
Drafting legal documents does not have to be complicated or expensive. DoNotPay has a variety of tools that you can use to get a:
Letter requesting a loan for your small business
Cease and desist demand regarding your trademark (if someone tries to use your business name, logo, or slogan)
Formal demand letter requesting a client to pay for your services
Personalized chargeback rebuttal document based on the:

Chargeback reason
Chargeback code
Service you offer