How To Get Startup Business Loans With No Collateral
How much will a startup business cost you? How can you take out a loan for a startup business without having to put up collateral? We will explain the ins and outs of startup business loans with no collateral in this article. We will also tell you how business loans work and how you can get one. If you need to take out a loan as soon as possible, we suggest using DoNotPay—our app can help you write a professional loan request letter in mere minutes!
What Is a Startup Business Loan Without Collateral?
The phrase 'collateral-free loan' means that you will not have to put up any collateral as security to the lender before they grant you a small business loan. This type of loan is best if your business does not have many assets. If you opt for unsecured business loans, you will not have to risk your personal assets as collateral.
The benefits and downsides of startup business loans without collateral are as follows:
Pros
Cons

It is easier to qualify for a no-collateral startup business loan than for traditional financing
The repayment requirements are lower

The interest rates will be higher than with traditional financing
You might need to provide personal guarantees
Financing is typically short-term
Overview of Small Business Loans Without Collateral
The small business startup loans that do not require collateral are:
Unsecured business loans
Unsecured business line of credit
Merchant Cash Advances
Small Business Administration (SBA) loans
Business Credit Cards
Unsecured Business Loans
An unsecured business loan is a type of financing that will often require a personal guarantee and blanket lien against the business' assets instead of collateral. It is usually offered by alternative lenders as a short-term loan. These loans most commonly have higher interest rates than other types of loans.
The funding is quick and suited for business owners who need cash fast. To qualify for this type of loan, the business owner will need to show their credit profile and business revenue.
Many lenders will expect the owner to meet the following terms:
Minimum 540 credit score
Annual revenue of $75,000 or more
One year in business
Unsecured Business Line of Credit
Even though you do not need to put up collateral for an unsecured line of credit, you will need to convince the lender that you will be able to pay back the borrowed amount and that you are a reasonable credit risk. What the lenders will expect to see is:
Credit score of 600–620
At least six months in business
A history of paying on time
Annual revenue of at least $100,000
Merchant Cash Advances
You will not have to put up collateral if you opt for the merchant cash advance as a funding solution. Online lenders most commonly offer merchant cash advances—a feasible financing option for those borrowers who need funds quickly. Advances are sometimes issued as soon as a day after the lender approves them.
The lenders typically charge higher interest rates and require more frequent short-term payments. You will need to repay the advance on a daily or weekly payment schedule until the borrowed amount is paid in full.
SBA Loans
SBA loans are government-supported loans for starting businesses. The majority of SBA funding options require collateral, but lenders do not have to take it if a loan is less than $25,000. To meet the eligibility criteria for an SBA loan, you must:
Have a business plan, including all expenses and budget sheets that prove your ability to repay the loan
Be unable to qualify for loans from other lenders
Qualify as a small business (based on the amount of revenue you expect to make and the number of employees you intend to hire)
Operate a for-profit business in the U.S.
If you want to have a chance to qualify for an SBA loan, your personal credit score should be 700 or more.
Business Credit Cards
If you are looking for the best startup business loans without collateral, business credit cards might be the option for you. The best time to take out a business credit card loan is when you:
Do not want to take on more loans than you can handle
Cannot anticipate the kinds of costs that you will have
Do not want to apply for too much financing
Business credit cards will enable you to leverage personal credit to get access to business funds without offering your personal assets as collateral.
How Can DoNotPay Help With Your Business Loans?
When just opening a new business, startup business loans without collateral aren't easy to come by. The application process is complex and difficult, and if you do not submit all the necessary documents, the lenders might decline your application.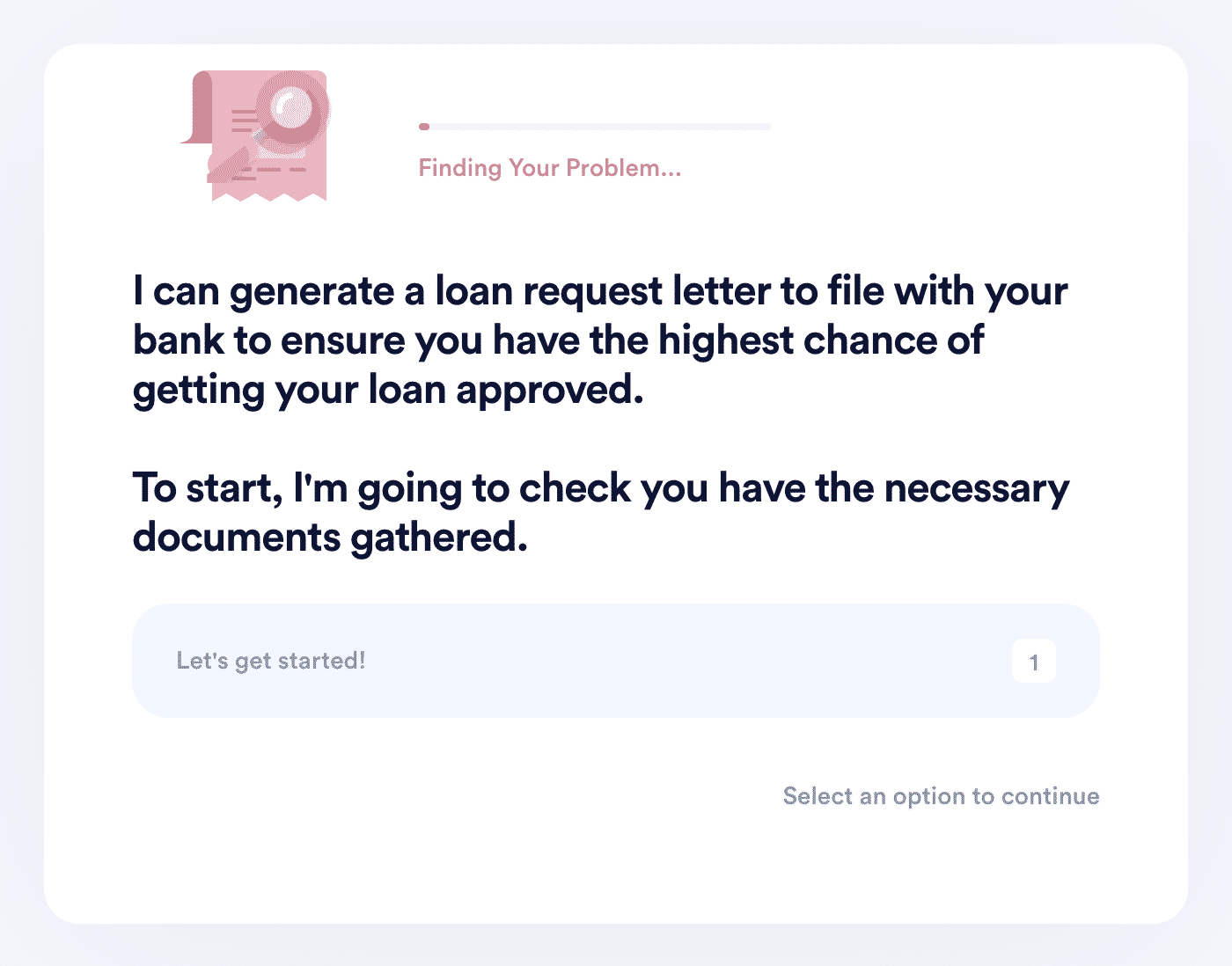 Luckily, DoNotPay knows exactly which documents you need to provide for your application, and we will make sure that you include all the necessary details about your business and solidify your loan request. To use our service, sign up for our platform and complete the following steps:
Open the Business Loan Request Letter product
Gather your personal and business credit scores
Collect the documents that prove you meet the eligibility criteria
Provide details about your business by answering a few questions
Upload all the required paperwork
Once you complete the steps, DoNotPay will create a fully personalized loan request letter that will make your case interesting to your bank or independent lender.
If you did not choose a lender yet, DoNotPay can help with that as well! Our integrated Find Online Business Loan Lender product will list the three best lenders according to your funding needs and repayment capabilities.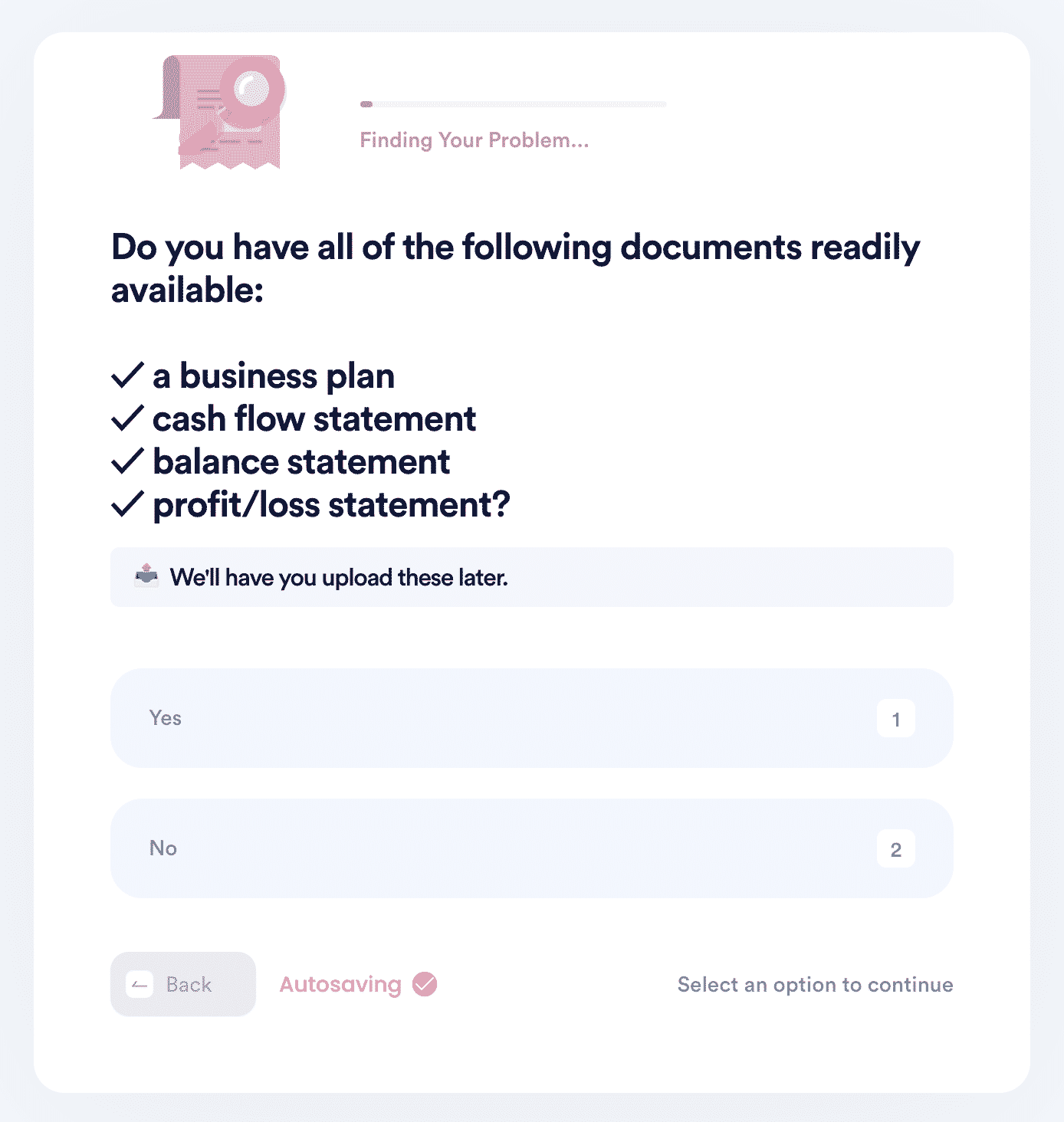 DoNotPay Offers More Help for Your Business
Running a small business is no small feat. When you're drowning in red tape, DoNotPay is here to lend a helping hand. Whether you need to register your trademark or protect it later on, we have got it covered. With our help, you will keep your logo, slogan, and business name safe.
Are you also yet to register for an Employer Identification Number (EIN)? Not to worry—our app can file the IRS SS-4 form in a few clicks. With the world's first robot lawyer at your fingertips, you will also be able to create your 83(b) election forms with ease—ready for your employees to sign them right away.
In case you are struggling financially, we can assist you with a business loan application.
Communication Has Never Been Easier With Our App
Keeping up with clients can be challenging, especially if each has a preferred method of communication. Luckily, our multifunctional app makes it easy to both fax and mail contracts, letters, and documents.
You can also count on our assistance when you need to:
Fight fake negative reviews online
Deal with a client regarding a breach of contract
Dispute fraudulent chargebacks
Thanks to DoNotPay, there is no need for back-and-forth communication. We will handle the necessary demand letters and forward them on your behalf.
We can also help you manage your DMCA agent registration and Privacy Shield program self-certification.