Startup Business Credit Cards With No Credit Requirements
Covering startup costs is usually difficult until you start making a profit. As a new business owner, you might not qualify for a loan right away. Instead, you could opt for startup business credit cards with no credit record.
DoNotPay lists some available options you can choose to pay for the operational expenses and to grow your business.
Why Should You Apply for a Business Credit Card?
Startup and small business owners can deal with ongoing costs using different types of loans and other funding options. Aside from loans, you can also get business credit cards to help you:
Make the necessary payments
Grow your business
Get rewards and additional perks
Ways To Get Small Business Credit Cards—No Credit Check
While most lenders require a good business credit score, solid revenue growth, and stable business, you could obtain startup business credit cards with no credit history by using your personal credit record.
Here is how:
Get a business card
Partner up with someone
Apply for a secured business credit card
Report all business payments to credit bureaus
Applying for New Small Business Credit Cards With No Credit
You should not apply for business credit cards if you have not:
Built a good credit history yet
Demonstrated you can handle one business credit card first
While it is much easier to get a business credit card once your business has established a credit background, you could apply for a single card if you have been settling business costs and obligations on time.
Find a Partner To Get Credit Cards for a New Small Business With No Credit
You could get a business credit card if you partner up with someone that:
Has good credit history
Is willing to:

Apply for a business credit card
Make you an authorized user
While this option might provide a good way to deal with business expenses, it will also improve your personal credit score.
How To Get a Secured Business Credit Card
As an owner of a startup or small business, you can apply for a secured business credit card if you do not have a previous credit history. The issuing bank will:
Require you to put down a security deposit, i.e., a collateral
Not use your deposit if you cover monthly bills and any additional financial obligations on time
Get Your Business Payments Recorded
You should ensure all your business payments are reported to some major credit bureaus, such as:
Equifax
Experian
TransUnion
Recording business payments with business bureaus—e.g., your monthly rent—could help you qualify for a business credit card.
What Are Good Business Credit Cards?
The following table presents some business credit cards suitable for startups and small businesses with a fair credit score:
Business Credit Card
Advantages
Disadvantages
Capital One Spark Classic for Business

A minimum personal credit score of 580
No annual fee
No foreign transaction fee
1% cash back on all purchases

No 0% intro APR period or welcome bonus
Reports to both business and personal credit bureaus

American Express Blue Business Plus

12 months of 0% intro annual percentage rate (APR)
No annual fee
Rewards for the first $50,000 you spend annually
All activity reported to business credit bureaus

Accumulating interest if not settling the balance after the intro period
A foreign transaction fee of 2.7%

Chase Ink Business Preferred

Sign up bonus of $1,250 for travel
3x rewards on the first $150,000 every year
No foreign transaction fees
Employee cards free of charge

Annual fee of $95
Capital One Spark Cash for Business

A welcome bonus of $500
An unlimited 2% cash back on business transactions
Free employee cards

Annual fee of $95 (waived for the first year)
Chase Ink Business Unlimited

No annual fee
0% intro APR for 12 months
1.5% cash back on purchases
Free employee cards

A foreign transaction fee of 3%
Get Additional Funding for Your Startup or Small Business
You might need to combine various funding options to cover your day-to-day activities or upcoming project activities. Once you have created a precise budget for your sales, marketing, and all other areas, you could get a loan for your business.
You will have to understand how loans operate to choose the best one with the most favorable terms for your business and personal needs.
Depending on your needs and qualification, you should go through numerous available grants and loans, including the following:
Use DoNotPay's Help To Secure a Small Business Loan
Once you have decided what loan you would like to apply for, you must prepare and collect all necessary documentation, such as:
Personal and business credit scores
All business financial statements, including the:

Profit and loss statement
Cash flow statement
Balance statement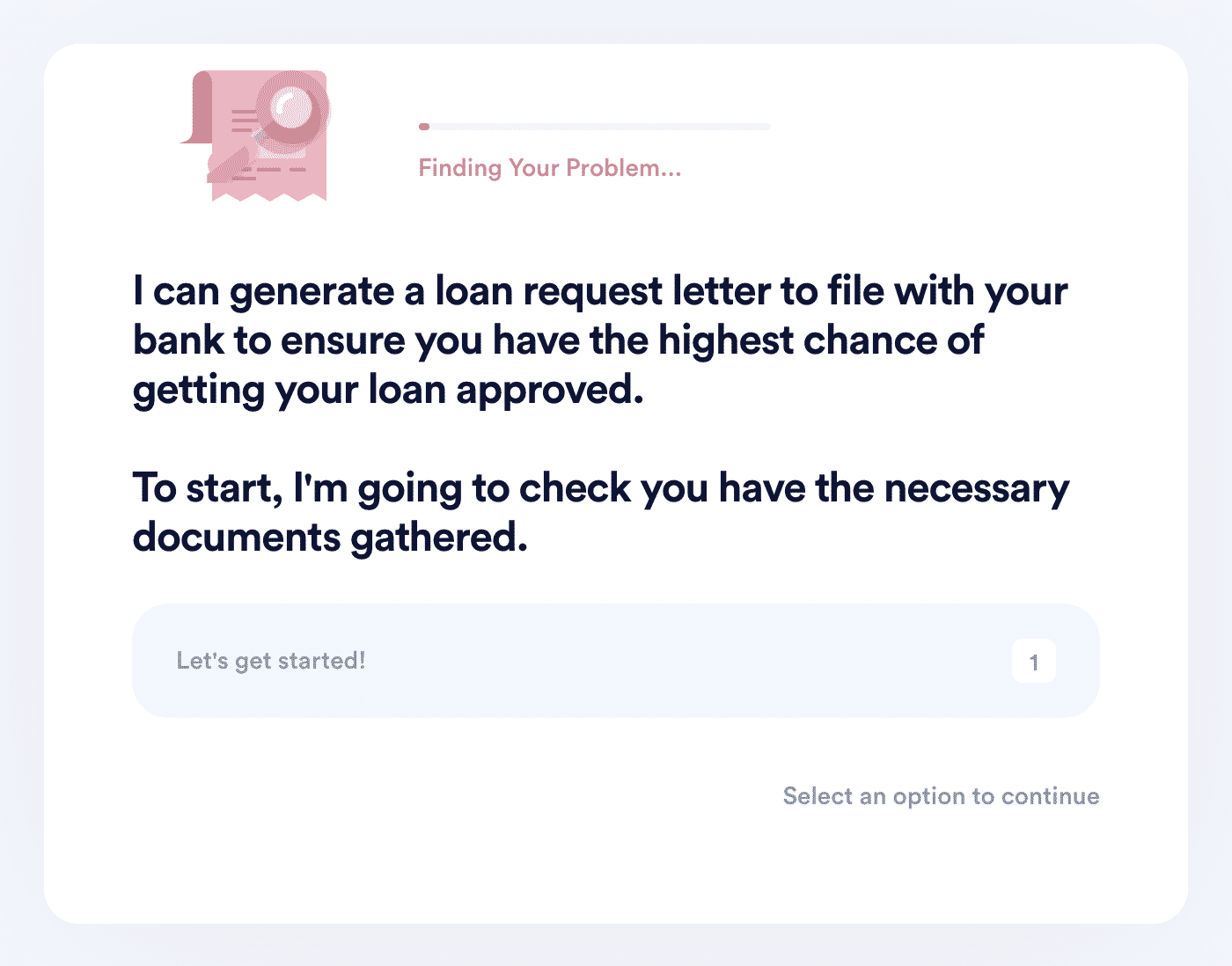 Aside from the required paperwork, you should send a convincing loan request letter to make your application complete. DoNotPay can help you draft a watertight letter that will:
Address all important aspects
Use a formal and persuasive style
Highlight your strengths to make your application noticeable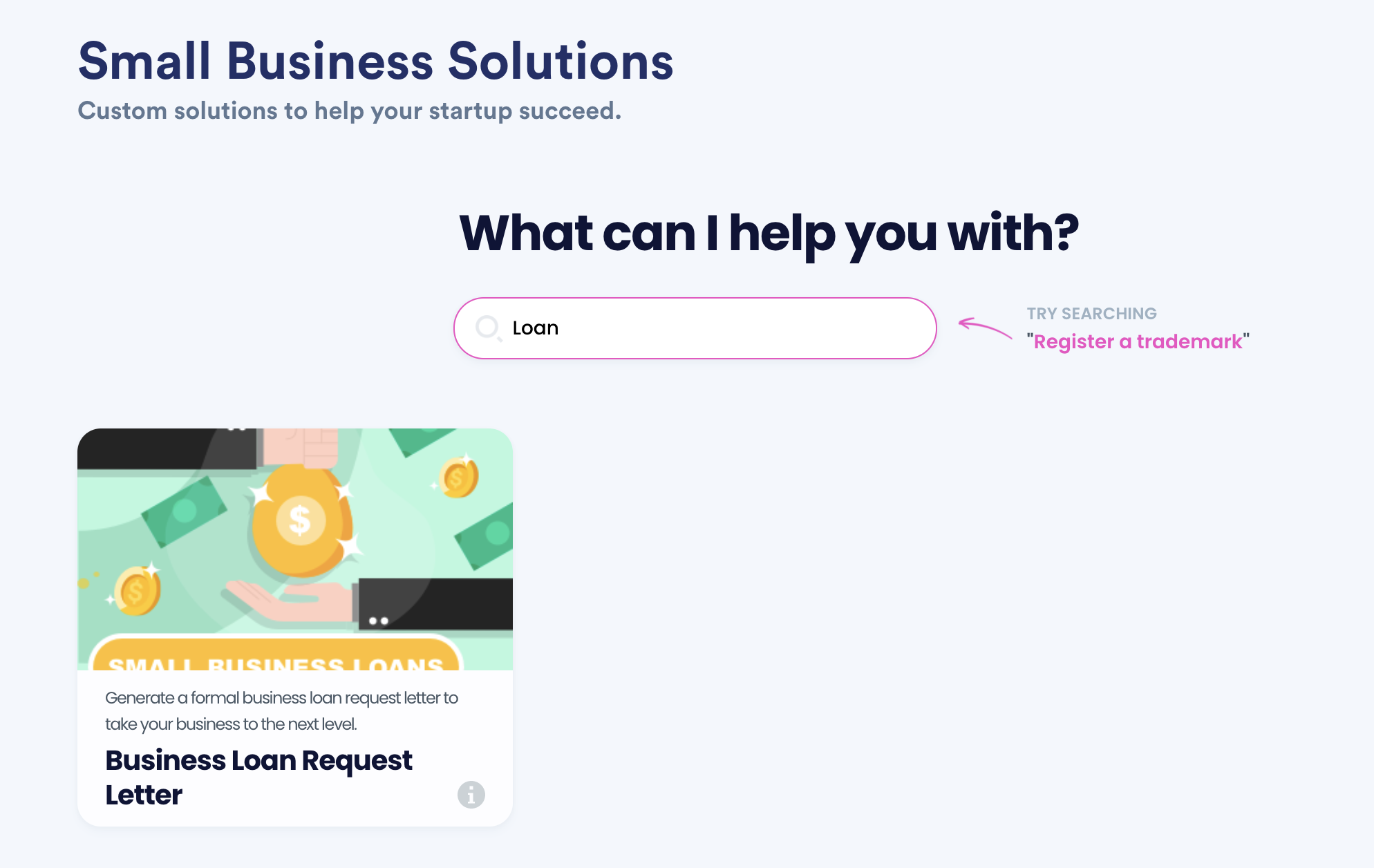 Our process is straightforward—subscribe to DoNotPay and:
Navigate to the Business Loan Request Letter feature
Provide your business information
Indicate whether you need help with finding potential lenders
Enter the sum you need to borrow
Upload the collected documentation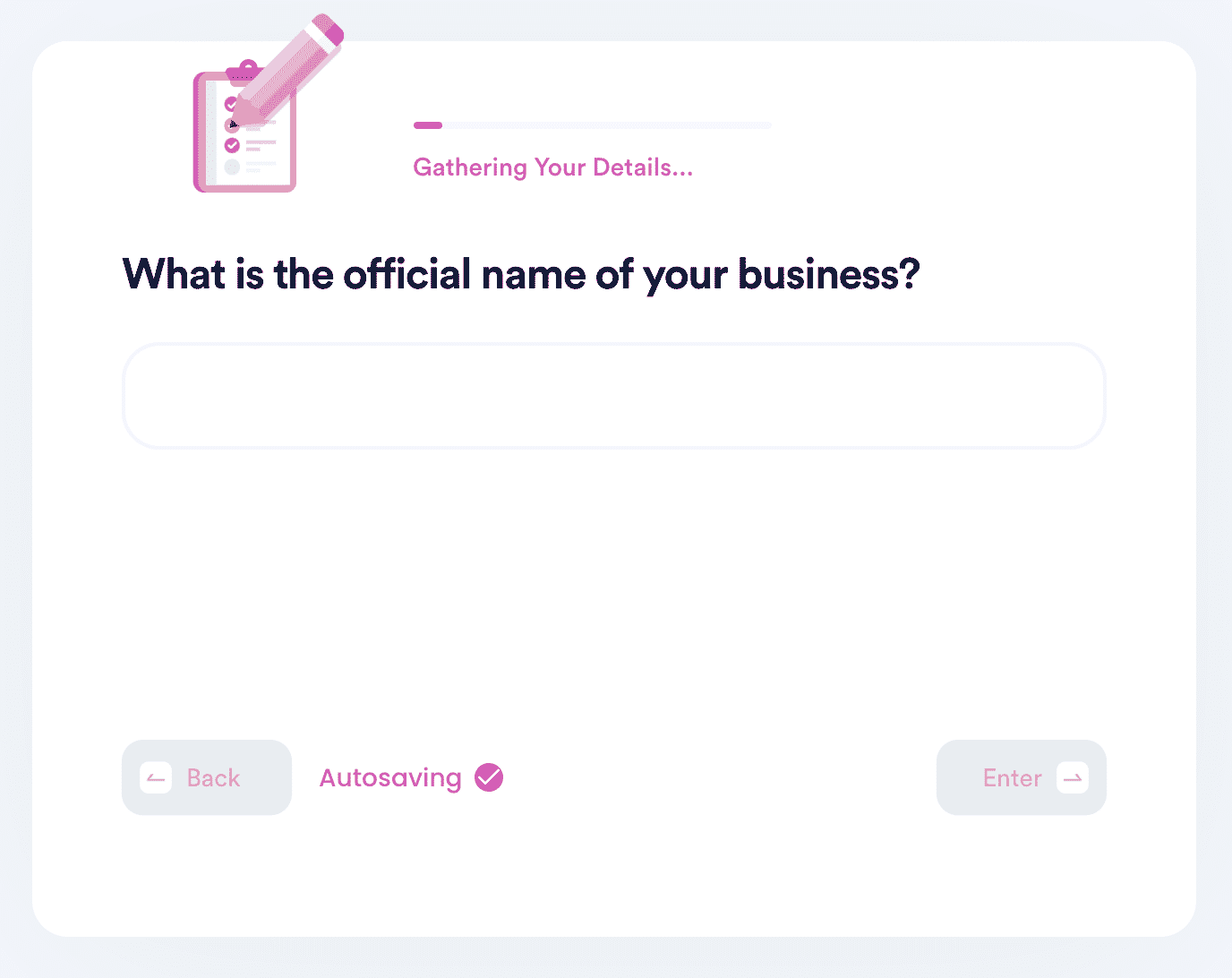 Our AI-powered app can point out the best lenders for your needs and generate a loan request letter in a matter of minutes. Enclose the letter with your loan application to secure the funds you need to grow your business.
DoNotPay Offers More Help for Your Business
Running a small business is no small feat. When you're drowning in red tape, DoNotPay is here to lend a helping hand. Whether you need to register your trademark or protect it later on, we have got it covered. With our help, you will keep your logo, slogan, and business name safe.
Are you also yet to register for an Employer Identification Number (EIN)? Not to worry—our app can file the IRS SS-4 form in a few clicks. With the world's first robot lawyer at your fingertips, you will also be able to create your 83(b) election forms with ease—ready for your employees to sign them right away.
In case you are struggling financially, we can assist you with a business loan application.
Communication Has Never Been Easier With Our App
Keeping up with clients can be challenging, especially if each has a preferred method of communication. Luckily, our multifunctional app makes it easy to both fax and mail contracts, letters, and documents.
You can also count on our assistance when you need to:
Fight fake negative reviews online
Deal with a client regarding a breach of contract
Dispute fraudulent chargebacks
Thanks to DoNotPay, there is no need for back-and-forth communication. We will handle the necessary demand letters and forward them on your behalf.
We can also help you manage your DMCA agent registration and Privacy Shield program self-certification.