What Is the Startup Cost for a Lawn Care Business?
Getting a lawn care business off the ground is a considerable investment. If you do not have enough funds, you can take out a small business loan to cover the startup cost for a lawn care business. Our app can help you find top lenders within minutes and draft an error-free loan request letter on your behalf.
The Average Startup Cost for a Lawn Care Business
While it might bring you a significant profit, running a successful lawn care business is not as easy as it seems.
For starters, you need to invest a lot of money initially for the necessary equipment and vehicles. The amount you spend will depend on the equipment grade and your target customers.
Most lawn care businesses start with residential clients, so you need to buy either heavy residential or medium commercial grade equipment.
Here is the rundown of the individual cost of the equipment to include in your budget:
Personal protective equipment ($50–$500)
Gas containers ($20–50)
Sprayer ($50–$500)
Hand tools ($100–$500)
Hedge trimmer ($100–$400)
Spreader ($100–$600)
Edger ($100–$600)
Leaf blower ($100–$500)
Trimmer ($100–$500)
Landscaping tools ($200 – $1,000)
Lawn mower ($500–$1,000)
Equipment trailer ($1,000–$6,000)
Truck ($10,000–$75,000)
Overall, expect to spend around $12,420–$86,750 for a small-scale lawn care business.
Recurring Lawn Care Business Startup Costs
The recurring expenses for a lawn care business include maintenance, operating costs, and labor. Below is the list of recurring costs you will have to cover:
| Expense | Cost |
| --- | --- |
| Labor | $15 hourly per employee |
| Employee taxes | 7.65%–15% of the wages monthly |
| Phone and Wi-Fi | $50 to $100 monthly |
| Truck maintenance and gas | $299 monthly |
| Truck insurance | $100 per month |
| Equipment maintenance | $50 per month |
| Insurance | $50 to $200 monthly |
| Gas | $200 monthly |
Small Business Loans for Lawn Care Startup Costs
If you do not have the means to cover the expenses of your lawn care business, you should consider taking out a startup business loan. Below is the overview of the best loans for a lawn care company:
Loan Type
Overview
Equipment loans

Funding for equipment upgrade, repair, or replacement
Purchased equipment is collateral—the lender will take it if you are unable to repay the loan

The United States Small Business Administration (SBA) loans

General loans for various business purposes, such as financing working capital, real estate, and inventory
You need a strong credit score to qualify for this program

Invoice financing

The best loan for sustaining cash flow
You will get 85% of your outstanding invoice in advance so you can fund various recurring expenses

Business lines of credit

Revolving credit loans that can be used to cover short-term expenses
You can use it as many times as you want as long as you repay it on time and do not go over the credit limit
You pay interest only on the amount you spend
How To Choose the Best Small Business Loan
To choose the right loan for your business needs, you need to evaluate a few things:
Loan purpose
Your cash flow stability
Your business income, revenue, and creditworthiness
What Documents To Include in Your Loan Application?
Different lenders have different policies, so make sure you understand their requirements to see whether you qualify for a loan. The documents that are typically required are as follows:
Tax returns
Business bank statements
Personal and business credit history
Profit and loss statements
Collateral statements
Loan request letter
Increase Your Chances of Getting a Loan With DoNotPay
Regardless of what loan types you are looking for, having a well-written loan request letter can increase your chances of obtaining the necessary funds. You can hire a professional to write the letter on your behalf, but their services can be costly.
The good news is, you can use DoNotPay to draft a mistake-free loan request letter and send it to banks and other lending institutions without effort. You just need to do the following:
Open the Business Loan Request Letter product
Gather your credit score reports and prepare relevant business statements
Provide relevant information and upload the documents
Within minutes, our app will generate an impeccable loan request letter. DoNotPay will send it together with the documents to the lending institution of your choice.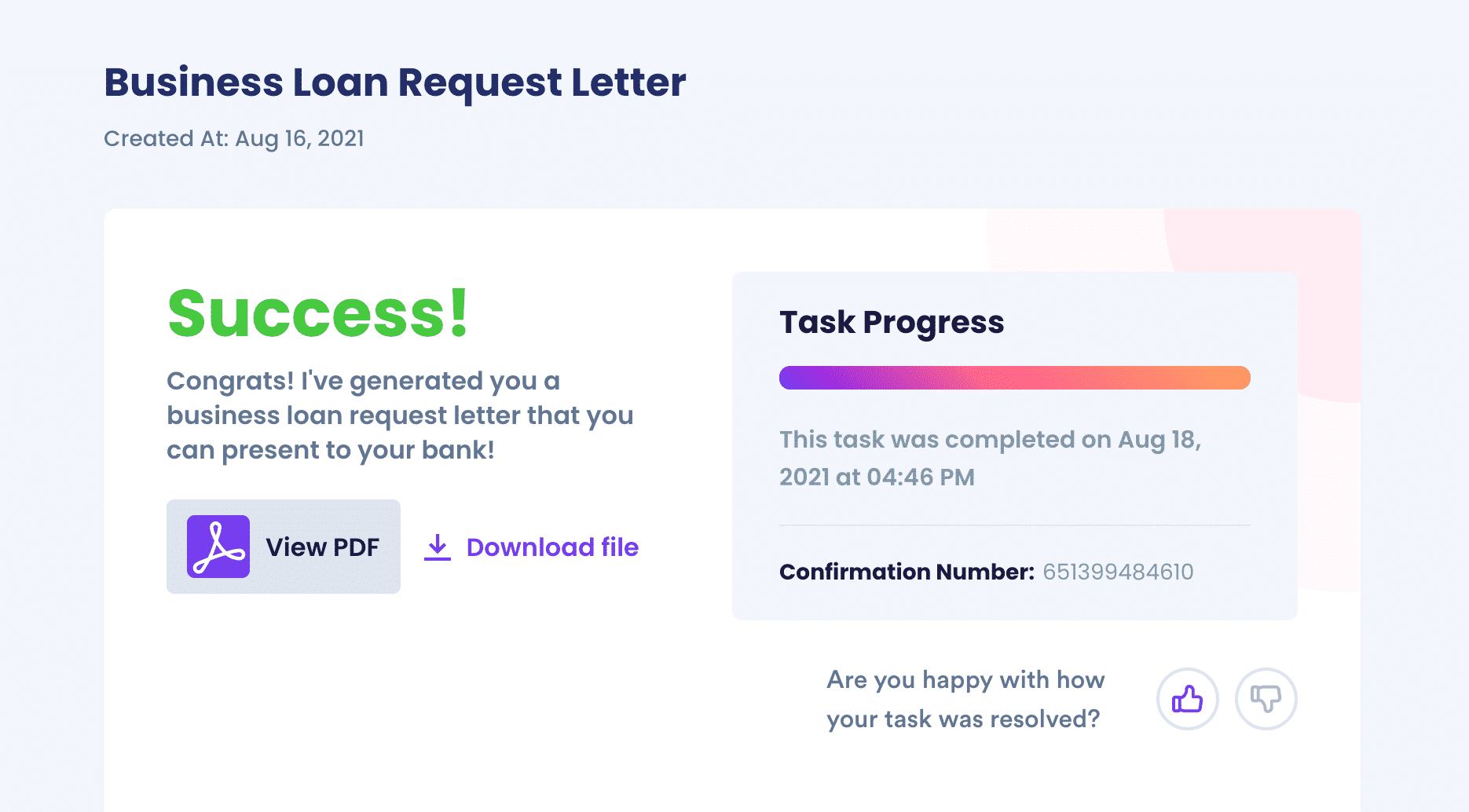 DoNotPay Can Help You Find Reputable Lenders in No Time
If you are unsure of where to get a loan, DoNotPay can help you find the best online lending institutions within minutes. Here is how we can help you:
Access your DoNotPay account from any browser
Search for the Find Online Business Loan Lender feature
Give us some details regarding your business loan requirements and needs
Specify what kind of industry your company belongs to
We will compare and rank various loan options based on rates, loan amounts, approval speed, and repayment terms.
Learn How To Manage Various Startup Costs and Get Small Business Loans With DoNotPay
If you are an aspiring entrepreneur looking for ways to manage your startup expenses, you have come to the right place. We have more guides you can check out in the table below:
Get the Upper Hand With DoNotPay
The business world is extremely competitive—that is why it is always good to have some extra capital set aside when you need to invest in your company. You can leave the bureaucratic task to us—DoNotPay will draw up business loan request letters in your stead.
If your finances are taking a hit, rely on our app. With our assistance, you will be able to:
Fight fraudulent chargebacks
Remove fake negative reviews online
Register and protect your trademark
Send mail and faxes at no additional cost
Handle clients breaching contracts and get what you are owed
Whatever the task at hand, our AI-powered app will see it through successfully.
DoNotPay—The Assistant Every Business Needs
You cannot escape bureaucracy in business. What you can do is let DoNotPay deal with it. Whether you need to register a DMCA agent or complete an Employer Identification Number (EIN) registration, our app will lead the way.
Using DoNotPay, you will also not have to worry about 83(b) election forms or Privacy Shield self-certification. From generating to filing important documents and from dealing with employees to handling clients on your behalf, our AI-driven app is your go-to solution.
Grow and protect your business with the world's first robot lawyer!