Where To Find Startup Business Loans
Setting up a business calls for a lot of resources, regardless of the scale. If you lack the funds for your launch, you can turn to lenders for financial assistance. In this article, we take a look into startup business loans—how to qualify, where to get them, and what the best programs are. We also explain how a subscription to DoNotPay can help you get your business off the ground.
What Is a Startup Business Loan?
Launching a business is financially challenging and requires setting up a separate budget to cover the initial costs.
Depending on the targeted niche, the costs can vary significantly. For example, opening a craft brewery is more costly than setting up a dropshipping store since you need to procure and accommodate specialized equipment.
Whatever the nature of your business is, you should factor in the following expenses:
Incorporation fees—Up to $300
Insurance—Approximately $1,200 per year
Inventory—Takes 17–25% from the total budget
Equipment—Anywhere from $10,000 to $125,000 (and possibly more)
Workspace—From $100 to $1,000 per capita per month
Marketing campaign—From 0% to 10% of the startup budget
Website—Around $40 per month, depending on the provider
Additional costs—Consulting services, travel, shipping, etc.
If you haven't acquired the working capital for the first few months, you can apply for a startup business loan. How do small business loans work? You get the necessary funds from lenders who specifically invest in new businesses and pay them back according to agreed-upon terms.
Best Startup Business Loan Options
Your chosen industry and the goods and services you provide will determine the type of loan and the amount you need. Some of the most common types of startup loans are:
Asset-based financing—It is meant for financing company assets (e.g., real estate, equipment, and invoicing). Small business loans that are tied to assets often require tangible collateral in case the company fails
SBA loans—The Small Business Administration (SBA) is a government organization that acts as a mediator between borrowers and lenders. If you apply for their Microloan program, you can get a lump sum of up to $50,000 with interest rates from 5.5%. The SBA startup loan is provided by either a non-profit lender or a bank
Personal loans—You don't have to go through an institution to apply for a startup loan. Instead, you can find an online lender and ask for a personal loan directly. Note that these types of loans are conditioned by personal credit history and income
Crowdfunding—Statistics have shown that crowdfunding has generated over $17.2 billion of revenue in North America. Websites such as Kickstarter present a solid opportunity for acquiring funds
Friends and family—Many business owners turn to their friends and family for financial aid at the beginning of their journey
How To Get a Startup Business Loan
For a company to be approved for a startup business loan, it must adhere to certain terms and conditions. The qualifications are different for each financing method, but you should pay close attention to the following:
Small Business Startup Loan Requirement
Description
Complying with lender's specifications

Before you apply for a startup loan, make sure the lender or lending institution (government or non-profit) is willing to work with businesses that are younger than six months and lack business credit

Good credit score

Your personal credit history is a major factor in securing funds for your startup. Lenders will most likely want to review your credit score and base the projected worth of your business on that. If your credit score is above 700, you don't have to worry

The proper financial and legal documentation
Borrowers must prepare and file the right paperwork when applying for a startup business loan. The documents you need to gather are:

Bank account statements
Income tax returns
Employer Identification Number (EIN)
Relevant licenses and permits
Financial statements (profit and loss statement, balance statement, and cash flow statement)
Collateral (when applying for asset-based loans)
Detailed business plan with financial projections
Resume
DoNotPay Can Generate a Flawless Loan Request Letter and Increase Your Chances of Getting Funds!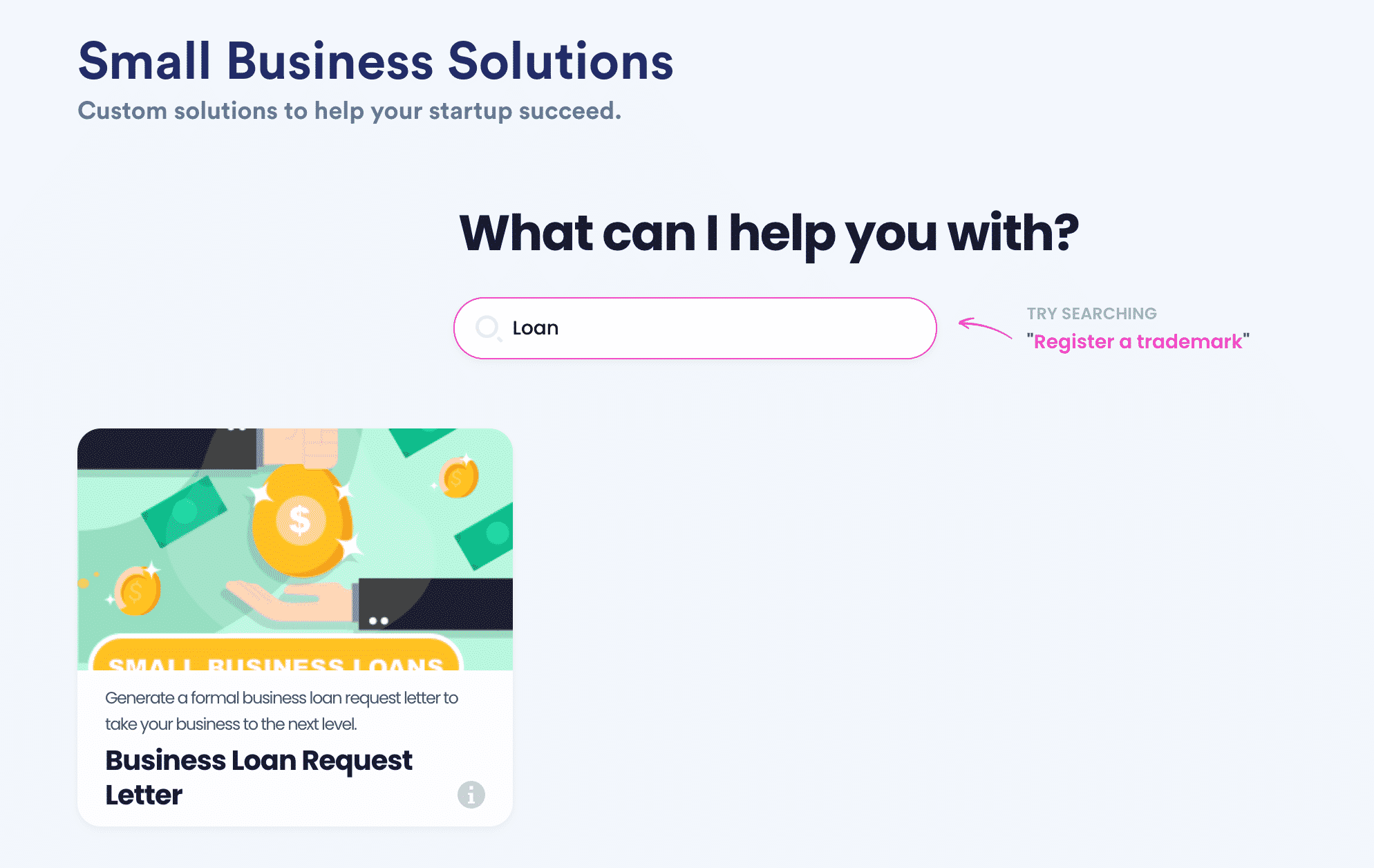 Acquiring a loan for a small to mid-scale business that is merely starting up is no easy task. While there are several options for borrowing the necessary resources, the number of lenders willing to pour funds into new businesses is limited. If you want to increase the likelihood of getting a small business loan for your startup, try DoNotPay!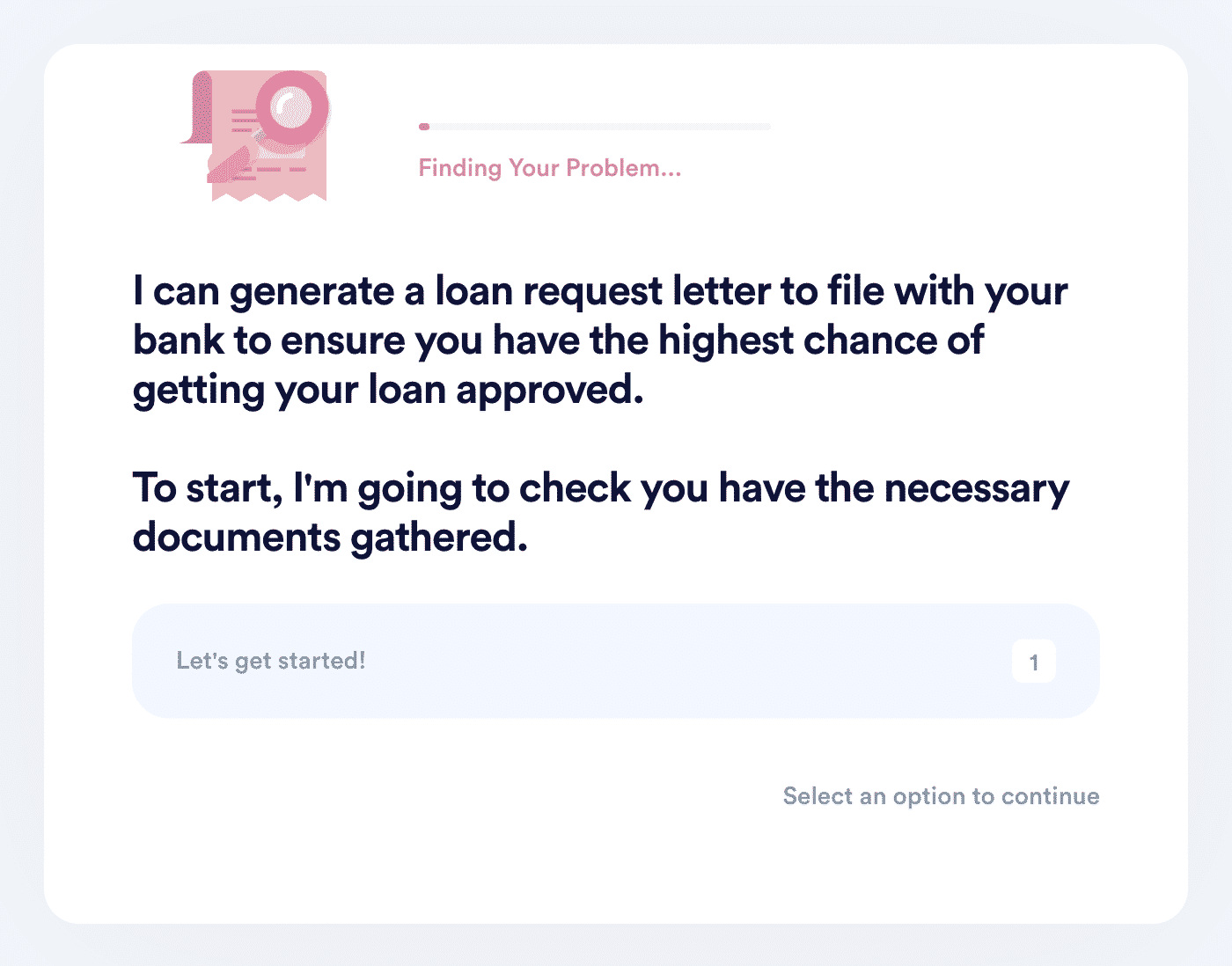 Our Small Business Loan Request Letter product can help you file the necessary paperwork, ensuring you don't miss a single step of the process. The best part is—the feature is entirely streamlined!
All you have to do is:
Log in to your DoNotpay account using any browser
Access the Small Business Loan Request Letter product
Provide details regarding your business and the loan (e.g., the amount you are requesting)
Upload the relevant paperwork
You can rely on DoNotPay to do the rest! Our AI-powered app will compose a loan request letter based on the provided data and forward it to your chosen lender.
We can even find a suitable lender for you through our integrated Find Online Business Loan Lender feature. Provide our chatbot with some relevant info, and we will return the top three lenders that match your needs!
Don't Let the Complex Procedures Stress You Out! Rely on DoNotPay and Run Your Business Like a Pro!
DoNotPay has created a plethora of simple-to-use features that will help you run your business the best way possible. Here are some aspects we can help you take care of:
Registrations
Legal Documents

Get an Employer Identification Number (EIN)
Register a DMCA agent to avoid copyright violations

Send a cease and desist demand if someone is using your trademark
Draw up a watertight letter requesting a loan for your business
Draft a demand letter to send to a client who refuses to pay you
Get a customized chargeback rebuttal letter and fight unfair chargeback requests hassle-free
What Else Does DoNotPay Have in Store for Your Business?
You can use our app to resolve many other business-related issues. DoNotPay can help you deal with fake reviews that are ruining the reputation of your business by analyzing the harmful review and figuring out the best way to go about it.
Do you wish to protect the privacy of your clients and prevent their data from being collected while they are on your website? Use our app to file a self-certification request with the Privacy Shield program.
If you need help automating the filing of 83(b) election forms, DoNotPay has the right solution for you and your employees or shareholders! With our app, you will be able to finish the entire process with a few clicks.
Another perk of using our app is that we can help you fax and mail any documents or letters without having to leave your home or office.
DoNotPay will help you handle all your business tasks in the blink of an eye!