The STAR Property Tax Exemption Explained
If you are a homeowner, you are already familiar with the amount of money you have to set aside each year to pay property taxes. In case you can't afford this cost, you should look for help to pay your property taxes. The STAR property tax exemption is one such tax relief program. DoNotPay can explain how it works and help you find out whether you are eligible for other property tax exemptions!
What You Should Know About the STAR Property Tax Reduction
The School Tax Relief (STAR) program provides property tax relief to homeowners living in New York State who meet certain requirements. If you live in an NY school district, you have the right to apply to this program. You also need to own and reside in one of these types of properties:
House

Farmhouse

Manufactured home

Condominium

Mixed-use property

Apartment building (only the part where the owner lives)

Cooperative apartment
If you meet the STAR requirements and are a part of the program, you'll get your benefit annually in one of these ways:
STAR credit check

—The Tax Department will send you a STAR check via mail yearly. You can use the check to pay your school taxes. It is necessary that you own a home and have an income of $500,00 or less (owner and their spouse together)

STAR exemption

—this is a reduction on your school tax bill. You need to have been already receiving the STAR exemption since 2015 to be eligible for the exemption now. New homeowners can't get the STAR exemption
Types of NY State STAR Property Tax Exemptions
No matter whether you get the STAR credit or exemption, you can choose between two types of STAR benefits:
Take a look at the table below to find out the requirements for these benefits:
Type of STAR Benefit
Age
Income
Ownership

Basic

$500,000 or less for the STAR credit

$250,000 or less for the STAR exemption

Eligible applicants have to own the property

Married people may receive only one STAR benefit regardless of how many properties they own 

Purchasers who own the property under an executory contract of sale

LLCs, corporations, or partnerships that own farm dwellings only

Enhanced

65 or older

Surviving spouses may use the existing Enhanced STAR benefit if they are 62

$88,050 or less (for 2020 benefits)

$90,550 or less (for 2021 benefits)
These benefits apply only to school district taxes. You may not get them for city, town, or county taxes. The exemption applies for schools and city taxes for:
New York

Buffalo

Rochester

Yonkers

Syracuse
Other New York Property Tax Exemptions in Addition to STAR
You should know that senior citizens in NY who receive STAR and are at least 65 also have the right to apply for the separate senior citizens exemption. Here are all the other property tax exemptions in New York that are not connected to STAR:
Veterans exemption

—Must have proof that you were discharged or released from service under honorable conditions

Exemption for people with disabilities—

Must

provide some evidence of their disability

Agricultural properties related exemption

—The farmland must meet gross sales and acreage eligibility requirements
Not Sure if You Meet NY Property Tax Exemption Criteria? Ask DoNotPay!
Figuring out if you can apply for a property tax exemption in New York is not simple. You don't have to deal with this process on your own—use DoNotPay. With a few clicks, you'll get your answer. Follow these steps:
Open DoNotPay in a

web browser

Find and choose the

Property Tax

feature

Answer a few questions about yourself and the property you own
We can also guide you through the process of gathering the documents you need and submitting applications.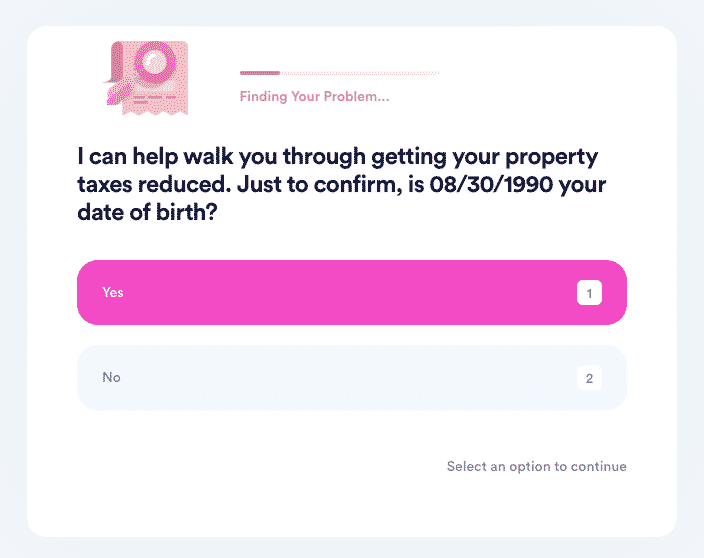 DoNotPay also knows what the states with low property taxes are. In case you are pondering about moving and buying a house in one of these states, you might consider:
Appeal Your Past Property Tax Assessments With DoNotPay
In addition to helping you find out about property tax exemptions, DoNotPay can assist you with appeals of tax assessments you are not satisfied with.
We'll aid you with gathering the evidence that can help you lower your property taxes. Your virtual assistant will offer you some tips for negotiating with the property tax assessor as well.
What Else Can You Do To Lower Your Property Taxes in New York?
Looking for property exemptions and filing appeals are the most secure options for lowering your property taxes. If you want to further enhance your chances of reducing these expenses, you can try one of these methods:
Search for inaccuracies on your tax bill

Not renovate your property before the assessment of your house

Follow the assessor while they are making an evaluation of your property to endure they are making a fair assessment
Keep Your Money in Your Pocket and Save Time
With our assistance, you can also appeal parking tickets in any city, get help with bills, make an appointment with the DMV, protect your copyright, and avoid phone number verification!
If you feel like you were wronged either by a faulty product or a delayed or canceled flight, DoNotPay will also help you request a refund from any company or airline hassle-free.
Being on a tight budget isn't easy—knowing that, we've developed features that will get you free trials, unclaimed money, extended warranties, college application fee waivers, and so much more!
Fend Off Scammers With DoNotPay's Help
Are you sick of having a cluttered inbox or getting robocalls? So are the majority of Americans. If you want to get rid of email spam, text message spam, or annoying robocalls, DoNotPay can help you put a stop to them once and for all.
Do you feel like serving justice to companies that wronged you or stalkers and harassers that won't give you a break? Use our AI-driven app to fight for your right!