The Scoop on the Stanislaus County Divorce Forms
Filing for divorce doesn't need to be stressful. We'll help you understand what to expect from the divorce process, average cost, various divorce types, and required paperwork.
Do you have to pay a lawyer to prepare Stanislaus County divorce forms for you? There are other less costly choices before making the decision. DoNotPay presents more affordable alternatives!
Where To Collect the Stanislaus County Divorce Forms
Knowing where to collect the required divorce forms can reduce the cost of divorce in California.
There's no need to appoint a lawyer to do this for you, especially if you and your spouse have settled all divorce matters out of court. Instead, you can collect, complete, and file them yourself since most counties offer free divorce forms.
To file for a Stanislaus County divorce, you can gather the required forms in the following ways:
Visit the Stanislaus County Law Library
Get the online divorce packet
Use the Interactive Electronic Forms Program
Get Stanislaus County Divorce Forms at the Law Library
You can find all necessary divorce papers at the Stanislaus County Law Library located at the following address:
1101 13th Street
Modesto, California
Download Stanislaus County Divorce Forms
If you prefer using and filling out documentation online, you can download the necessary divorce packet by following these steps:
Open the Forms and Packets page of the Stanislaus Superior Court website
Scroll down to the Dissolution, Legal Separation packet
Click on Download on the right
Use the Stanislaus County Divorce E-Forms
To get a Stanislaus County divorce, you could use the Interactive Electronic Forms Program. Here's how to access the program:
Go to the Online E-Forms page of the Stanislaus Superior Court website
Scroll down to the Family Law section
Click on the Begin a Divorce/Legal Separation
Create an account
Follow the given instructions
Initial Steps to a Stanislaus County Divorce
To get a Stanislaus County divorce and a Final Judgment, you'll need to complete these steps and file the following divorce forms:
Steps To Take
Details and Forms
File and serve the initial documents
Here's a list of forms you need to complete and file in this stage:

Petition (you need to state grounds for divorce)
Summons
Confidential Declaration
Notice of Family Law Case Management Conference
Proof of Service of Summons

If you and your spouse have minor children together, you must also provide the Declaration Under Uniform Child Custody Jurisdiction and Enforcement Act.

Keep in mind that you need to file the original and two copies of the above-listed documents

File Proof of Service
You can have the divorce papers served to your spouse by a:

Family member or friend—They have to be over 18 and cannot be part of your divorce case
Process server
Sheriff's office in the county where your spouse resides

If you choose one of the last two options, you'll need to settle a fee for the service. Keep in mind that you need to file the completed, dated, and signed Proof of Service of Summons to the court

Wait 30 days
Your spouse has 30 days to file a response
Additional Stanislaus County Divorce Forms You Need To Prepare
Once you've filed the initial divorce forms, you need to take these steps:
Prepare the documentation regarding your property and income:

Declaration of Disclosures
Schedule of Assets and Debts
Income and Expense Declaration
Declaration Regarding Service

File a Request to Enter Default—You should file this document if your spouse hasn't responded after the mandatory 30-day waiting period
Submit a Divorce Settlement Agreement—If you and your spouse have agreed on all divorce matters—independently or through mediation—you need to list all the agreed terms in a divorce settlement agreement and file for an uncontested and no-fault divorce
Register for DoNotPay to create a rock-solid divorce settlement agreement in a flash and settle your divorce out of court!
No Need To Fret Over a Divorce Settlement Agreement—Use Our AI-Powered Pocket Lawyer
You don't have to spend lots of money on a lawyer to prepare your:
Court forms—You can complete and file them yourself
Divorce settlement agreement—DoNotPay can help you generate this important document hassle-free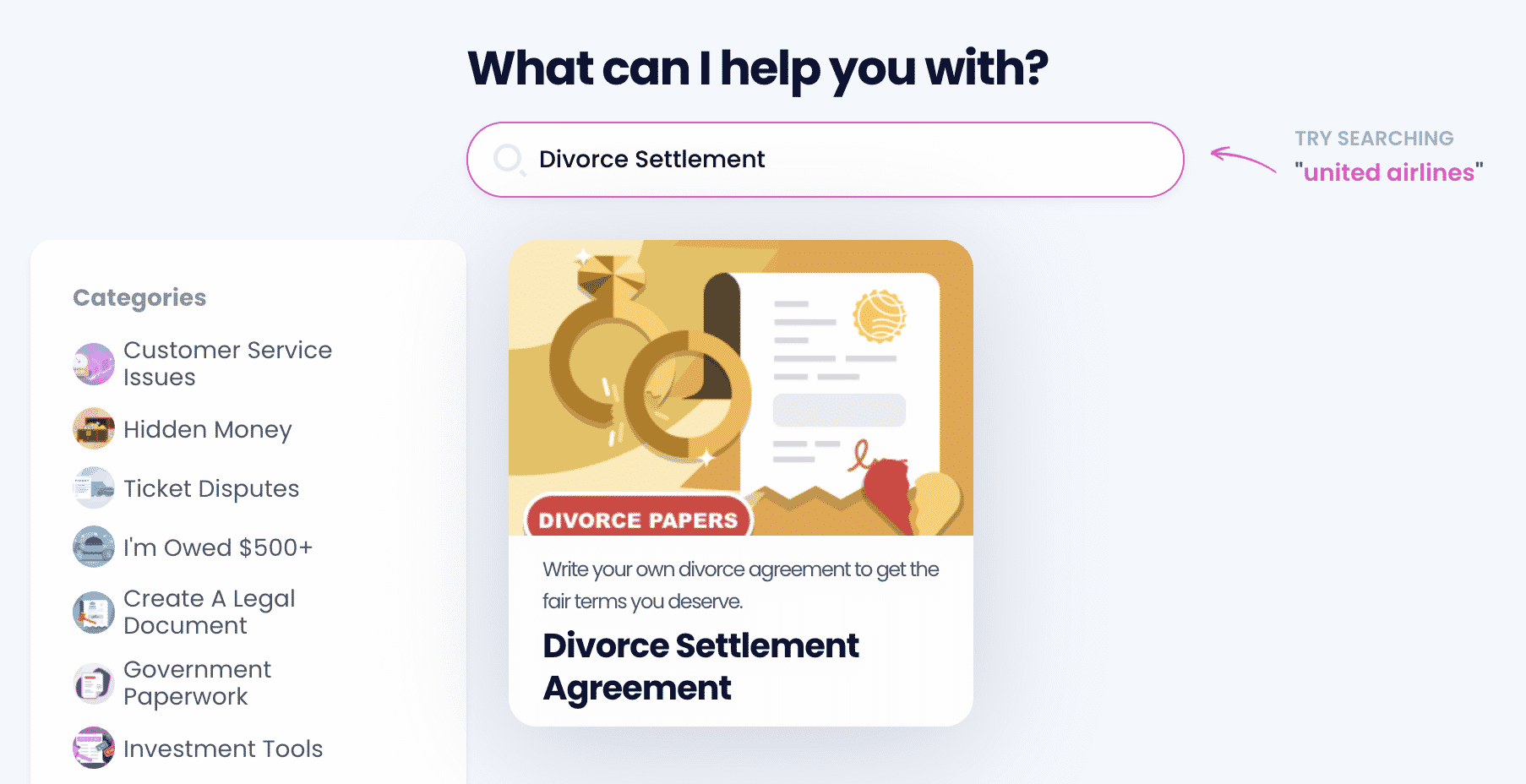 Here's how easy it is to receive your agreement:
Find our Divorce Settlement Agreement feature
Provide some information regarding your marriage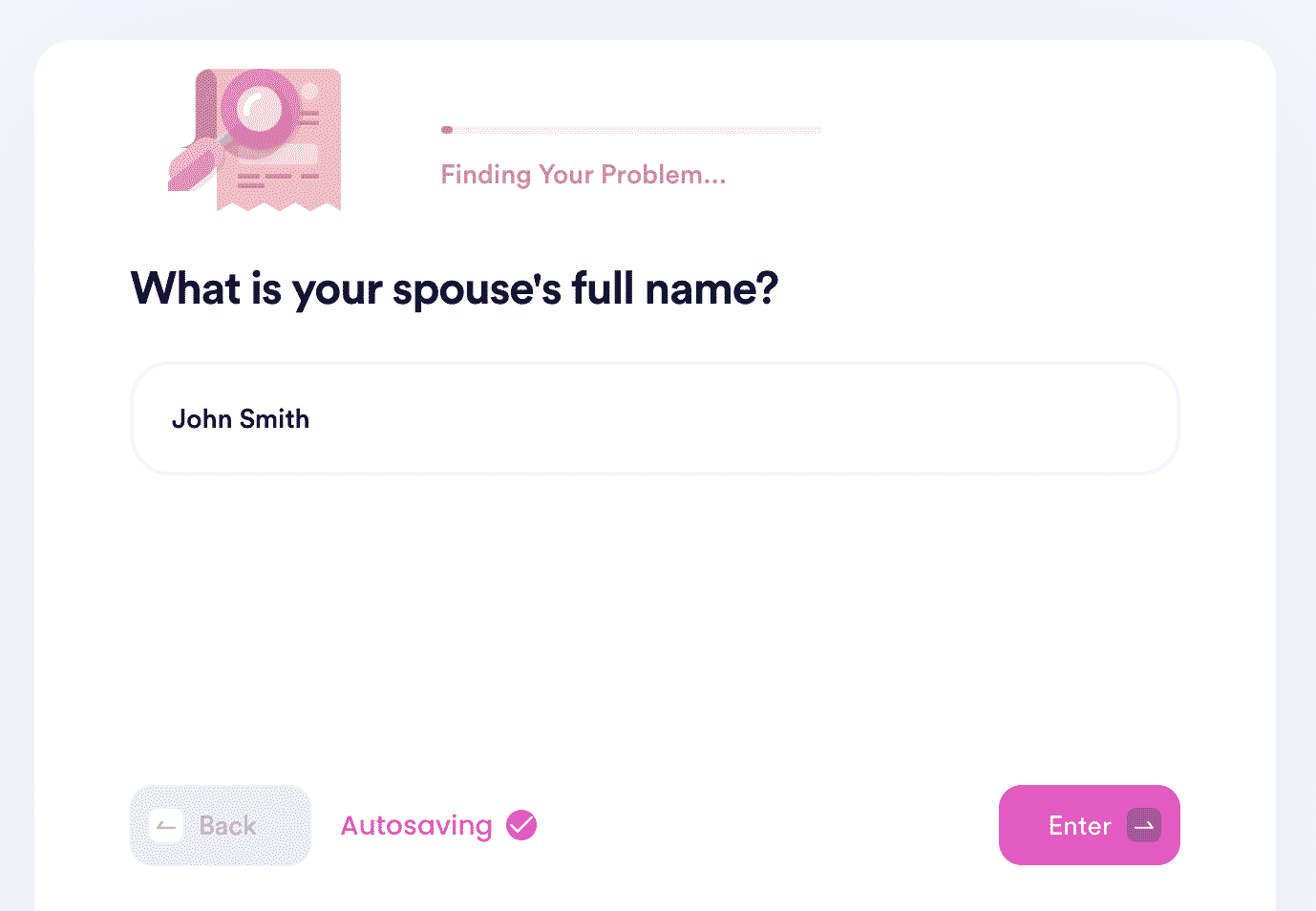 Need to get the document notarized before filing it with the court? You can do that via DoNotPay, too! Not only do we provide an online notary service, but our assistance is available 24/7.
Get the Answers to Your Divorce-Related Questions Easily
We understand how demanding it is to find the right information about getting divorced. That's why we keep publishing helpful guides you can use to deal with your marriage dissolution.
To protect yourself in divorce, you should explore our learning center. Check out the following table that lists some questions we provide answers to:
| California-Specific Questions | General Divorce-Related Questions |
| --- | --- |
| | |
If you move to a different California county and need to file for divorce there, you should:
Learn what divorce papers you need to file in:
Research the specifics of the divorce process in the following counties:
Stuck in a Bureaucratic Mess? DoNotPay Is Here To Help!
Since handling dull administrative tasks is a burden and no one likes doing them, DoNotPay developed a variety of neat features to ease many processes! With our nifty app, you can:
Deal With Companies Like a Pro
We all love shopping, but it's no secret that companies sometimes turn a fun experience into a nightmare, especially when they refuse to cooperate. DoNotPay is here to help you reach customer support without the hour-long wait and sue an uncooperative merchant in small claims court if necessary!
Need a refund? We can show you how to get your money back from any company in a snap!
Should you need to file an insurance or warranty claim and request gift card cash back or an item return, you can count on our app to assist you! DoNotPay can also show you how to discover any unclaimed funds under your name so that you can continue shopping like a pro.