The Secret to Creating a Successful Standard Operating Procedures Document
When you own a company or a business, the success of your team depends on the quality of the everyday procedures they perform. To ensure that each member understands how these tasks work, you can note all the guidelines in a specific document. 
Even though writing such a manual yourself can be tricky, we can help you breeze through it with some top-grade tips! Besides showing you how to compose your standard operating procedures document with ease, we will show you the best way to make various legal documents without lawyers or online templates!
What Are Standard Operating Procedures?
Standard operating procedures represent a document that provides detailed guidelines for completing certain business processes. It defines specific expectations and the steps employees should take to make a procedure effective. The document can be structured according to the employer's standards or based on local laws and regulations.
This scheme is more practical than typical procedural documents since it's more thorough and provides explanations for each step of a task. Besides that, it provides clear and concise instructions that are understandable to each team member. The primary goal of implementing them in a business is to make all employees work consistently and save time.
Why Are Standard Operating Procedures Important?
Deciding to implement standard operating procedures is one of the best ways to enhance the organization and bring everyday tasks to perfection. This type of strategy:
Reduces mistakes in all areas of the business

Provides the best possible practices for the employees to follow

Eliminates all potential ambiguities and misunderstandings that may arise

Allows all team members to act together and be on the same page while working

Offers high-quality training for new employees and a top-grade onboarding process
How To Create a Standard Operating Procedures Document Yourself
There are no strict rules that impose a specific way of composing standard operating procedures. What can make the writing process easier is following some recommended instructions, which you can see in the table below:
Step

Explanation

Determine your goals

The first phase consists of defining the purpose of the document. Determine and note the ways these procedures will help your team improve their skills and perform their tasks better

Think about your audience

Consider the profiles of your employees. Think about:

Their knowledge

Their language skills

The potential roles they could play in a particular process

The time they have spent in your company and the experience they've gained so far

All these aspects will help you assign the right tasks to each team member

Set the format of the document

Before proceeding with writing the procedures, you should choose one of these three schemes:

Simple steps format

—an easy-to-follow bulleted or numbered list with short and straightforward guidelines

Hierarchical steps format

—an extensive bulleted or numbered list containing substeps and explanations

Flowchart format

—a scheme used for procedures with multiple outcomes or unpredictable results

Draft a document

The document should include the following sections:

Title page, including:

Publication date

Identification number

Names and signatures of the authors of the document

Table of contents

Description of the procedures in question

Review the written procedures

Revising your document involves:

Sharing the draft with team members and asking them for feedback

Letting the team test the procedures and ensuring everyone understands all the details

Implementing the necessary changes
Once the document is finished, all that remains is to keep updating it and noting all potential changes in the future. 
Breeze Through Creating Contracts With DoNotPay
You don't need to be a rocket scientist to write a perfect legal document—DoNotPay can help you do it with ease before you can blink! Whether you need a land sale contract, lease agreement, or a simple affidavit, our app can generate it based on all applicable state laws. All you should do is follow the instructions below:
Access DoNotPay

and log in to your account

Choose the type of document you want to create

Answer a few quick questions from our chatbot
After submitting the details, you will get a complete personalized legal document ready for signing. 
If state laws require you to have it notarized, you can do it in the same app! Use DoNotPay to skip traditional notarization procedures and arrange a meeting with an online notary at your preferred time. No need to visit a notary's office—you can do everything remotely from the comfort of your home or any other location!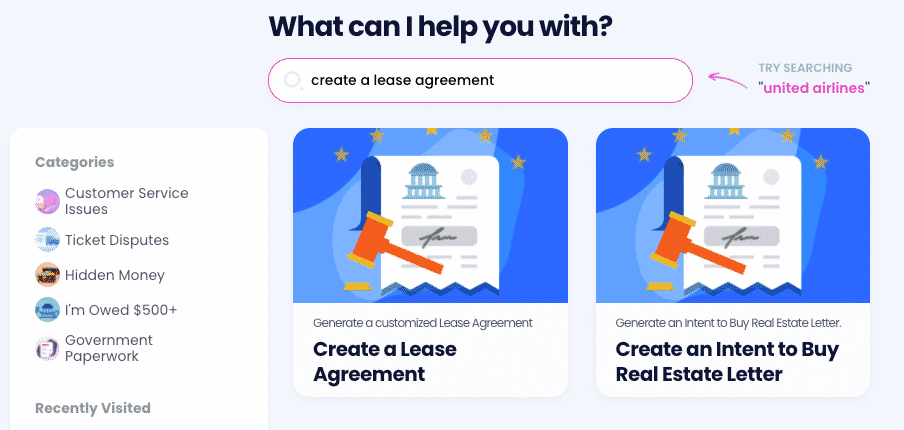 What Legal Documents Can DoNotPay Generate?
We keep updating our collection of standardized documents by adding various popular contracts and other legal documents you can use. Subscribe to DoNotPay, check out all the options we offer within this feature, and create some high-profile:
Residential Lease Agreements

Child Care Authorization Forms

Intents To Purchase Real Estate

Promissory Notes

Quitclaim Deeds

General Business Contracts

General Affidavits
Learn About DoNotPay's Awesome Products!
DoNotPay is a multifunctional app that can solve numerous everyday challenges swiftly. 
You can use our app to protect your work from copyright violations, schedule your driving exam or any other appointment with the DMV, reduce your property taxes in a few steps, and similar.
We have created many useful products to help our users take care of their issues through the same app. With us, you can:
DoNotPay Connects You With Your Loved Ones
Sending letters to inmates can be difficult since you have to follow certain rules to a T to avoid having your letter rejected. The situation is even more complicated if you don't know where your incarcerated loved one serves time. DoNotPay's app can help you locate prisoners and correspond with them without worrying whether you're breaking any rules. 
Do you want to send a letter, but you don't feel like heading over to a post office? By using our mailing service, you can mail as many letters as you want from the comfort of your home. With DoNotPay, you can also send online faxes in under five minutes!
Email and text spam is something that everyone experiences at least once in their lives. DoNotPay has a solution for that too. Access your DoNotPay account and count on us to help you block spam and get compensation by reporting pesky robocalls.