The Ins and Outs of the Staffing Agreement
Legal documents and contracts can be hard to understand, and the staffing agreement is no exception. We are here to cut through the legal jargon and explain the confusing terms.
You don't have to spend hours searching the internet or waste money on lawyers—sign up for DoNotPay and get straightforward guides to various agreements!
The Staffing Agreement—Explained
A staffing agreement is a contract signed between a staffing agency and a client. The staffing agency assigns their employees to perform various services for the client and offers assistance with management and human resources.
The contract is used to set out the expectations of the professional relationship and outline the duties and responsibilities of the parties involved.
The staffing agreement is convenient if you need additional labor and seasonal workers. The staffing agency will act as the middleman between the employers and employees and find the eligible candidates that meet the requirements you seek.
What Should the Staffing Agreement Cover?
Before signing any contract, you should ensure all the important sections are included. The following list contains all the key provisions a valid staffing agreement should cover:
Professional staffing services—The contract has to state clearly what kind of professional services will be provided
Fees—The payment method should be explained. Some agencies charge a percentage, while others charge a flat fee
Invoicing schedule—An invoicing schedule has to be specified. The contract should also cover invoice details, such as whether there will be one invoice with the lump sum due on one date or several spread-out invoices
Payment terms—The payment terms section should include the dates when fees are due and what happens if they are late, including the penalties
Signatures—Both the agency designated employee and the client must sign the document
The Staffing Agreement—Pros and Cons
The staffing agreement, like any other, comes with certain advantages and disadvantages. The table below can help you decide whether this agreement is the right choice for you.
| | |
| --- | --- |
| Pros | Cons |
| The arrangements are flexible, meaning that contractors are available during crunch times when full-time employees aren't around or during hiring freezes | Temporary employees may find it difficult to fit in the team and get along with the full-time employees. Contract workers hold a short-term position, which can lead to poor team bonding and interaction |
| Instead of spending time training an inexperienced worker, a staffing agency provides skilled candidates for the job | Hiring workers through a staffing agency can be risky since the agency may not be fully aware of your company culture. They may misinterpret your employer brand and company policies |
Should I Get a Staffing Agreement Notarized?
A staffing agreement becomes legally enforceable once you and the other parties sign it. Getting the contract notarized is optional but advisable. Notarization provides an additional level of security in the case of any claims or disputes. DoNotPay can help you get your documents notarized with a remote notary hassle-free!
How To Draft Legal Documents With DoNotPay in Minutes
Tired of spending unnecessary time and effort thinking about the best way to write a contract? We have good news! DoNotPay can help you draw up numerous legal and business documents in minutes! Forget about getting lost in a sea of contract templates or wasting hundreds of dollars on lawyers. You can have your contract ready in only a few clicks! Here's how:
Enter the name of the document you want us to draft
Provide us with info about the contract in question
DoNotPay will generate your agreement in a few minutes, and you can download or print it instantly!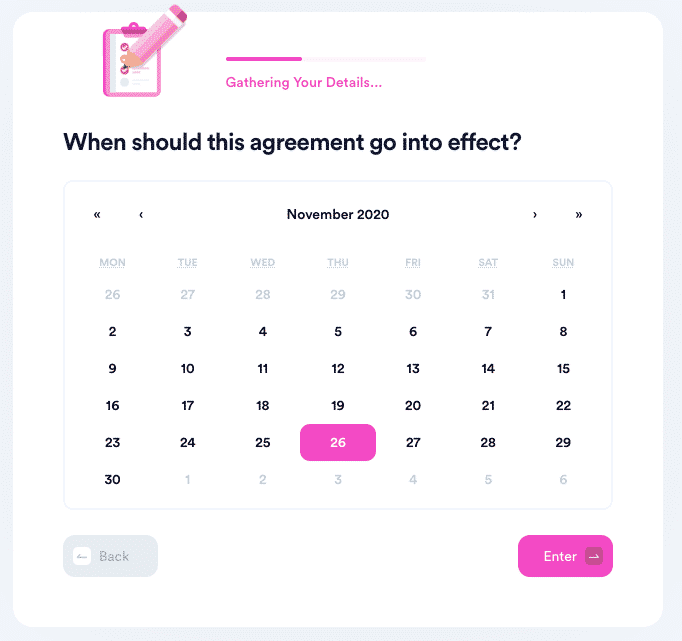 There is no shortage of contracts we can help you with! If you are wondering what documents our nifty app can create for you, check out the table below:
Business Agreements
Real Estate Agreements
Other Agreements

General Business Contract

Intent To Purchase Real Estate
Estoppel Certificate
Quitclaim Deed

Promissory Note
Estoppel Certificate
General Affidavit
DoNotPay Jumps In With Step-By-Step Guides to Numerous Contracts!
Drafting contracts in your stead isn't all DoNotPay can do! We explain and decipher various legal documents. With our help, you can write any of the following agreements in the blink of an eye:
Say No to Spam and Unnecessary Paperwork
If your inbox, mailbox, or to-do list is overflowing, our app is exactly what you need! Check out ways to declutter your life:
You can have your cake and eat it too—DoNotPay makes it possible to cut down on unnecessary red tape and save you money—all in one full swing. We can help you overturn your parking tickets, apply for a college fee waiver, uncover missing money, submit a FOIA request, and much more.
Discover Numerous Fast and Easy Solutions
DoNotPay is all about helping you through a complicated task by coming up with simple solutions: