What St. Louis County Divorce Forms Do You Need? DoNotPay Answers!
When filing for divorce, you want the process to be fast, cheap, and—most importantly—glitch-free.
The first step in a hassle-free divorce is using the correct forms—get this wrong, and you may have to start the whole process from the beginning.
DoNotPay is here to help with an explanation of the St. Louis County divorce forms you need to get your divorce off on the right foot!
How Does Divorce Work in St. Louis County?
Divorce in Missouri is known as dissolution of marriage, and you are eligible to file if you've been a resident of the state for the last 90 days or more.
Missouri is a no-fault divorce state, meaning that your spouse doesn't have to be guilty of anything for you to seek a divorce. The only justification you need is that:
The marriage has irretrievably broken down
You and your spouse are incompatible
The steps in a St. Louis County divorce process are as follows:
Serving the papers on your spouse
Filing Divorce Papers
The first action is to fill out and file your divorce papers.
Once you have filed the forms, you will receive stamped copies to serve on your spouse. You will also have to pay the filing fee of up to $250, depending on whether or not your divorce involves minor children.
Serving the Papers on Your Spouse
You will need to have the stamped papers delivered to your spouse by a local sheriff or private process server.
Your spouse will sign that the papers have been received, at which point a 30-day mandatory waiting period begins—the St. Louis County court will only start your case when this has elapsed.
What Forms Do You Need To File?
If you and your spouse are aiming for a friendly divorce with an out-of-court settlement, you can use the state-approved uncontested divorce forms available from the Missouri Judicial Branch.
The forms you need include:
| Divorce Form | Explanation |
| --- | --- |
| Petition for dissolution of marriage | This asks the court to grant your divorce. You need to fill it out, sign it, and have it notarized before you lodge it with the county court |
| Income and expense statement | All your joint and separate income sources and expenses need to be declared on this form. This will help in determining any alimony that needs to be awarded |
| Statement of property and debt | This form lists your joint and separate assets, liabilities, and real estate |
| Parenting plan | A shared parenting plan that ensures your children will be looked after adequately needs to be included in your filing. It should also include any child support requirements |
| Filing information sheet | This captures your details, as well as those of your spouse and children |
| Certificate of dissolution and proposed judgment of dissolution of marriage | These two forms will be signed and stamped by the judge when your divorce is granted |
Once you have filed these forms and served copies on your spouse, you can use the 30-day waiting period to draw up your divorce settlement agreement.
What Is a Settlement Agreement, and Where Can You Get One?
The final piece of the jigsaw is your settlement agreement.
This is a legal document that sets out how the responsibility for your children will be split and how your finances will be divided after your divorce.
It is the make-or-break document in ensuring your divorce is considered uncontested and will help you:
You can choose between the following options to negotiate your settlement agreement:
Lawyer
DIY
Lawyer
While this is the default route for many couples, you may feel it's an unnecessary expense.
Engaging attorneys to hammer out your settlement agreement can easily cost over $5,000 per spouse.
Mediation
If you want to avoid the cost of attorneys but still need support when negotiating with your spouse, a mediator may be an option.
Although mediators are not allowed to offer legal advice, they can help you focus on desired outcomes and reach an acceptable resolution.
DIY
If you and your spouse agree on the major points of your settlement, there is no need to use a third party to assist you.
Once you have reached a settlement that is within the guidelines of Missouri law, you can go ahead and have it drafted as a legal agreement.
Drafting Your Settlement Agreement
Your settlement agreement will be scrutinized by the judge in your case to make sure it is:
Fair and equitable
Comprehensive, covering all the areas you have disclosed in your filing
Legally watertight
The two most common ways to have a settlement agreement drawn up are:
Lawyers—At the cost of around $1,500, a lawyer can draft your settlement agreement
Online divorce service—Several providers offer downloadable templates, and you can fill out the details of your settlement by yourself at minimal cost
Neither of these options is perfect, though. A lawyer is always going to be expensive, and many online templates are too generic to cover your needs—meaning a judge could reject your agreement.
DoNotPay has the solution—we can create a tailor-made, legally airtight settlement agreement in a few clicks.
DoNotPay Has You Covered in St. Louis County!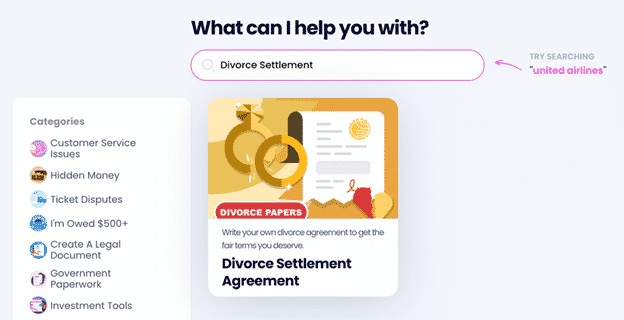 DoNotPay wants your divorce to be as smooth and painless as possible!
Our Divorce Settlement Agreement product is designed to keep your costs down while giving you a document that will pass muster with a judge and get your divorce finalized quickly.
Here's what you need to do to get your agreement set up:
Go to your web browser and subscribe to DoNotPay's service
Search for our Divorce Settlement Agreement feature
Answer a few questions about the terms of your settlement
We will take it from there—your settlement agreement will be ready to print in a few seconds.
You can sign it together with your spouse and have it notarized.
If you don't know where to find a notary, there's no need to worry—our online notarization service can get your documents signed and sealed from the comfort of your home!
If you need help with filing for divorce in Jackson County, MO, DoNotPay can help you out!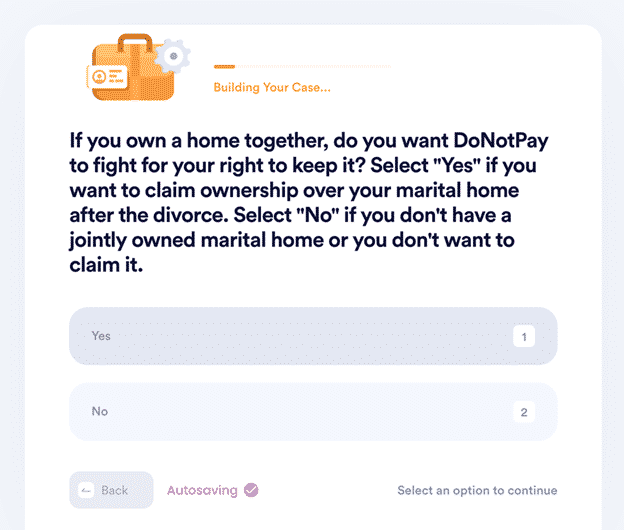 Learn How To Solve Legal Issues in Minutes!
Do you need to draft a legal document? Spending hundreds of dollars on lawyers is not the answer. We came up with a faster and more affordable solution. Not only can our app draft child consent forms, divorce settlement agreements, and powers of attorney for you, it can also provide legal assistance by helping you take anyone to small claims court!
Drafting numerous documents is not all DoNotPay does for you! Aside from drawing up contracts and agreements, we can also assist you in getting them notarized online from the comfort of your home or office!
Explore DoNotPay's Other Nifty Features
There is more assistance on the way! You can use DoNotPay's features to handle various tasks with ease, including:
We can also help you protect your safety. If you don't know how to deal with copyright infringement, stalking and harassment, work discrimination, sex offenses, and disputes with annoying neighbors, DoNotPay has got you covered.