A Thorough Guide to St. Louis County Divorce Filings
Getting divorced in St. Louis? This article will tell you all you need to know about St. Louis County divorce filings so you can start the process as easily as possible.
We'll also include information regarding how to reduce the expenses and which divorce forms you'll need to collect. If you decide to have an uncontested divorce, we'll help you create a divorce settlement agreement.
St. Louis County Divorce—Essential Information
Before you file for divorce in St. Louis County, you'll need to learn about the key aspects of marriage dissolution. Check out the table below for details:
| Main Aspects of a St. Louis County Divorce | Details |
| --- | --- |
| Grounds for divorce | Missouri recognizes only no-fault divorces, which means that neither of the spouses can be blamed for the breakdown of the marriage. If you want to get divorced in Missouri, you'll need to state irreconcilable differences |
| Residency requirements | You or your spouse must have lived in the state for at least 90 days before filing for divorce, and you need to be a resident of St. Louis County at the time of filing to qualify for a Missouri divorce |
| Duration | The duration of your Missouri divorce will depend on whether you and your spouse are filing for divorce together and how many times you'll need to go to court. If the defendant doesn't contest the case, the divorce can be finalized in a little over 30 days. Missouri has a 30-day waiting period, so as soon as it passes, the divorce decree can be issued |
| Cost | Getting a divorce in St. Louis County can cost anywhere from $13,500 to $20,200 if it's contested. If you choose a do-it-yourself option, it will cost you way less. You'll need to pay filing fees, which are $225. You also have to pay an additional fee for serving the papers—from $25 to $50 |
Which Divorce Forms Do You Need for a St. Louis County Divorce?
You will need the following divorce papers to file for divorce in St. Louis County:
Statement of Property and Debt and the Proposed Separation Agreement
Petition for Dissolution of Marriage
Statement of Income and Expense
Missouri Department of Health Certificate of Dissolution of Marriage
Family Court Filing Certificate
Parenting Plan
Judgment of Dissolution
Answer to the Petition of Dissolution
Divorce Settlement Agreement
Where Can You Get a Divorce Settlement Agreement?
If you want a friendly and cheap divorce and an out-of-court settlement, you should choose an uncontested divorce. You'll need a marital settlement agreement for that. A divorce settlement agreement is a crucial document in an uncontested divorce as it outlines all the important terms of your marriage dissolution. It should contain agreed-upon terms like:
You can acquire a divorce settlement agreement in a few ways:
Hiring a lawyer—A lawyer can draft your divorce settlement agreement, but it's a costly option for most people
Using online divorce services—You can find many online divorce services in Missouri that offer templates for marital settlement agreements. You should be careful with these templates since they often don't comply well with the laws and regulations of the state. They might also lack some information that you need to include in your agreement
Signing up for DoNotPay—If you choose our app to draw up a divorce settlement agreement, you'll get a fully customized document that complies with the laws of your state. Register for DoNotPay to create your divorce settlement agreement effortlessly
Draw up the Perfect Divorce Settlement Agreement With DoNotPay
You don't have to waste money on expensive lawyers or take a risk with online divorce services because DoNotPay can draft a professional and fully personalized divorce settlement agreement in a few minutes.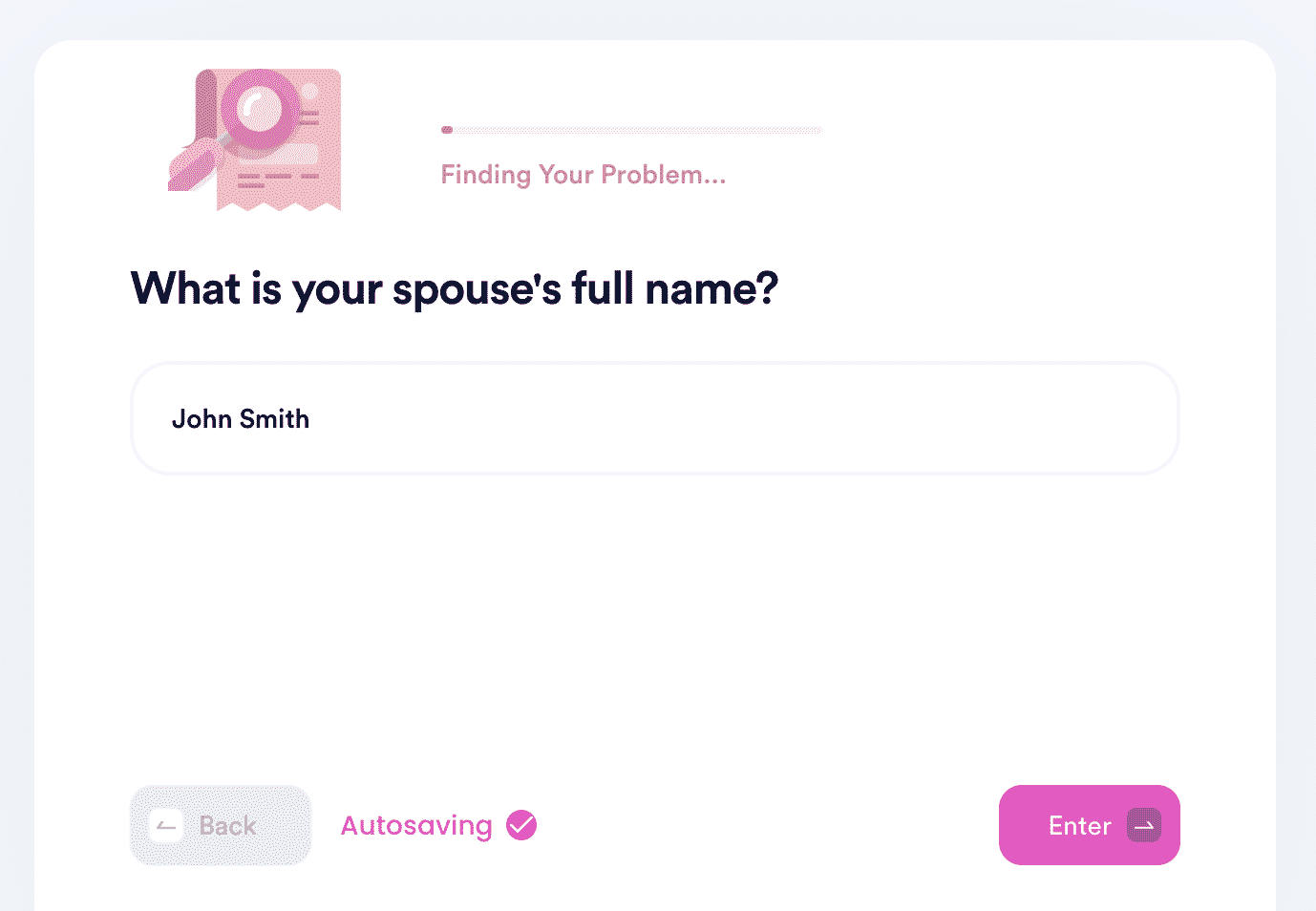 To obtain this document, you only need to subscribe to DoNotPay and follow the instructions below:
Select the Divorce Settlement Agreement tool
Provide us with all the necessary information regarding your marriage
Tell us if you need a notary
Once you complete all the steps, we'll send you your divorce settlement agreement which you only need to sign with your spouse and get it notarized. DoNotPay can also help you book an appointment with an online notary. They will notarize your document virtually so you don't even have to leave your house.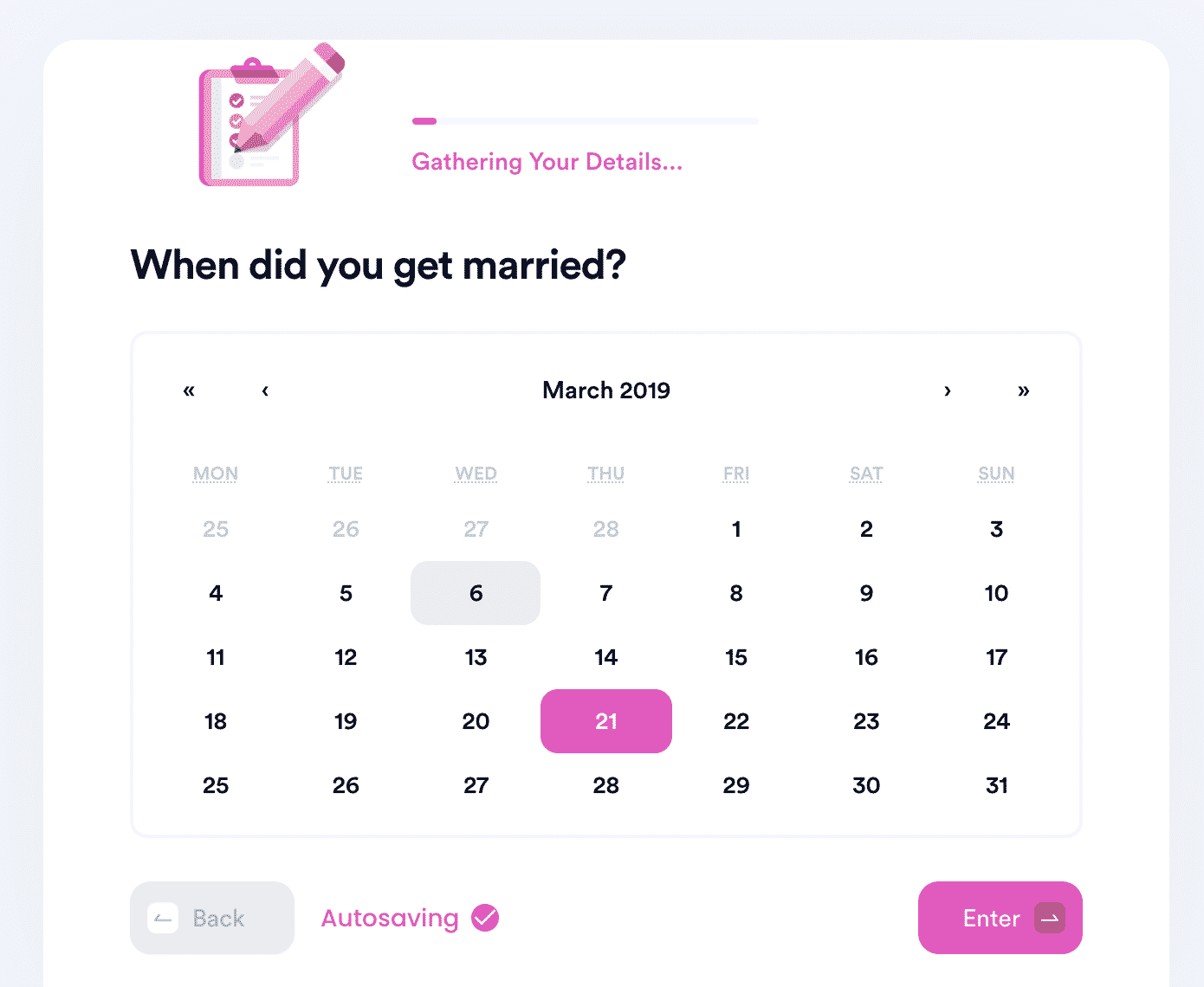 If you have more questions regarding divorce-related issues, we can help you find the answers you need. We have a comprehensive learning center that offers numerous guides, including:
Save Time With DoNotPay
DoNotPay is not done helping you! We offer you assistance in completing a variety of tasks quickly and efficiently, such as:
Canceling Subscriptions Has Never Been Easier!
If you keep getting charged a monthly subscription fee even though you no longer want to use a certain service, don't let your money go to waste! Some companies tend to renew your subscription automatically, but that doesn't mean you have to put up with it—use our app to terminate your membership or subscription in a few clicks!
Do you want to sign up for free trials and create a virtual credit card or a burner phone number to protect your sensitive info? Once you subscribe to DoNotPay, we will walk you through the process of doing all of the above in no time!
You can also count on our assistance if you need to get rid of spam or robocalls.