The Sri Lanka Tourist Visa Application From A to Z
Sri Lanka is a sight for sore eyes of any nature buff! With multiple mesmerizing caves, the Sigiriya rock mountain, and numerous national parks, this country will charm anyone who sets foot in it.
Before you become one of its many visitors, you should plan your trip carefully. To help you get a Sri Lanka tourist visa and other necessary documents to enter this country, we have created this useful guide.
Sri Lanka Tourist Visa for U.S. Citizens
U.S. citizens and passport holders need to obtain a tourist visa to enter the wonderful island of Sri Lanka. You can apply for:
An Electronic Travel Authorization (ETA)
A long-term visa
The ETA lets you stay in Sri Lanka for 30 days, and you can apply for it through an online application form. If you wish to stay longer than 30 days, you can apply for a long-term visa. In case you are planning to stay longer in Sri Lanka, you must ask the Department of Immigration and Emigration for a two-month visa extension.
Sri Lanka Tourist Visa Requirements
To obtain the ETA, follow these steps:
Fill out the ETA application form online
Submit a passport valid at least six months after the day of your departure from Sri Lanka
Present a return ticket to prove you will not stay longer than expected
Provide hotel vouchers, bills, or the address and phone number of your host
Submit a visa application form along with your passport-size photo
Pay the fee of $35
The processing time of the ETA is between two and four business days.
Sri Lanka Long-Term Visa Requirements
If you wish to stay in Sri Lanka for more than 30 days, you should get a long-term visa. Here are the documents you will need:
Completed multiple-entry online application form
One passport-size photo
Passport valid for six months after you enter Sri Lanka
Proof you paid the visa fee of $135
Copy of a bank statement showing you have enough funds to cover your entire stay in Sri Lanka
A letter explaining reasons for applying for the long-term visa
Invitation letter from your host in Sri Lanka
Once you submit these documents, you can expect your Sri Lanka long-term tourist visa within the next three to seven business days.
What Does the Sri Lanka Tourist Visa Application Process Entail?
Once you gather all of the necessary documents, you should:
Make sure you filled out your application form correctly
Present Sri Lanka government officials with all the required documents
When the processing time is over, you can get your visa online or at the embassy in case it's a long-term visa.
Where Can You Get More Info About Tourist Visas for Sri Lanka?
Sri Lanka has a few diplomatic missions in the U.S. If you have any dilemmas about the visa application, you should contact one of the diplomatic missions listed below:
Type of Diplomatic Mission
Contact Info
The Embassy of Sri Lanka in Washington, D.C.

Phone:

(202)-483-4025
(202) 580 9546—for emergencies

Email address—slembassy@slembassyusa.org

The Sri Lankan Consulate General in Los Angeles

Phone—(213) 387-0210
Email address—slcg.losangeles@mfa.gov.lk

The Permanent Mission of Sri Lanka to the United Nations in New York City

Phone— (212) 986-7040
Email address—prun.newyork@mfa.gov.lk
The Sri Lanka Traveling Tips
Traveling to a country like Sri Lanka is a one-of-a-kind experience, so make the most of it by following these tips:
Respect the rules regarding photo permits in national parks—Acquire entrance tickets that allow you to take photos of these sights
Try local food—It is tasty and affordable
Take the airport bus when you enter and exit Sri Lanka if you want to save money
Book the train ride in advance if you want to reach your location this way
Enter ancient temples barefoot
DoNotPay Offers Info About Tourist Visas for Sri Lanka or Any Other Country in the Blink of an Eye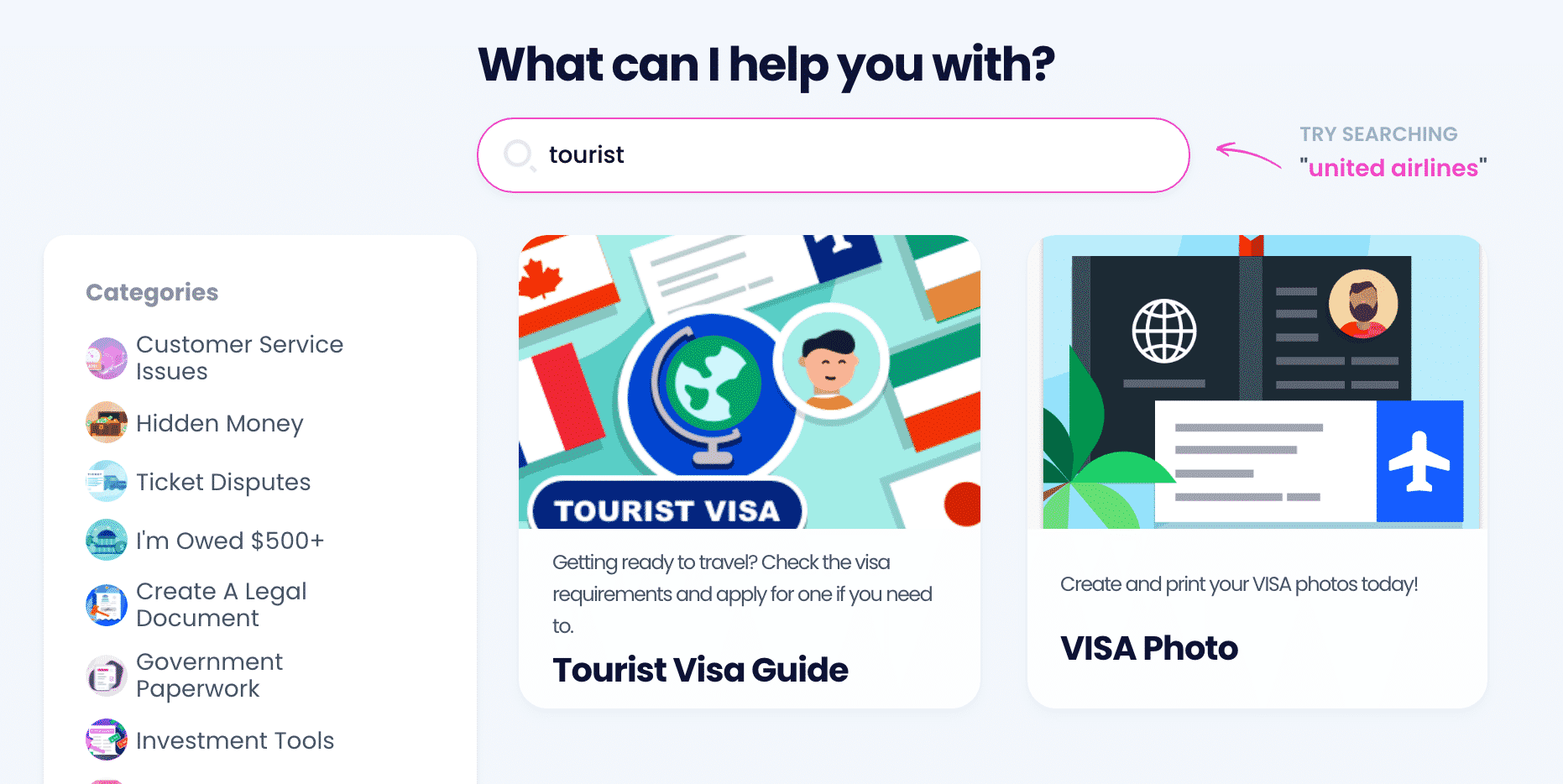 Figuring out whether you need a visa to visit your destination country and how to get one can become a frustrating and time-consuming task. If you are looking for info about a tourist visa online, you will probably stumble upon some misleading details. This is why DoNotPay created a feature that can provide:
Answer on whether you need a tourist visa to enter the country you want to visit
List of requirements you need to meet while applying for the tourist visa
Info on whether you can file a visa application online
This will make your visa application process shorter and more enjoyable. All you need to do is:
Find the Tourist Visa Guide feature
Confirm that you're a U.S. citizen or a U.S. passport holder
Tell us where you wish to travel
After that, you will receive all the necessary information as soon as possible.
DoNotPay Enables You To Discover the Hidden Jewels of Asia
Sri Lanka is only one of many destinations DoNotPay can help you reach. If you are ready to uncover the secrets of other Asian countries, don't stop at Sri Lanka. Expand your worldview by visiting the following countries:
Is Bureaucracy Getting on Your Nerves? We Have a Solution!
We all know that dealing with bureaucracy isn't pleasant, and it often leads to overwhelming frustration. The good news is that DoNotPay has found a workaround! You can now do the following by using our app:
Let DoNotPay Make Your Legal Troubles Disappear!
Drafting contracts and other legal documents isn't a task you should handle on your own. Don't want to spend a fortune on lawyers? That is why DoNotPay—the world's first robot lawyer—is here to take the lead and help you out! Check out the list below to see some of the legal documents that our app can draft for you:
We don't stop there! Cut through the red tape and let DoNotPay assist you in taking anyone to small claims court, getting your documents notarized, submitting anonymous HR complaints, or requesting crime victims' compensation.