Get Great Backing With a Lucrative
Sponsorship Agreement
Sponsorships are win-win deals that help both sides of the agreement.
Sponsors benefit from being identified with the right people, whether they are up-and-coming sports stars, musicians, or influencers.
Sponsees—the recipients of sponsorships—get support, exposure, and sometimes financial incentives out of the deal and can use the sponsorship to further their career or publicize what they are doing.
The key to making a sponsorship work is to make sure the sponsorship agreement is watertight. We understand that not everybody feels comfortable writing contracts or preparing legal documents. DoNotPay can show you how to create a sponsorship agreement that works.
What Is a Sponsorship Agreement?
A sponsorship agreement is a contract between:
A sponsor who is prepared to give money, benefits, exposure, or similar

A sponsee or rights holder who has something to offer that benefits the sponsor. The rights holder could be a person, a business, or an event
The agreement sets out that the rights holder will perform certain services in return for whatever the sponsor is offering. In many ways, it is a transactional contract similar to an independent contractor agreement, except that no employment relationship exists between the parties.
When Do I Need a Sponsorship Agreement?
Sponsors and rights holders enter into sponsorship agreements for different reasons, as follows:
Party
Reason

Sponsor

Sponsors are often looking for:

Affiliations that promote their brand or business

Advertising reach

Lead generation

Targeted sales

Community goodwill

ROI

Sponsee

Rights holders often need:

Financial support

Equipment or goods

Exposure through affiliation with a strong brand

Non-financial aid
How Does a Sponsorship Agreement Work?
A sponsorship agreement should contain the following elements to guarantee both parties get what they want out of the deal:
Name and details of each party

Date of commencement of the agreement

Term of the agreement

Right of renewal or first refusal

Fees to be paid by the sponsor

Obligations for the rights holder

Key dates for delivery by the rights holder

Dispute resolution terms

Non-compete stipulations

Governing law
The clearer and more detailed a sponsorship agreement is, the more likely both parties will be happy and willing to extend it. Once you have drawn up the agreement, it should be signed by both parties and notarized to ensure it is legally binding.
Name and Details of Each Party
Each party's full name, address, and contact details should appear in the agreement.
Date of Commencement of the Agreement
Both parties should agree on when the contract should commence. If the sponsorship is for a one-off event, the date of commencement will normally be the date of the event.
Term of the Agreement
The term clause sets out how long the agreement lasts. If the rights holder is a person receiving sponsorship, this could be weeks, months, or years.
Right of Renewal or First Refusal
The sponsor can insist on a right of renewal of the sponsorship, which means the rights holder may not accept any competing sponsorships until the right of renewal has been waived. As an alternative, the sponsor can ask for the right of first refusal, i.e., the right to be asked for renewal before any other sponsors are approached.
Fees To Be Paid by the Sponsor
The sponsor should set out any amounts that they agree to pay to the rights holder. This remuneration could also be in the form of:
Goods

Vouchers

Services

Other benefits in kind
Obligations for the Rights Holder
The sponsor and the rights holder should agree on what the rights holder has to do to fulfill the terms of the agreement. These services may also include:
Placement of the sponsor's logo

Social media posts

Mentions or endorsements

Other activities that promote the sponsor
Key Dates for Delivery by the Rights Holder
Every date and deadline for delivery of the agreed services should be noted.
Dispute Resolution Terms
The agreement should set out the contingency plans for dealing with disputes if they arise. These could include:
Meetings

Arbitration

Legal action
Non-Compete Stipulations
The sponsor may want to insist that the rights holder does not enter into any sponsorship deals with rival or competitive companies during the term of the agreement.
Governing Law
The agreement should define which state's law is applicable. In most cases, this will be the state where the rights holder is located.
How Can DoNotPay Help Me With a Sponsorship Agreement?
A sponsorship agreement does not need to be a complicated document, and you can draw one up using the guidelines above.
DoNotPay understands that writing legal documents can be difficult, so we offer a range of customizable contract templates and other documents that you can tailor to your needs.
All you need to do to get your customized legal document is:
Navigate to DoNotPay and

sign up

Look for the document you need

Fill in the details you want included

Wait while we generate your document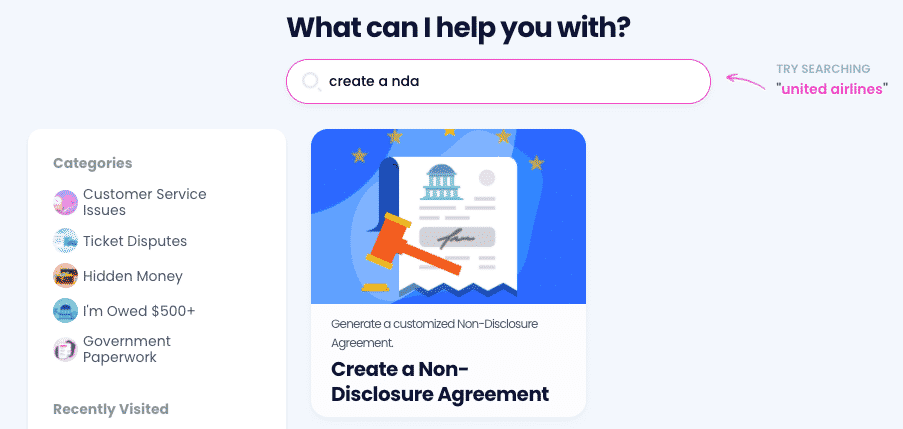 Does DoNotPay Have Any Other Legal Documents?
We have a range of customizable legal documents that is expanding all the time. Here are a few of the ones we offer:
Personal:
General affidavit

Promissory note
Business:
General business contract
Property:
Estoppel certificate

Quitclaim deed

Intent to purchase real estate
DoNotPay—The Easy Way To Save Money
If it looks like your wallet has a hole and the money keeps pouring out for unnecessary expenses, it might be time to come up with a better saving strategy. 
DoNotPay uses AI-powered technology to identify the best opportunities for some serious penny-pinching or earning a few extra bucks:
| | |
| --- | --- |
| Saving Money | Earning Money |
| | |
Do You Need Help With All That Paperwork?
Saving money is great, but cutting the time wasted on bureaucracy sometimes sounds even better. DoNotPay joins the best of both worlds and helps you avoid boring paperwork while preventing future unnecessary charges and expenses. 
With our help, you can enjoy free trials without any risk, file insurance claims, or handle issues with credit cards. 
You won't have to waste time on researching the right procedures or pay for help if you need to stop stalkers and harassers or put together all sorts of legal documents.