Beat the Tax Hikes With a Spokane County Property Tax Exemption
Spokane County falls outside the norm for Washington State. Washington is known as a state with low property tax, but Spokane hits its homeowners with a property tax rate of 1.15%, well above the state average of 0.93% and the national rate of 1.07%.
DoNotPay can help. We are the experts at helping you pay your property taxes, and we have all the information and advice you need to lower your property tax bill in Spokane County.
Are Any Property Tax Exemptions Available in Spokane County?
There is no basic homestead exemption in the whole of Washington State, but there are several property tax exemptions available to Spokane County residents, as follows:
Exemption

Explanation

Home improvement exemption

If you make improvements or additions to your home in Spokane County, you may be entitled to an exemption, the details of which are as follows:

Exemption of up to 30% of the assessed value of the original structure

Valid for three years after the completion of the improvements or additions

Claimed once every five years

Must be claimed before the work is completed

Senior citizens' exemption

Senior citizens can claim an exemption, the scale of which will be determined by the County Assessor. The qualifying criteria are as follows:

The homeowner must be at least 62 years old

The combined household income must be below $40,000 a year

Disabled persons' exemption

Disabled persons can apply for a similar exemption under the following conditions:

The claimant is unable to work due to disability

The disability has been certified by a physician

State property tax deferral program

Homeowners who are experiencing financial difficulties may be able to defer their property tax payments under the

Washington State Department of Revenue

's deferral program. This means that property tax payments can be deferred until the homeowner's estate is wound up after death
How Can DoNotPay Help With a
Spokane Property Tax Exemption
?
DoNotPay is your one-stop helper when it comes to reducing your property tax.
Our app can that is tailored to your location and circumstances, giving you customized advice on:
Property tax exemptions

Property assessments
Property Tax Exemptions
This section deals with the exemptions available in your area, the documents required for you to claim, and the places where you can submit your application.
Property Assessments
In this section, we advise you on how to negotiate your property assessment and how to lodge an appeal if you think your property has been over-valued.
Where Can I Find My Personal DoNotPay Property Guide?
Your guide is waiting for you if you follow these steps:
in your web browser

Look for the

Property Tax

feature

Fill out some basic details about yourself

Wait while we generate your property guide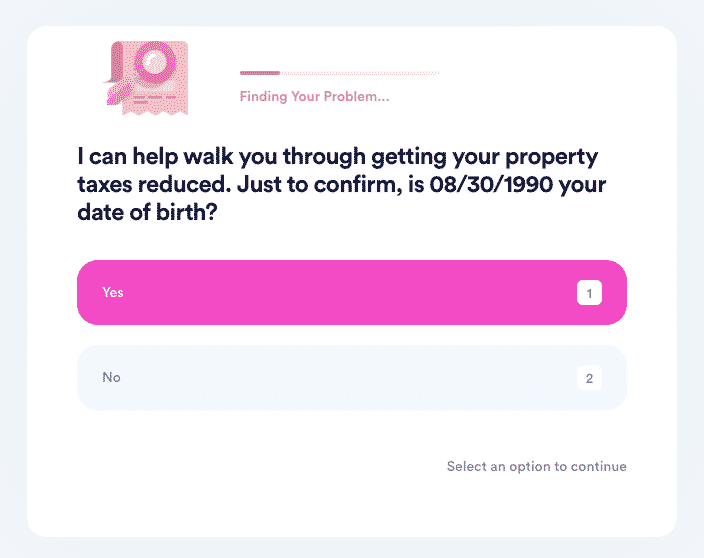 How Does Property Tax Work in Spokane County?
Property tax is calculated by multiplying your real property's value by the tax rate set either by the state or your county.
Collecting property tax revenue is vital for Spokane County, as the money is used to fund all the local services and amenities needed to make the area livable.
Recent changes to the law have had a huge impact on Spokane County residents' property tax bills, though. DoNotPay has all the facts to help you understand the changes.
The two elements in Spokane County's property tax calculations are:
Assessed property value

Tax rate
Assessed Property Value
Your home is appraised annually, with a physical inspection every six years, on average. Physical assessments also take place when a property is sold or when the construction of a new property is completed. This is important at the moment because Spokane County is seeing rapid growth in housing development, with $800 million in new homes expected in 2021.
The massive amount of residential construction is driven by demand, which has the effect of raising the value of existing residential properties. The result is that most districts in Spokane experienced a double-digit hike in their property assessments in 2020, and the exact assessment increases were as follows:
| | |
| --- | --- |
| District | Assessment Increase |
| Downtown Spokane | 10.9% |
| Northwest Spokane | 12.7% |
| Northeast Spokane | 15.3% |
| Spokane Valley | 11.3% |
| Airway Heights | 13.1% |
| Rest | 9.7% |
A double-digit increase to property tax bills in Spokane County will hit many residents hard.
Tax Rate
The property tax rate in Spokane County is determined by adding together all the requirements from the various taxing authorities—or districts—which include:
Schools

Water

Transportation

Community services and health
Washington State imposes a maximum property tax rate increase of 1% per year, but this changed in 2020 with the implementation of new funding rules for schools.
Under the new rules, schools are allowed to charge a fixed rate of $2.70 for every $1,000 of the assessed property value instead of setting a rate based on their budgets. This has meant a huge increase in the schools' portion of the total property tax rate but is designed to allow schools to grow according to the needs of the areas they serve.
While other taxing districts can only increase their property tax rate at 1% a year, schools—which make up 55% of the total property tax rate—use this fixed rate and increase their funding as property assessments go up.
The result in Spokane County is an average tax rate of 1.15%, with more increases projected over the coming years.
DoNotPay knows how important it is to keep a tight rein on your finances, so we are here to assist you with advice on how to knock back the effects of these tax rises.
Can DoNotPay Help Me Appeal My Property Assessment?
If you have exhausted all other options, you can appeal the assessment of your property with DoNotPay's help.
We can give you personalized advice on:
How the appeal procedure works in your area

What documents you will need to prepare

Where and when you can lodge your appeal
Can Your Virtual Assistant Do This?
Hey, Siri! Make me ready for my upcoming small claims court appearance. No luck? OK, Google! Prepare a DMCA notice for that website that uses my photos without authorization. Still nothing?
DoNotPay is the virtual assistant that won't back away from issues that require legal expertise. Our lawyer bots work around the clock to get you due date extensions for utility bills, reduce your property taxes, or stop stalking and harassment before it gets ugly.
The world's first robot lawyer will provide assistance even with securing compensation for victims of crime!
DoNotPay Breaks Down Communication Barriers
Communication and new technologies walk hand in hand, and DoNotPay can smooth out any bumps on that road. On our platform, you can find useful tools for avoiding phishing emails and text messages, sending faxes online, stopping annoying robocalls, or signing up for new services without phone verification.
Contacting customer support is no party, but DoNotPay can make the process so much easier, whether you need to request a refund, demand compensation for a canceled flight, or file a warranty claim.
You can even use our platform for locating your loved ones in prison and sending them letters the proper way!