Deciphering the Spain Tourist Visa Requirements
Whether it's the laid-back days or the vibrant nights that inspire you to plan a trip to Spain, the fear of not knowing whether you need a tourist visa can ruin the thrill of it because the application always comes with bureaucratic hurdles. The tourist visa application process often takes longer than your vacation, and that's why DoNotPay created this guide.
Avoid spending a vast amount of time searching for the Spain tourist visa requirements and get back to the fun part of the trip in no time by learning:
Whether you need a visa to enter Spain
What other documents might be necessary for a successful entry
Whether COVID-19 affected the entry process and how
How to prepare for your entry and prolong your stay if necessary
Spain Tourist Visa Requirements—Do You Need To Apply?
As Spain is a signing party of the Schengen Agreement, U.S. citizens can enter and stay in the country for up to 90 days in a 180-day period without a visa. The tourists who want to extend their stay can apply for a Schengen Visa Extension if an emergency arises that requires them to stay.
Those who overstay and fail to report to the closest Ministry of Foreign Affairs office (MFA) at least two weeks before the 90-day deadline risk being banned from the Schengen Area for 90 days and paying a tremendous amount in penalties.
The requirements for a short-stay Schengen visa extension in Spain include:
Your passport
A completed short-stay Schengen visa extension application form
One visa photo
Proof of income
Travel insurance that covers the entire Schengen area and the extended duration of your stay
Documents that prove your need for a visa extension
If you have any concerns, you can contact the Embassy and Consulate of Spain using the information from the table below:
Type of Contact Information
Details
Phone number

+1 202-452-0100
+1 202-728-2340

Email
emb.washington@maec.es
Address
2375 Pennsylvania Ave. NW

20037 Washington, D.C.
What Documents Do You Need To Enter Spain?
To enter Spain, you need to provide:
Proof of

Accommodation
Organized trip booking
Income

The ticket to your home country or further destination
Tourists traveling by air will also need to provide the QR code they get after completing the health control form on the Spain Travel Health website.
Does Spain Impose Any COVID-19 Restrictions?
Due to the pandemic, Spain requires incoming tourists—except for children under the age of 12—to provide one of the following:
Proof of vaccination
A negative COVID-19 test performed no later than 72 hours before departure
Proof of recovery
Tests accepted in Spain include:
Antigen
TMA
PCR
LAMP
Other molecular techniques
Before you depart, you should contact the Embassy of Spain and check the Spain Travel Health web page as these restrictions are not permanent and may be subject to change.
Spanish Customs and Etiquette
Before you visit Spain, get acquainted with the do's and don'ts:
Don't get offended if a Spaniard doesn't invite you to a home gathering as they prefer socializing in public
Avoid criticizing soccer or any particular teams
Don't be surprised if you find yourself in a social gathering extremely late in the evening
Get used to having meals a few hours later than in other countries
Do not mention Catalan independence or politics in general. If you do find yourself in a politics-related conversation, try to listen and ask questions instead of taking a side
Eat everything off your plate. Spaniards don't waste food, and leaving some of it unfinished may be perceived as disrespectful
Don't be offended if a Spaniard calls you by your first name, as they tend to switch to informal ways more quickly
Get Information About Visas for Any Country With DoNotPay!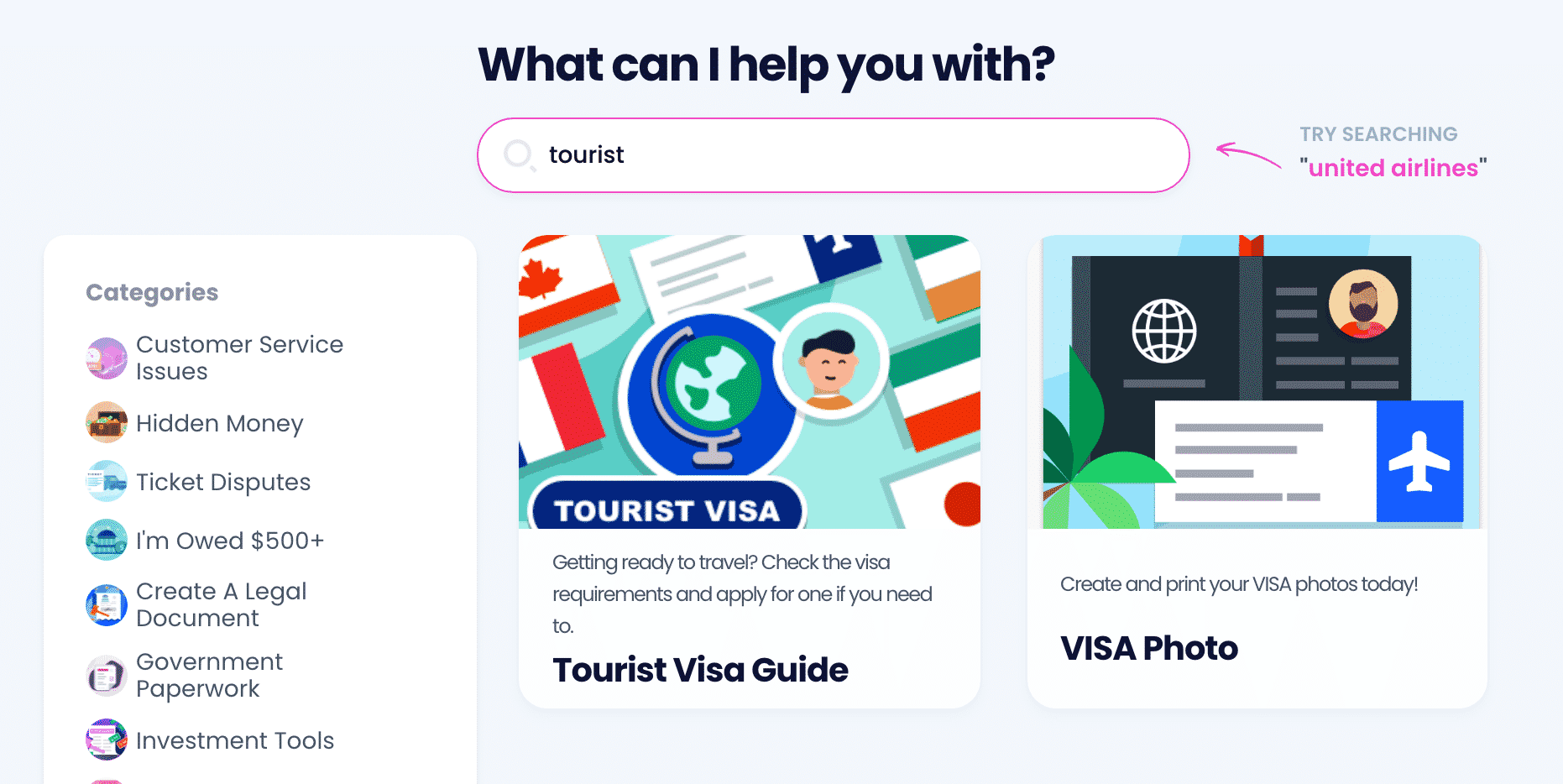 Whether you're traveling to Spain or any other country in the world, DoNotPay can help you avoid hours of researching visa requirements and gathering potentially unnecessary documents!
To make your next trip a breeze, we will:
Tell you whether your future travel destination requires a tourist visa
Inform you about the allowed stay period if the country does not require a tourist visa
Provide you with a direct online application link, if one exists
Contact the country's embassy to inquire about the possibility of applying for a tourist visa by email
Show you the fastest way to submit a traditional application by creating a step-by-step PDF guide
To get visa-related information for any country in one place, all you need to do is:
Search for Tourist Visa Guide
Enter your next destination
Answer a few brief questions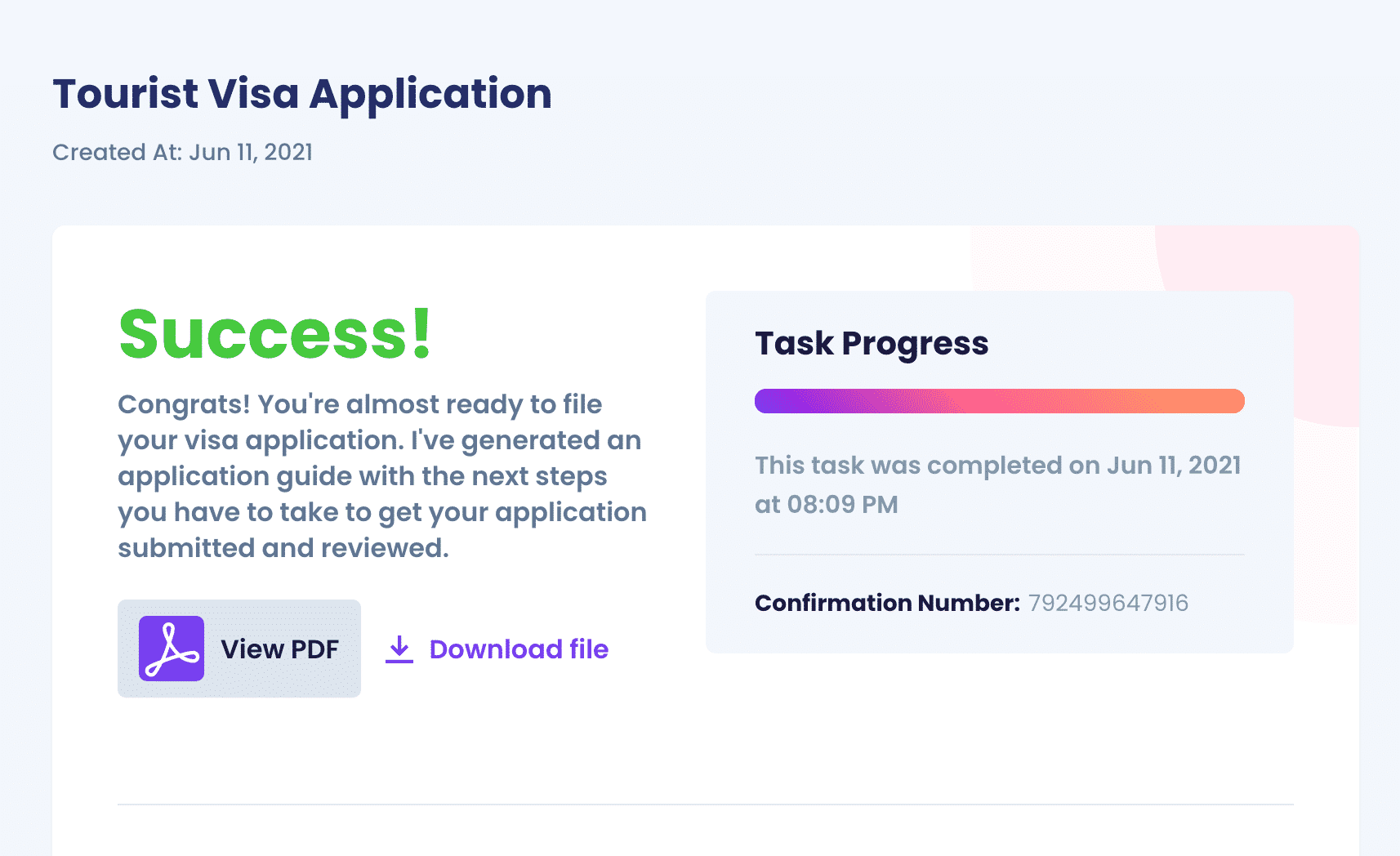 DoNotPay Helps You Experience Mediterranean Magic
After you return from Spain, subscribe to DoNotPay to ensure your future travels go hassle-free! We offer guides to entry requirements for many other Mediterranean countries, including:
DoNotPay Goes the Extra Mile for You
We are dedicated to providing solutions to difficult and time-consuming tasks you may have on your to-do list. If you are struggling to reduce your monthly bills, contest parking tickets, or set DMV appointments, DoNotPay will help you do it in no time!
We have also created numerous easy-to-use features that can make the following procedures run smoothly:
Get Justice From Companies That Wronged You
Do you feel like you have been played by a company? Instead of wasting your time writing requests, demand a chargeback or refund or claim a warranty via DoNotPay! If the company doesn't seem too cooperative and keeps refusing to return your money, our app can assist you in suing it in small claims court.
To help you save some coins or regain what's yours, DoNotPay will also help you locate unclaimed funds, submit insurance claims, lower your property taxes, and cash out gift cards.