Discover Whether You Need a South Korea Tourist Visa Right Away!
"Speak friend, and enter" may be enough to pass the gates of Moria, but in the case of South Korea, you'll need to do more than saying the Elven word for "friend." Citizens of many countries need a South Korea tourist visa, but is that the case for U.S. passport holders as well?
DoNotPay has the answers! We're here to help you visit The Land of the Morning Calm without worrying too much about bureaucracy. Sign up for our service and find out whether you need a visa in a jiffy.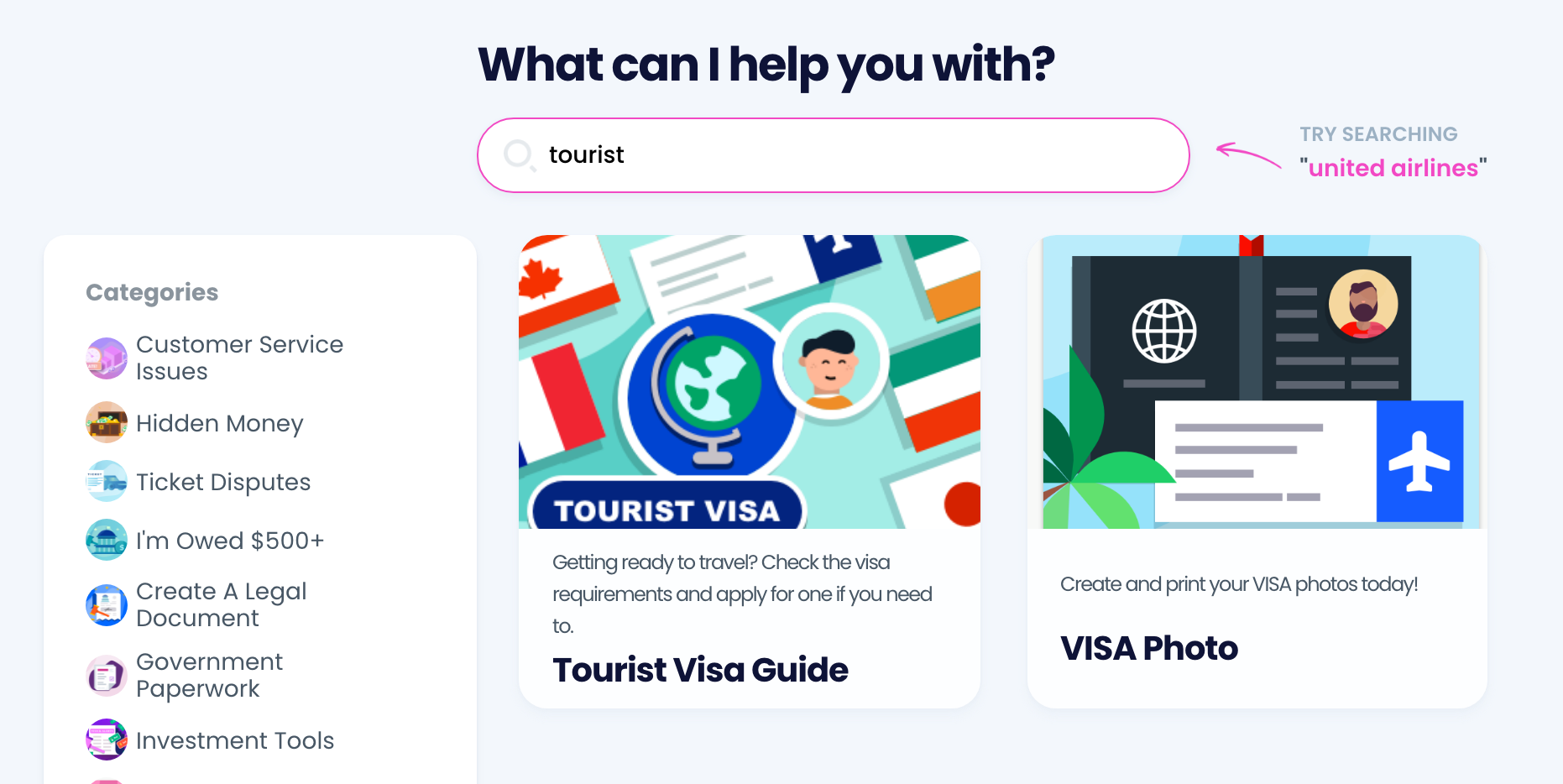 Do U.S. Passport Holders Need Tourist Visas for South Korea?
Any tourist with a valid U.S. passport can enter South Korea without a visa and stay there for up to 90 days, but that doesn't mean there aren't any other requirements. American visitors need the following documents to be accepted into the country:
Valid U.S. passport
Korea Electronic Travel Authorization (K-ETA)
K-ETA Application Instructions
Even though U.S. citizens are exempt from needing a visa for tourism in South Korea, obtaining a K-ETA is a must. To obtain it, you have to complete many steps, as follows:
Open the K-ETA application website
Fill out the form
Click on Next
Enter your email address
Type in your passport info
Fill in your personal details
Pay for the service
Confirm that your application is processed
Check the results on the same website
K-ETA processing takes at least 24 hours, but it may take longer than that. Some people may be rejected, but most applicants aren't.
The Updated South Korea COVID-19 Measures Every Tourist Should Know
COVID-19 made traveling difficult for everyone, but if you decide to visit South Korea these days, staying in the know about restrictions certainly helps. South Korea is safe, and the risk of getting infected is low at the time of writing this article.
Check the table below for current coronavirus information for tourists in South Korea:
| Question | Answer |
| --- | --- |
| Is quarantine obligatory for visitors? | Yes. Almost everyone has to self-isolate for 14 days upon entry |
| Do passengers in transit need to quarantine? | No |
| Is there a curfew? | No |
| Are coronavirus tests mandatory? | You must have a negative COVID-19 test taken no earlier than 72 hours before your departure to South Korea |
| Do transiting passengers need negative tests? | No |
| Are there screenings at entry points? | Yes |
| Is wearing a mask in closed spaces necessary? | Yes, those who fail to comply may be denied entry, especially in airplanes and public transportation |
The Must-See Tourist Attractions of South Korea for First-Time Visitors
Korean barbecue, K-POP, and legendary esports players are all popular Korean exports, but what are the most beautiful South Korean landmarks? Refer to the table below for travel recommendations if you are not sure what to see first when visiting the Republic of Korea:
| South Korean Tourist Attraction | Reasons To See It |
| --- | --- |
| Busan | This booming vacationing spot is a home to excellent seafood markets, gorgeous resorts and beaches, and cultural landmarks, like the Beomeosa Temple |
| Seoraksan National Park | The first Korean national park is reminiscent of Yosemite. It's a beautiful hiking experience filled with lakes, waterfalls, mountains, and hundreds of plants and animal species |
| The National Museum of Korea | The biggest museum in South Korea has so much on display that it's impossible to see everything at once. If you're interested in Korean archeology, history, art, and culture, visiting this museum will be a treat for you |
| Hallyeo Maritime National Park | This breathtaking park spans over 300 islands. Each of the islands has hiking paths with spectacular views of the ocean and mountain cliffs surrounding them |
DoNotPay Is a Worldwide Visa Problem Solver!
Making inquiries about visas and finding all the information you need fast is nearly impossible, whether you use the official or third-party channels. The good news is that you have a quick and efficient solution—DoNotPay's Tourist Visa Guide feature. We can help you by:
Informing you whether a visa is needed for a specific country
Contacting embassies or visa offices in your stead
Directing you to an online visa application link (if a web portal for visas exists in the given country)
Providing a guide and visa application form in PDF if it needs to be filled out manually
Our assistance is available to all U.S. passport holders. You only need to take four steps:
Select the Tourist Visa Guide product
Fill out the questionnaire about your passport
Choose a destination country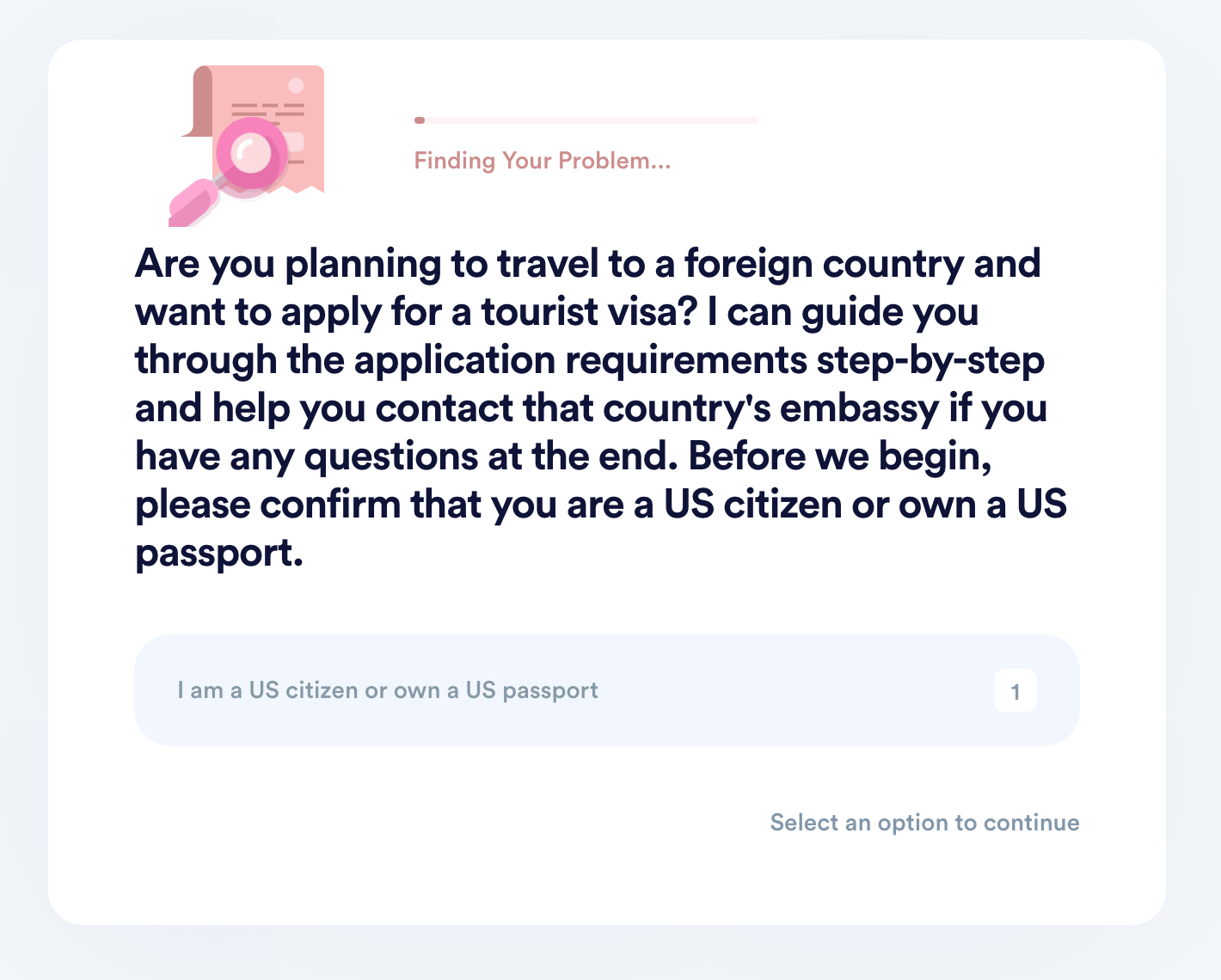 DoNotPay Has Visa Guides for Many Asian Countries With Up-to-Date Information!
South Korea is beautiful, but if you're not visiting more countries while in Asia, you're missing out on gorgeous attractions. Focus on your travel plans, and let us answer your visa-related questions in a snap!
DoNotPay has a myriad of useful visa guides on numerous countries in Asia, including:
DoNotPay's Features Are Here To Make Your Life Easier
To simplify confusing bureaucratic procedures, we developed a number of features you may find super useful. Sign up for our app and let us assist you in:
DoNotPay Doesn't Stop There!
Assisting you with bureaucratic tasks is only a fragment of what DoNotPay can do—we have a lot more nifty features to offer! We can show you how to:
Struggling to draw up a financial aid appeal letter, an HR complaint, or a child travel consent form? DoNotPay is here to do it in minutes!