Getting a Top-Grade South Dakota Living Will Without a Hitch
Composing a living will helps you establish medical care preferences your doctor must respect if something happens to you. The problem is that many people don't know how to create this document or what elements it should contain. This all-in-one guide brings you a rundown on the most critical aspects of a South Dakota living will. It will also show you the simplest way to obtain any health care or advance directive—creating them with DoNotPay!
Living Will in South Dakota—The Basics
A South Dakota living will is a document that advises your physician on how to treat you if you can't communicate your health care wishes to them. It lists all specific medical care or end-of-life treatment instructions you have in mind, along with related personal or religious beliefs.
Here's a table with some more details about the document:
Criteria
Details
What law regulates living wills in South Dakota?
34-12D, South Dakota Code
What are the legal requirements for signing this document?

You must be a competent adult
The living will must be signed by you or the person you have authorized to sign documents on your behalf
Two adult witnesses must be present at the moment of signing
Notarization is optional but desirable

When does your living will become effective?
Once your doctor confirms that you are:

In a terminal stage of an incurable illness
No longer able to express your health care-associated choices to them

Is it possible to revoke a living will
You can revoke it as long as you are able to communicate the decision to your physician or health care provider
Other documents you can sign
Besides a living will, you can create a medical power of attorney (health care proxy). It enables you to transfer rights to another person to make health-care decisions for you if you're incapacitated. This document is not the same as a financial power of attorney
Is There an Approved South Dakota Living Will Form?
The State of South Dakota doesn't provide an official living will form. Most people decide to use a sample offered by Section 34-12D-3 of South Dakota law, which includes
Living will declaration
Your name
Life-sustaining treatment clause—you can choose among the following options:

No life-sustaining treatment
Treatment for restoration
Treatment unless permanently unconscious
Maximum treatment

Artificial nutrition and hydration clause
Additional thoughts and instructions
Date of signing
Your printed name, signature, and home address
Names and addresses of the witnesses or a notary's statement, signature, and stamp
Other Ways To Compose a Living Will in South Dakota
Besides using a statutory sample for creating a living will, you can:
Order a professional draft—It's possible to hire a lawyer to compose the document, but they often charge hundreds of dollars per hour, which is too expensive for most people
Download an online template—While free and easily downloadable, online templates are often outdated or lack important sections
Write a living will from zero—You can also customize the existing form by adding extra sections. It can still take too much time and effort to create a decent one, especially if you haven't got any experience in the matter
—If none of the previous options work for you, DoNotPay provides a quick and reliable solution—we generate a fully personalized living will in a few clicks
Use DoNotPay To Craft Your Living Will in a Few Clicks
DoNotPay offers a user-friendly product called Advance Health Care Directive. It processes the info about your future health care preferences and generates a living will in your stead! The entire procedure can be done in less than five minutes!
Here's how the product works:
Go to Advance Health Care Directive
Specify the names of your agent and witnesses
Disclose the necessary info by answering a few health care-related questions
Do you want to get your living will notarized? Don't waste your time waiting in front of the notary's office—our app can help you have your signature verified electronically! All you have to do is set an online meeting with a notary via our platform!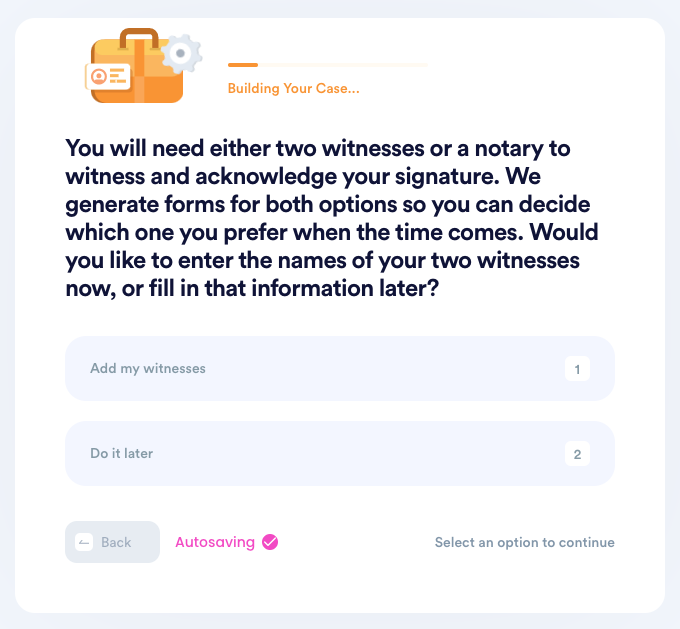 DoNotPay Offers More Assistance!
Our app boasts many features that can make your life easier.
Do you need help searching for unclaimed money or covering bills? Are you looking for clinical trials you can sign up for to earn some extra money? We can help you out in a flash!
Other tasks we can streamline for you are the following:
Forget Hiring a Lawyer—Use DoNotPay Instead
You don't want to spend a fortune on lawyer fees? No problem! DoNotPay—the world's first robot lawyer—is here to assist you! With our help, you'll be able to file complaints, sue anyone in small claims court, handle stalking and harassment, get crime victims' compensation, and draft numerous documents, including:
If you need to get a document notarized, you can also count on our help. We'll connect you with an online notary who will notarize your document in a flash.