A Rundown on the
South Carolina Real Estate Contract
The prospect of buying a new home sounds fantastic up until the part when you have to sign a real estate purchase agreement. If you're not a lawyer or real estate expert, understanding the elements of that type of legal document can be tricky—writing it can be even trickier.
This article will show you what the Palmetto State residents might encounter while signing a South Carolina real estate contract.
Don't know how to write a contract? to get various legal documents generated within minutes!
What Is a Real Estate Contract?
A real estate contract documents the transaction between the buyer and seller of a property. It is a legally binding contract that outlines the terms and conditions of said transaction in a way that protects both parties.
Real estate contracts are a great way for a seller and buyer to express their expectations and negotiate terms accordingly. Once both parties are satisfied, they can sign the contract, making it valid and enforceable.
There are several types of real estate contracts, the most important being:
Assignment contract

Purchase agreement
Real Estate Contracts and Documents in South Carolina
Whether you're the buyer or seller of the property, being involved in the real estate business means dealing with a lot of paperwork. Selling and purchasing a property in South Carolina involves numerous forms and contracts:
Sale of Real Estate

South Carolina Home Sales Package

Contract for Sale of Real Estate—Residential

Contract for Sale of Real Estate—Commercial

Contract for Sale of Real Estate—Land or Lot

Counterproposal

Seller's Disclosure Statement

Lead Paint Disclosure

Sales Contract Amendment

Real Estate Contract Addendums

Contract Addendums

Extension

New Home Insulation

Environmental Assessment

Continued Marketing

Extension of Closing Deadline

Tax-Free Exchange Addendum

Release of Liability on Assumption

Other Real Estate Forms

Deeds of Trust

Promissory Notes

Closing Forms

Power of Attorney

Mortgage Satisfaction

Mortgage Assignment

Heirship Affidavits

First Refusal Agreement

Landlord-Tenant Forms

Uniform Loan Application

Assumptions

Foreign Person Affidavit

Construction—Mechanic Liens

Tax-Free Exchange Agreement
What Should a South Carolina Real Estate Contract Cover?
In the following table, you can find the sections that a standard real estate contract in South Carolina should cover:
| | |
| --- | --- |
| Real Estate Contract Clause | What Does It Include? |
| Parties | Full names of the buyer, seller, and co-owners (if there are any) |
| Purchase price | Roughly calculated price of the property or a predetermined price |
| Property description | Property's address (lot, block, city, and county), size, and any personal property that might be included |
| Closing details | Closing costs and date of the exchange |
| Earnest money | Amount of earnest money and the preset due date for paying the deposit |
| Property condition | Required disclosure statements and inspection documents |
| Signatures | Signatures of the buyer, seller, and any other party involved |
South Carolina Real Estate Contract—Required Disclosures
South Carolina requires that a property seller includes disclosure statements when negotiating terms with the potential buyer. The purpose of these statements is to inform the buyer about the property's current condition and previous issues.
Take a look at the required disclosures in the South Carolina real estate contracts:
Lead-Based Paint Disclosure

—If selling a property built in South Carolina before 1978, the property owner must include this disclosure to address the property's history and notify the seller about precautions when it comes to getting in contact with lead-based paint

Residential Property Condition Disclosure Statement

—With this statement, the seller should inform the buyer about any known flaws and issues with the property. This disclosure expresses the seller's current knowledge about the state of the property, but it doesn't obligate them to perform a professional inspection

Disclosure of Real Estate Brokerage Relationships

—If a real estate transaction involves a real estate agent or broker, the real estate contract should disclose such a relationship to the buyer and seller
Drafting Contracts Is a Piece of Cake With DoNotPay!
Buying or selling a property is not the only time you'll need a contract. Many situations in life call for a written agreement, but not everyone is experienced enough to write them. If you don't want to spend money on lawyers and don't find contract templates reliable enough, we have a perfect solution for you!
DoNotPay created an easy-to-use product that can create numerous legal documents whenever you need them.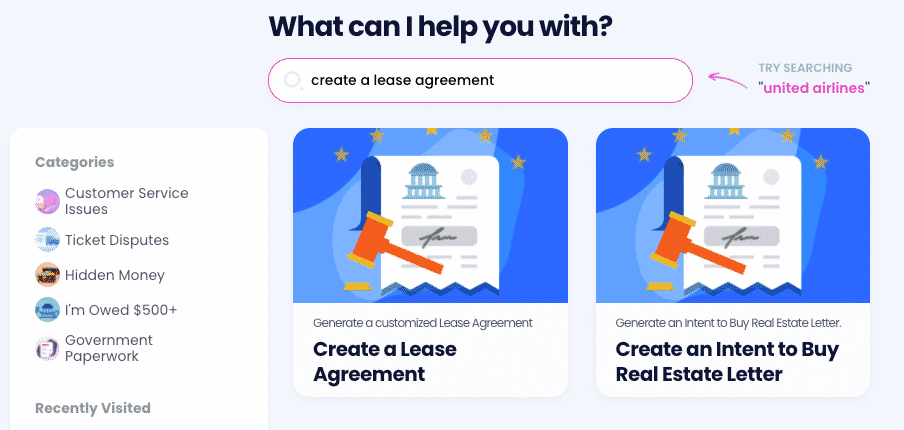 To use our Standardized Legal Documents tool, you should and do the following:
Enter the name of the document you need

Answer several questions about the said document
Upon receiving the request, we will generate the document according to your needs. The best part is that you can later use DoNotPay to fax and get the same document notarized within minutes.
Some legal documents we can create for you include:
Real estate documents:

Quitclaim Deed

Estoppel Certificate

Intent To Purchase Real Estate

Business documents:

General Business Contract

Other types of documents:

Promissory Note

General Affidavit

Child Care Authorization Form
No More Risky Free Trials With DoNotPay
Do you love free trials but tend to forget to cancel your subscription before the trial ends? If this is the case, check out DoNotPay's virtual credit card for a risk-free experience.
With our virtual credit card, you can sign up for any service without worrying about unwanted charges. DoNotPay will even provide you with a random email address, which will help keep your inbox clean from spammy emails from the company.
Our app can also get in touch with the company's customer service, request a refund from them, or even escalate your issue to small claims court if the company is challenging to communicate with.
DoNotPay Is an Ultimate Money-Saving Assistant
Our app can help you manage bills that are too high to pay, but there are plenty of other money-saving possibilities out there we can help you with.
Want to challenge a parking ticket? DoNotPay can dispute parking citations in any city! Is someone getting revenue from your creative work? Cut the thieves off with DoNotPay!
We can also help you get your college application fees waived, file any insurance or warranty claims, locate unclaimed funds in your name, or earn some extra cash from paid clinical trials in your area.