Apply for the South Carolina Property Tax Exemption Effortlessly!
Paying your property taxes can be a burden, even when they are among the lowest in the state. You may be brainstorming a way to lower your taxes and apply for the South Carolina property tax exemption. We got some good news! There are several ways you can reduce your taxes, and DoNotPay will walk you through each!
How To Calculate the South Carolina Property Tax?
The South Carolina property tax rate is usually calculated by an assessor who comes to evaluate your property. The value of your property (assessment ratio) is determined based on the percentage of market value and your property.
If you want to calculate your property tax rate by yourself, you can use online property tax calculators. Keep in mind that they are not always the most reliable option and that it is best you have an assessor do the job.
The South Carolina Property Tax Exemptions
You can apply for the South Carolina Homestead exemption to lower your property taxes. To apply, you will have to be:
A legal South Carolina resident for a year prior to December 31 of the year of application for the exemption

65 years of age or older (

Senior citizen exemption

)

Proclaimed totally and permanently disabled by a state or someone who has the authority to make such proclamation

Legally blind and certified as such by an ophthalmologist with a license
You also have to hold a complete fee simple title to your main legal residence or be the beneficiary of a trust that holds title to your main legal residence.
The required documentation:
| | |
| --- | --- |
| For Candidates Applying Due To | What Is Required |
| Age | A birth certificate or South Carolina driver's license |
| Disability | Documentation from the state or federal agency attesting to the disability |
| Blindness | Documentation from a licensed ophthalmologist certifying your condition |
The income beneficiary of a trust must present a copy of the trust agreement.
The Greenville County SC Property Tax Breaks for Veterans
Veterans who have 100% disability due to their service in the military are qualified for a total exemption of property taxes on their homes in Greenville County. They are also eligible for a homestead deduction of $50,000. You will have to provide a VA dated letter that attests to you being totally disabled.
Individual taxpayers who have military retirement income can deduct a certain amount of their SC income from the taxable income equal to the sum of the military retirement income.
South Carolina veteran residents with a 100% disability resulting from their service are eligible for tax exemptions on:
Home and land up to 5 acres (if the surviving spouse maintains the ownership, the exemption can be passed to them)

Two private passenger vehicles that the veteran-owned or leased (this can be passed to the surviving spouse as well if they maintain the ownership)
Other Convenient Ways To Reduce the Property Taxes
If you are looking for help to pay your property taxes, there are several ways you can try. We provide you with information on the most common and convenient methods to go for.
Avoiding home renovation projects

—Deciding to do any home renovation before a local assessor comes to evaluate your home or property would result in the price of your property tax bill going higher. Skip on the improvement and renovation projects at all costs

Finding and applying for property tax exemptions

—One of the certain ways you can lower your property taxes is by applying for exemptions and relief. Use DoNotPay's nifty features to obtain a step-by-step guide on the exemptions you qualify for based on the information you provide and apply for them

Checking your property tax bill for any errors

—Your property tax bill can contain inaccuracies if the assessor doesn't do a good job and makes a mistake when evaluating your home or property. That is why it is important that you double-check your bill and make sure there aren't any mistakes. If there are, we will provide you with a way to file an

assessment

appeal

Appealing your property tax bill

—If you establish that your property tax bill contains errors, turn to DoNotPay and

file an assessment appeal

. We are happy to provide you with a guide that will show you how to appeal an assessment in a few simple steps

Being present while the assessors do their job

—Keeping an eye on the assessors while they do their job can help avoid the above-mentioned issue because you will make sure they are doing a good job. You can also be of help to them if they need you to provide any information or answer questions about the property
DoNotPay Provides an Easy Way To Apply for the SC Property Tax Relief!
Turn to DoNotPay for the most efficient and time-saving way of applying for exemptions and property tax relief! We offer you a simple, three-step guide to follow and gain access to your personalized guide containing all the info! Follow the instructions to get it done:
Load DoNotPay from any

web browser

Locate and select the

Property Tax

tool

Provide a few answers about your property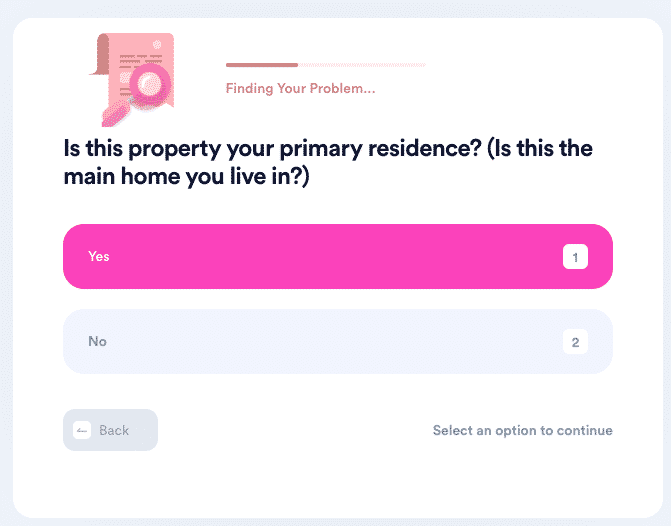 DoNotPay will create your guide, and all you have to do to complete the tax-reducing process is to follow it.
If you are looking for the info about the SC property tax exemption for seniors, we got you covered!
Can't Afford a Lawyer? DoNotPay Will Jump In!
Did you know that you don't have to waste money on expensive legal help just to get rid of some minor bureaucratic issues? DoNotPay is here to save you hundreds of dollars with ready-to-use solutions that require mere minutes.
Our AI-powered bots gather the most important information via short questionnaires, draft required legal documents, and provide you with online fax services. If you need specific public records to support your case, we'll point you in the right direction.
With our virtual lawyer's help, you will be able to:
Spend Your Time on More Enjoyable Activities
With DoNotPay's help, you're bound to have more free time. If you're considering a new streaming platform subscription, make use of its free trial without worrying about unwanted charges. Need to get rid of other subscriptions? Use DoNotPay to cancel them without contacting customer support centers.
Don't worry about phone number identification at the signup. With our Burner Phone feature, spam text messages won't be bothering you ever again!