South Carolina Property Tax Exemption for Seniors Explained

Property taxes can be a nightmare for homeowners. Fortunately, South Carolina is one of the states with the most affordable property tax rates.
If you are a senior citizen or a person with low income living in South Carolina, property tax relief might still be a necessity for you. Don't fret—there are tips and tricks you can use to reduce your property tax. If you want to know more about what constitutes South Carolina property tax exemptions for seniors and other citizens, look no further! DoNotPay is here to explain the easiest way of lowering your property taxes. 
South Carolina Property Tax Essentials
Every individual, partnership, or organization that owns personal property in South Carolina is obligated to pay property taxes. Each person's property taxes depend on their local municipality's tax percentage rate and the assessed value of their home. The property tax money is largely intended to support South Carolina's public education. 
South Carolina's property tax rates may be lower than the national average, but that doesn't mean that everybody can afford them. The state calculates property taxes according to each county's individual requirements, so some municipalities may have higher property tax rates than others.
If you need help paying your property tax bills, learning all about South Carolina property tax reduction possibilities is the way to go.
Can You Reduce Property Tax Bills on Your Own?
Most people pay their taxes regularly without ever questioning if they are being overcharged. In many cases, you can lower your property taxes on your own by applying some simple strategies.
The table below contains some useful tips for saving money on property taxes:
Method for Lowering Property Taxes
Details

Schedule a home assessment

It may seem pricey, but a detailed assessment of your home can lower your future property tax payments

Check out your tax card for errors

Your county's auditor's office holds your tax card. If you take a look, you may discover a tax calculation error

Compare your tax bills with those of similar homes

Tax bills are public records. Compare them to find out if you are being overcharged

Request a property tax exemption

It is likely you belong to one of South Carolina's property tax exemption categories. Browse

The South Carolina Department of Revenue (SCDOR)

website or use DoNotPay to find out
What Constitutes South Carolina Property Tax Exemptions?
South Carolina grants property tax reliefs for certain citizens and organizations. The exemption categories and their criteria are set by the South Carolina Code Section 12-37-220. To apply for property tax reduction, you must meet the South Carolina Code criteria to a tee.
Citizens qualified to apply for a tax relief include:
Senior citizens who are 65 or older

Surviving spouses of senior citizens (they must be older than 50)

Disabled individuals or parents of disabled children

Military

veterans

, police officers, or firefighters with a permanent service-connected disability
If you want to be exempt from paying full or a part of your property taxes for the following year, the effective disability date on your documents must be before December 31 of the current year.
The South Carolina Department of Revenue (SCDOR) will examine your application and notify you of its decision. 
SC Property Tax Exemptions 
If you are a senior citizen that has resided in South Carolina for at least one year, you can qualify for senior citizen property tax reduction. The benefit the state provides is known as a homestead tax exemption. This type of property tax relief states that the first $55,000 market value of any dwelling place, including a mobile home on leased land, is not subject to certain property taxes. Those taxes include:
County 

School

Municipal

Special assessment real taxes
If you want to apply for property tax relief, you must do so in your county's auditor's office by July 15 of the current year. If you are not able to go there yourself, you can authorize someone to apply for you.
Apply for SC Property Tax Relief With DoNotPay
Understanding the senior citizen property tax exemption criteria is not an easy task. The SCDOR doesn't offer any detailed information on the subject, which means you will have to go through the South Carolina Code and decipher many legal terms to find out. You can skip the headache by using DoNotPay!
Our app offers a practical Reduce Property Tax feature to help you out. All you have to do is give us some essential property information. We will not only indicate your exemption category but also create a personalized application guide just for you!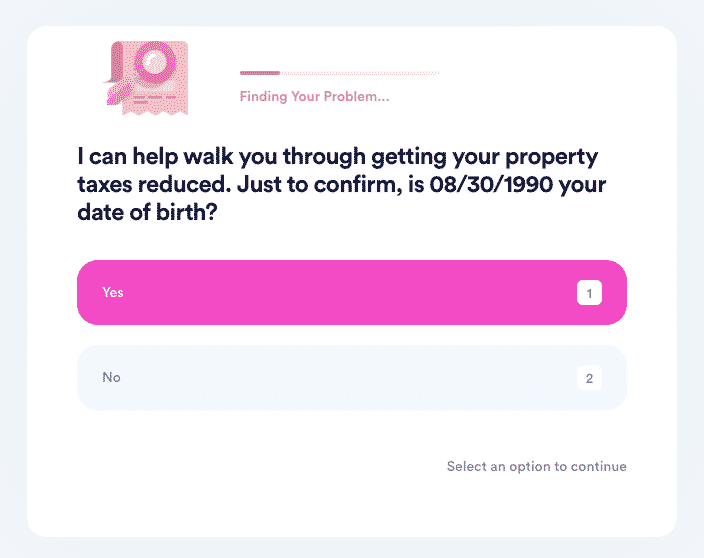 To activate our service, follow these simple steps:
Open DoNotPay in a

web browser

Go to the

Reduce Property

Tax feature

Type in necessary information regarding you and your property
After DoNotPay generates your personalized guide for reducing property taxes, all you need to do is follow the provided steps for requesting an exemption!
File a Property Tax Appeal by Using DoNotPay!
If you are dissatisfied with the previous assessment of your property, you can use DoNotPay's help to file a property tax appeal. You should access our app from your web browser and check the guide to find out more about:
Forms you need to fill out

Evidence of assessment errors you are required to collect

Steps you must take before filing a property tax appeal

Negotiation techniques you need to apply with your local assessor
DoNotPay Keeps Your Privacy Intact
DoNotPay can help you surf the web safely and securely. No need to provide your personal information to every company whose service you'd like to take for a test drive. Our Virtual Credit Card and Burner Phone products shield your data from prying eyes and dishonest merchants.
Feel like subscribing for a free trial? Make it truly free and avoid automatic membership renewals with our card. It can also help identify spammers and potential scammers who send bothersome robocalls and robo texts your way. As soon as they act on the virtual card number, DoNotPay will unmask them and demand compensation!
DoNotPay Can Help You Bring Any Business to Justice
Should a company refuse to grant you a refund or compensation, our app will help you take them to small claims court! 
We'll help you cancel the service in question to avoid any future charges, and we'll call their customer service so you can get info on your denied request. We'll draft the relevant court documents for your jurisdiction and give you instructions on filing them.
More Nifty Features That'll Make Your Day
You may not have breach of privacy issues or reasons to bring someone to court, but you surely have ample motivation to save or earn a few dollars here and there—especially if we catch you unawares!
DoNotPay can show you how to reclaim funds that you didn't know were under your name or make a denied warranty appeal to any company. We streamlined the processes of requesting refunds, college fee waivers, airline flight compensation, parking infraction dismissals, as well as applying to clinical trials that pay!