Writing a South Carolina Power of Attorney Has Never Been Easier!
Drafting a South Carolina power of attorney doesn't have to be a nightmare! You can create your POA document with ease by following our step-by-step guide or let our robot lawyer generate one in your stead! Sign up for DoNotPay, and discover all there is to know about POAs and how to obtain one effortlessly!
Understanding the Power of Attorney in South Carolina
A power of attorney is a legal document signed between the following two parties:
The principal
The agent
This document allows the principal to transfer certain powers to the trusted agent. The agent gets the authority to make any financial, health, and other decisions that the principal instructs them to make on their behalf.
There are several types of POA documents, including:
What Powers Can a Principal Transfer With the Durable Power of Attorney in SC?
The durable POA in South Carolina gives the agent the ability to:
Do any act or deed in the principal's stead in the same way he or she would
Review the principal's personal and health info, including his or her hospital records
Be a representative payee for all payments the principal is entitled to
Deal with the principal's life, disability, and other insurance policies
Handle the principal's bank accounts
File the principal's taxes
The SC Power of Attorney Requirements—Does a Power of Attorney Have To Be Recorded in SC?
Before you start writing your power of attorney in South Carolina, you should get acquainted with your state's laws.
Under SC law, all powers of attorney must be witnessed and notarized. The SC state law, generally, doesn't require the POA document to be recorded. There are some instances when having the POA recorded is needed, though, such as when used for a specific purpose (e.g., real estate transaction).
Can I Write a Power of Attorney in SC on My Own?
You can, but writing the POA document on your own will require a lot of time and effort. You have to make sure to incorporate all the important sections, such as:
Section
What To Include
Title
Give the POA document a specific title to avoid any future misunderstandings
Dates
Include the dates when the document:

Is signed
Becomes effective

If you draft a limited POA, you can state the beginning and end date of the document

Names and details
State both the principal's and agent's full names, along with:

Their addresses
Contact info

Powers
Give a sufficiently detailed description of the powers that will be transferred with the POA document
Both the principal and the agent have to agree on the terms stated in the document and provide their signatures.
Hiring a lawyer to assist you in writing the document and reviewing it afterward is advisable. Since lawyers can be super pricey, you can always turn to a more affordable and time-efficient option—DoNotPay.
How To Get a Power of Attorney in SC With DoNotPay in Minutes
DoNotPay helps you avoid wasting time and money on lawyers and offers you the option to draft your SC POA document without any hassle! The process is super simple as well—all you need to do is provide us with the necessary info, and we'll use it to generate your POA instantly! Follow these steps to get started:
Tell us what powers you want us to include
Provide the required info
We'll draw up your POA right away, and all that's left is for both parties to read the notices and sign the document.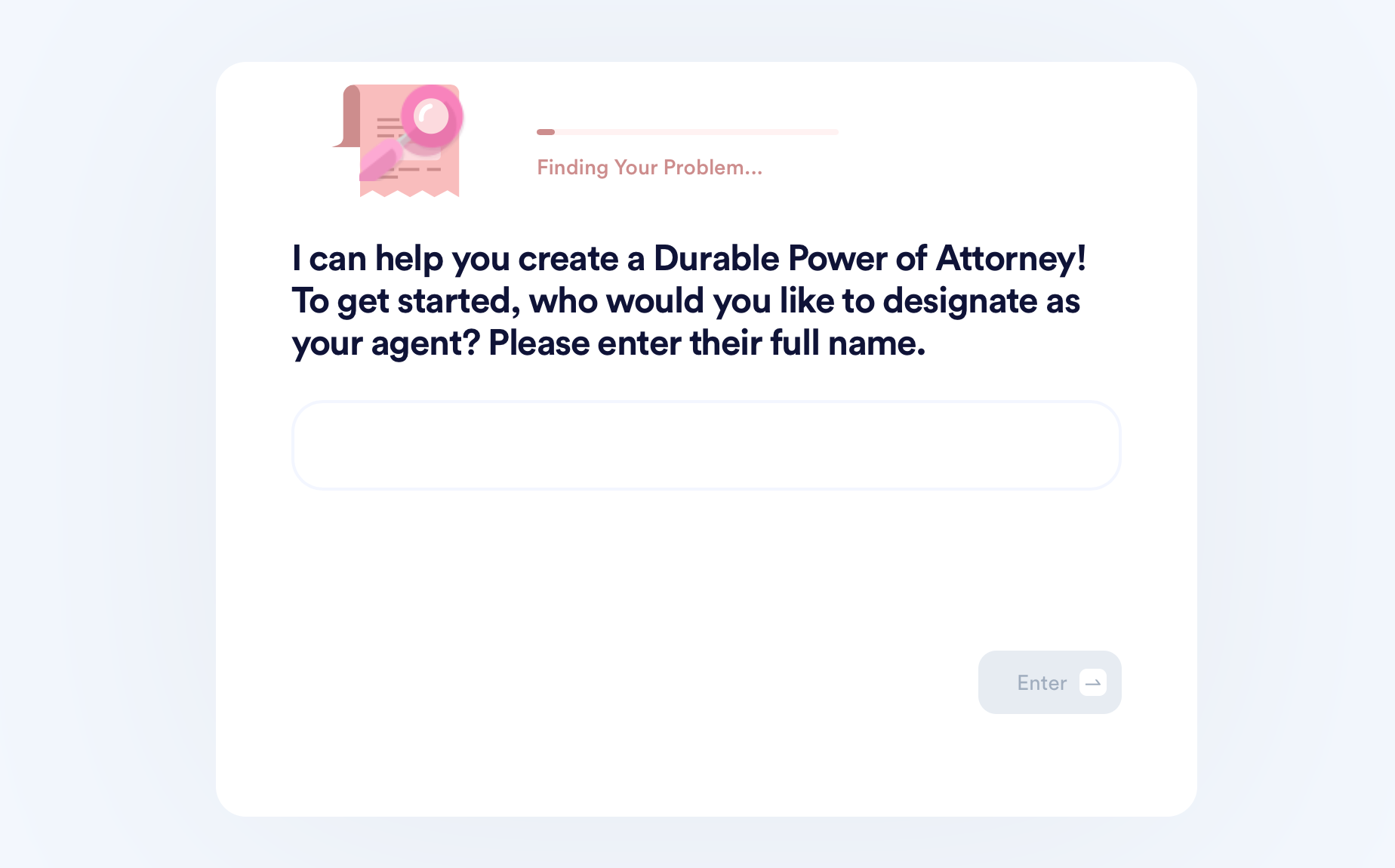 Since the South Carolina POA has to be signed in front of a notary public, DoNotPay provides additional assistance! You don't have to waste time traveling to a notary—you can get your POA notarized online with our help!
Use DoNotPay To Find Answers to Any POA-Related Question!
If you still have questions and concerns regarding POA documents, we're happy to provide you with answers! Here are some of the questions we can answer for you:
Take Control of Your Finances
DoNotPay is a great way of taking care of your money, whether you're cost cutting or looking for some extra income. Your new virtual assistant will help you:
Explore All the Facets of Our Multi-Purpose Platform
Our app is great for helping you with your money, but the benefits of your DoNotPay subscription don't stop there. The portfolio of DoNotPay's products and services is so diverse that anyone can find something useful to make their daily tasks easier.
We can help you deal with annoying DMV appointments, protect your privacy by offering a burner phone number, or avoid trips to the post office with our mailing service!
Find a more comprehensive yet cheaper subscription—we'll wait!