South Carolina Health Care Power of Attorney—Why You Need It
It is always good to think ahead, especially when it comes to situations related to health issues. Knowing who will be in charge of making decisions regarding medical treatments if you are unable to will help you feel at peace.
You can appoint a trustworthy individual for this job by making a health care power of attorney. It is paramount that you draw up this document in accordance with your state laws.
Sign up for DoNotPay to create the South Carolina health care power of attorney fast and without stress.
What Is a Health Care Power of Attorney in SC?
In South Carolina, a health care power of attorney is a type of an advance directive related to delegating medical decision-making powers. It is also referred to as a medical power of attorney or a health care proxy, but there are slight differences between the two.
A health care power of attorney lets you appoint an individual to act as your agent. This person will be in charge of making health care decisions in your stead. Unless you state otherwise, this person will have the same authority about your medical care as you would have.
If you don't have a medical power of attorney, the doctors will act according to your state laws.
Who Can Be Your Health Care Agent in South Carolina?
Your health care agent needs to be an individual who is 18 years old or older and of sound mind. They should also be someone reliable and trustworthy. Consult the table below to find out who you can appoint for this job:
Who You Can Appoint
Who You Cannot Appoint

Spouse
Close friend
Adult child
Any other family member

Your doctor
Any other health care provider who is currently treating you
An employer of your doctor or health care provider
A spouse of a doctor, provider, or employee
How Do You Make a Medical Power of Attorney in SC Legally Binding?
In South Carolina, a medical power of attorney is not legally binding unless two people sign it as witnesses. Here is a list of individuals not suitable for the role:
Spouse, children, grandchildren, parents, grandparents, or siblings
Individual financially responsible for your health care
Person named in your will or someone who would inherit your property by intestate succession
Beneficiary of a life insurance policy on your life
Health care agent
Doctor who is treating you or their employee
Anyone who would have a claim against a portion of your estate
Create an SC Health Care Power of Attorney With DoNotPay
You could have an attorney draw up this legal document for you or customize a medical power of attorney form, but you will lose a lot of money and risk having a poorly-written document. The easiest and most cost-effective way to create a health care power of attorney is by using DoNotPay.
All you need to do is follow these step-by-step instructions:
Locate the Advance Health Care Directive product
Name your agent and let us know what power you want to transfer to them
Type in the names of the witnesses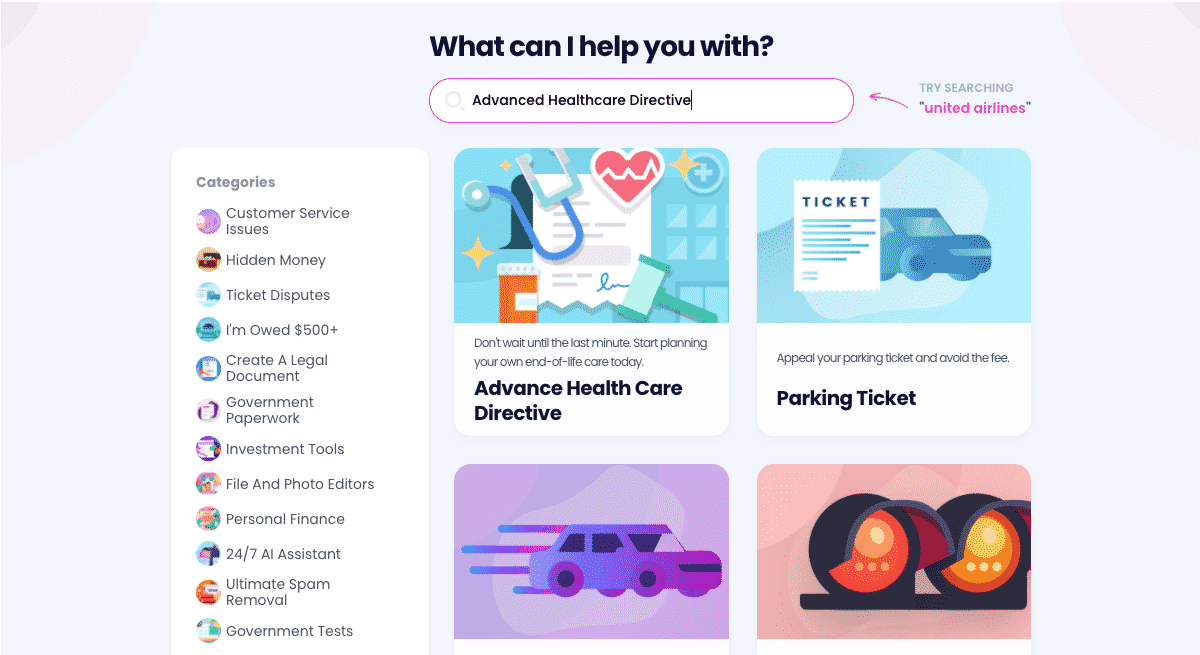 What Is the Other Type of a South Carolina Advance Directive?
In addition to a medical power of attorney, you can create another advance directive form in SC. This document is referred to as a declaration of a desire for a natural death—more commonly known as a living will. It enables you to state your wishes regarding medical treatments if you are unable to make decisions because you are:
Terminally ill
In a persistent vegetative state
If you decide to make a living will, you should research the relevant forms and the cost of the process.
DoNotPay Handles Lengthy and Challenging Tasks on Your Behalf
No time to dedicate yourself to drawn-out procedures or solve administrative issues yourself? Keep calm—that's why DoNotPay is here! By creating an account on our platform, you will be able to:
Keep the Cash in Your Pockets With Our App
DoNotPay doesn't bring you money-saving hacks—it actually assists you in cutting out expenses and living more economically. The tools we provide are made to help you pay less for utilities, end unwanted paid memberships, have college fees waived, or get lower tax bills. You can also save more on education-related costs by applying for scholarships and other financial aid via our app!
If you have a few forgotten gift cards lying around, don't let them go to waste. DoNotPay can cash them out and send the remaining funds to your home address!