Divorce Made Easy With the Correct South Carolina Divorce Papers
Filing for divorce is never an easy path to take, but it can be made easier if you understand the process. If your divorce papers are in order, the South Carolina divorce process can be concluded in a matter of weeks.
DoNotPay is here to help you collect and file your South Carolina divorce papers correctly and expedite your SC divorce!
What Kinds of Divorce Are Available in South Carolina?
South Carolina divorces can be fault or no-fault.
The no-fault option means that you do not have to prove your spouse has done anything wrong but is only available if you fulfill the following criteria:
You or your spouse have lived in South Carolina for at least one year, or both of you for three months
You have lived separately for at least a year
You have no children from the marriage or have reached an agreement on custody, child support, and shared parenting
Either there are no joint assets or liabilities, or you and your spouse have a written agreement in place to divide them
If you and your spouse cannot fulfill these stipulations, your divorce will be considered a fault-based scenario and will have to be decided in court.
The easiest route to divorce in South Carolina is for you and your spouse to work together to reach a settlement before you file.
Filing for Divorce in SC
There is no provision for filing jointly for divorce, so you will have to lodge your papers as the plaintiff and have them served on your spouse.
The South Carolina Judicial Branch provides the printable SC divorce papers both you—the plaintiff—and your spouse—the defendant—need to start the divorce process, as follows:
Plaintiff Forms
Defendant Forms

Family court cover sheet
Plaintiff instructions
Certificate of exemption
Summons for divorce
Complaint for divorce
Financial declaration
Motion and affidavit to proceed in forma pauperis
Acceptance of service
Affidavit of service by mailing
Defendant's answer
Affidavit of service by mailing (answer)
Affidavit of default for divorce
Request for hearing
Affidavit of service by mailing (notice of hearing)
Sample script for questioning a witness in a simple divorce action
Report of divorce or annulment of marriage
Final order of divorce
Sample script for plaintiff's testimony
Judgment in a family court case

Defendant's answer
Financial declaration
Affidavit of service by mailing (answer)
Defendant instructions
What Are the Most Crucial Documents in an SC Divorce Case?
The most important of the documents in your SC divorce packet that you and your spouse must file are the:
Complaint for divorce
Defendant's answer
Plaintiff's and defendant's financial declaration
Final Order of Divorce
Complaint for Divorce
The complaint for divorce form asks the court to grant you a divorce from your spouse.
The form contains checkboxes to detail whether children are involved and whether agreements have been reached to classify the divorce as uncontested.
Defendant's Answer
The answer form to be filled out by your spouse allows for the allegations in the complaint to be:
Admitted in full
Partly denied
Denied in full
If you and your spouse have worked together successfully to prepare for your divorce, the answer should admit all the charges.
Plaintiff's and Defendant's Financial Declaration
You and your spouse need to fill out a financial declaration each, listing your separate and joint:
Assets
Liabilities
Income
Expenses
Your joint declarations should tally with each other so that you can avoid complications in court.
Final Order of Divorce
The final order of divorce form summarizes the proceedings and should be prepared in advance for the judge to sign once the court is satisfied that all the relevant criteria have been met.
What Else Do You Need To Submit?
Your uncontested divorce forms are still missing a vital element—the divorce settlement agreement that confirms you and your spouse have reached an out-of-court settlement and are looking for a friendly divorce.
The advantages of drawing up a settlement agreement as soon as possible are:
A divorce settlement agreement sets out how your family responsibilities should be divided after the divorce is finalized, including:
How your children should be looked after
How much alimony should be paid, and by whom
What should happen to your joint assets and debts
Your settlement agreement should refer to both your financial declarations—the more comprehensive your agreement is, the easier a judge will find it to accept your deposition and grant the divorce without further ado.
Where Can You Get a Divorce Settlement Agreement?
Divorce settlement agreements are legal documents that need to be:
All-encompassing
Legally watertight
Valid under South Carolina legislation
Your options for drawing up your settlement agreement are:
Settlement Agreement Source
Explanation
Lawyer
A lawyer is the default choice to negotiate and draw up a divorce settlement agreement but may be an unnecessary expense if you and your spouse can agree on terms. Lawyers in South Carolina charge an average of $240 per hour, and SC uncontested divorces can cost up to $5,000 if attorneys are involved.

The most expensive part of the process is often the negotiation of your settlement—a far cheaper alternative is to use a mediation service to help you and your spouse work out your settlement together

Online
Several companies offer online divorce packages or downloadable settlement agreement templates. Caution is advised, though—many of these templates are too generic to cover your exact needs and may not even be valid under South Carolina legislation
DoNotPay has the solution—we can draw up a divorce settlement agreement that is exactly tailored to your requirements without you needing to pay expensive lawyer fees!
Your South Carolina Divorce Made Easy With DoNotPay!

When it comes to making your divorce easier, DoNotPay is your go-to resource!
Our Divorce Settlement Agreement product is designed to generate a document that is:
Customizable
Valid in South Carolina
Quick and easy to draw up without a lawyer's involvement
To get your settlement agreement, here's what you need to do:
Search for our Divorce Settlement Agreement product
Follow the prompts and fill in the details you and your spouse have signed off on
Your document will be ready for you and your spouse to sign and notarize in an instant. Not sure where to find a notary in your area? No worries—you can use DoNotPay's online notarization service to get your agreement signed and sealed!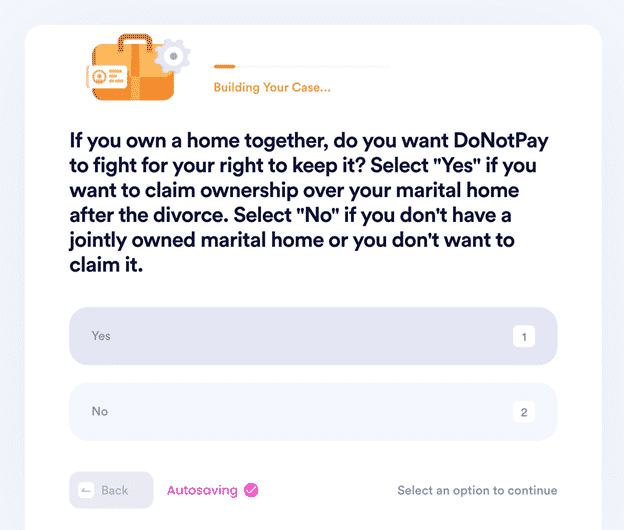 What Other Issues Can Our App Solve?
DoNotPay can support you through various burdensome procedures and turn them into a breeze! Here's a table showing a tiny part of our extensive offer:
| DoNotPay Can | Services |
| --- | --- |
| Create various documents | |
| Protect your safety and privacy | |
| Get your money back | |
DoNotPay Is Your Ticket to Simpler Life
Don't bother going through complicated tasks alone—we are here to take care of them! Seek our help if you want to get in touch with customer service instantly, fax anyone online, or get your documents notarized. Besides providing these amazing services, DoNotPay can make preparations for your travel adventures by assisting you in getting passport photos at home and obtaining tourist visas.