Find Out How the South Africa Tourist Visa Works and Whether You Need One
If you're looking forward to visiting the "Cradle of Humankind" or seeking the Big Five on safaris, find out whether you need a South Africa tourist visa before you book your trip!
DoNotPay also explains the entry requirements to South Africa for U.S. citizens!
Do U.S. Citizens Need a Tourist Visa for South Africa?
U.S. citizens do not require a visa to enter South Africa as long as they stay 90 days or less, but they do need to have:
Tourist Category
Documents
All U.S. citizens
A passport valid for 30 days after their planned departure date. Some immigration officials may demand it to be valid for six more months, so it's best to keep your passport as up-to-date as possible
Unaccompanied child

A copy of their birth certificate
Parental consent letter from both parents
Copy of parent ID's
Letter of invitation
Copy of the ID or residence permit of the person waiting for the child
Special circumstance documents like:

Copy of an adoption order
Copy of a death certificate of one or both parents or legal guardians
Copy of a court order dedicating legal guardianship or full parental responsibilities and rights in favor of the child

Child in alternative care

A valid passport
A letter from the Provincial Head of the Department of Social Development
COVID-19 Restrictions in South Africa
Due to a record number of new cases, the South African government imposes the following restrictions:
Curfew hours are from 9 p.m. to 4 a.m.
All incoming travelers need to present a negative PCR test result no older than 72 hours before arrival. Those who fail to do that will be subject to an antigen test at their own expense on arrival
These circumstances can change in the future, so you should contact the Embassy of South Africa to determine whether they are still in effect.
How To Contact the Embassy of South Africa
To get up-to-date information about travel restrictions in South Africa, contact one of the diplomatic missions in the United States using the information from the table below:
Diplomatic Mission
Contact Information
Area of Jurisdiction
Embassy of South Africa in Washington, D.C.
Telephone: +1-202-232-4400

Email: info@saembassy.org

The South African Embassy in Washington, DC
Telephone: 202-232-4400 and 202-413-1953 (for emergencies)

Email: Ramaruc@dirco.gov.za

Alabama
District of Columbia
Florida
Georgia
Louisiana
Maryland
Mississippi
Texas
Virginia
Puerto Rico
Virgin Islands:

The South African Consulate General

in Chicago

Telephone: 312-939-7929 and 312-919-1573 (for emergencies)

Email: chicagoc@dirco.gov.za

Michigan
Oklahoma
Illinois
Ohio
Missouri
Indiana
Wisconsin
Minnesota
Kansas
Arkansas
North Dakota
South Dakota
Nebraska
Iowa

The South African Consulate General
Telephone: 323-651-0902 and 323-244-0360 (for emergencies)

Email: consular.la@dirco.gov.za

Alaska
Arizona
California
Colorado
Hawaii
Idaho
Montana
Nevada
New Mexico
Oregon
Utah
Washington
Wyoming
U.S. Territory of Guam

The South African Consulate General

in New York City

Telephone: 212-213-4880 and 917-200-8396 (for emergencies)

Email: Consulate.NY@dirco.gov.za

Connecticut
Delaware
Kentucky
Maine
Massachusetts
New Hampshire
New Jersey
New York
North Carolina
Pennsylvania
Rhode Island
South Carolina
Tennessee
Vermont
West Virginia
Travel Recommendations for South Africa
When traveling to South Africa, try to:
Offer locals support and sympathy regarding the political situation
Show immense respect to anyone older than you
Be as polite as possible. The South African population is extremely diverse. Expecting you to know the etiquette for each and every present culture is unrealistic, but you can try to adapt, take a look at what everyone else is doing and keep a low profile in general
You should avoid:
Indulging in political talk and taking sides
Joking about or disregarding the apartheid
Having emotional outbursts in public
How DoNotPay Helps You Get Information About Tourist Visas for All of Your Future Destinations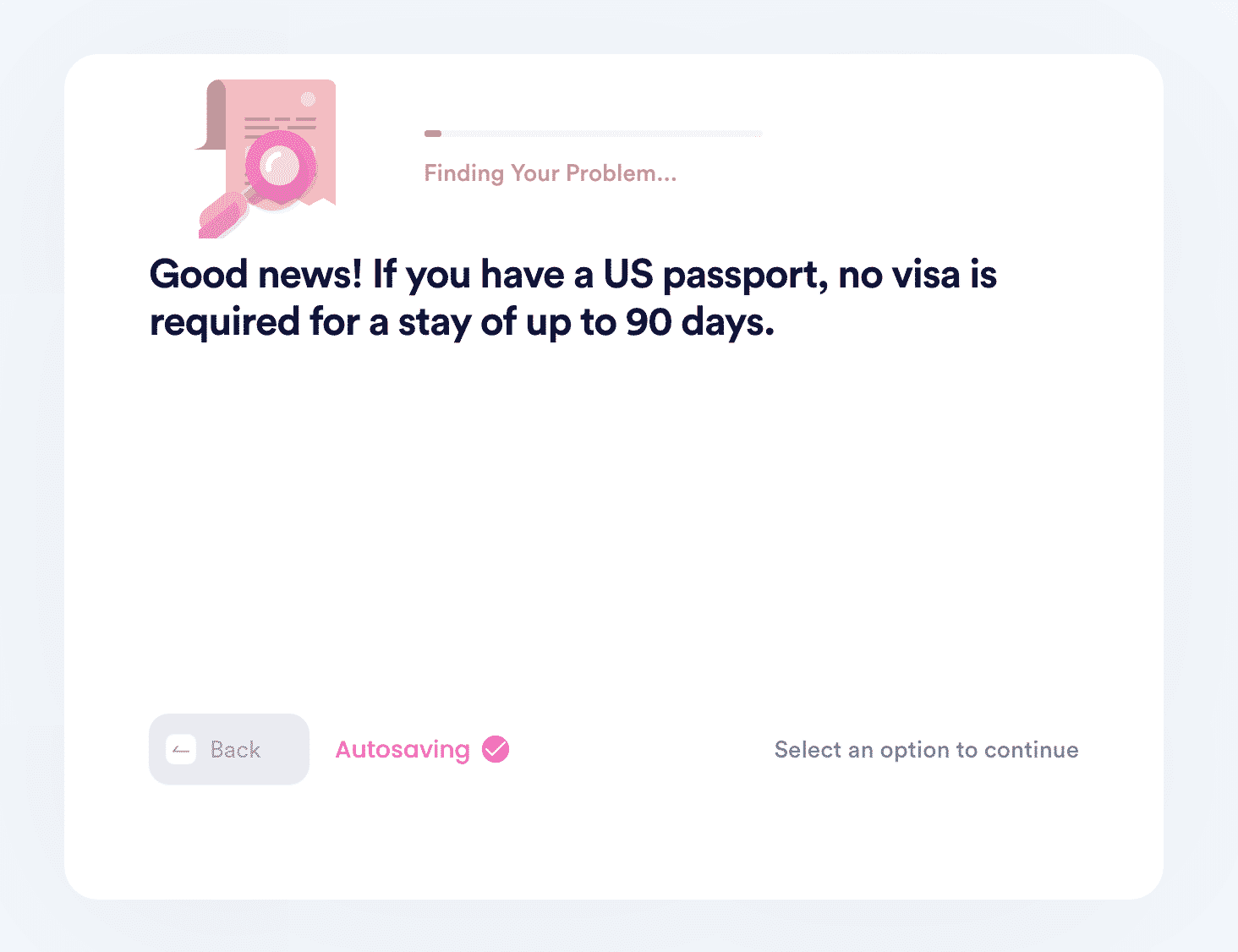 With dozens of pages online explaining tourist visa requirements and a lot of them being outdated, gathering all the necessary paperwork can prove quite the challenge. It's also not rare for an embassy to put you on hold or not answer your calls.
DoNotPay developed a feature that provides you with up-to-date information about any country's tourist visa requirements on the spot.
Our app will:
Check whether your destination requires you to have a tourist visa to be granted entry
Notify you about your allowed stay if a tourist visa is not necessary
Go through all the required documents with you to check if you have everything you need to apply for a visa
Provide you with a direct link to the online application form if the country has one
Create a PDF guide for you explaining the steps you need to take to request a tourist visa
To find out all you need for any tourist visa in the world:
Search for Tourist Visa Guide
Enter a country of your choice

Explore All of Africa With Your Personal Tourist Visa Guide—DoNotPay
If you're not done exploring Africa, subscribe to DoNotPay and find out how tourist visa applications work in the following countries:

DoNotPay Goes the Extra Mile for You
We are dedicated to providing solutions to difficult and time-consuming tasks you may have on your to-do list. If you are struggling to reduce your monthly bills, contest parking tickets, or set DMV appointments, DoNotPay will help you do it in no time!
We have also created numerous easy-to-use features that can make the following procedures run smoothly:
Get Justice From Companies That Wronged You
Do you feel like you have been played by a company? Instead of wasting your time writing requests, demand a chargeback or refund or claim a warranty via DoNotPay! If the company doesn't seem too cooperative and keeps refusing to return your money, our app can assist you in suing it in small claims court.
To help you save some coins or regain what's yours, DoNotPay will also help you locate unclaimed funds, submit insurance claims, lower your property taxes, and cash out gift cards.