All About The Sony Terms of Service
Reading and understanding the  of a particular manufacturer or service provider is paramount because it addresses liability concerns. For that reason, taking time to review the contract between you and Sony Interactive Entertainment LLC ("SIE") is advisable.
Note that agreeing to Sony terms of service results in express conditioning of access to and use of PlayStation Network ("PSN"). Also, to accept Sony's terms of service, you need to create an account for PSN by purchasing on the PlayStation Store or through any other use of PSN.
You can also do so by opting to continue using PSN after receiving a notification regarding a change to these terms. Accessing PSN or its products or services and creating an account is impossible if you do not agree to Sony's terms of service.
It is also worth mentioning that you may have rights under applicable local laws that cannot be waived or limited depending on where you live. Note that nothing in Sony's terms of service limits such rights under your local laws.
On the other hand, DoNotPay allows you to analyze terms and services without difficulties. Here are a few details about Sony's terms of service.
Insight into Various Aspects of Sony Terms of Service
1. User Information and User-Generated Content
Functionality that allows you to share information regarding your presence on PSN may be provided. Such details will include your friends' list, name, pictures, sign-in ID, profile, purchases made and content viewed, online ID, information on your gameplay, among other things.
Note that you should only share your User Information with friends that want to receive it, and their age should be appropriate for the content you are sharing.
Also, an opportunity to share or permit Sony to share your User Information about your account or activities on PSN via Third-Party Services may be available.
If you choose to do so, the use or distribution of your information on any Third-Party Service may be subject solely to the latter's . As such, ensure you review such documents before sharing your information.
On the other hand, Sony may provide functionality that allows you to transmit, create, or post things like game-related information, text, gameplay, messages, streams, comments, videos, screenshots, music, pictures, voice, photographs, and other materials created or shared by you or others.
Doing so means that you waive, to the extent permissible by applicable law, all claims, including any moral or patrimonial rights against SIE, its affiliates, or any third-party's use of UGC.
2. Code of Conduct
There are no limitations to who can use PSN. It is for everyone regardless of mental and physical ability, race, gender identity, religion, sexual orientation, political belief, ethnicity, family status, nationality, size, color, education level, immigration status, or any other attribute used to label communities.
Refraining from misuse of PSN and respecting the rights of others is critical to ensuring that PSN remains the best place to play for everyone. In that case, you need to adhere to the following after creating an account.
•Do not harvest, share, phish for, buy, transfer, sell, trade, rent, or sub-license any accounts, account details, or other account credentials.
•Avoid using or promoting hate speech and organizing hate groups.
•Do not disrupt the normal flow of gameplay or chat or manipulate or inflate usage of PSN.
•Avoid stalking, harming, trolling, bullying, or harassing anyone, and do not encourage anyone to do any of these.
•Do not reveal personal information like real-word addresses, phone numbers, MAC, or IP addresses, or email addresses about yourself or another person.
•Avoid sharing, creating, streaming, or uploading any audio, images, or other communication or content that is offensive or racist to any religion, ethnicity, nationality, gender identity, or sexual orientation.
How to Analyze Terms and Service Using DoNotPay
Analyzing terms of service is frustrating, and you most likely won't do it because of the time it will take you to finish reading the print. If for these reasons, you are unable to analyze Sony's terms of agreement, DoNotPay will help you in 5 simple steps:
1. Go to the Analyze Terms and Services product on DoNotPay.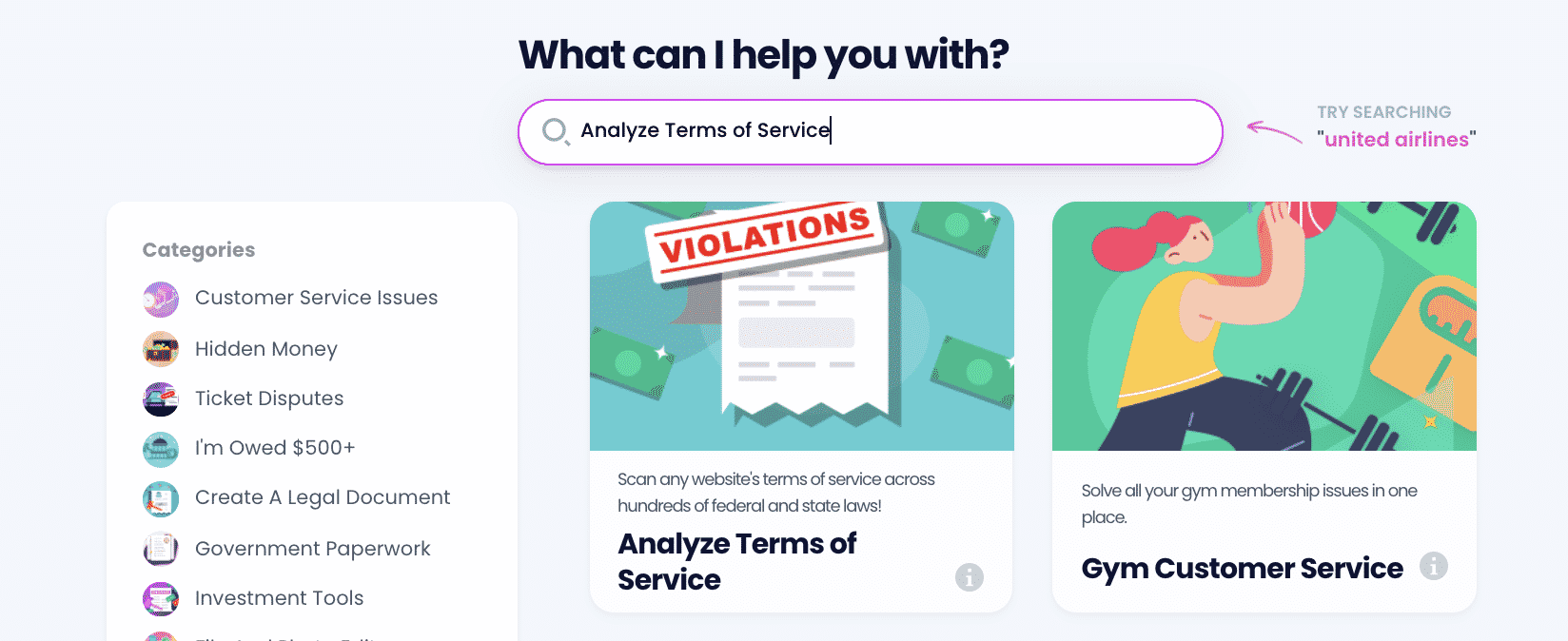 2. Enter the website domain you would like to scan.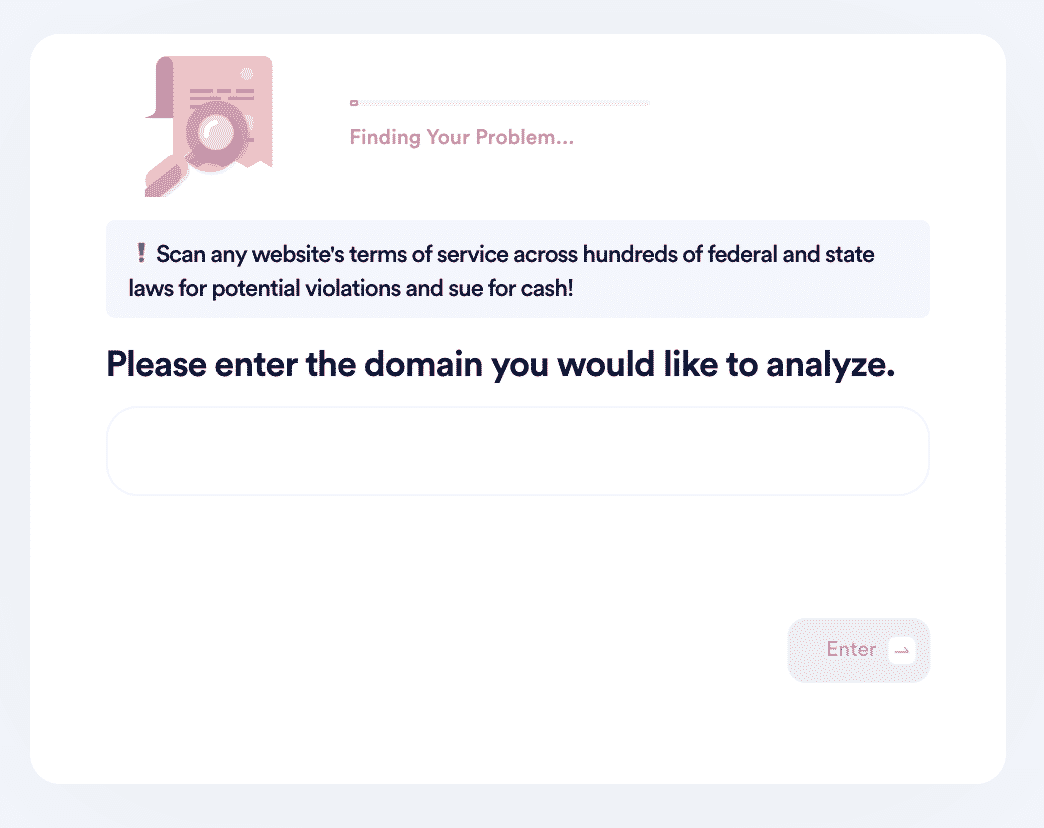 3. Wait for DoNotPay to identify any legal violations on the website (it should only take a few seconds!) If there are violations, proceed to drafting a demand letter.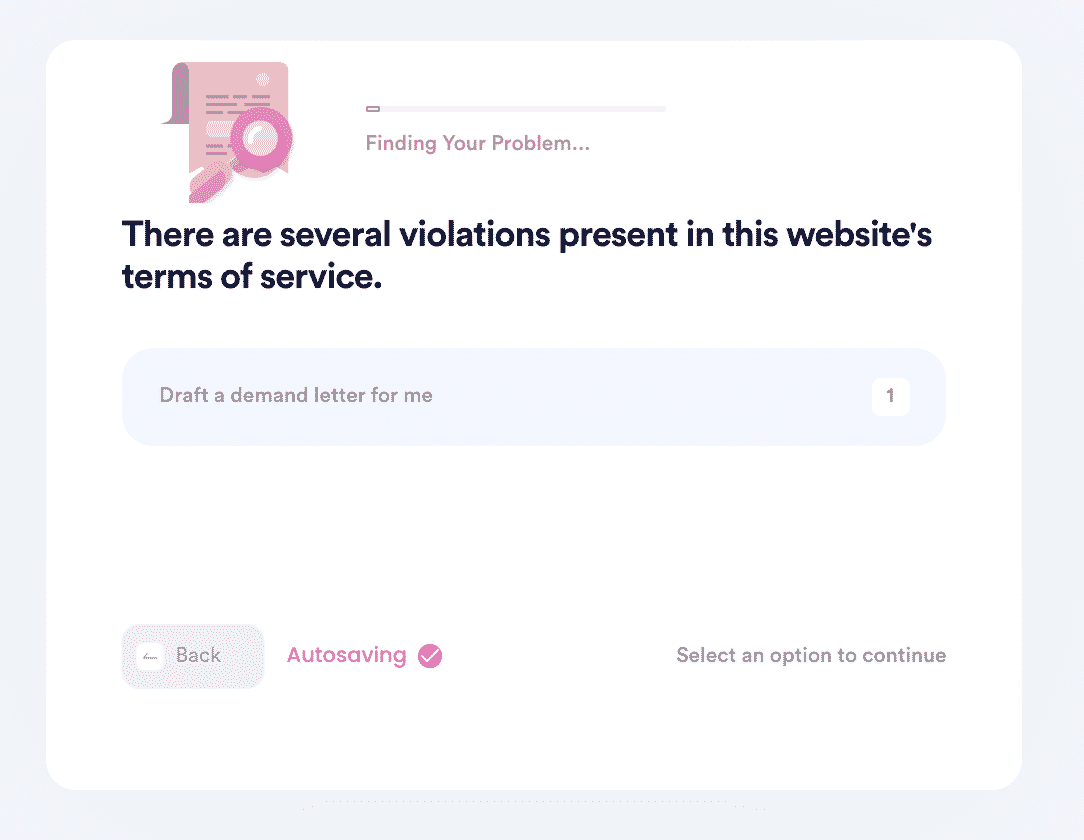 4. Enter how much you want to receive in compensation and the company name.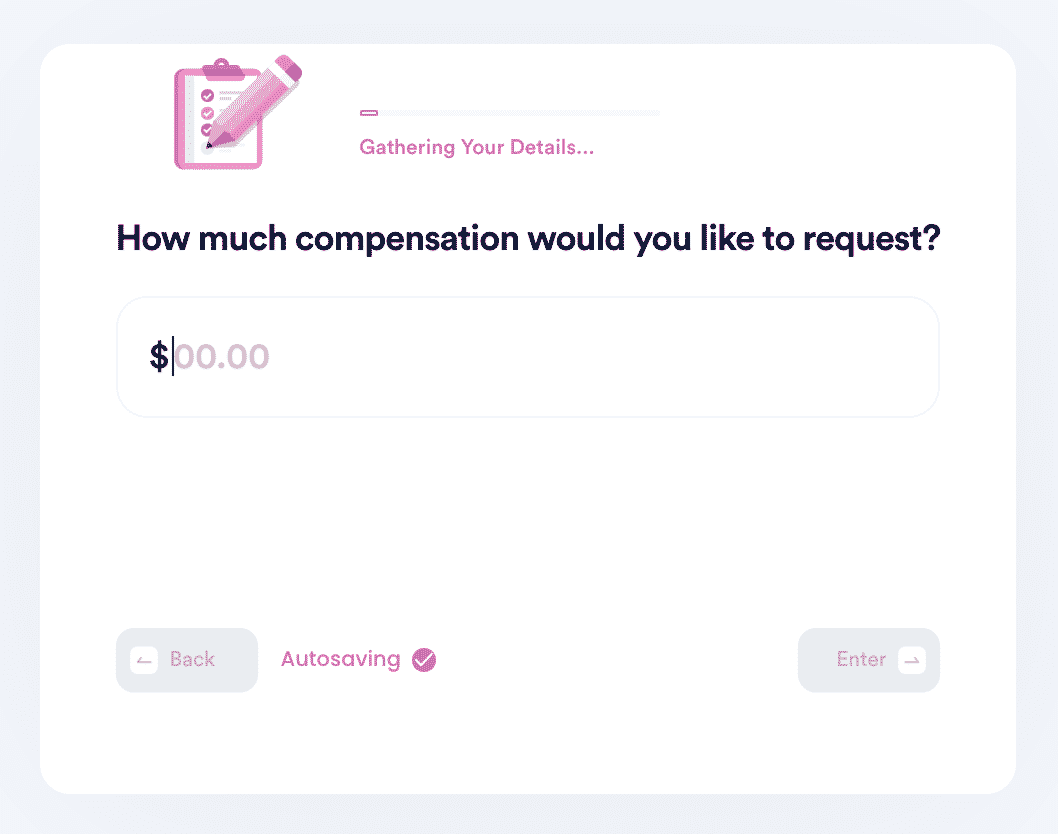 5. Enter your contact information so the company can contact you.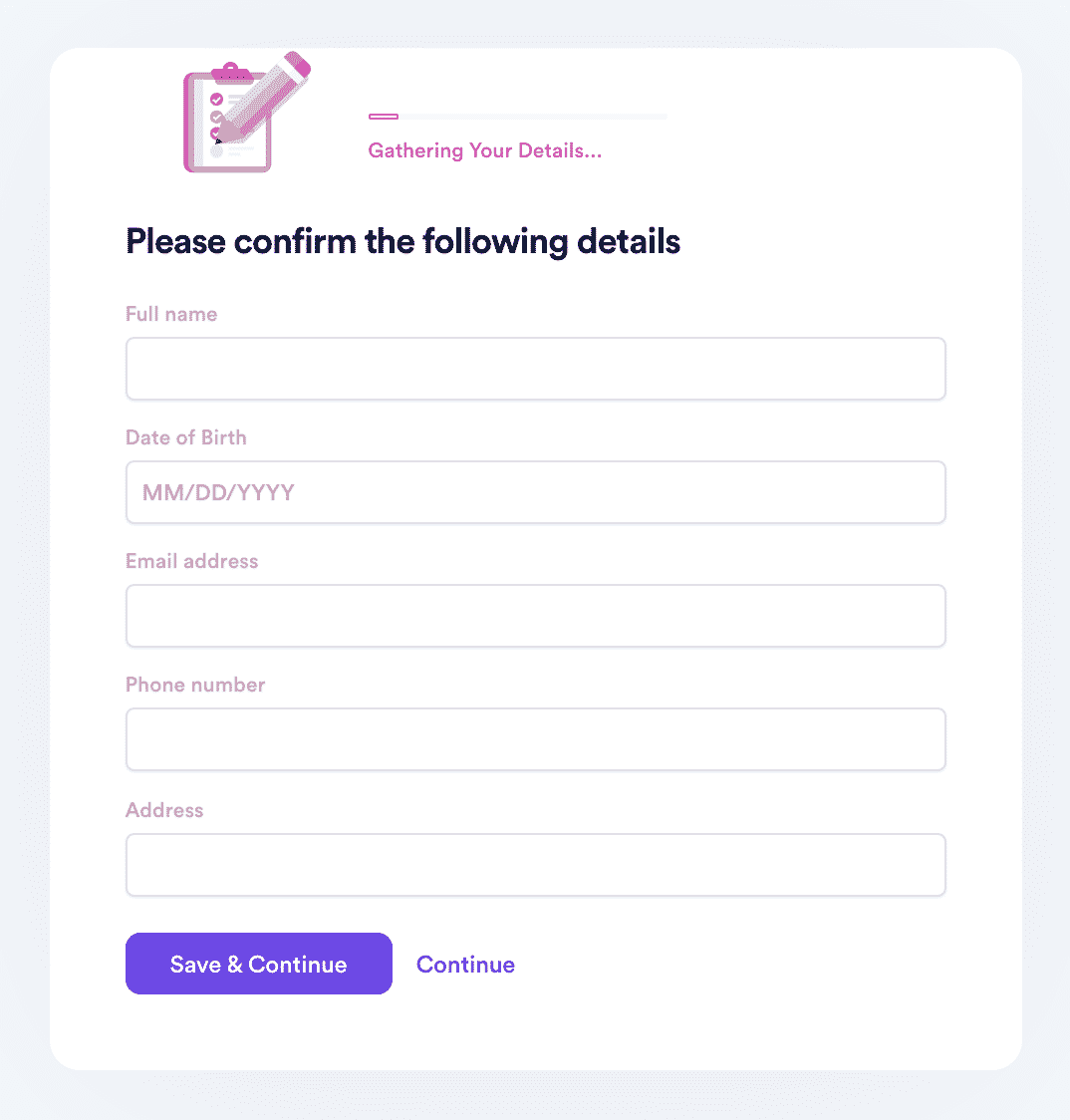 DoNotPay will generate a demand letter on your behalf with every legal violation we identified that you could send to the company.
You can also use DoNotPay to analyze any of these companies for violations.
Why Should You Use DoNotPay to Analyze Terms and Service?
Easy – There is no need to keep track of all the steps involved in analyzing terms and services when using DoNotPay and filling out tedious forms is also unnecessary.
Successful – All the assistance you need when analyzing terms and services using DoNotPay is available. That, in turn, promotes success.
Fast – You will save a lot of time by opting to use DoNotPay.
What Else Can You Achieve Through DoNotPay?
According to the information above, the idea behind Sony's terms of service is protecting the rights of every user and enforcing local laws where necessary. So, reviewing the details is paramount, and with DoNotPay today can help you analyze terms and services!