Sonoma County Divorce Made Easy With DoNotPay
If you and your spouse are thinking of ending your marriage but don't know where to start, DoNotPay can help! Getting divorced is a difficult process on its own, and learning the ropes is even harder.
That's why we've prepared a step-by-step CA-specific guide for you to get a Sonoma County divorce in no time! We'll show you which forms you need to complete and how to file for divorce the easy way!
Sonoma County Divorce—The Basics
To get divorced in Sonoma County, you or your spouse must have lived in the State of California for at least six months.
California recognizes no-fault divorces. You don't need any grounds (reasons) to get divorced. You can end your marriage by stating that it's irretrievably broken.
How Long Does It Take To Get a Sonoma County Divorce?
The Sonoma County divorce process can't be finalized in less than six months from the date of paper serving. Contested divorce cases in which spouses can't agree on certain issues take even longer to complete. That's why couples who want their divorce to be completed as smoothly as possible opt for an uncontested divorce.
How To Get an Uncontested Divorce in Sonoma County
Filing for an uncontested divorce in California means that you have to agree on the following issues with your spouse:
Child custody
Parenting time
If you agree on all of these, you can get divorced without a lawyer. This will lower the cost of the divorce as lawyer fees in CA are sky-high.
Can't reach a middle ground with your spouse regarding any of the issues on the list above? Why not try divorce mediation? During CA mediation sessions, you will get advice on how to compromise with your spouse and get divorced on a friendly note.
Forms You Need To Complete To Get a Divorce in Sonoma County
To get divorced in Sonoma County, you will first need to fill out some forms. You can get these documents on the official government website. The divorce papers you need are:
Petition (Form FL-100)—Gives the court basic information regarding your marriage
Summons (Form FL-110)—Has the necessary information about you and your spouse. It also prevents them from leaving the state with your marital child (if any)
Declaration Under Uniform Child Custody Jurisdiction and Enforcement Act (Form FL-105/GC-120)—Meant for couples who have children under the age of 18
Marital Settlement Agreement—Outlines the terms on which you're getting divorced. The best way to get this document is to subscribe to DoNotPay
Sonoma County Divorce Filings Explained
Filing for divorce in Sonoma County requires you to follow these steps:
Completing the forms—Fill out the required forms. Some courts even offer help with completing the papers and can make sure you fill them out properly. If your divorce papers contain a mistake, you will have to start the process from scratch
Filing the forms—Make two copies of the forms (one for your spouse, one for you, and the original for the court) and submit them to the court clerk. Keep in mind that you will have to pay a filing fee
Serving your spouse—Ask anyone who is neutral to the case and older than 18 to serve your documents along with a Response form. They need to file the form and return it within 30 days
Make Your Sonoma County Divorce Easier by Using DoNotPay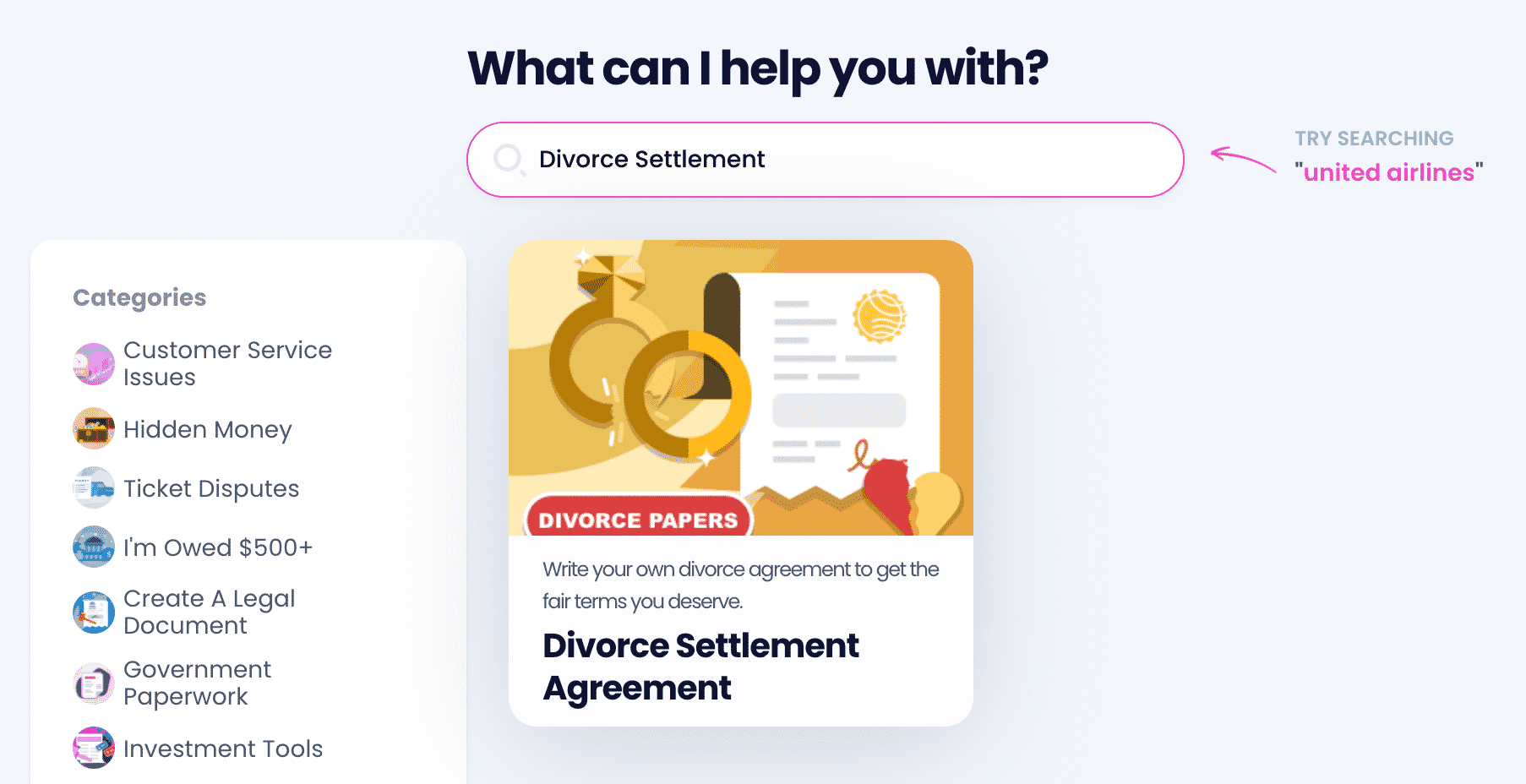 The outcome of your divorce in California depends on your divorce settlement agreement. This document needs to be carefully written. If you don't want to risk making any mistakes, you can hire a lawyer to do it for you. An easier and more cost-efficient solution is to use DoNotPay.
Our AI-driven app will generate a professional divorce settlement for you in no time. You only need to follow these simple steps:
Select our Divorce Settlement Agreement feature
Answer our chatbot's questions regarding your:

Spouse
Children (if any)
Assets
Income

Tell us if you want us to connect you with an online notary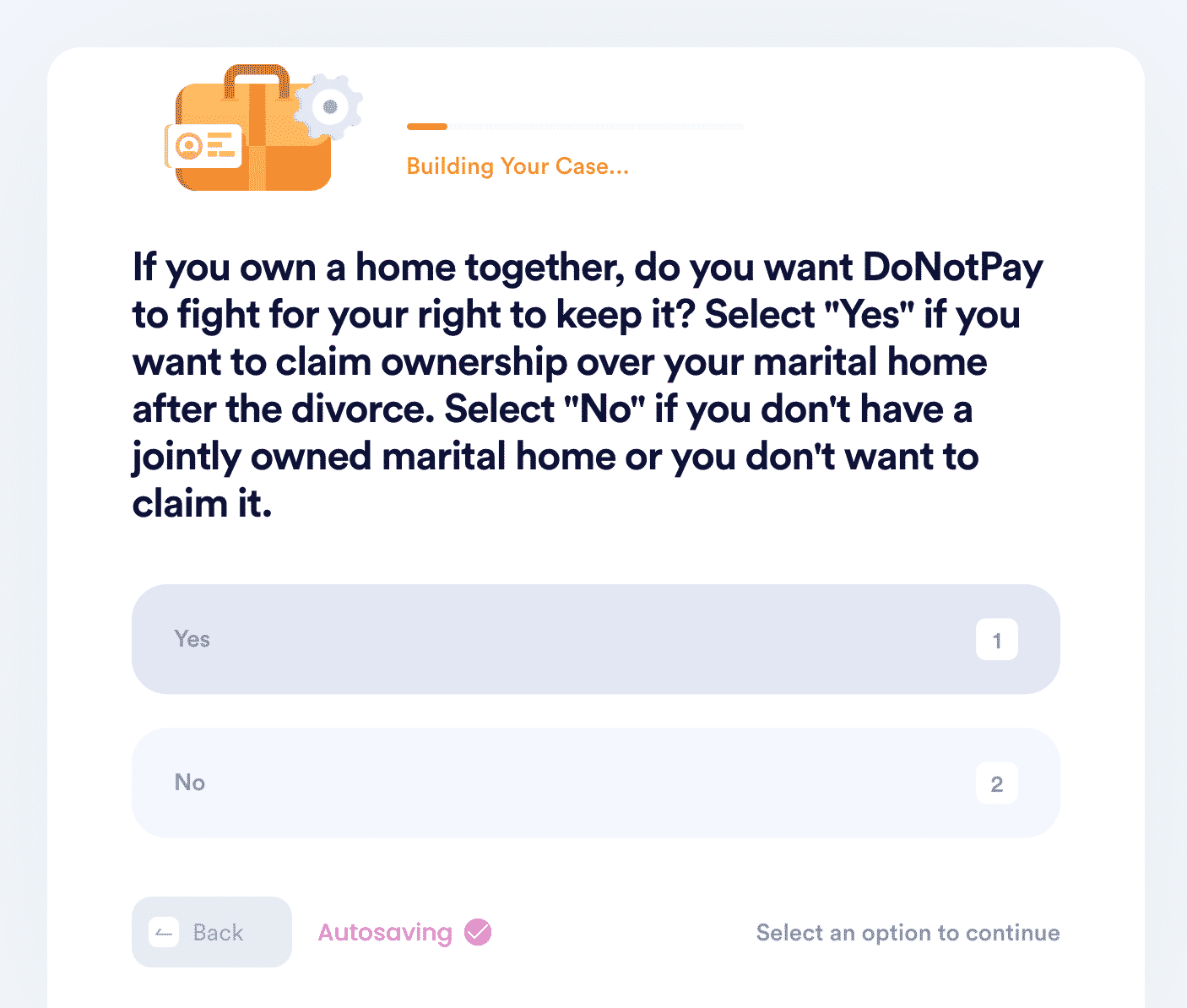 We will generate a tailor-made agreement that will be fair to both parties and comply with all Sonoma County divorce laws. If you've opted for online notarization, you will receive a link to schedule an appointment with an online notary in a few clicks!
DoNotPay's help doesn't end there! The world's first robot lawyer app has various divorce articles that might come in handy, including:
| | |
| --- | --- |
| General Divorce Articles | California-Specific Divorce Articles |
| | |
Use DoNotPay To Resolve Administrative Tasks in Minutes!
Tired of brainstorming the easiest way to deal with administrative issues? We know how you feel, and we're here to take the burden off your back!
Once you subscribe to our app, you'll be able to resolve an abundance of bureaucratic issues with ease.
Taking a valid passport photo, reporting workplace discrimination, reducing property taxes, preparing for a government test, applying for a college fee waiver, and appealing a parking ticket are some of the many tasks we assist you with.
In case you need a quick way to draft a legal document, such as a power of attorney, divorce settlement agreement, or a child travel consent form, DoNotPay will do it for you!
Learn How To File Claims the Easy Way
Are you dissatisfied with a certain company and/or its products? You don't have to stay quiet! Use DoNotPay to file your insurance, warranty, or missing/late parcel claim effortlessly! We'll also show you how to request an item return in a few steps.
If you want to cancel a subscription or request a refund or chargeback, you can do it with our assistance without breaking a sweat. Use one app to deal with countless issues!