Understanding Sole Proprietorship Startup Costs and the Way You Can Keep Yourself Afloat
A sole proprietorship is the simplest way to set up a business—ideal if you are an entrepreneur who doesn't want to be encumbered with complex business models and structures.
In business, everything you do comes at a cost—the free lunch is a myth.
From equipment purchases to renting and maintaining office space, you will be faced with initial and ongoing expenses that you need to budget for.
DoNotPay is here to help you understand what sole proprietorship startup costs are, how to anticipate and budget for them, and how to make sure your cash flow remains healthy.
How Does Sole Proprietorship Work?
A sole proprietorship is a business form that places you as the sole owner of your company.
As a sole proprietor, you are responsible for everything, including:
Taxes
Registration
Licenses
Liabilities
The advantage of this model is that it is easy to set up. The downside is that you are liable for any debts you incur—if you end up in financial trouble, you will have to pay off your debts with your own money.
Planning is key in making sure that you are prepared for the expenses of getting your business up and running—the better you understand the road ahead, the easier you will find it to avoid the speed bumps.
What Kind of Startup Costs for Sole Proprietorship Can You Expect?
Starting a business requires money, and you need to make sure enough is available for you to begin trading and making a profit.
Startup costs as a sole proprietor can be divided between:
Once-off outlays
Ongoing expenses
Once-Off Outlays
Before you can start trading, you need to spend money on several things in preparation for your business launch:
| Once-Off Startup Cost | Explanation |
| --- | --- |
| State and federal fees | Depending on your state legislation, you may need to register your business name using a Doing Business As (DBA) form. You may also have to join a state or federal professional body—if you are involved in professional services, as an example. Your bank may require some paperwork to keep your business income and outgoings separate from your personal finances |
| Equipment costs | You will potentially need equipment to trade—this could range from heavy machinery for a building contractor to a laptop for a web designer. You should also consider whether you want to buy or lease the equipment as this can have an impact on both your upfront costs and your ongoing expenses |
| Office space | If you need a physical location from which to trade, you may have to pay a deposit or rent upfront to secure adequate premises |
| Website and marketing material | You may have to pay for the development of your marketing presence—this is your shop-front, so it is worthwhile getting this done professionally |
| Clothes, transport, and certifications | If your business requires you to work face-to-face with clients, you may need to invest in a wardrobe that sends out the right message. Your transport may also have to be representative and reliable. Many professional services and trades also require official certifications for you to be a credible player in the marketplace |
Ongoing Expenses
Every month you trade, you will face costs that need to be met.
Under ideal circumstances, your profit will be more than enough to cover these, but many businesses take time to build up a client base and generate regular profitable income.
The ongoing expenses you will have to cover can include:
Rent
Salaries
Supplies and raw materials
Equipment maintenance
Banking fees and interest on any loans
Travel costs
Professional services, such as accountants or lawyers
Taxes
Business and health insurance
Cash flow is the killer for around 80% of the small businesses that fail, often because overheads and ongoing expenses are not planned for or sales projections are too optimistic.
Your startup cost calculations as a sole proprietor must include enough cash on hand to keep you going while your business establishes itself.
What Are Your Startup Finance Options as a Sole Proprietor?
If you are ready to take the plunge into business ownership as a sole proprietor, you may want to consider taking out a small business loan to finance your startup expenses.
As a sole proprietor, a small business loan may be the perfect solution to your startup costs, but you are going to be reliant on your personal credit rating to get finance, but you can approach:
Small business financiers or angel investors
Credit unions or other lending institutions
Whichever option you decide is the best for your situation, you are going to have to provide detailed documentation to prove your creditworthiness.
This is where DoNotPay can help—our Business Loan Request Letter feature is exactly the help you need to make getting finance easier!
DoNotPay Makes Your Route to Startup Finance Easier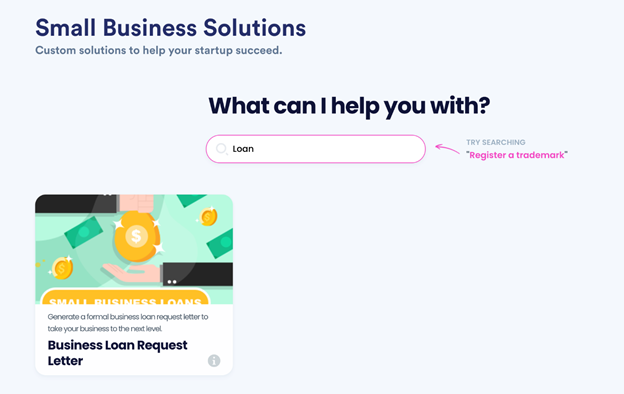 DoNotPay is your one-stop shop for help in securing a startup loan as a sole proprietor.
Once you have decided on the type of loan you want to take out and understood the terms, our Business Loan Request Letter product will help you:
Understand the documentation you need to gather
Get your credit scores ready for submission
Prepare a request letter that will meet the approval of your chosen lender
Here's what you need to do to prepare your loan application:
Navigate to our Business Loan Request Letter product
Get your credit scores ready and prepare your personal financial statements
Give us the details of the loan you need and upload your supporting documentation
DoNotPay will take it from there—we will generate a formal request letter with all the information needed to give your application the best chances of success!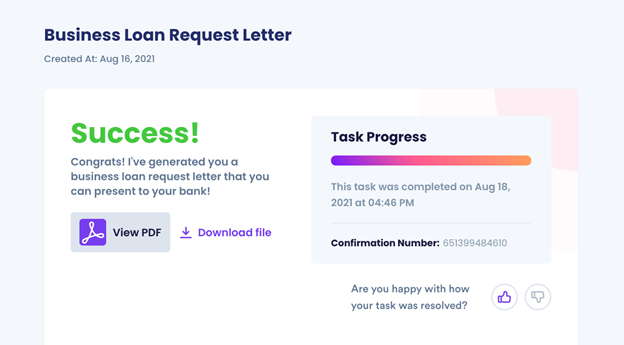 We can even help you with the next step.
Our Find Online Business Loan Lender feature can take your loan request and source the top three lenders for you to approach—no need for you to do the legwork!
Time Is Money—DoNotPay Helps You Save It
If you are wasting time on endless administrative tasks, you are also wasting money. We can help you save both.
With DoNotPay's assistance, many processes will last and cost less, including:
Business loan applications
DMCA agent registration
Privacy Shield program self-certification
Employer Identification Number (EIN) registration
83(b) election form submission
In a few clicks within the same app, numerous tasks will come easy for you and your business.
Too Much on Your Plate? Engage Your Pocket Assistant
DoNotPay is your go-to if you plan on trademarking your company—name, slogan, or logo. We can also help keep your trademark protected from any future violation.
If things get ugly, our AI-powered app will assist you. In case a client is refusing to pay and thus breaches their contract, use DoNotPay to send a formal demand letter. You can even escalate the issue to small claims court with our help if necessary.
Sometimes, scammers buy services and products only to initiate chargebacks soon after. You can put a stop to this by using our Fight Chargebacks product.
What if you get negative comments and reviews that may harm your business in the long run? If some of your company's online reviews are invalid and fraudulent, we can help you remove them.
To make any task or process easier, rely on our faxing and mailing services.