What Is a Solar Property Tax Exemption, and Does It Work for Residential Property?
Property taxes seem to be getting higher as states with low property tax rates decrease in number. This is why homeowners are searching for ways to lower their tax bills left and right. From homestead to senior citizens programs, property tax exemptions help a lot of citizens alleviate the financial burden that comes after every property assessment.
Solar property tax exemption might seem like an odd choice, but it is the right one!
DoNotPay will help you understand:
Why installing a solar system in your home is the way to go if you want to reduce your property taxes

What tax exemptions you are eligible for

How to apply for a solar tax exemption
Property Taxes—How Do They Work?
Every individual that owns real estate has to pay their county or state property taxes. How much a homeowner will pay depends on the amount an assessor values their property at and their local, county, or state tax rate.
A tax assessment defines the market value of your property. The estimation is based on the desirability of the location, the value of the neighboring properties, and everything that makes your own house valuable, including:
Number of rooms

Square footage

Any additions, like a pool or a solar panel
The number is multiplied by the local tax rate, and that's how you get your property tax amount.
Your county or state uses the money to fund facilities and construction works that benefit the entire community, such as creating green spaces or building libraries.
About Tax Exemption Programs
Since both tax rates and the market value of properties change almost annually, it's no wonder that residents' tax bills rise. This leads many homeowners to look for property tax relief programs and snatch any tax discount they can.
Property tax exemptions are the most common way for homeowners to decrease the amount they have to pay. Check out the exemption programs most states offer to residents in the table below:
| | |
| --- | --- |
| Property Tax Exemption | Meaning |
| Homeowners exemptions | The assessed value of a property is reduced for homeowners that own and occupy real estate, decreasing their tax bills |
| Disabled citizens exemptions | Residents with a 100% disability either pay only a portion of their property taxes or are exempted from them altogether |
| Senior citizens exemptions | Citizens in their 60s are eligible for numerous tax exemption programs |
| Military veteran exemptions | Most states offer tax reliefs to residents who own a property and have served in the military during wartime |
| Property transfer exemptions | Children whose parents transferred property to them are often eligible for property transfer tax exemptions |
What Is a Solar Property Tax Exemption?
While not the most popular, a solar property tax exemption is another form of tax relief citizens can use to their benefit. It is an attempt on a national level to motivate people to preserve energy.
Programs that offer tax exemptions based on installed solar systems can be called:
Property tax exemptions for renewable energy systems

Renewable energy systems property tax exemptions

Solar tax exemptions

Investment tax credits
A solar tax exemption allows you, as a homeowner, to install a solar or a wind energy system in your home without it being included in your property tax assessment. This automatically reduces the tax amount you have to pay.
What Makes You Eligible for a Solar Property Tax Exemption?
Like all tax reliefs, solar property tax exemptions differ from state to state. 
Homeowners who want to receive the exemption usually have to:
Install a solar or wind energy system that's used only for providing energy and doesn't serve structural purposes too

Have constructed the system on their own and not through a lease or a PPA solar installer
If you are planning to go green with the help of a PPA or a solar lease, the institution that installed your solar system covers a good portion of the tax that the system is valued at. This means that you still benefit from going green even if the installation of it isn't 100% exempted from your property tax.
Solar Property Tax Exemptions—California and Other States
The majority of states offer solar property tax incentives and exemptions, including:
California

Wisconsin

New Jersey

Florida

New Mexico

Arizona
This is not a comprehensive list, and you should check out whether the state you live in offers solar property tax exemptions. 
If your state doesn't offer incentives for renewable energy, you can apply for federal tax credits and exemptions. They often have their own rules when it comes to how much you can reduce your tax bill and what makes you eligible.
How DoNotPay Helps You Apply for a Solar Property Tax Exemption
Searching for information about solar property tax exemptions is a tiresome process. Why go through countless databases and collect bits of information from different places—which often leads to confusion—when you can get concise info that applies to your situation with a few clicks?
Let DoNotPay help you with paying your property taxes by generating a guide for you on solar and other property tax reliefs.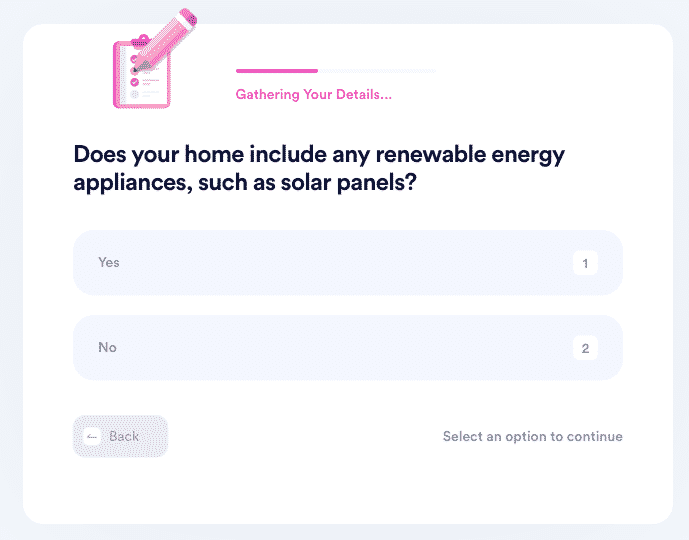 You can find out what tax exemptions are at your disposal, which ones you are eligible for, and how to apply for them in only three steps:
Sign up for a DoNotPay account

from your preferred web browser

Type

Property Tax

in the search bar

Provide information about yourself and your property
Getting important info on a silver platter isn't everything our Property Tax product can do. 
As a last resort to lower your property tax, you can use DoNotPay to help you appeal your tax assessment. Let our app assist you in collecting evidence and disputing the assessment in court so that you have the best chance of your appeal being accepted. 
Do You Know What Else You Are Eligible For?
DoNotPay is a handy virtual assistant that can reveal a world of possibilities that you may not have even been aware of. We've perfected our algorithms to identify opportunities for you to save up and take charge of your rights. 
Here's a fraction of what we can do for you:
What Else Is New With DoNotPay?
DoNotPay boasts several new features that can help make your everyday life so much easier. 
Have you been wondering how to file an insurance claim but weren't sure where or who to turn to? We'll gladly do it for you. 
Are you tired of outdated faxing practices and manual documentation? Our app can provide you with an online fax solution and draft all your legal paperwork in no time at all.
Do you need a safe place to prepare for your upcoming government test? DoNotPay will give you all the prep tests you need.
We can help out with locating an imprisoned loved one and keeping correspondence with them via our virtual mailbox.
See what else DoNotPay has in store by accessing our web app in any browser.