All About the Contents of a Software Requirements Document Template
Software programs may look powerful and easy to use, but there's a lot of work behind their creation. When making a new app or program, both developers and other teams involved must be aware of all specifics of the project and have the right guidelines. 
What could be better than having a software requirements document template to simplify the procedure? In this guide, you will learn what components such a document should contain and why you should opt for them. We will also introduce you to a special app that will help you write various contracts and legal documents without hiring attorneys!
What Is a Software Requirement Specifications Document?
A software requirements specification (SRS) is a document providing a complete description of the software that should be created. It gives insight into the specific characteristics of the program and outlines basic expectations related to its future performance. 
With such documentation, the development team will be familiar with the purpose and functional requirements of the future software. They will also know what their duties within the project are and how they should complete them. An SRS document must be concise and comprehensible so that there are no misunderstandings among the participants. 
Why Are SRS Documents a Good Idea?
SRS documentation is valuable for many reasons, some of which are listed below:
SRS can be used as a base of the entire project as its framework contains all necessary details of creating a specific program

If it's well written, SRS documentation can reduce the general costs and the time developers would spend creating a particular software

The document acts as a checklist for the team to tick off all the requirements they manage to fulfill, ensuring a successful development. This contributes to a better organization

Even though developers are the core of program creation, an SRS document provides valuable information for other participants in the project as well. Having all specifics defined, the team will always be on the same page while working on a particular app or program
Basic Elements That an SRS Document Template Should Cover
When it comes to composing an SRS document, most developers and other related team members opt for pre-made templates. They have a specific structure that usually contains the following details:
Introduction, containing:

Scope of the project

Purpose of the software

Intended use and audience

Definitions and acronyms

Basic descriptions, including:

Defined user needs

Assumptions and dependencies

All specific features and requirements:

System features

Functional requirements

Non-functional requirements

External interface specifics
Are There Any Other Ways To Create an SRS Document?
To some people, online templates may seem unreliable, and that's perfectly fine. In many cases, they can be too general and inconvenient for a specific project. Besides that, technology changes at a breakneck speed. Many published samples and templates may already be outdated when you reach them.
If you want to skip this method, another option is to make a document for the project yourself. You can use the guidelines and personalize the content of the document as much as possible. The good part is that you aren't limited to blank spaces, like in online templates, and can compose the document according to your needs. Drawbacks? Any mistake or ambiguity within it can cause problems on the project and confuse the team.
Failed Drafts Remain in the Past With DoNotPay
Have you ever been on the verge of a nervous breakdown while trying to write a contract by yourself and constantly failing? We hear you—many people keep struggling with the same issue. This usually happens because they are unable to pay astronomical amounts for a single draft made by a lawyer. Luckily, DoNotPay offers a super affordable solution that will make creating legal documents a breeze!
By subscribing to our app, you can generate various legal documents in a matter of minutes! All you should do is:
Access DoNotPay

from any preferred web browser

Choose the document you want to create

Answer our chatbot's questions to help us add suitable details to your contract
After completing these easy steps, you will be able to access a personalized document ready for signing. You can also book an appointment with an online notary and have your document notarized remotely in the same app with our Notarize Any Document feature!
What Legal Documents Can We Help You With?
The list of our standardized legal documents keeps expanding! Create an account on DoNotPay and create any of the following contracts:
Type

Legal Documents

Business

Real Estate

Intents To Purchase Real Estate

Quitclaim Deeds

Miscellaneous

Promissory Notes

General Affidavits

Child Care Authorization Forms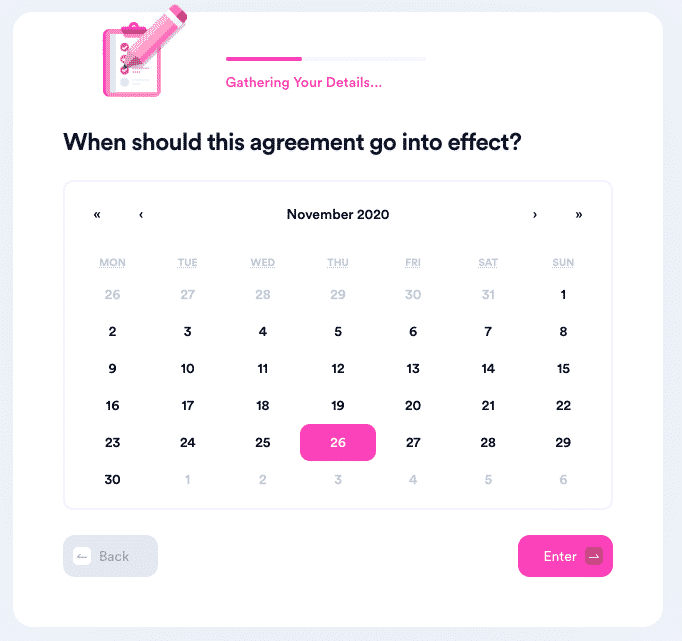 If the contract you need isn't on our list, we might have a guide that can help you write it! Check out our learning center and explore various popular legal documents, including:
Learn About DoNotPay's Awesome Products!
DoNotPay is a multifunctional app that can solve numerous everyday challenges swiftly. 
You can use our app to protect your work from copyright violations, schedule your driving exam or any other appointment with the DMV, reduce your property taxes in a few steps, and similar.
We have created many useful products to help our users take care of their issues through the same app. With us, you can:
DoNotPay Connects You With Your Loved Ones
Sending letters to inmates can be difficult since you have to follow certain rules to a T to avoid having your letter rejected. The situation is even more complicated if you don't know where your incarcerated loved one serves time. DoNotPay's app can help you locate prisoners and correspond with them without worrying whether you're breaking any rules. 
Do you want to send a letter, but you don't feel like heading over to a post office? By using our mailing service, you can mail as many letters as you want from the comfort of your home. With DoNotPay, you can also send online faxes in under five minutes!
Email and text spam is something that everyone experiences at least once in their lives. DoNotPay has a solution for that too. Access your DoNotPay account and count on us to help you block spam and get compensation by reporting pesky robocalls.