Should You Rely on a Snow Removal Contract Template? 
Do you need to hire a snow plowing company, or are you a contractor that offers snow removal services? If you're not sure how to write an appropriate contract, one of the options is to rely on a snow removal contract template. 
This guide will explain which sections a properly-written snow plowing contract should include. Access DoNotPay to find out more about this contract, and rely on us when you need help drawing up various legal documents. 
What Is a Snow Removal Contract?
A snow removal contract is an agreement signed between a client and a company or a contractor who provides snow plowing services. This document can be created for residential or commercial use, and the contractor needs to provide the service:
Upon request—when the client contacts the contractor and books an appointment

In the event of a snowstorm—the contractor needs to provide the service promptly after every snowstorm
By opting for a written agreement instead of a verbal one, you may prevent:
Potential disputes

Misunderstandings

Not getting paid on time
This document is also known as a snow plowing contract.
Types of Snow Removal Contracts
Here are some common types of snow removal contracts you can come across:
Seasonal

—set for a longer period, usually from three to five years, and a client pays a fixed amount regardless of:

How many times it snows

How mild or severe a winter season is 

Pay per push

—a good choice for locations with constant snowfalls (for example, where snow needs to be plowed more than once a day) and where a client must pay for each visit

Per inch

—based on the snow depth typically determined by weather stations

Per event

—beneficial in areas where there are not a lot of snowstorms as a contractor will bill a client a flat rate per snowstorm

Time-based

—profitable for contractors since they can charge:

Per hour

For each snowstorm event
You do not have to use only one snow removal contract type. To ensure that both parties get the best deal, you should determine what type fits a specific client and location the best. 
What To Include in the Snow Removal Contract
The following table shows which sections you should include in this type of service contract:
Contract Sections

This Part Should

Contact information

Include the client's and contractor's:

Names

Phone numbers

Email addresses

Billing addresses

Date of contract

Specify the dates when the contract and the service:

Vehicle area

Include the specifics of snow removal services from driveways. You can spell out that the service will be provided only in the event of the precisely accumulated snow depth

Pedestrian area

List where the contractor performs snow shoveling on, for instance:

Walkways

Entrances

Disability ramps 

De-icing services

Address the events when the contractor should use de-icing materials

Snow removal rates schedule

Put a list of services the contract covers together with the rates

Snow depth

Define how snow depth is determined—e.g., using third-party published and compiled meteorological data about the geographic area of the client's property

Sales tax

Emphasize that the above-listed rates do not include state sales tax which will be added to each invoice 

Terms and conditions

Include further details regarding the:

Services 

Payments

Indemnity

Site condition—i.e., that all surfaces will be inspected and the contractor will not be responsible for any damage as a result of the snow and ice treatment and removal
Additional Elements
In your snow plowing contract, you could also include the miscellaneous section where you can add information like:
Governing state laws

Whether the contract is binding on heirs, successors, legal representatives, and similar

How the contract can be amended

How a possible conflict will be resolved
Keep in mind that your contract should be clear to avoid any misunderstanding, strengthen the business relationship, and build trust with clients.
Can a Snow Removal Contract Template Be Useful?
To create a solid agreement, you can google some available snow removal contract templates. While these can be useful, finding a perfect one is almost impossible. You will need to adjust templates to your specific needs as the available ones are usually too generic. 
Another aspect worth considering is that some platforms will charge you for accessing, downloading, and using their templates. 
While you might need to spend some time adjusting a snow removal contract template, creating other legal documents does not have to be a struggle.
Need Help Preparing Documents? DoNotPay Does It the Right Way!
DoNotPay offers help with the creation of various legal documents, including:
Intent to purchase real estate

General business contract

General affidavit

Promissory note

Quitclaim deed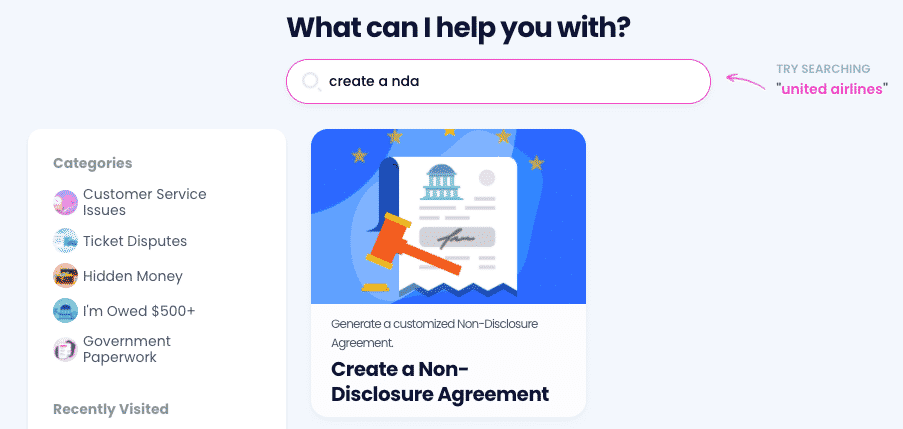 If you need help creating any of the above-listed documents, subscribe to DoNotPay and follow these steps:
Select our

Standardized Legal Documents

feature

Provide the name of the document you would like to get

Answer a few simple questions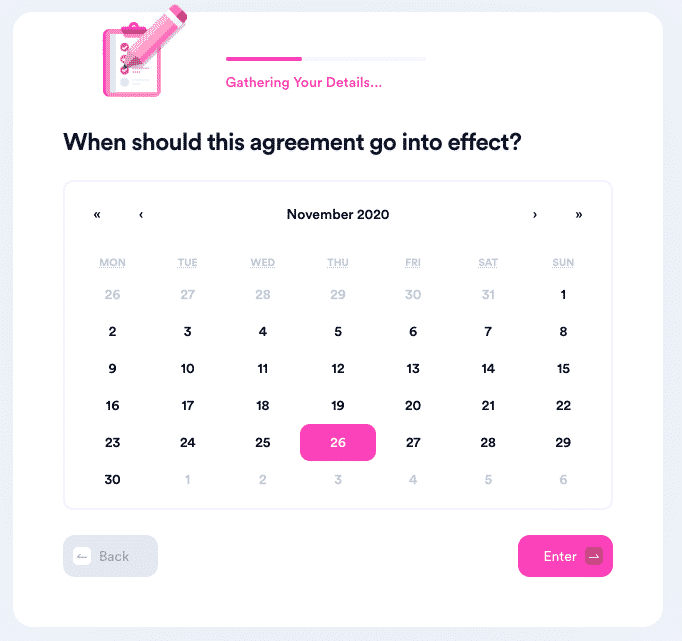 Once you receive a document tailored to your specific circumstances and needs, don't exit our app, but use it to:
E-sign the generated document

Get it

notarized online

via our

Notarize Any Document

product

Fax the document safely using the

Online Fax

tool
Facing Financial Issues? DoNotPay Can Take the Burden Off Your Shoulders
If you need to count pennies at the end of each month, DoNotPay is here to help you get a payment extension and pay your bills worry-free. 
Prospective students who struggle to cover their university-related costs can also rely on DoNotPay to request a college application fee waiver.
Do you think that your property taxes are too high? Use our app to reduce your property tax bill as effortlessly as possible. 
Get Rid of Spammers For Good!
Are spam texts and emails cluttering your inbox? DoNotPay has a few products you could benefit from! Rely on us and get rid of spam in less than two minutes. If shady robocalls are testing your patience, you can block them with our help and request robocall compensation right away.
To avoid providing your real phone number when signing up for online services, you should choose our Burner Phone feature and use the number we provide.
What Else Can DoNotPay Assist You With?
DoNotPay boasts many useful products that help millions of Americans handle their everyday hurdles in minutes. 
With us, you can prepare for any government test for a low monthly fee, send online faxes in the blink of an eye, and request cash back for your gift cards stress-free.
Do you have a friend or relative who's serving time? Use our mailing service to send letters to inmates with no hassle.
Learn how to fight workplace discrimination and confront a neighbor who's giving you headaches all through the same app!
Log in to DoNotPay and solve any administrative issue—including setting up an appointment with the DMV and filing an insurance claim—by following a few simple steps.